Yes, Gorgeous Sunflower Fields Are Coming Back to Dorothea Dix Park
Wednesday, June 01, 2022, 8am by visitRaleigh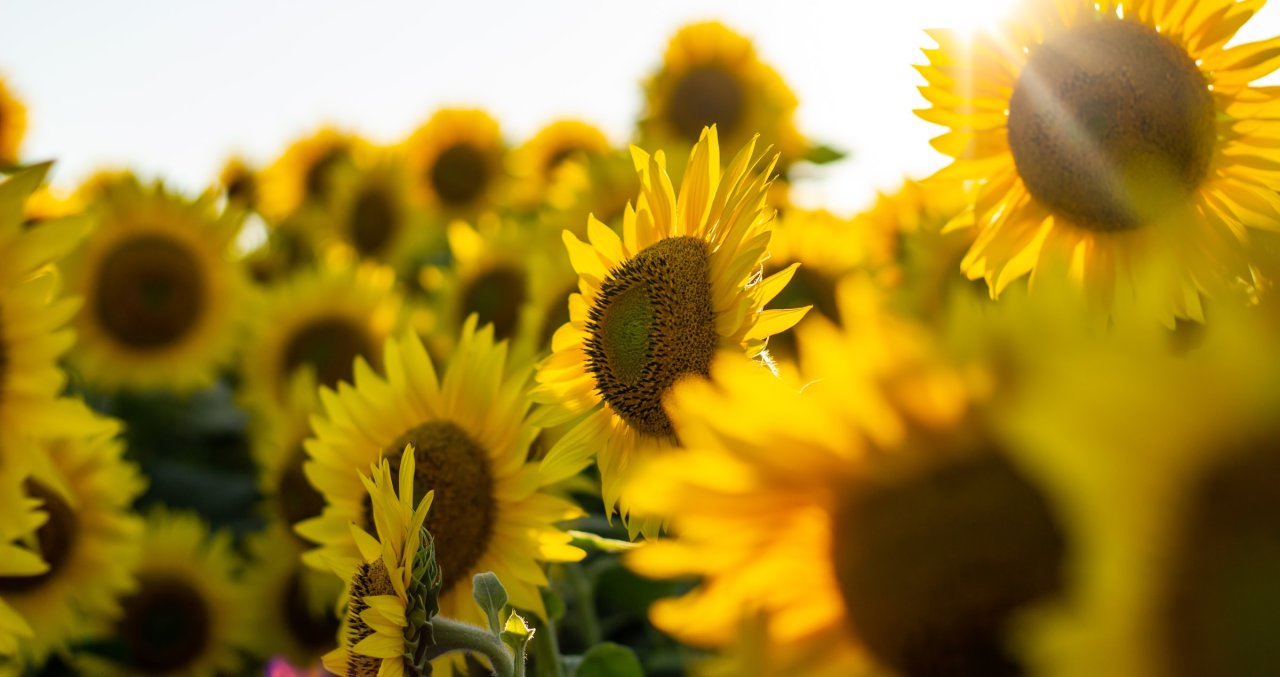 Update, June 1: The City of Raleigh and Dorothea Dix Park announced that the popular sunflower fields will be back again this year! The field on the edge of downtown Raleigh is expected to bloom in mid-July. Read below for more details on this Raleigh summer tradition!
---
What and where are the sunflowers in Raleigh?
Calling all cyclists, runners, outdoor enthusiasts and Instagram addicts—a pop-up tourist destination of gorgeous sunflowers is coming back to Raleigh, N.C.!
First planted by the City of Raleigh's public utilities department in 2010 along the Neuse River Greenway Trail, a beautiful five-acre batch of sunflowers blooms each year in July. For 2022, they'll once again call Dorothea Dix Park home.
The sunflowers serve a purpose beyond just acting as a fun summer Instagram hot-spot—the City will harvest the sunflowers to create thousands of gallons of biodiesel, which is then processed into fuel to run tractors, trailers and farm equipment. The flowers are also excellent pollinators—the field serves as a massive pollinator habitat for bees and other insects.
Expected peak bloom time
The field of tall, golden flowers is expected to be in peak bloom in mid-July, likely staying in viewable condition for approximately two to three weeks (through the end of July).
There are designated paths to walk between the sunflowers—please use them!
Use the 360° photo below, courtesy of our friends at Beaumonde Arts Agency, to immerse yourself in a scene from a previous year.
About Dorothea Dix Park
Dorothea Dix Park, a 308-acre property acquired by the City of Raleigh in 2015, is the largest city park in the City of Oaks. The site blends historic architecture and rich landscapes on the edge of downtown Raleigh (the closest park entrance is about one mile from the Raleigh Convention Center). Named for Dorothea Lynde Dix, an American activist on behalf of people with mental illness, the site spent 150 years as Dorothea Dix Hospital and more recently has been home to the N.C. Department of Health and Human Services.
In the future, the City of Raleigh has big plans for a transformative public space—it's been named as "the nation's most exciting park project"—and some projects are well underway (the Greg Poole Jr., All Faiths Chapel opened last year, and construction is ready to get underway on the 18-acre Gipson Play Plaza). For now, though, massive open fields, tree-lined streets, skyline views and very minimal car traffic make this park an ideal place for all sorts of outdoor activities.
Need to know
It's summertime—expect the weather to be hot! Sunscreen, bug repellent and a water bottle are always good ideas.
Indoor restrooms are available inside the Greg Poole Jr. All Faiths Chapel during these hours: Tues. and Thurs., 6-9pm; Sat., 10am-4pm; Sun., noon-5pm.
Plenty of free parking is available (see the map below).
Accessibility information about Dix Park can be found here.
A bikeshare station at the park provides a good transportation option as well (electric bikes are available!)
Early in the morning or late in the evening are the best times to visit.
You can walk through the sunflower fields on the designated paths.
The fields are a mix of dirt, grass and some rocks—please wear closed-toe shoes for your safety.
Pets are ok (on a leash, please!).
The sunflowers are for everyone—please don't pick them to take home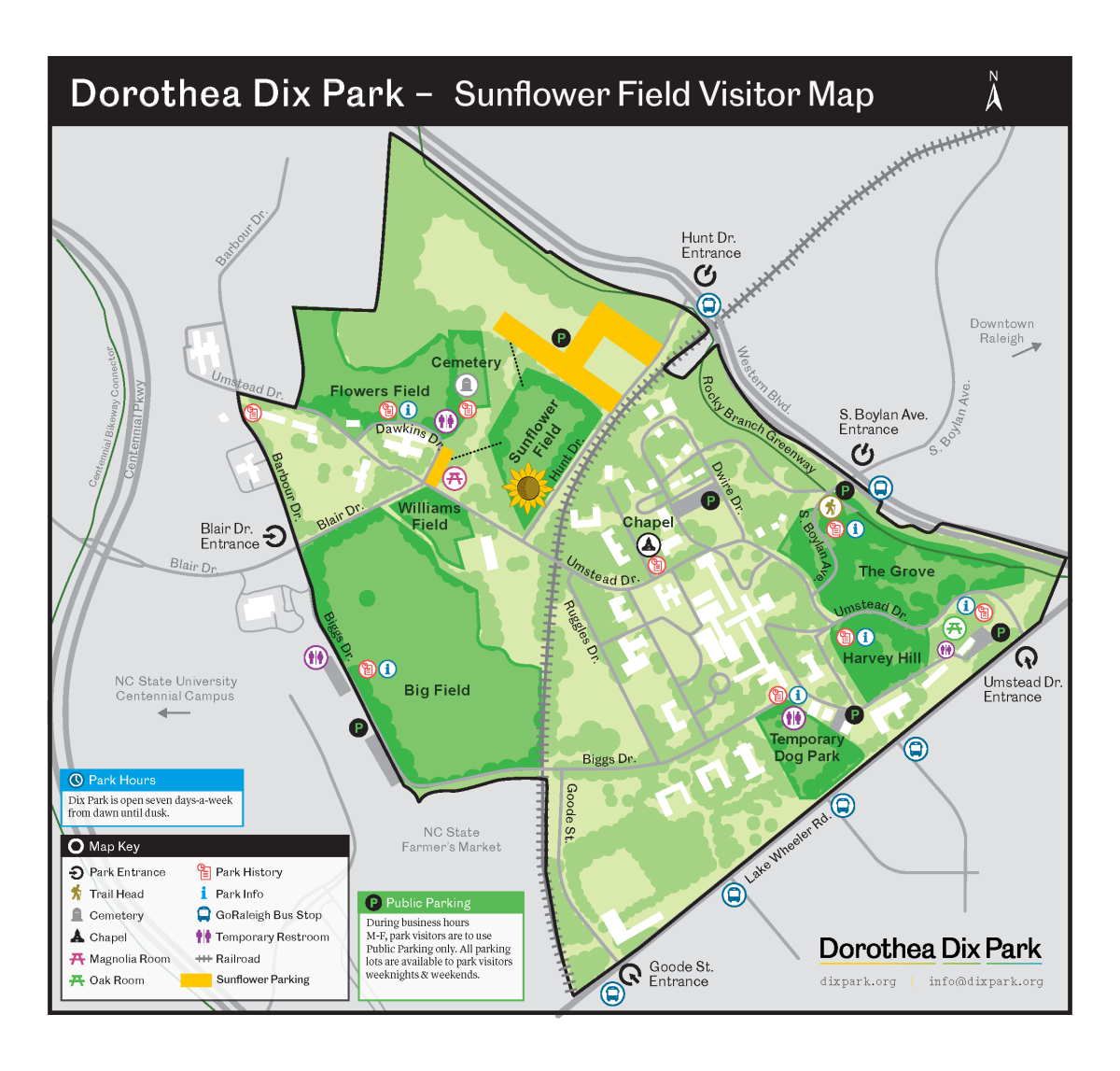 Other upcoming events and festivals in Raleigh, N.C.

Have questions? Tweet us at visitRaleigh, and we'll be happy to help. Don't forget to tag your sunflower photos on Instagram with #visitRaleigh so we can see and share!
Comments