Gorgeous Sunflower Fields at Dorothea Dix Park in Raleigh, N.C.
Wednesday, June 19, 2019, 10am by visitRaleigh
Update, May 2020: The City of Raleigh and Dorothea Dix Park announced that the popular sunflower fields will not be planted for summer 2020 due to COVID-19 and social distancing guidelines. 
---
What and where are the sunflowers in Raleigh?
Calling all cyclists, runners, outdoor enthusiasts and Instagram addicts—a pop-up tourist destination of gorgeous sunflowers is back in Raleigh, N.C.!
First planted by the City of Raleigh's public utilities department in 2010 along the Neuse River Greenway Trail, a beautiful five-acre batch of sunflowers blooms each year between early- and mid-July. For 2019, they'll once again call Dorothea Dix Park home.
The sunflowers serve a purpose beyond just acting as a fun summer Instagram hot-spot—the City will harvest the sunflowers to create thousands of gallons of biodiesel, which is then processed into fuel to run tractors, trailers and farm equipment. The flowers are also excellent pollinators—the field serves as a massive pollinator habitat for bees and other species.
 
Expected peak bloom time
The field of tall, golden flowers is expected to be in peak bloom from approximately July 13 through July 30, and then possibly still in viewable condition for another week or so depending on weather. Note: This is our latest forecast as of July 9.
There are designated paths to walk between the sunflowers—please use them!
Use the 360° photo below, courtesy of our friends at Beaumonde Arts Agency, to immerse yourself in the scene from last year.
Destination SunFest—a massive festival on July 13
On Sat., July 13, a grand celebration—including a live music, games, food vendors, a Ferris wheel, carousel, hayride tours and more—will take place. Destination SunFest will be held from 2-9pm.
Note: There is no parking on Dorothea Dix Park campus for this event. Free vehicle parking will be available on the North Carolina State Centennial Campus with a free shuttle running between the parking lots and Dorothea Dix Park. Free shuttles will run from 2pm until 11pm. Ride share vehicles will be able to drop off passengers on Centennial Campus and will not be allowed at Dix Park. Bike and scooter parking will be available at the soccer field parking lots at Dix Park.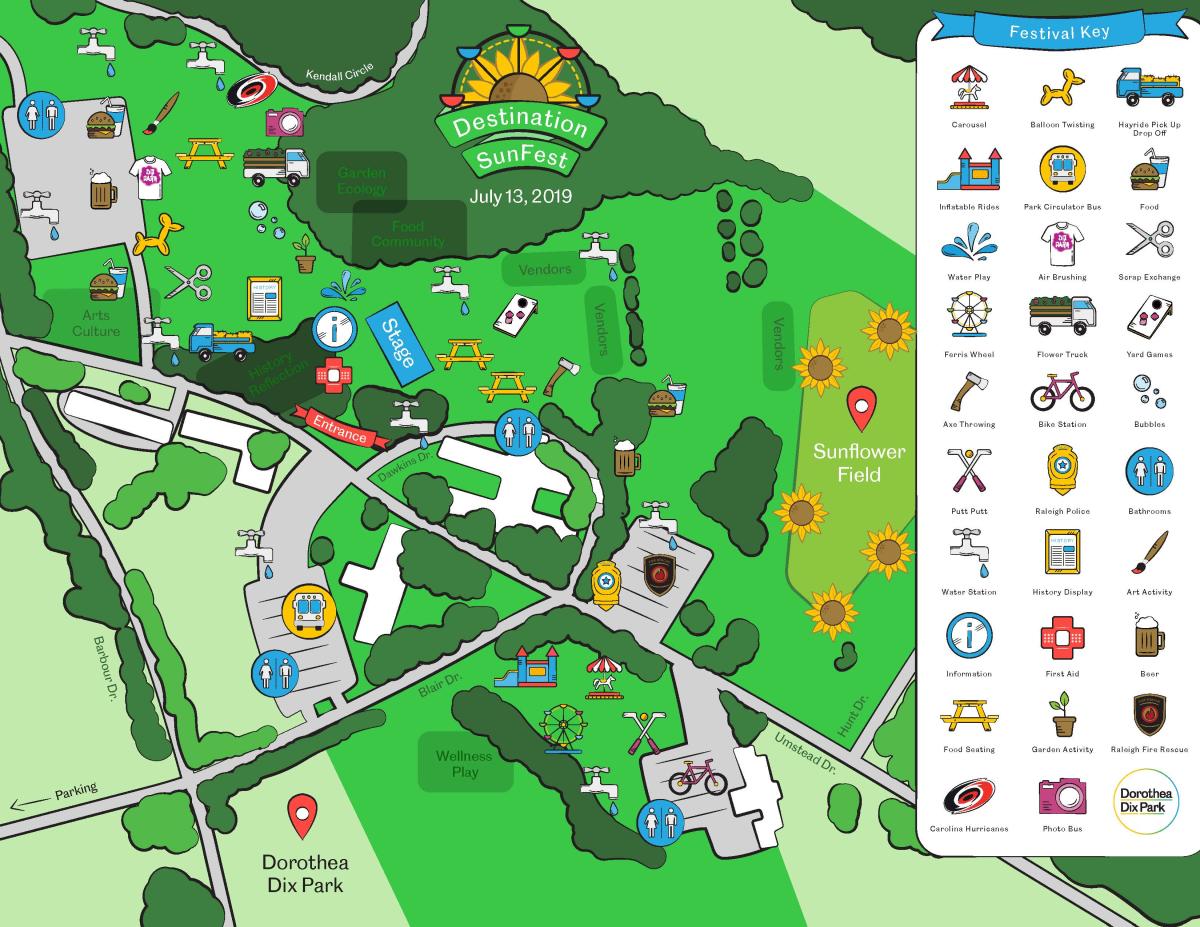 About the park
Dorothea Dix Park, a 308-acre property acquired by the City of Raleigh in 2015, is the largest city park in the City of Oaks. The site blends historic architecture and rich landscapes on the edge of downtown Raleigh (the closest park entrance is about one mile from the Raleigh Convention Center). Named for Dorothea Lynde Dix, an American activist on behalf of people with mental illness, the site spent 150 years as Dorothea Dix Hospital and more recently has been home to the N.C. Department of Health and Human Services.
In the future, the City of Raleigh has big plans for a transformative public space—for now though, massive open fields, tree-lined streets, skyline views and very minimal car traffic make this park an ideal place for all sorts of outdoor activities.
 
Need to know
It's summertime—expect the weather to be hot! Sunscreen, bug repellent and a water bottle are always good ideas.
Plenty of free parking is available (see the map below).
Early in the morning or late in the evening are the best times to visit.
You can walk through the sunflower fields on the designated paths.
The fields are a mix of dirt, grass and some rocks—please wear closed-toe shoes for your safety.
Pets are ok (on a leash, please!).
The sunflowers are for everyone—please don't pick them to take home
The map below is for seeing the sunflowers when in bloom, but parking will NOT be available on Sat., July 13 during Destination SunFest.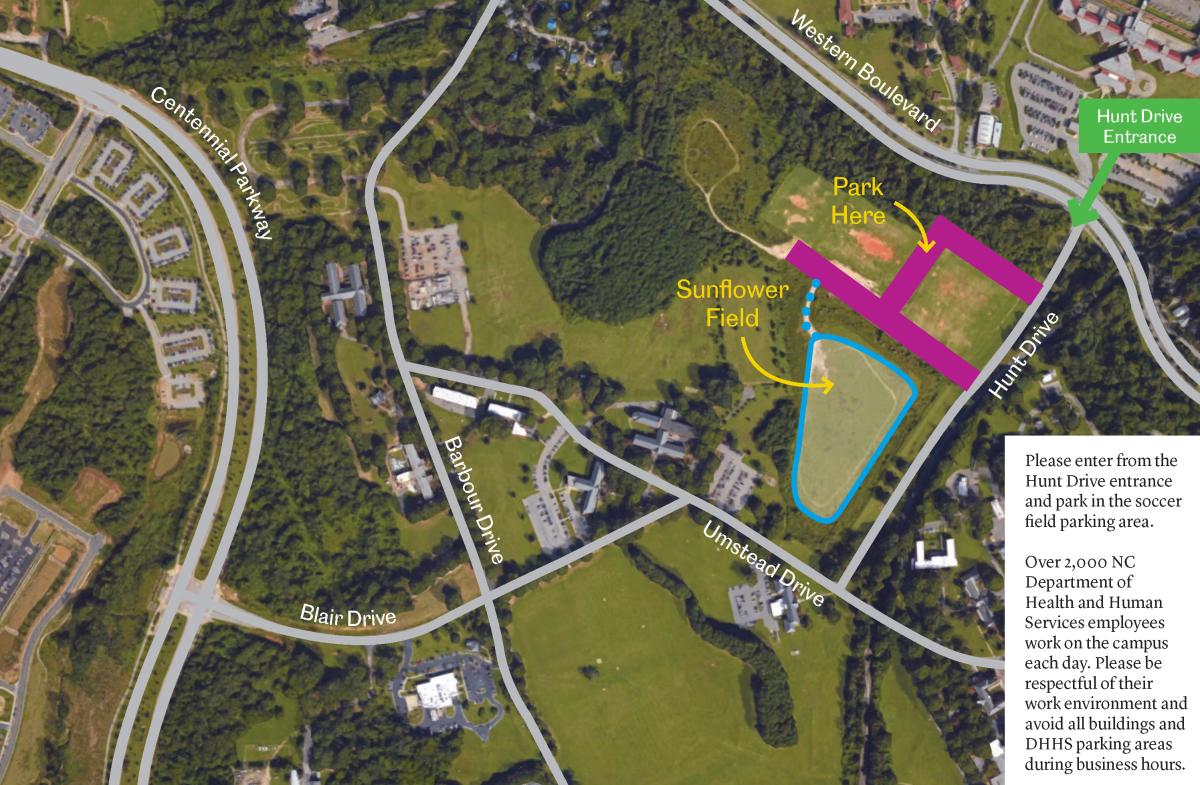 Have questions? Tweet us at visitRaleigh, and we'll be happy to help. Don't forget to tag your sunflower photos on Instagram with #visitRaleigh so we can see and share!
Header photo by Brian Magee; parking map courtesy of the City of Raleigh
Comments