The Biggest Events in Raleigh, N.C., This Spring
Friday, April 28, 2023, 1pm by visitRaleigh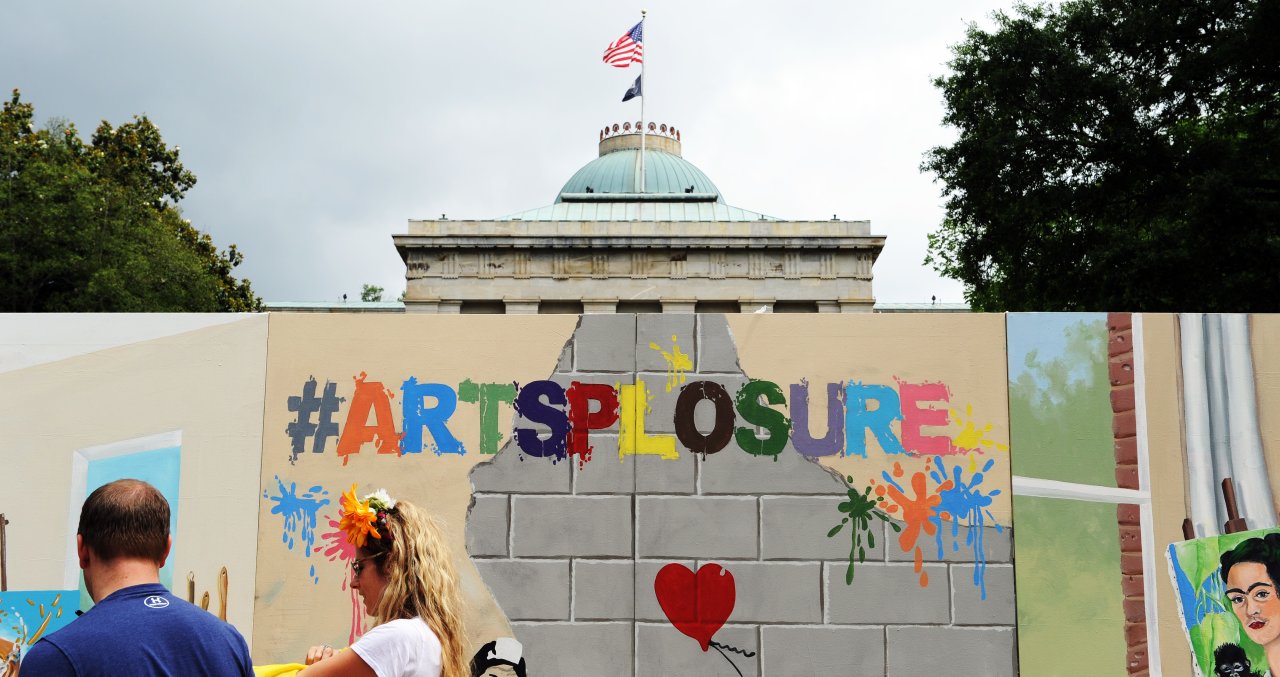 Raleigh, N.C., keeps adding happy occasions to the calendar. Festivals and major events serve an important purpose—they mark history and sense of pride, plus they showcase talent, creativity and culture, delicious foods and beverages (and some surprises, too!).
Make plans now to spend a day or a weekend in the Raleigh area around these trip-worthy events this spring!
May
Exhibition: Ruth E. Carter: Afrofuturism in Costume Design, Through Aug. 6, 2023
Creating pieces for films including "Black Panther," "Malcom X," "Selma" and "Do the Right Thing," Academy Award-winning costume designer Ruth E. Carter has defined generations through her work in film and TV. In this highly anticipated exhibition at the North Carolina Museum of Art, more than 60 of Carter's original garments will be on display.

North Carolina Symphony presents Star Wars: The Empire Strikes Back, May 4-6
May the Fourth be with you, indeed! This special event puts one of the most popular films of all time on the big screen, paired in tandem with the North Carolina Symphony performing John Williams' legendary score live.
Meet in the Street Festival, May 6
A day filled with food, fun and entertainment in historic downtown Wake Forest for more than 40 years running, Meet in the Street pulls together all-day live music plus an additional stage of entertainment with dancers, martial arts, magicians and more. 
Fest in the West, May 6
Celebrate Cary's rural past at this day filled with food trucks, local breweries, pie-eating contests, kids activities, live music and more. Empty plates, full bellies and a satisfied crowd is a sure thing, plus festival-goers will head home with souvenir beer cups!

42nd Annual Apex PeakFest, May 6
Salem St. in historic downtown Apex comes alive with more than 20,000 visitors during PeakFest. For 40 years now, the arts and crafts festival has brought families together for a day of fun, food and fellowship. The town of Apex's largest annual event, PeakFest has all-day live music, all the arts and crafts you can imagine, entertainment for kids and food vendors that bring their best State Fair-style goodies.
Lizzo, May 10
Not her first performance in Raleigh, but certainly her biggest. Lizzo previously sold out shows at Raleigh's The Ritz and Red Hat Amphitheater, but this spring she'll stop at PNC Arena as part of the second leg of her tour named for her recent album, Special.
Longleaf Film Festival, May 12-13
A free-to-attend film festival that highlights the best short- and feature-length documentary and narrative films, the Longleaf Film Festival is held annually at the North Carolina Museum of History in downtown Raleigh, where 1,000 attendees enjoy 50-plus films, panels and popcorn.
Pitbull, May 12-13
Miami pop rap and reggaeton artist Pitubull—Mr. Worldwide, Mr. 305—will bring his act to Cary's Koka Booth Amphitheatre for back-to-back nights in May (one of the best places to catch an outdoor show in the Raeigh area, Booth Amphitheatre also has a wonderful weekly jazz series that begins in April). 
Carolina Ballet presents Sleeping Beauty, May 18-21
Closing out their 25th anniversary season in spectacular fashion, Carolina Ballet with perform a longtime favorite—where good triumphs over evil—in this production of Sleeping Beauty.

Got to Be NC Festival, May 19-21
Putting the best of N.C. food and beverage on display, the Got to Be NC Festival offers tons of eating opportunities, live music, a huge collection of antique tractors, a carnival for children and more activities (plus free parking and admission) at the North Carolina State Fairgrounds.
Artsplosure - The Raleigh Arts Festival, May 20-21
One of the Southeast's premier arts festivals, Artsplosure - The Raleigh Arts Festival attracts more than 80,000 people to downtown Raleigh during the third weekend of May each year. Celebrating fine visual art and live music since 1980, the festival puts more than 180 artists' work, using countless mediums, on display for all to see and enjoy during the free festival.
NCAA Division I Women's Lacrosse Championship, May 26 and 28
The Town of Cary and WakeMed Soccer Park will host the NCAA Women's Lacrosse Championship for the first time ever.
Animazement, May 26-28
Get in on the action at Animazement, a three-day Japanese animation and culture celebration over Memorial Day weekend that draws 15,000 attendees to the Raleigh Convention Center. Cosplay is a huge draw: guests are encouraged to dress up as their favorite characters simply for fun, or to participate in contests showcasing their talents!

NC Sugar Rush, May 28
One of the sweetest events of the year, NC Sugar Rush is an all-dessert food truck rodeo held in downtown Raleigh's City Plaza. More than 20 vendors—offering a range of goodies from cotton candy to cupcakes to cherry pies—will be on hand, along with face painters, balloon artists and more to keep the kids entertained.
June
The Soccer Tournament, June 1-4
This novel event—a seven on seven, 32-team, World Cup-style, winner-take-all soccer tournament—arrives at Cary's WakeMed Soccer Park in June, bringing with it big stakes (a million dollars on the line) and star power (Clint Dempsey, Heather O'Reilly and the U.S. National Women, Ryan Reynolds' Wrexham Red Dragons and more will be in action!). 
Dead & Company, June 1
This supergroup—a modern reincarnation of The Grateful Dead—comes to Raleigh's Coastal Credit Union Music Park at Walnut Creek (the area's largest outdoor music venue) as part of their final tour.
Mid-Town Square Spring Festival, June 3, 2023
Held at Bond Brothers Beer Company in Cary, this free-admission festival features food trucks, local artists, live music and, of course, Bond Brothers' award-winning brews (new releases and special casks included!). Kids and leashed dogs are welcome at the brewery, but heads up—this event will draw a big crowd!
Raleigh's International Food Festival, June 3
Celebrate Raleigh's diverse community and welcoming spirit by trying food, beer and wine (plus listen to live music and see more entertainment) from around the world. Nearly 20,000 attendees are expected in downtown Raleigh's City Plaza for the event.

Town of Cary's Pimento Cheese Festival, June 10
In downtown Cary, food trucks will line the streets to serve their regular menu, along with new dishes featuring a Southern delicacy: pimento cheese! Enjoy live music, grab a drink from local breweries and taste some of the best pimento cheese samples from local restaurants (come hungry!).
Capital City Juneteenth Celebration, June 17
First held at Dorothea Dix Park in 2021 as a celebration and commemoration of the abolition of slavery in the United States, this event featured speakers, artists, historic interpreters, music and more.
SPIDERS: Fear to Fascination, July 17-Oct. 8, 2023
This upcoming exhibition at the North Carolina Museum of Natural Sciences will spin an immersive tale, revealing how this incredibly diverse group of animals has evolved and survived for 300 million years. Through augmented reality and video projection technology, guests of all ages will encounter more than 250 real and preserved specimens (from the Trinidad chevron tarantula to the Australian golden huntsman). Get closer than ever to some of the more than 48,000 known spider species in this amazing interactive experience.
94.7QDR 150 at the Wake County Speedway, June 23
Catch high-energy racing at Wake County Speedway, a 1/4-mile NASCAR Sanctioned short track founded in 1962. This race's theme is sure to be a hit with families—it's Kid's Race Car Ride-a-Long Night!
11th Annual Out! Raleigh Pride, June 24
Out! Raleigh Pride is the area's annual, family-friendly street festival that celebrates the LGBT community and its allies! Organized each year by the LGBT Center of Raleigh, the festival's speakers, performers and vendors (and a Kids Zone) bring eight hours of fun and family to downtown Raleigh's Fayetteville Street district.
Header photo: Chris Richman
Comments