Recipe: Angus Barn's Famous Chocolate Chess Pie
Thursday, April 16, 2020, 11am by visitRaleigh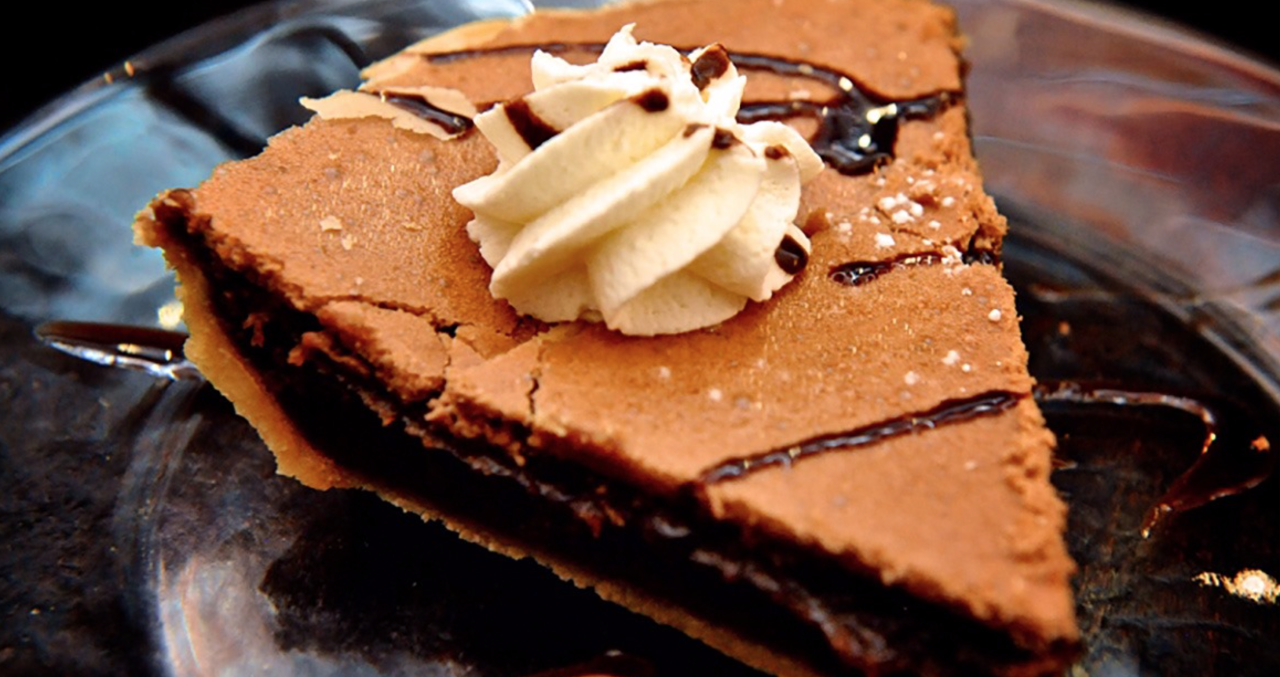 Note: During our current COVID-19 crisis, restaurant dining rooms are closed, but Angus Barn is offering drive-up takeout meals between 4-8pm every day. Call 919.781.2444 or see the menu and order online here. You can also support the restaurant by purchasing gift certificates for later use here. 
---

A family-owned institution for 60 years now, the double doors of the now-fabled Angus Barn swung wide in June of 1960—a 275-seat steak-and-potatoes based restaurant dreamt up by owner Thad Eure, Jr. that aimed to provide families and travelers to the Raleigh area with impeccable service.
Today, more than 20,000 nights, 14 million customers served, one complete rebuild (the restaurant burned to the ground just four years after opening and was promptly rebuilt twice as big) and a half-dozen expansions later, the 650-seat Angus Barn remains one of the most sought-after destination dining spots in the Southeast.
Executive chef Walter Royal has run the area's largest kitchen for more than 20 years now, and Van Eure, daughter of the late Thad Eure Jr., now owns and operates the restaurant and has left her own mark. She's the mastermind behind the unforgettable Christmas decorations that dress "Big Red" during the holiday season, and her commitment to guest service earned her a lifetime achievement Industry Legends Award from the International Foodservice Manufacturers Association in 2019 (meet Van in the video below).
The restaurant—nominated for a James Beard Award for Outstanding Hospitality this year—is well known for an impressive wine list (more than 1,500 options on the menu, and a wine cellar that holds 25,000 bottles) and a cozy ambiance. And while Angus Barn still serves more than 22,000 steaks per month, the menu has evolved to include seafood, poultry and pasta. Not to mention desserts.
Chocolate chess pie
Undoubtedly the Raleigh area's most iconic dessert, it's fair to say that Angus Barn's chocolate chess pie has more than a few fans.
A recipe developed by Van Eure's mother Alice in the late 1960s—with help from kitchen manager Betty Shugart (a 50-year employee of the restaurant)—an estimated 50,000 chocolate chess pies are now made and sold each year. You can even have the pie shipped to you from anywhere in the country. 
Below is the easy-to-make recipe for this classic treat.
 
Ingredient list
1 unbaked pie shell
1 stick of butter
3 ounces of semi-sweet chocolate
1 cup sugar
2 eggs, beaten
1 teaspoon vanilla
A dash of salt
 
Directions
Melt butter and chocolate over a double broiler or on a low power setting in the microwave
Blend together the other ingredients in medium-sized bowl, then mix in the melted butter and chocolate
Pour ingredients into the pie shell and bake 35 minutes at 350 degrees
Allow pie to cool completely, then optionally top with whipped cream and/or serve with vanilla ice cream
Meet Angus Barn owner Van Eure
Van Eure has followed in her parents' footsteps and become a leader in the hospitality industry. A wife, mother and environmental steward, she leads a team of more than 300 people at Angus Barn. In 2004 she was honored with a Gold Plate award from the International Foodservice Manufacturers Association, and in 2019 she became one of three people to ever receive a lifetime achievement award from the same group.
If the video below does not embed properly for you, please visit this link to watch on YouTube.
Header photo via Angus Barn
Comments