Where to See Fireworks in Raleigh, N.C., on July 4th Week
Thursday, June 13, 2019, 4pm by Tabletop Media Group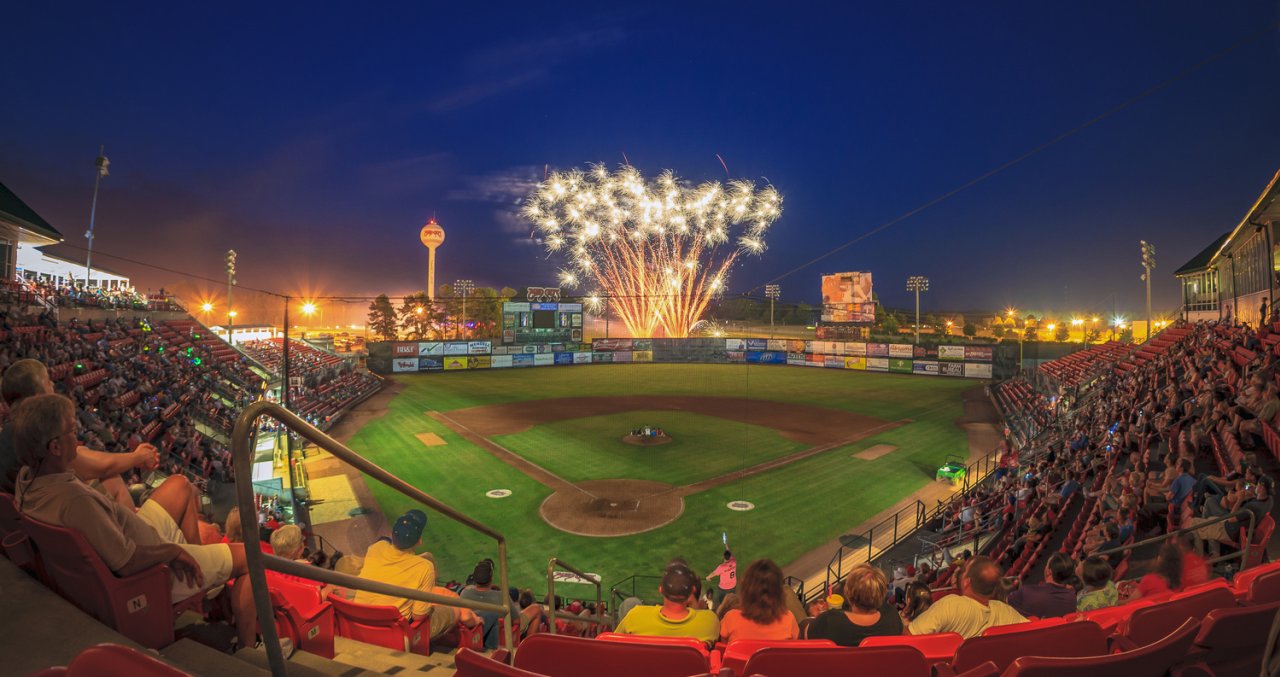 Important: This article includes information for a previous year. For 2020, there will be no in-person firework celebrations in the Raleigh area due to COVID-19. For other July 4 weekend activities (hiking and picnic spots, a list of restaurants/breweries that are open and more) please go here.
Ready to celebrate Independence Day in a big way this year? Fireworks displays, carnival rides, live music and other patriotic celebrations are lined up all across the Raleigh area to celebrate America's 243rd birthday—don't miss out! Here's your rundown on the biggest and best family-friendly Fourth of July events in Raleigh and its 11 surrounding towns.
Heads up: A few events listed below don't include fireworks but are early in the day—hit those early then head to more celebrations with fireworks later in the day!
 
Wed., July 3
 
Garner July 3 Independence Day Celebration
Grab a blanket and head to Garner's Lake Benson Park for an evening of patriotic entertainment. The Independence Day Celebration starts at 5pm with games for kids in the Kids Zone as well as local food and drink offerings. The North Carolina Symphony will put on a patriotic program later in the evening, followed by fireworks. Picnics, coolers and beach umbrellas are welcome!
Fuquay-Varina Independence Day Celebration
Fuquay-Varina will host its Independence Day Celebration July 3, featuring food vendors, live music, free inflatable rides and a fireworks display at South Park. The park's splash pad will also be open for kids. The celebration starts at 6pm.
 
Morrisville July 3rd Fireworks
You don't have to wait until July 4 for fireworks in Morrisville! The annual Morrisville July 3rd Fireworks display will be held at Morrisville Community Park, with music and food trucks kicking things off at 6pm, and fireworks blasting off at dusk. Bring a chair and cash for a tasty treat from a local food truck.
Cary Independence Eve Celebration
The Cary Town Band celebrates and honors our nation's veterans in this year's Independence Eve Celebration at the Cary Arts Center, a free event on Wed., July 3. Speaker Deborah Tilton, a specialist in the N.C. Army National Guard and decorated veteran, answers, "What is a Veteran?," and musical selections will be played to honor those who have served. The band is set to pay special tribute to past and present military service personnel and their spouses who have helped secure our freedom and liberty.
Both Wed., July 3, and Thurs., July 4
 
Wake Forest Independence Day Celebration
The Town of Town of Wake Forest offers up two days of Independence Day celebrations, July 3-4. The Fireworks Spectacular on July 3 at Heritage High School will feature live music from local band Sleeping Booty, plus food trucks and vendors serving up hamburgers, hot dogs, popcorn and snow cones. Admission is free! Bring your lawn chairs and blankets. Gates open at 5:30pm.
On the morning of July 4, kids can jump in on the annual Children's Parade (line-up begins at 10am; parade begins at 10:30am), then have a blast at Art & Games in the Park, 11am-1pm, with inflatables, sack races, a watermelon seed-spitting contest, pie-eating contest and more.
Thurs., July 4
 
Apex Olde Fashioned Fourth of July
Check out the town of Apex's Olde Fashioned Fourth of July from 9am-1pm on Independence Day, where carnival games, a giant slide, climbing wall and more are sure to entertain. Kids 12 and under can also participate in Uncle Sam's Parade of Wheels down Salem St.—decorate your bikes, wagons, tricycles or other non-motorized vehicles in patriotic colors! The parade starts at the corner of Salem and Chatham Sts. at noon; line-up is at 11:45am.
 
Town of Cary's July 4th Celebration
Relax under the pines at Koka Booth Amphitheatre for the Town of Cary's July 4th Celebration—the biggest and best Independence Day party Cary has ever thrown. Beginning at 3pm, you'll be able to enjoy family-friendly activities, including rides and games, a venue-wide scavenger hunt, watermelon-eating contests and even a 50-foot Ferris wheel! The Cary Town Band kicks off music at 5:45pm, followed by the North Carolina Symphony and fireworks to cap the evening. 
Raleigh 4th of July Fireworks Display
You can't miss Raleigh's Fourth of July fireworks extravaganza! The city's annual July Fourth fireworks will be held around the Stadium and Arena Complex (Carter-Finley Stadium and PNC Arena area). Free parking to view the fireworks will be available within PNC Arena lots, Carter-Finley Stadium lots and North Carolina State Fairgrounds Bunn Field lots along Trinity Rd. Fireworks will be launched from the Varsity Lot at North Carolina State University. Gates open at 6pm, and fireworks launch around 9:30pm. Perfect for family and friends, this breathtaking show is a must-see.
North Carolina FC vs Charlotte Indpendence (with post-match fireworks at WakeMed Soccer Park)
Unbeaten in their last seven matches, the United Soccer League's (USL) North Carolina FC will take on in-state rival Charlotte at WakeMed Soccer Park, followed by post-match fireworks.
 
Knightdale July 4th Celebration
The Knightdale July 4th Celebration will take place July 4 at 5pm at Knightdale Station Park. Enjoy food trucks, vendors, kid-friendly activities and a free performance from headlining band The Embers. Fireworks start around 9:15pm. 
Rolesville 4th of July
Join the Town of Rolesville as they present the annual Rolesville Fourth Celebration featuring entertainment, food trucks, a beer garden and fireworks at Rolesville Community School Park.
 
Joel Lane Museum House Independence Day Open House
Dive into Raleigh history at the Joel Lane Museum House, also known as "The Birthplace of Raleigh," at the 28th annual Independence Day Open House, 11am-4pm. Historians will be on-site demonstrating various aspects of colonial life, and kids can participate in hands-on activities like making rag dolls and writing with a quill pen. Admission is free.
Wendell July 4th Parade and Celebration
Join the Wendell Historical Society and Town of Wendell for a July Fourth parade and celebration, 10:30am-12:30pm. The parade begins on Main St. at Wendell Blvd. and includes veterans, children in their most patriotic wear and bands. It's a quaint and wholesome observance for the whole family. Following the program, enjoy free hot dogs, watermelon and fellowship!
July 4th Fireworks at Brier Creek Commons
Brier Creek Commons' 13th Annual July 4th Fireworks begins at 7pm with the "Star Spangled Block Party," featuring bounce houses, games, prizes, face painting, food and more. Fireworks get underway after dark. 
Independence Day Olde Time Celebration at Bond Park
Join this old-fashioned celebration of our nation's birth at Cary's Fred G. Bond Metro Park, 8am, which is sure to be lots of fun for the entire family! The celebration includes a fishing tournament, parade and family contests like doughnut eating, watermelon eating, lakeside games and more. The boathouse is open for rentals all day long.
Thurs., July 4 through Sat., July 6
 
Carolina Mudcats' Mudcats for America Fireworks Series
The Carolina Mudcats will kick off July playing the Frederick Keys at Five County Stadium in Zebulon. Celebrate Independence Day with the Mudcats, and you'll enjoy "the best fireworks show in Eastern N.C." that follows the July 4-6 games. The Mudcats will be wearing their Patriotic Jerseys in celebration!
Fri., July 5
 
Holly Springs July 5th Celebration
Join the Town of Holly Springs for a traditional celebration of America's birthday at Bass Lake Park starting at 5pm. Admission is free, and pets are allowed on a leash. There will be face painting, inflatables and rides, food vendors, kids crafts, live music from the Holly Springs Community Band and The Holiday Band and a fireworks display beginning at 9:15pm. Parking is available at Jefferson L. Sugg Farm at Bass Lake.
North Carolina Courage vs. Houston Dash (with post-game fireworks at WakeMed Soccer Park)
Defending champions of the National Women's Soccer League (NWSL) and hosts of the Women's International Champions Cup at home later this summer, the North Carolina Courage will face off against Houston at WakeMed Soccer Park with post-match fireworks on the schedule to celebrate Independence Day.
Header photo: Matt Robinson/raleighskyline.com
Comments