Where to Find the Best Ice Cream in Raleigh, N.C.
Wednesday, July 27, 2022, 12pm by Meagan Byrne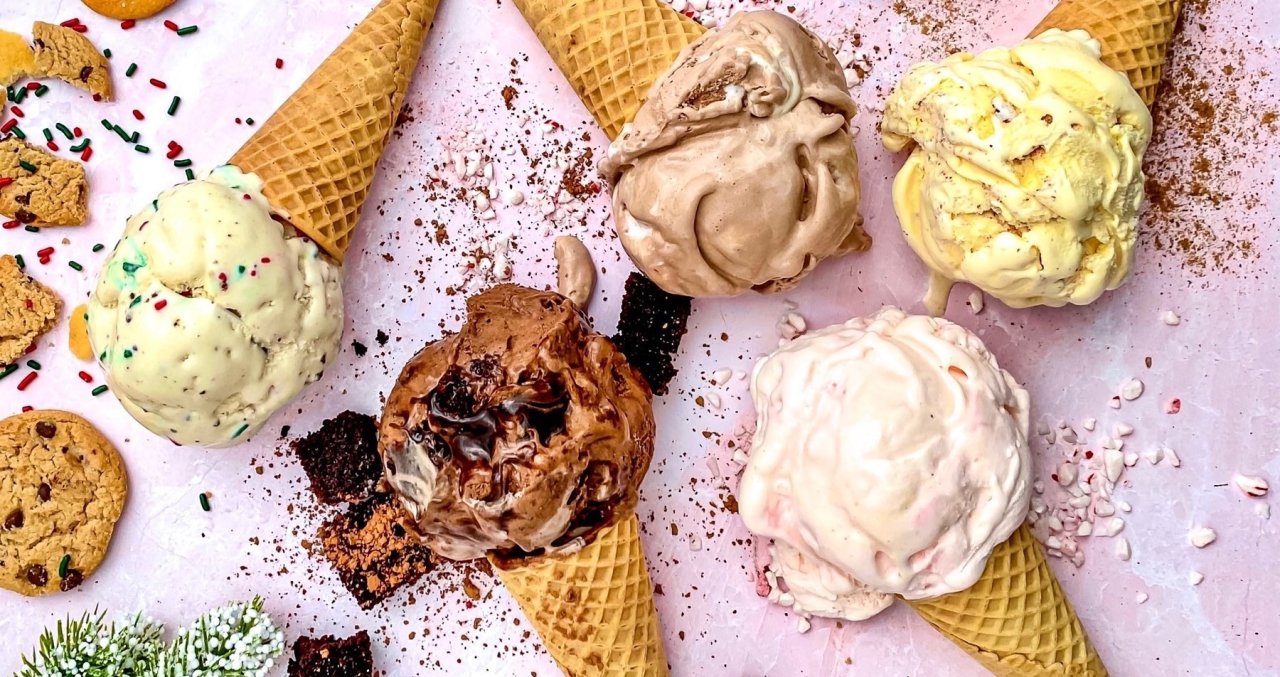 The Raleigh area's agricultural background and vibrant artistic culture are together helping local chefs create unique spins on everyone's favorite summertime treat. With fresh and local ingredients such as milk from local grass-fed cows to ripe peaches and strawberries from the local farmers, Raleigh's ice cream makers are creating desserts you can't miss on a trip here.
North Carolina State University's own Howling Cow ice cream has long been one of Raleigh's favorite hidden gems on the Wolfpack campus (the ice cream debuted at the North Carolina State Fair in the 1970s, and at the student library in 1980), but the new Dairy Education Center and Creamery—opened in 2020—has given customers better access than ever to this dangerously good dessert that uses fresh milk and cream from the cows that live on the 329-acre on-site farm.
As the name states, the Dairy Education Center and Creamery is more than just another location to find this tasty treat (the ice cream is still served at several locations on campus today, and also found in some local Harris Teeter grocery stores)—it's also a destination learning center equipped with interactive video exhibits so visitors can enjoy an ice cream sundae while learning about the plant's operations and discovering the many facets of the state's dairy industry.
Guided tours of the farm, research facility, Education Center and Randleigh Heritage Dairy Museum are also available.
Up for a sweet treat road trip? For a humble ice cream shop tucked away nearly twenty miles south of downtown Raleigh in Angier, N.C., Sunni Sky's sure has made a name for itself. The shop's Cold Sweat ice cream flavor—made with a variety of chili peppers and hot sauces—has been dubbed the "spiciest sweet on the planet" and earned attention from Food Network, Good Morning America and beyond (you'll need to sign a waiver before chowing down--it's that hot!).
With hours that stretch until 11pm seven days a week during the warmer months, the shop, along with the front porch and signature rocking chairs waiting outside, is nearly always packed (with a line that moves quicker than you'd expect thanks to a hustling staff). More than 130 homemade flavors are crammed onto the menu—Blueberry Cheesecake, Pumpkin Pie, Coconut Fudge, Sour Apple Sherbet and plenty more (ask to taste as many samples as you'd like and they'll happily oblige). With super low prices (it's just $4.50 for a triple cup or cone—cash only, by the way), it's no wonder why this ice cream parlor is a favorite for so many. 
A family-owned business led by Andia Xouris, Andia's Homemade Ice Cream is proud to serve up its national award-winning ice cream made with premium ingredients and often served as part of an over-the-top creation (see below!). The shop offers a wide variety of decadent flavors as well as a vegan flavor and two sorbets, always available for their lactose-intolerant and vegan friends. In July 2020, they opened a second brick and mortar location in Cary to better serve their loyal customers.
Roaming the streets of the Raleigh area in a turquoise 1965 Ford truck since 2014, Two Roosters Ice Cream—named the best ice cream in the Tar Heel State by Food & Wine—is hard to miss and easy to love. Founded by North Carolina State University alum Jared Plummer, the locally-sourced ice cream truck was such a hit that they opened their first brick-and-mortar location (where every day is a wonderful day for ice cream) in summer of 2017 to better serve the masses. The ever-changing menu is a mix of seasonal and permanent flavors—we're big fans of the blackberry hibiscus and roasted strawberry and honey flavors from the "forever" selections. Rotating flavors are announced on the first of each month on Instagram. 
The brainchild of chef Buck Buchanan, Lumpy's Ice Cream is based on a simple philosophy: keep it simple and keep it local. A chef by training and restaurateur by trade, Buck first made his ice cream as a treat for his kids. After seeing how much they loved it, he took a year off and studied the ins and outs of ice cream making. His first batches were only available via hand truck in downtown Raleigh but you can now find Lumpy's across the area.
Not technically ice cream but a frozen treat staple in Raleigh! Opening its doors in 1988, Goodberry's Frozen Custard focuses on pure, honest ingredients to make their frozen treats. In the beginning, not many Southerners knew what frozen custard was, but the concept of their "concrete" quickly caught on. The term "concrete" comes from the fact that their custard is whipped until there is little to no air left, resulting in a thick, creamy texture. So thick, in fact, that you can flip your cup upside down and the custard will not pour out (as pictured in the header photo up top). Made fresh hourly, locals know to check out the flavor of the day online and customize their concrete with a variety of toppings and sauces.
Brett Hillman and his wife began their ice cream journey back in their hometown in N.Y. where they owned a Carvel franchise. A few decades later, the couple brought their love of the frozen treat to Raleigh where they knew they could find local organic farms and a strong community that would love their product as much as they did. They took over Fresh Local Ice Cream on Glenwood Ave. in 2011 and business boomed. Their ice cream base comes from a nearby farm, ensuring that their flavors are made fresh daily. Today the businesses has expanded, opening new locations in downtown Cary and Apex.
More picks for summer sweet treats:
Header photo courtesy of Andia's Ice Cream
Comments