The Best Trails to Hike, Bike and Run in Raleigh, N.C.
Wednesday, April 05, 2023, 1pm by visitRaleigh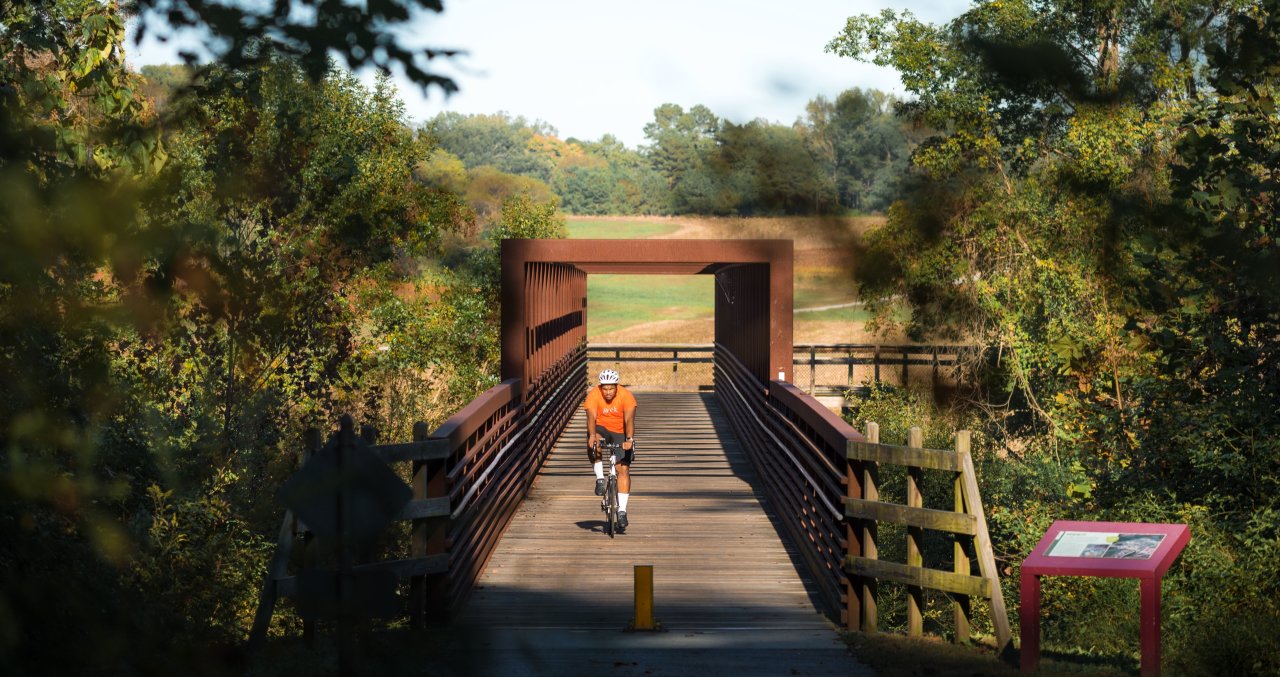 There's no shortage of ways to find peaceful escapes in order to explore the outdoors in the City of Oaks. Use any of the Raleigh area's 180 miles of greenways—many of them connecting to attractions and letting you travel all over the destination—or numerous other miles of trails traversing through parks, and you'll find runners getting in workouts, cyclists out for leisurely rides, parents pushing strollers and people of all ages soaking up the fresh air. Below are some of our favorite spots to seek out solitude and sun!
Filled with shade during the summer months and rich with color in the fall, Hemlock Bluffs Nature Preserve provides an easy, family-friendly way to escape to the outdoors in Cary. The 140-acre park—established 40 years ago and named for the atypical group of nearly 200 Eastern Hemlock trees that can be found here—is highlighted by approximately three miles of mulch-covered walking and hiking trails that lead to a series of small overlooks.
The Chestnut Oak Loop trail—traversing 1.2 miles of the hilly (but not difficult) side of the park—winds through the upland forest with ridges, ravines and creeks, passing by three overlook areas that provide views over the bluffs and bench seating for moments of solitude. The Swift Creek Loop Trail is a short, 0.8-mile section of mulched paths and wooden boardwalks that is mostly flat with a set of 100 stairs that have to be taken down and then up on your return. Visitors with limited mobility can reach an overlook on the Swift Creek Loop Trail before reaching the stairs.
The 3,700-square-foot Stevens Nature Center provides interactive, educational nature exhibits and historical exhibits from the Piedmont of N.C., plus provides nature interpretation and environmental education programs for all ages throughout the year.
Total mileage: Approximately three miles
Best for: Leisurely walks; summer shade; fall foliage; families; dogs on short leashes; small crowds
Established as the Raleigh area's first county park, Lake Crabtree County Park offers hiking, single-track mountain biking, seasonal boat rentals, playgrounds and more in a location that sits between Cary, Morrisville and Raleigh (with William B. Umstead State Park sitting a stone's throw away). Open to foot traffic only for the majority of the hike, the Lake Trail is a six-mile loop that meanders its way around the 520-acre lake, sometimes coming just a few feet from the water and other times veering farther from the shore.
While about half your time is spent in the woods where you won't find much of a crowd, the other half puts you on a new stretch of paved greenway that sees more cyclists, families and pets enjoying the outdoors (the greenway also passes over a nearly 500-foot-long bridge that crosses the lake). A large open field on the wooded side sits against the lake, making for tons of room for picnics and recreation.
Total mileage: The Lake Trail is a six-mile loop, and another 10 miles of multi-use paths can be explored (but keep a heads up for mountain bikers)
Best for: Woodsy hiking; families; picnics; cycling on the greenway; access to Umstead State Park
This 237-acre nature preserve in North Raleigh offers five miles of lesser-trafficked, mostly unpaved hiking trails that loop through heavily wooded areas around two lakes in the center of the park (not challenging terrain, but one of our top choices for peaceful outdoor exploring). Dog- and kid-friendly, portions of the trails are also open to mountain bikes. The park also offers amenities including a fishing pier, playground, sand volleyball court, bird and butterfly gardens, picnic areas and more. 
Total mileage: Approximately a 2.5-mile loop around the outer trails of the park; five total miles of trails
Best for: Trail running; leisurely walks; easy dog-friendly hiking
Located near North Carolina State University, Lake Johnson Park is a popular spot for students and professionals to get some exercise—a paved, three-mile greenway loop, plus two miles of unpaved trails, draws lots of joggers and walkers (and dogs, too!). The paved section, east of the boathouse, packs some punchy hills and tends to draw a bigger crowd. The unpaved section, west of the boathouse, is flatter but great for hikers looking for a quieter adventure. Bikes are allowed on both sections of the mostly-shaded trails, but can't complete the full loop on the unpaved side because of an environmentally-sensitive area (runners and hikers are still able to complete the loop). 
The most recognizable feature of the park is the 700-foot-long boardwalk that cuts directly across the center of the lake, often busy with people dangling fishing poles over the side or watching kayakers and pedal boats circle the 150-acre body of water.
On the northern end of the lake, the east loop of the trail can connect with the Walnut Creek Greenway which gives you access to North Carolina State University's Centennial Campus (two miles away), Dorothea Dix Park (3.5 miles), downtown Raleigh (five miles) and the Neuse River Greenway Trail (13 miles)—lots of great options for more exploring!
Total mileage: Five miles if you complete both loops, and more if you venture outside the park
Best for: Leisurely walks; dogs; running
One of N.C.'s most-visited state parks, William B. Umstead State Park remains a peaceful getaway thanks to its sheer size—more than 5,000 acres of forest, trails and lakes sit on the edge of Raleigh, Cary and Morrisville. With 13 miles of multi-use trails that follow a series of rolling hills (perfect for horseback riding, jogging and cycling) and 22 miles of dedicated hiking trails, this is a must-hit destination for outdoor enthusiasts.
Cyclists are drawn to Umstead for the gravel riding—the multi-use paths are a mixture of hard-packed dirt surfaces along with some fairly rocky gravel sections among the handful of trails that are open to bikes. No paved roads will be found here, and that's part of the appeal. You'll see all types of rides tackling the terrain inside Umstead, from full-suspension mountain bikes to trendy, new gravel bikes (road bikes with bigger tires, in simple terms). The important thing is you'll want tires that are, at minimum, 32mm in width (bigger will be better) to comfortably handle the bumpy surface. 
One favorite way to take advantage of the multi-use trails for both cyclists and runners is to park your vehicle at the Old Reedy Creek Rd. trailhead (plenty of parking spots, bathrooms, water fountains and bike repair tools are on hand here), head just a couple hundred yards up the short hill to the park entrance and follow the Reedy Creek Trail on a straight shot until you hit the far end of the park—that's a total of five miles one way. From there, either head back the way you came or turn left to tackle the South and North Turkey Creek Trails (warning: brutally steep in a couple sections!) which will add an additional six miles or so to your route before heading back to your starting point (take a look at the full map here).
Hikers and singletrack runners have plenty of options, too, starting with Sycamore Trail, a moderately easy loop trail with plenty of elevation changes and lots of shade that runs beside Sycamore Creek for a total of 7.2 miles and has the option to connect to many other trails along the way (hop onto the Graylyn multi-use trail to find the incredible piece of chainsaw art pictured in the header of this article!).
Total mileage: As much or as little as you like; trails range from one mile to seven miles and can be mixed and matched
Best for: Workouts; trail running; hiking; gravel riding/mountain biking; hills; dogs; families; shade
Note: Through spring 2024, there is a three-mile section of the Neuse River Greenway Trail that will be under construction, with a detour provided by the City of Raleigh to navigate around the area. See those details here.
The Neuse River Greenway Trail—a 27.5-mile paved, uninterrupted greenway that stretches from Falls Lake in North Raleigh to the Wake County line in southeast Raleigh—is a year-round haven for outdoor recreation. With views of historical sites as well as winding boardwalk areas and suspension bridges crossing over wetlands, the trail is open to joggers, walkers, runners, cyclists, roller-bladers and others. Many consider the Neuse River Greenway Trail to be the gem of the 100-plus-mile Capital Area Greenway System.
There's no shortage of starting and stopping points along the trail, but one easy access point for visitors is to begin at the Falls Lake trailhead, where The Bike Guy—a full-service bike shop with rental bikes available—sits right beside the parking lot. Heading south, you'll find lots of families, children and more foot traffic in general in the first few miles before the path clears quite a bit. From the trailhead, it's approximately eight miles of flat terrain until you reach Horseshoe Farm Nature Preserve, a 146-acre jewel of open space surrounded by some of the most scenic greenway miles in the entire area (a parking lot here is also a good option for starting a run or ride).
The southern portion of the trail travels through more wetlands and secluded areas and is less trafficked, but equally scenic. A good place to start is Anderson Point Park, which has plenty of parking, bathrooms and water fountains (note: heading south from this point, you may not find another place to stop for water). From here, you'll begin to find white picket fences running along wide open land and a mix of shaded and sunny portions of the trail. If you time it right, you'll find acres upon acres of sunflower fields in full bloom in early or mid-July. It's approximately 11 miles from Anderson Point Park to the end of the trail, with just one or two short and small hills to compete with.
Total mileage: 55+ miles if you're up for a full out-and-back, but lots of starting and stopping points are available. If you're really feeling up for a challenge, check out Oak City Cycling Project's Neuse Deuce Challenge—a one-day, 200km (129 miles) route mostly completed along the Neuse River Greenway Trail. 
Best for: Long runs and rides; families; solitude
Perched along the southern shores of Falls Lake State Recreation Area, this 157-acre outdoor retreat opened in 2006 as the City of Raleigh's first designated nature preserve. Dr. Annie Louise Wilkerson, a renowned Raleigh doctor with many pioneering achievements in her 53-year career in medicine, donated the property for the purpose of promoting nature and wildlife education. Today, the park office and AWL Education Center offer hands-on displays and craft areas for children, and programs—including bird watching, astronomy nights and art classes—are offered to the public.
The preserve's open fields and two miles of hiking trails meander between meadows, through an oak-hickory forest, around a one-acre farm pond and past hidden rock crops, making for easy exploring for the entire family.
Those looking for a bit more adventure will be happy to know that Wilkerson Nature Preserve is a perfect starting spot for a jaunt along the Mountains-to-Sea Trail (MST, known as "N.C.'s hiking trail," stretches more than 1,000 miles from the Great Smoky Mountains to the Outer Banks). Connecting on the north end of the nature preserve, hikers can follow the white dot markers on trees to take the MST approximately three miles to the Visitor Center near Falls Lake Dam, trekking through a super-varied array of landscapes, plant life and wildlife along the way. The round-trip hike from Wilkerson to Falls Lake Dam and back is among our picks for the best six-mile hikes in the Raleigh area.
Total mileage: Six miles with the option to continue on the MST for many more
Best for: Trail running; easy hiking through varied terrain
Beginning at the North Carolina Museum of Art (where parking and admission to the museum are free) and ending in downtown Raleigh, this 5.9-mile, paved trail winds through the museum's beautiful 164-acre park, passes behind Meredith College, cuts through the main campus of North Carolina State University, zips by Pullen Park and finishes in the heart of the city just outside of the Martin Marietta Center for the Performing Arts (where coffee and treats from spots like Bittersweet, Boulted Bread and lucettegrace await nearby).
The trail can be done in reverse, of course, and bike racks are on hand at the museum so you can lock up for a bit while you explore the galleries (highly recommended) or set up for a lunch break in the park outside. Relatively flat, the Art to Heart Trail does have a couple standout hills on the edge of the museum park. If coming from downtown, the final hill into the museum park is a short and steep 0.2-mile climb with an eight-percent average gradient. According to Strava—a popular GPS tracking app for athletes—cyclists have made more than 20,000 attempts at this hill since 2011.
For those interested in a more leisurely stroll, you really never have to leave the museum park. A one-mile paved trail, the Blue Loop, is open to walkers, skaters, joggers and cyclists—families with young children, strollers and dogs are a common sight along this path that traverses past some of the park's major art pieces. An additional mile of unpaved trails, not open to cyclists, is a perfect way to find some solitude amongst nature. View a map of the Art to Heart Trail here. 
Total mileage: 5.9 miles if you complete the trail in one direction
Best for: Leisurely strolls; running; bike rides; families; art lovers; college campus views; picnics
The paved, two-mile trail that loops around Shelley Lake is a favorite for many in the North Raleigh area. Relatively flat, and shade-covered for about half of the loop, the trail provides great views of the lake almost the entire way around (and is a go-to spot for sunset watching).
Because Shelley Lake tends to draw a pretty good crowd (including lots of kids and dogs), it's better for runners and walkers rather than cyclists, especially at peak times. A couple of open spaces that are great for families to kick a soccer ball around or throw a frisbee, plus bathrooms, water fountains and a fishing pier are also onsite.
Keep your eyes peeled for wildlife—as of spring 2018, it's reported that multiple blue heron nests and at least one bald eagle's nest are active!
Total mileage: Two miles
Best for: Leisurely strolls; families; lake views; running
Opened in late 2020, this 405-acre nature preserve in southeast Wake County offers nearly a dozen miles of walking and mountain biking trails that wind through forests and fields—passing by working farmland—and connect to the previously mentioned Neuse River Greenway Trail. The land, purchased by Triangle Land Conservancy in 2013, was owned by the Williamson family for more than two centuries and most recently used for farming tobacco and later cattle.
The gently rolling and sometimes rocky landscape has been immediately popular amongst mountain bikers of all skill levels, and one-way paths that have bikers and hikers moving in opposite directions reduces trail conflicts. The preserve is mostly shaded (aside from the entry area seen below), and Two Loop Pond—a walking-only trail—provides an even lesser-trafficked escape with wonderful water views (and a rock outcrop where Bailey and Sarah Williamson used to sit for picnics).
Note that dogs are welcome (on a leash!), and the preserve is closed when wet (otherwise open seven days a week).
Total mileage: More than 10 total miles of connected loops, making it easy to choose your desired distance
Best for: Rural nature walks; beginner-to-intermediate mountain biking; puppy exploring
This county park, now with a brand-new name, opened in July of 2010, just two years after the landfill that previously occupied the space ceased operations. North Wake Landfill District Park—as it was called until recently—was the result of transforming the 73-acre site back into a public space filled with greenery and a massive hill that's perfect for running and biking up and down. 
The park is made of 1.8 miles of paved trails, two miles of mountain biking trails, a small mountain biking skills practice area and a 1.4-mile cycling, running and walking lane that circle the main hill. The main attraction, The Top of the Hill Trail, is a short, steep and rocky climb (almost 200 feet of elevation are gained in just under a tenth of a mile), rewarded with a 360-degree view of Wake County that can't be found anywhere else—on a clear day you'll be able to see the downtown Raleigh skyline in the distance (nearly 10 miles away!). A second steep hill, slightly smaller and just a stone's throw away, makes for a good warmup or practice run.
One of the best things about Green Hills is the connection to the Neuse River Greenway Trail. Starting at the Falls Lake trailhead on the Neuse River Greenway Trail, you get the chance to branch off towards Green Hills just 2.6 miles into your trek—a short, 1.5-mile detour on the Abbotts Creek Greenway takes you straight into the entrance of the county park, giving runners and cyclists a chance to tackle some hills before continuing on their way. 
Total mileage: Approximately two miles; repeat as necessary
Best for: Workouts; hill repeats; beginner mountain biking; running