A Guide to Raleigh, N.C.'s Rooftop, Hidden and Underground Bars
Friday, June 14, 2019, 7am by visitRaleigh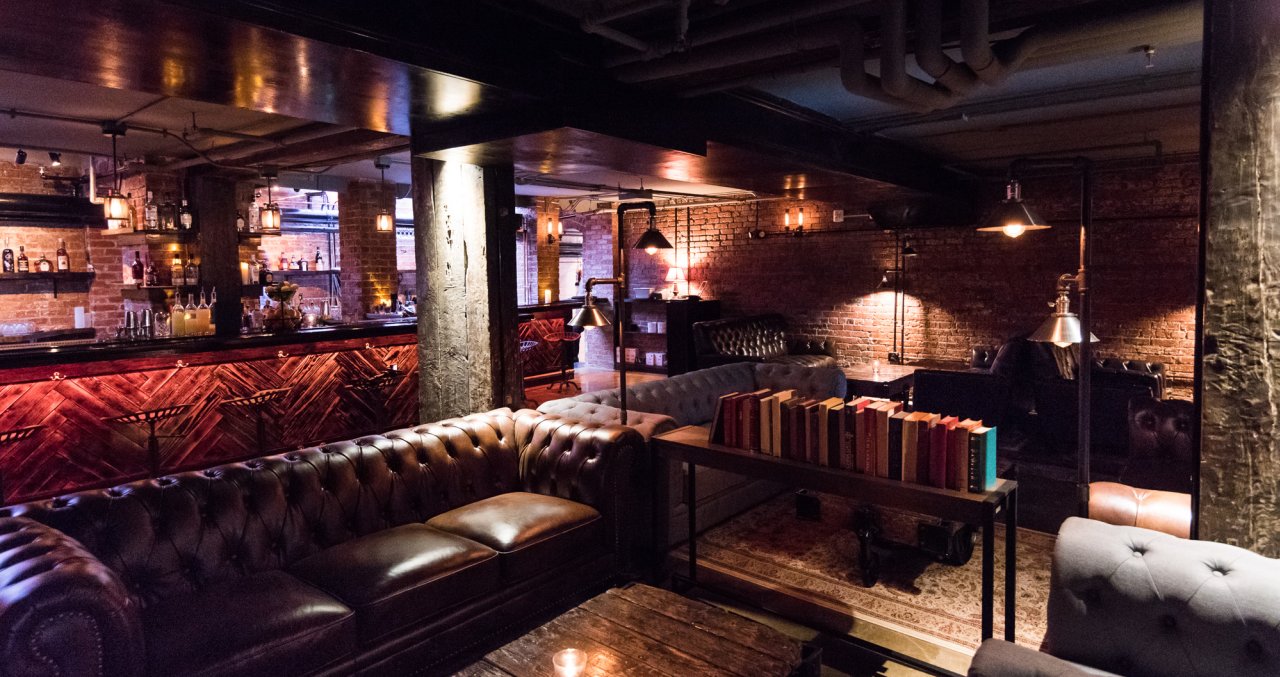 Looking for a fun spot to spend a night on the town in Raleigh, N.C.? These bars, all with unique features and their own character, are some of the most popular, most loved-by-locals and sometimes most hidden-from-visitors places to grab a drink.
 
Rooftops

Level7
The state's first AC Hotel, AC Hotel Raleigh North Hills, includes a highly-anticipated rooftop bar. Perfect for groups big and small, Level7 is a 5,100-square-foot eclectic space that's open to the public seven days a week, serving tapas-style small bites, local craft beers, samplings from small-batch distillers, its own signature cocktail creations plus a selection of Spanish wines on tap as part of a European-inspired experience overlooking the neighborhood. Live music on Fri. and Sun. evenings sets the mood for everything from date nights to happy hour get-togethers.
Raleigh Times Bar
Named for the city newspaper that formerly occupied this historic space (the Raleigh Times was published from 1912 to 1989), the Raleigh Times Bar has been an anchor in the downtown Raleigh nightlife scene since it opened in 2006. In 2012, the space was renovated and expanded to add more private event space plus a rooftop patio. A great beer selection and a killer view of a busy part of downtown make the rooftop here one of the most coveted spots around on a nice weather day.
Carolina Ale House
Opened in early 2015, the Carolina Ale House on Glenwood Ave. in downtown Raleigh takes things to a new level. Radiant-heated floors and a retractable roofing system make the patio areas of this sports bar truly one of a kind. It's a big space, too, with capacity for more than 400 in total. An observation deck up top, televisions on every wall and nearly 100 beers on tap make this an awesome spot for big groups.
Raleigh Beer Garden
The world record-holder for largest selection of draft beer (Guinness made it official in late 2015, the current number is nearly 400 beers on tap), Raleigh Beer Garden is a massive 8,500-square-foot venue with tons of outdoor space. A back garden patio and a rooftop bar are as much of a draw as the beer selection. Grab one of 144 N.C.-made beers (plus a beer battered pretzel) from the first floor bar, then find the perfect bench or booth outdoors to enjoy it.
Hibernian Restaurant & Pub
A traditional Irish pub, Hibernian has been catering to all walks of life since opening on Glenwood Ave. more than 15 years ago. Dark wood interiors and cozy nooks surrounded by bookshelves create a host of unique booths and tables to be discovered inside. Upstairs, you'll find floor-to-ceiling windows that open up onto a large, wraparound deck with one of the best views in the city.
Taverna Agora
Serving authentic Greek cuisine (with the culture and hospitality to match), Taverna Agora's modern rooftop is the perfect gathering spot for friends and family. Share a number of small plates (plus a couple bottles of wine) at dinner time or take in a Sun. brunch in the open air.
10th & Terrace
Located atop the Residence Inn Raleigh Downtown, 10th & Terrace promises bar-goers one of the most unique views in the city. The 10th-floor rooftop deck overlooks the Duke Energy Center for the Performing Arts—where theater, opera, ballet and other live entertainment takes place year-round—plus a sea of green space surrounding it (they don't call Raleigh a "city in a park" for no reason). Lots of comfortable seating, a small plates menu that changes seasonally and a local beer and craft cocktail list make this an immediate hit for hotel guests and other visitors to downtown Raleigh.
Hidden Bars

The Green Light
The definition of hidden, The Green Light is literally tucked away behind a secret bookshelf inside The Architect Bar & Social House. It's a small, dimly lit room with a 1920s speakeasy feel—the bar is clad with reclaimed wood, and vinyl records play in the corner. This is the spot to disappear, sit, relax and enjoy a serious cocktail. But don't just take our word for it—Thrillist just named it one of the "21 Best Secret Bars in the World."
Mitch's Tavern
Tucked away atop an easy-to-miss staircase, Mitch's Tavern has been a staple of Raleigh—and the community at North Carolina State University—for decades. As a student, Mitch Hazouri, owner of the tavern for more than 44 years now, used to frequent the Jolly Knave nightclub that previously occupied the second floor space on Hillsborough St. The cozy space, filled with dark wood finishes along the bar and in the booths, certainly has a unique look and feel—in fact, that's why the producers for the 1988 film "Bull Durham" chose Mitch's to shoot bar scenes for the movie. The food menu, full of dishes ready to warm you up, makes Mitch's a go-to spot during the cold weather months. Spring for the house-made soups, chili or slow-cooked gumbo. In the warmer months, a couple balconies with just a few tables overlooking bustling Hillsborough St. are prime spots for a dinner or a night out.
Gallo Pelón Mezcaleria
Home to some of Raleigh's best cocktails and a focus on mezcal (not a smoky tequila—it's a pit-smoked agave spirit from Mexico), Gallo Pelón can be found above its sister restaurant Centro in downtown Raleigh. You'll climb the stairs to the left just inside the Centro door and find a bar with a few seats and tables and shelves packed tightly with spirits. A small outdoor space, with mural-painted walls and hanging lights, makes for perfect date nights.

The Tuck
Raleigh's first gay speakeasy, The Tuck is open inside of Legends Nightclub (a LGBT nightlife hot spot for nearly 30 years in downtown Raleigh). Blending the club scene with a secret hideaway for when you need a break from the dance floor, The Tuck is open on Fri. and Sat. from 9pm until the night is over, offering a myriad of cocktail options (plus punch bowls to share with a group) for the lucky few who find their way inside. A password is required for entry, and it changes nightly—you'll need to check the venue's Instagram or Facebook account for the details before ringing the buzzer and requesting permission to enter!
Underground Bars

Watts and Ward
This exciting new craft cocktail bar from Ireland native and Hibernian Hospitality owner Niall Hanley is 6,000-square-feet of 1920s America underground spirit. Located beneath Caffé Luna and directly across from Moore Square, Watts & Ward is a seemingly endless cavern, with room after room of leather seating, vintage artwork, rustic tables, dim lighting and bookshelves full of history. Tons of seating options, including big booths that are great for groups, an inventive cocktail menu and low-key jazz events all mean you'll need to carve out some time to swing by this speakeasy on a night out. Tip: Sign up for the $1 membership in advance on their website.
Foundation
Peak down a set of stairs off downtown Raleigh's Fayetteville St. and you'll be able to just barely catch a glimpse of a red neon sign lit up that reads "Foundation"—that's how you know you're in the right spot. This basement bar, where house-made colas and syrups are mixed into seasonal drinks, has blazed a path and opened doors for others in modern day Raleigh's cocktail scene.
Neptunes Parlour
This cocktail bar, music and sometimes party venue is one third of a trio of co-owner (and rock star chef) Cheetie Kumar's establishments bunched together on W. Martin St. in downtown Raleigh. Located underneath KINGS, you'll find craft beers and seasonal cocktails, plus a bevy of arcade games and pinball machines. You'll want to check out the calendar on the Neptunes website—there's always a bunch of fun events lined up (DJs, comedy nights, live bands and more!).
Fox Liquor Bar
This subterranean drinking den, featuring classic and contemporary cocktails, is the brainchild of James Beard Award-winner chef Ashley Christensen. Down a flight of stairs just around the corner from two of Christensen's eating spots (Chuck's and Beasley's Chicken + Honey), you'll find friendly service, a laid back vibe, strong drinks and lots of comfortable, dark leather seating. A great date spot or place for small groups.
Ruby Deluxe
A dive bar through and through, you won't find fancy cocktails or a long craft beer menu at this bar beneath Fayetteville St.—you will find pool tables, lots of artwork, a DJ spinning all types of jams and an inclusive, diverse and welcoming attitude. Ruby Deluxe is a spot to let loose and make new friends—you're encouraged to bring your dancing shoes!
C. Grace
Known for having some of the best drinks in the area, C. Grace has been consistently raved about since opening in 2011. The downstairs bar on Glenwood Ave. evokes memories of classic jazz clubs where the lights are low, the jazz is hot, the drinks are strong and the nights, full of merriment. You'll find live music here five nights a week, paired with old school drinks and a sophisticated ambiance.

Header photo: The Green Light
Comments