A Guide to Raleigh, N.C.'s Rooftop, Hidden and Underground Bars
Thursday, April 07, 2022, 9am by visitRaleigh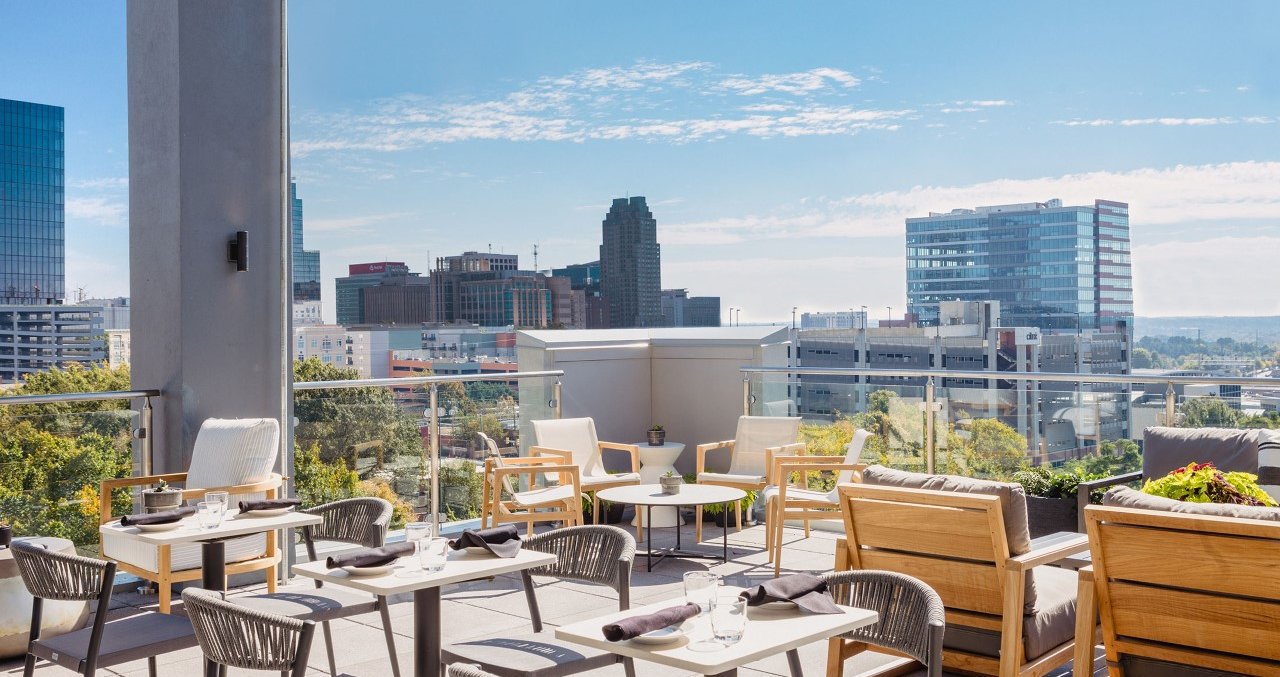 Looking for a fun spot to spend a night on the town in Raleigh, N.C.? These bars, all with unique features and their own character, are some of the most popular, most loved-by-locals and sometimes most hidden-from-visitors places to grab a drink.
 
Rooftops
Highgarden
Catch a fantastic view of the Raleigh skyline when you head up to Highgarden, a completely open-air rooftop lounge and event space sitting high above the Glenwood South entertainment district. Settle into beautifully appointed cabanas surrounded by greenery that makes the entire space feel like a lush getaway in the middle of the city. Visitors can also enjoy delicious small bites from a menu featuring 14 different tapas-style selections as well as cheese and meat plate combinations. Where drinks are concerned, Highgarden offers wine, craft cocktails, draft beer and a full champagne bar (of course!).
The Willard Rooftop Lounge
Say hello to a rooftop experience that is several stories above and beyond the ordinary. The Willard, located atop the AC Hotel Raleigh Downtown (opened in Sept. 2021), is the place to be for a meaningful and memorable night out. Come settle in with two heated outdoor terraces and an indoor dining space boasting spectacular views of downtown. Finely crafted cocktails and Spanish-inspired small plates serve as perfect complements to the scenery and will certainly send your tastebuds soaring. 
Raleigh Times Bar
Named for the city newspaper that formerly occupied this historic space (the Raleigh Times was published from 1912 to 1989), the Raleigh Times Bar has been an anchor in the downtown Raleigh nightlife scene since it opened in 2006. In 2012, the space was renovated and expanded to add more private event space plus a rooftop patio. A great beer selection and a killer view of a busy part of downtown make the rooftop here one of the most coveted spots around on a nice weather day.
Young Hearts Distilling
Downtown Raleigh's first distillery and the latest addition to the Trophy Brewing Company family, Young Hearts Distilling comes with a great vantage point of the city that includes exposed wood accents, warm lighting and pops of color and greenery atop the covered rooftop patio that makes for a perfect year-round dining and drinking spot. In addition to the view (and the house-made whiskey, gin, vodka and amaro), Young Hearts offers up a dinner menu with appetizers, small plates, salads, main dishes and desserts. There's even a condensed "late night" menu served on the weekends. And of course, the signature Trophy Brewing offerings are on tap alongside craft cocktails and wine. Tip: It's best to make a reservation before you head over. Both the patio and downstairs dining room tend to fill up fast.
Carolina Ale House
Opened in early 2015, the Carolina Ale House on Glenwood Ave. in downtown Raleigh takes things to a new level. Radiant-heated floors and a retractable roofing system make the patio areas of this sports bar truly one of a kind. It's a big space, too, with a capacity for more than 400 in total. An observation deck up top, televisions on every wall and nearly 100 beers on tap make this an awesome spot for big groups.
Raleigh Beer Garden
Among the world record-holders for largest selection of draft beer (the current number is nearly 400 beers on tap), Raleigh Beer Garden is a massive 8,500-square-foot venue with tons of outdoor space. A back garden patio and a rooftop bar are as much of a draw as the beer selection itself. Grab one of 144 N.C.-made beers (plus a beer battered pretzel) from the first-floor bar, then find the perfect bench or booth outdoors to enjoy it.
Level7
Perfect for groups big and small, Level7 is a 5,100-square-foot eclectic space sitting atop the AC Hotel by Marriott Raleigh North Hills that's open to the public seven days a week, serving tapas-style small bites, local craft beers, samplings from small-batch distillers, its own signature cocktail creations plus a selection of Spanish wines on tap as part of a European-inspired experience overlooking the neighborhood. Live music on Fri. and Sun. evenings set the mood for everything from date nights to happy hour get-togethers.
Hibernian Restaurant & Pub
A traditional Irish pub, Hibernian has been catering to all walks of life since opening on Glenwood Ave. more than 20 years ago. Dark wood interiors and cozy nooks surrounded by bookshelves create a host of unique booths and tables to be discovered inside. Upstairs, you'll find floor-to-ceiling windows that open up onto a large, wraparound deck with one of the best views in the city.
Taverna Agora
Serving authentic Greek cuisine (with the culture and hospitality to match), Taverna Agora's modern rooftop is the perfect gathering spot for friends and family. Share a number of small plates (plus a couple bottles of wine) at dinner time or take in a Sun. brunch in the open air.
10th & Terrace
Located atop the Residence Inn Raleigh Downtown, 10th & Terrace promises bar-goers one of the most unique views in the city. The 10th-floor rooftop deck overlooks the Martin Marietta Center for the Performing Arts—where theater, opera, ballet and other live entertainment takes place year-round—plus a sea of green space surrounding it (they don't call Raleigh a "city in a park" for no reason). Lots of comfortable seating, a small plates menu that changes seasonally and a local beer and craft cocktail list make this an immediate hit for hotel guests and other visitors to downtown Raleigh.
Lynnwood Grill
For great food, craft beer and fun times, swing by Lynnwood Grill to hang out on the fantastic rooftop patio. While not as towering as some of the locations on this list, its rooftop bar does the job of providing a relaxing atmosphere where you can meet up with friends and family and catch up on quality time. Best of all, visitors can relish the pleasure of dining on primo dishes from appetizers to specialty pizzas while sipping on house-brewed craft beer from Lynnwood's ever-growing line-up.
Unwined on White
Historic downtown Wake Forest makes a stunning panorama from the rooftop oasis that is Unwined on White. In fact, it's the only rooftop escape in the town where folks can socialize, sip on a glass of wine or a craft beer and on occasion listen to live music. You might even want to pop over for an open-air yoga class. Yes, Unwined on White is also a yoga studio which means meditation and relaxation are also on the menu for a fabulously, super chill hang.
Tin Roof Raleigh
Contrary to the B-52's Love Shack, this Tin Roof is anything but rusted. It can be funky or bluesy or even folksy depending on the live musical talent appearing there almost nightly. Smack dab in the heart of downtown Raleigh, Tin Roof stands out with its brightly lit neon sign anchoring a rooftop space with colorful patio umbrellas and plenty of seating. The live music joint is all about giving musicians a place to play and music lovers a place to hang. The eclectic vibe here attracts a community of regulars who enjoy not only terrific tunes, but also the joint's "Better Than Bar Food" with standouts like Nashville hot chicken, famous quesadillas and more.
Underground Bars

Watts and Ward
This sprawling craft cocktail bar from Ireland native and Hibernian Hospitality owner Niall Hanley is 6,000 square feet of 1920s American underground spirit. Located beneath Caffé Luna and directly across from Moore Square, Watts & Ward is a seemingly endless cavern, with room after room of leather seating, vintage artwork, rustic tables, dim lighting and bookshelves full of history. Tons of seating options, including big booths that are great for groups, an inventive cocktail menu and low-key jazz events all mean you'll need to carve out some time to swing by this speakeasy on a night out. Tip: Sign up for the $1 membership in advance on their website.
Foundation
Peak down a set of stairs off downtown Raleigh's Fayetteville St. and you'll be able to just barely catch a glimpse of a red neon sign lit up that reads "Foundation"—that's how you know you're in the right spot. This basement bar, where house-made colas and syrups are mixed into seasonal drinks, has blazed a path and opened doors for others in modern-day Raleigh's cocktail scene.
Fox Liquor Bar (note: temporarily closed)
This subterranean drinking den, featuring classic and contemporary cocktails, is the brainchild of James Beard Award-winner chef Ashley Christensen. Down a flight of stairs just around the corner from one of Christensen's iconic Raleigh eating spots (Beasley's Chicken + Honey), you'll find friendly service, a laid-back vibe, strong drinks and lots of comfortable, dark leather seating. A great date spot or place for small groups.
Ruby Deluxe
A dive bar through and through, you won't find fancy cocktails or a long craft beer menu at this bar beneath Fayetteville St.—you will find pool tables, lots of artwork, a DJ spinning all types of jams and an inclusive, diverse and welcoming attitude. Ruby Deluxe is a spot to let loose and make new friends—you're encouraged to bring your dancing shoes!
C. Grace
Known for having some of the best drinks in the area, C. Grace has been consistently raved about since opening in 2011. The downstairs bar on Glenwood Ave. evokes memories of classic jazz clubs where the lights are low, the jazz is hot, the drinks are strong and the nights are full of merriment. You'll find live music here five nights a week, paired with old-school drinks and a sophisticated ambiance.
Header photo of The Willard Rooftop Lounge by Baxter Miller
Comments