Services
SERVICING SUMMARY
Serviced and hosted 559 groups, achieved a 52.5-percent survey response rate with an overall scoring of 4.52 on a five-point scale, hosted 12,926 guests in the official Visitor Information Center and fulfilled 4,912 other visitor information requests.
NOTABLE GROUPS HOSTED
Hosted highly diverse groups including such notables as Jehovah's Witnesses (July and Aug. 2013), N.C. Firemen's Association (Aug. 2013), Hopscotch Music Festival (Sept. 2013), Lenovo's North American Sales Kickoff (Apr. 2014), Animazement (May 2014), Southeast U.S./Canada (May 2014), U.S. Public Health Service (The Conference of the U.S. Surgeon General, June 2014) and Evolution 2014 (June), and it was our inaugural year hosting the International Bluegrass Music Association (IBMA) (Sept. 2013).
IBMA HIGHLIGHTS
Provided significant servicing for IBMA's World of Bluegrass 2013. While serving on the Local Organizing Committee for the year prior to IBMA arrival in Raleigh, at arrival we directly coordinated banners on primary downtown streets, hotels and venues; coordinated welcome services at RDU International Airport and at various venues; assisted in recruiting and facilitating over 300 volunteers; and experienced the busiest single day in our Visitor Information Center's history in the current location with 508 visitors on the Sat. of IBMA's Wide Open Bluegrass, presented by PNC, and a peak day for calls with more than 130 in a single day.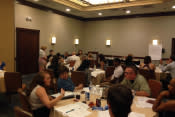 CUSTOMER CARE CLASSES
Hosted customer care classes at three host sites, the North Carolina Museum of History, Holiday Inn Express & Suites Raleigh SW NC State and the Hilton North Raleigh/Midtown. Overall, customer care classes have trained more than 700 students, and the program is entering its sixth year.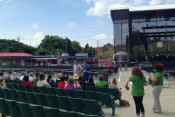 SEE FOR YOURSELF FAM TOURS
Continued the popular training program of See For Yourself Fam Tours. The program offers front-line staff the opportunity to tour Greater Raleigh with guides and learn more about all that the area has to offer visitors by "seeing it for yourself!" Three tours were offered in 2013-2014; See for Yourself Fam Tour themes this year included "Holiday Highlights," "FANtastic Sporting Venues" and "The Most Live Music."
TAXI DRIVERS ORIENTED
Worked cooperatively with the Raleigh Police Department to continue the taxi driver orientation program. During bimonthly classes, GRCVB orients the drivers on primary destination assets and resources available through GRCVB. The program averages 50 drivers per session and remains a popular customer service training opportunity.
EVENT SERVICE PROFESSIONALS ASSOCIATION (ESPA)
Attended ESPA's Annual Convention in Boston, Mass., along with Raleigh Convention Center's event managers Morgan Evans and Erin Parker. Assistant director of convention services Tammy Jeffries served again on the annual convention planning committee and facilitated sessions at the convention, highly distinguishing GRCVB in the hospitality industry. Director of convention services Julie Brakenbury continues as continuing education chair for ESPA and was welcomed as a new board member. Julie also received ESPA's 2013 Member of the Year award.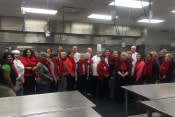 TOURISM AMBASSADORS
Hosted 35 GRCVB Tourism Ambassadors at our annual "We Love Our Tourism Ambassadors" training and recognition event, held this year at The Chef's Academy in Morrisville. Highlights included updates on tools, resources and projects that impact the ambassadors. A highlight was that attendees became "chefs" for a day and worked with the professional staff at the academy to prepare lunch. Ambassadors expand staffing resources for GRCVB's meetings, conventions and sports groups and are hugely important to the success of GRCVB in welcoming groups.
CELEBRATE SERVICES DAY
Celebrated ESPA's Celebrate Services Day in Nov. by hosting an educational and networking event at Dos Taquitos Xoco. The program included a Raleigh trivia game and a "Celebrate the Super Hero in You" theme. Celebrate Services is an annual event that promotes the role of and value that event service professionals have in the events industry.