Sports Marketing
GOALS SURPASSED
Exceeded all Greater Raleigh Sports Alliance (GRSA) sales goals once again, finishing the fiscal year with 66 assisted definite bookings, accounting for more than 103,000 projected total hotel room-nights and $32.5 million in direct visitor spending for the area.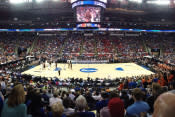 RALEIGH HOOPLA
Hosted, for the second straight year, the Deep South Classic under one roof at the Raleigh Convention Center (RCC), and for the second straight year, it was a tremendous success. This year's event was bigger and better than ever, as the girl's basketball showcase event brought 328 teams from throughout the U.S. to N.C.'s capital city. They played on 20 courts in the RCC's Exhibit Hall and generated 7,245 hotel room-nights and approximately $2 million in direct visitor spending. The NCAA Division I Men's Basketball Championship, arguably our nation's second biggest sports spectacle behind only the Super Bowl, returned to Raleigh and PNC Arena for the third time in 10 years. And once again, it was a smashing success, as March Madness in Raleigh produced the following: total attendance of 53,172; more than 10,000 hotel room-nights and $4 million in direct visitor spending; more than 17,000 visitors; and approximately 12 hours of national TV coverage that showcased the destination in general and PNC Arena in particular. North Carolina State University (NCSU) served as the official host and did a superb job. NCSU was supported by a Raleigh Local Organizing Committee that was led by GRSA, Greater Raleigh Sports Council, Centennial Authority and many other local sports, tourism, business and government leaders.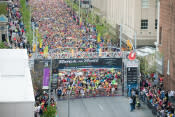 ROCK 'N' ROLL RALEIGH RECEIVES RAVE REVIEWS
Debuted the newest signature event on Greater Raleigh's annual sports calendar in Apr., and it opened to rave reviews. The inaugural Rock 'n' Roll Raleigh Marathon & 1/2 Marathon presented by WRAL benefiting The V Foundation for Cancer Research had 12,500 registrations from 49 states and seven countries. Runners started and finished in downtown Raleigh, and in-between they raced past area landmarks such as the Daily Planet at the North Carolina Museum of Natural Sciences, the Executive Mansion, Historic Oakwood, PNC Arena, Pullen Park and many more. When the final numbers were tallied, Rock 'n' Roll Raleigh lived up to the pre-race hype by providing a major economic boost to Raleigh and Wake County. The event generated $8.1 million in total economic impact, including $363,000 in tax collections, according to a study by San Diego State University. Rock 'n' Roll Raleigh brought 18,000 visitors to the market and led directly to 7,444 hotel room-nights.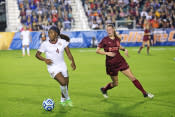 CHAMPIONSHIP CENTRAL
Provided event support and services for the following NCAA Championship events hosted in Greater Raleigh: 2013 NCAA Women's College Cup at WakeMed Soccer Park; 2014 Division I Men's Basketball Championship Second and Third Rounds (PNC Arena's third time hosting the Men's Basketball Championship); 2014 Division II Baseball Championships at the USA Baseball National Training Complex; and 2014 Division I Men's Golf Raleigh Regional at Lonnie Poole Golf Course at NCSU. Also last fall, the NCAA announced that the town of Cary has been awarded six future NCAA national championships that will take place over the next four years, and NCSU has been awarded a future gymnastics regional championship. The announcement strengthens Greater Raleigh's position as a fantastic sports events destination and its well-earned reputation as one of NCAA's most reliable host communities. The following championship events span the 2014-2018 academic years: 2014 Men's College Cup at WakeMed Soccer Park, 2015 Women's College Cup at WakeMed Soccer Park, 2015-2018 Division II Baseball National Championship at USA Baseball National Training Complex, 2017 Division III Men's and Women's Tennis National Championships at Cary Tennis Park and 2018 Women's Gymnastics Regionals at Reynolds Coliseum (NCSU).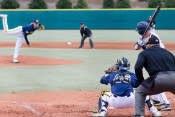 MORE KEY EVENTS SUPPORTED
Provided hosting support for a multitude of events including 12 N.C. High School Athletic Association (NCHSAA) state championships, a variety of USA Baseball events including the Irish Classic and National High School Invitational, IRONMAN 70.3 Raleigh, USA Ultimate's U.S. Open Championships and Convention, CASL visitRaleigh.com National Soccer Series, Senior Softball-USA Eastern National Championships, ACC Women's Soccer Championship, ACC Men's and Women's Tennis Championships, Great American Cross Country Festival, N.C. Youth Soccer Association Southern Soccer Show & Symposium, Shaw University Softball Challenge, National Black Heritage Championship Swim Meet, Mid-Atlantic Power League (MAPL) Raleigh Volleyball, U.S. Lacrosse Southeast Championships, Pop Warner Mid-South Football and Cheerleading Championships, Southeastern Masters Track and Field Championships and more.
EXTENDS NATIONAL SOCCER SERIES PARTNERSHIP
Renewed the partnership and naming rights agreement with Capital Area Soccer League (CASL) for an additional three years of the annual CASL visitRaleigh.com National Soccer Series. The partnership includes national marketing and promotional opportunities, along with enhanced event support and services for the participants and visitors during the event. The National Soccer Series includes four weekends of boys and girls showcase tournaments in Nov. and Dec., and is considered the largest youth sporting event in the Research Triangle Region. The four-weekend, fall soccer extravaganza brings more than 1,000 total teams from throughout the U.S. to the area, adding up to more than 20,000 athletes and more than 30,000 total visitors and generates an estimated $9 million in direct visitor spending.
DEBUT OF GRSA E-NEWSLETTER
Launched the first edition of Sports Watch, an electronic newsletter that showcases the latest in sports event happenings in Greater Raleigh. It is distributed quarterly to sports events planners and event owners from around the country, including National Governing Bodies (NGB) for various sports. Sports Watch includes recaps of major events hosted in the area and information on upcoming events, along with venue news, notable stats, testimonials and social media highlights from the sports tourism perspective in Greater Raleigh.
LEADERSHIP POSITIONS
GRSA executive director Scott Dupree served as co-chair of the 2014 NCAA Men's Basketball Raleigh Local Organizing Committee and currently serves on the Greater Raleigh Sports Council's steering committee. Tori Collins, associate director, serves on the tradeshow committee for the N.C. Sports Association (NCSA) and serves on the National Association of Sports Commissions (NASC) awards committee. Jason Philbeck, CSEE, sports marketing manager, serves as secretary on the NCSA Executive Board and is currently co-chair of NCSA's strategic planning/marketing committee.
AWARDS AND RECOGNITION
Was voted a 2014 Readers' Choice Award winner by SportsEvents Magazine readers. The award was determined by votes from sports events planners, tournament directors and event owners from around the country, according to the magazine. The award is given in recognition of commitment to quality and standards of excellence in the sports events industry. This marks the third consecutive year that GRSA has earned the "Readers' Choice" recognition. At its Jun. 5, 2014, meeting, the Centennial Authority recognized and thanked GRSA for its role in supporting the 2014 NCAA Men's Division I Basketball Championship second and third rounds, hosted by NCSU and held at PNC Arena, Mar. 21-23, and for its role in leading Raleigh's NCAA Local Organizing Committee. Scott Dupree chaired the committee, while the entire GRSA staff (Theresa Tyler, Jason Philbeck, CSEE, Tori Collins and Michael Robson) served on the Local Organizing Committee.
TRADESHOWS ATTENDED
Represented Raleigh and Wake County at the following sports tradeshows: NASC Annual Symposium, NASC Market Segment Meeting, TEAMS Conference and Expo, U.S. Olympic Committee (USOC) SportsLink, Connect Marketplace, U.S. Aquatic Sports Convention, U.S.A. Track and Field Annual Meeting, Amateur Softball Association of America Annual Meeting, ISA/SSUSA Softball Annual Convention, U.S. Specialty Sports Association (USSSA) National Convention, American Baseball Coaches Association Convention, National Soccer Coaches Association (NSCAA) Convention, U.S. Youth Soccer and the U.S. Lacrosse National Convention.