The Greater Raleigh Convention and Visitors Bureau's learning track
for tourism and destination education
................
For local residents, workers and leaders in Wake County's communities
Part of our role at the Greater Raleigh Convention and Visitors Bureau is to help locals understand why tourism matters to Raleigh and Wake County.
With that in mind, we are developing "Tourism U," a series of educational opportunities that will cover:
the basics of tourism-related economic development;
an overview of Wake County's tourism funding model so stakeholders can be knowledgeable about the collection and distribution of the Interlocal Fund;
an in-depth understanding of the uniqueness of Wake County's tourism landscape and how it's managed.
Tourism U 100 Level 
This introductory session is for those who want to understand the basics of tourism and how visitors impact our area. Designed to be an engaging and entertaining overview of Wake County's tourism assets and the impacts of visitor spending.
15- to 20-minute presentation from GRCVB staffer
For groups of five to 50 
Interactive learning model 
Participants receive Tourism U 100 certificate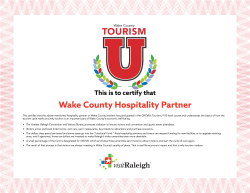 Tourism U 200 Level 
Tourism U 200 level is a more comprehensive conversation about sustainable economic growth and development through tourism, implementation of Destination Strategic Plan priorities etc., primarily for management or leadership of stakeholder organizations, companies in industries allied with tourism etc. Intended for those who have a basic understanding of tourism and a CVB's mission, this visit elaborates on how funds are collected and invested and how locals can participate in the management and promotion of Wake County as a tourism destination.
45- to 50-minute presentation from GRCVB staffer
For groups of less than five; a desk-side or boardroom visit
Includes information about tourism advocacy opportunities
Conversational learning
In development 
There may be other new or updated learning opportunities integrated with the Greater Raleigh CVB's Tourism U program, including a Tourism U 300 level offering, more workshops on visitor accessibility services, tie-ins with existing See for Yourself Tours and customer service classes etc.
If you would like to schedule the Tourism U 100 class at your business, please email tourismu@visitRaleigh.com.