Sierra Leone's Refugee All Stars at The Pour House Music Hall
Tuesday, May 27, 2014, 8pm by Tyler Cox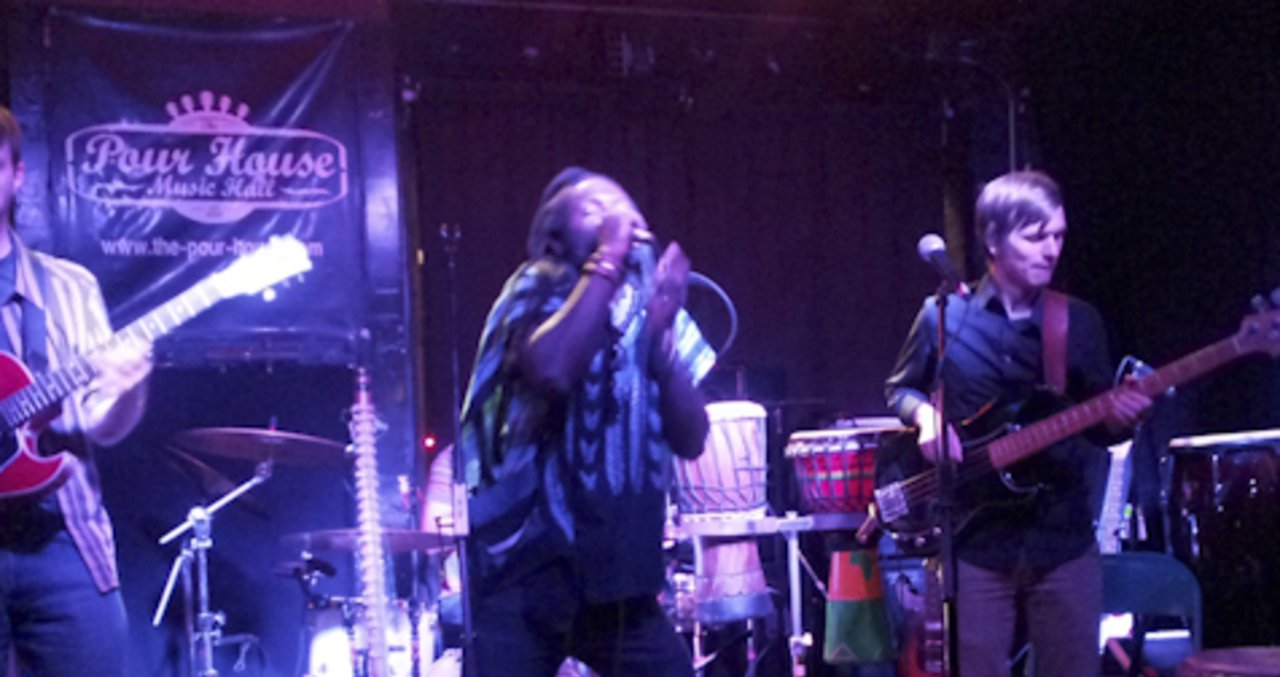 May 1 was another beautiful and quiet spring day. Downtown Raleigh welcomed summer skirts and polo shirts. Tir na nOg bustled with activity for its Local Band – Local Beer series. The iconic acorn sculpture provided more photo ops for outgoing university seniors. The sun began to set, creating a fiery collage of color against the darkening blue sky. Oh, and international touring sensation Sierra Leone's Refugee All Stars snuck into downtown Raleigh to play The Pour House Music Hall.
Despite a documentary, appearances at massive music festivals (such as Bonnaroo Music & Arts Festival and New York's Central Park SummerStage), an interview on The Oprah Winfrey Show and opening for Aerosmith in front of 12,000 screaming fans, this roving band of African musicians arrived with little fanfare to promote their most recent album, "Libation." They were joined on the bill by Pittsboro-based Diali Cissokho & Kaira Ba.
For those unfamiliar with The Pour House Music Hall, you've been missing out. The Pour House Music Hall boasts the greatest draft beer selection I've ever encountered in a concert venue. The club lives up to its name by offering 30 drafts, including Big Boss Brewing Company, White Street Brewing Company, Crank Arm Brewing and Lonerider Brewing Company. Its liquor selection's not too shabby either.
As we've recently written about the perks of The Pour House Music Hall on the blog, I won't go into detail here. Click here for more information regarding this amazing concert venue.
Diali Cissokho & Kaira Ba began the show shortly after 8pm. Hailing from Pittsboro, N.C., this two-year-old band is one of the few N.C.-based bands specializing in West African music. Diali Cissokho, a Senegalese griot , fronts the band. He's backed by a fellow Senegalese percussionist and four talented North Carolinians.
Cissokho plays the kora, a 21-string harp/lute hybrid well known in West Africa. His delightfully intricate jams were accentuated by the snarling yet jazzy riffs played by electric guitarist John Westmoreland. Their overlay, punctuated by a strong bass line and rollicking rhythm section, produced high-energy African dance music influenced by funk, soul and American rock 'n' roll. Their 40 minute set ended far too quickly for my taste, but the growing crowd fed on their vivacity. The aforementioned quiet evening faded out of memory, replaced by an African party full of joie de vivre.
Readers, I implore you to take advantage of Diali Cissokho & Kaira Ba's N.C. roots and see them live. Without question, they are one of the most talented and powerful bands in the area, unique in our vast music scene. They next play locally during the Downtown Raleigh Fourth of July festival called The 'Works!
Born in the midst of a bloody war engulfing their home country of Sierra Leone, the members of Sierra Leone's Refugee All Stars fled for their safety and found each other in refugee camps in Guinea. United by an obsession with music and a strong desire to bring a sliver of happiness to their fellow refugees, the band moved from camp to camp. Their sincere traditional folk music and uplifting attitude gave life to their fellow displaced Africans.
For
13 songs on this night in Raleigh, the band mixed the traditional Sierra Leone styles of highlife, maringa and palm wine with funk, gospel, reggae, soul and rap. Nine of the songs came from the 2014 release "Libation," their fourth album which mostly sheds electric instruments and harkens back to their acoustic and experimental roots.
One of their best tracks of the night, "Rich But Poor," questions whether or not Sierra Leone learned anything from their most recent blood-letting. "We live in it / Yet we never know / What a rich rich country," sings bandleader Ruben Koroma over a banjo-laden reggae beat. Other highlights included the salsa-tinged "Maria" and traditional "Gbaenyama." Singer/percussionist Black Nature spent the night drinking Big Boss Brewing Company's Bad Penny Brown Ale and professed to drink only local beers. He took lead on "Treat You Right," one of the night's odder songs which mimicked simple contemporary R&B.
The crowd danced and swayed to the eclectic tunes. The band played on, pausing only to ask the audience simply to be happy and enjoy the moment. On this night in Raleigh, I lived in the moment with no distractions, and I couldn't have been happier. A night of wonderful music ended with a full band harmony on "Gbara Case," emphasizing the fact that we're all stuck on this planet, and look at what happens when we join together.
Comments