Halfway to Hopscotch Sweepstakes
Entry for this sweepstakes has closed. Thanks to all who entered to win. A winner will be notified and announced soon!
We're almost there, friends, to "the premier experimental and underground music festival in America," Hopscotch Music Festival, where more than 140 local and visiting bands will take to downtown Raleigh, N.C., music venues and rock for thousands of passionate fans.
This spring, visitRaleigh.com has presented the Halfway to Hopscotch Sweepstakes. Fans entered to win a VIP getaway to Hopscotch Music Festival 2016, Sept. 8-10.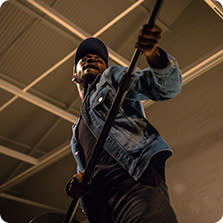 The prize package includes:
Two (2) Hopscotch Music Festival 2016 VIP wristbands
(includes access to the Opening Night VIP party—a stellar perk)
One (1) three-night stay at the festival's headquarters hotel, 
Sheraton Raleigh Hotel
One (1) $50 gift card to Garland restaurant
(connected to Hopscotch venue Kings)
A visitRaleigh swag bag
Read the official rules. VOID WHERE PROHIBITED BY LAW.