2018 Record-Breaking Year for Tourism in Wake County
Wednesday, August 21, 2019, 8am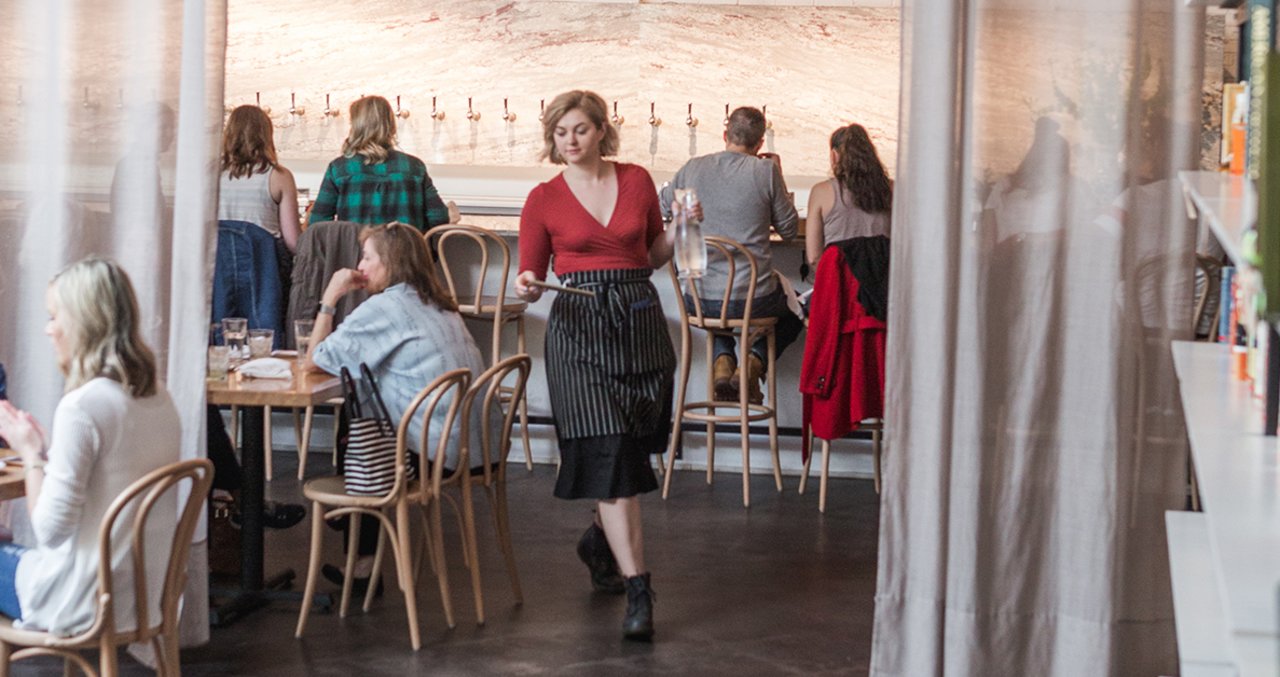 Wake County welcomed more than 16.8 million visitors while travel provided $2.7 billion in economic impact to local communities across Wake County, and supported the livelihoods of more than 27,000 hardworking residents
Raleigh, N.C. (Aug. 21, 2019) – A report released today by the Greater Raleigh Convention and Visitors Bureau (Visit Raleigh) revealed that Wake County welcomed 16.8 million visitors in 2018, an increase of 4.8 percent over 2017. These visitors who traveled to Wake County spent $2.7 billion, an increase of 7.2 percent over 2017. Both the number of visitors and the visitor spending figures are all-time record highs, breaking previous marks set in 2017. Visit Raleigh independently contracted with two nationally respected travel and tourism research organizations, Tourism Economics and STR, Inc., to estimate these and other key tourism figures.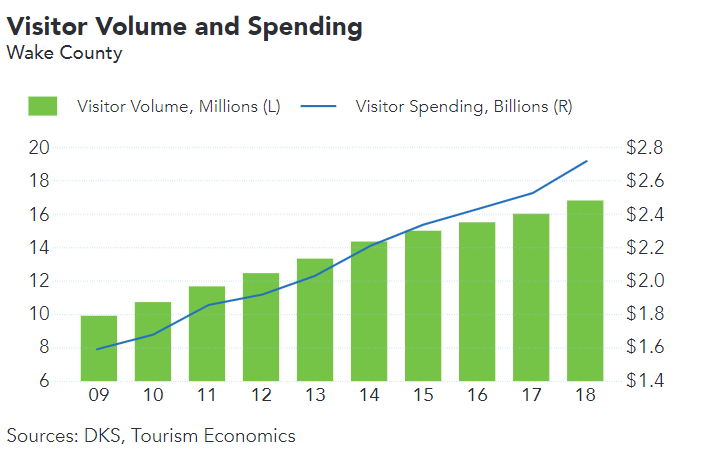 As a result of the overall $2.7 billion in visitor spending, more than $268 million in state and local tax revenues were generated by visitors in Wake County in 2018 as well. Tourism-generated tax receipts are used for education, school construction, water, sewer and other necessities as well as quality-of-life amenities for residents. If these tax revenues were not generated by visitors, each household in Wake County would need to pay an additional $700 in taxes simply to maintain the current level of funding for service and amenities in Wake County.
According to the research, tourism continues to be one of the largest employment sectors in Wake County supporting 27,101 jobs locally with a payroll of $785.2 million. Approximately five percent, or 1 in 20, of all jobs in Wake County are sustained by tourism, including indirect and induced employment impacts. Also, the employment growth in Wake County continues to outpace the state and national averages with the tourism industry adding nearly 800 jobs per year since 2009 and an average annual growth of 3.5 percent. Within Wake County, tourism employment is growing faster than overall job growth as well.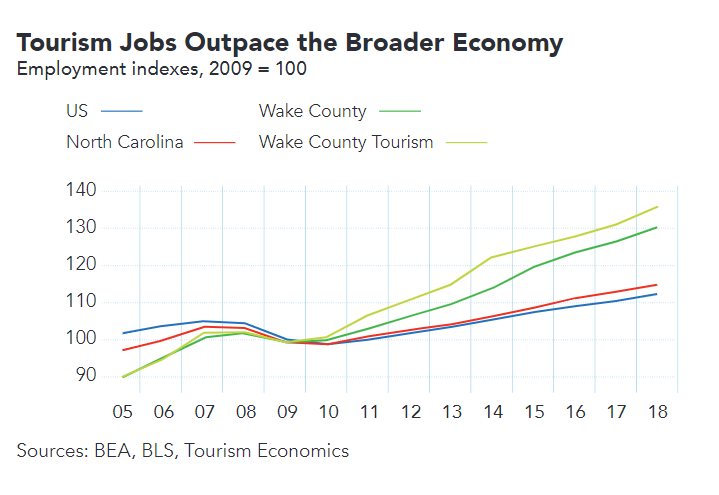 "These figures show that visitor interest in Wake County is at an all time high. Be it meetings, conventions, sporting events or leisure visitation, our profile as a destination of choice has never been stronger," said Dennis Edwards, President and CEO of the Greater Raleigh Convention and Visitors Bureau (Visit Raleigh). "This report also shows the role tourism plays in broader economic development within our region. The fact that tourism job growth is outpacing the average of all other sectors within Wake County shows the potential for job creation is huge. We need talent more than ever before to maintain the level of quality service and experience visitors have come to expect from a trip to our region.
Most visitor spending is attributed to food and beverage sales, accounting for $695 million, followed immediately by lodging spending at more than $619 million in 2018. Lodging spending increased by 9.7 percent in 2018 primarily due to the rising room demand.
While hotel room supply increased by 4.3 percent with six new hotels opening in 2018 bringing an additional 476 hotel rooms to the market, hotel room demand still increased by 6.1 percent showing more hotels are still needed to keep up with current market demand. Hotel occupancy was also up 1.7 percent over 2017 with hotels across Wake County running at an average occupancy of 70.3 percent in 2018.
As a result of the record spending, Wake County hotel occupancy and prepared food and beverage tax collections also set several records in 2018. Hotel occupancy tax collections totaled almost $28 million, up 11 percent, and prepared food and beverage tax collections totaled more than $30 million, up 5.9 percent, over 2017.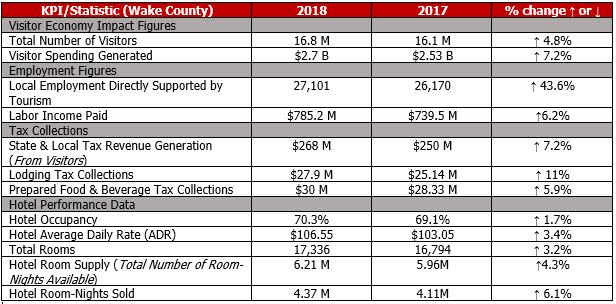 The full report can be found at visitRaleigh.com/EI.

About the Greater Raleigh Convention and Visitors Bureau (Visit Raleigh):
As the official destination marketing organization for Wake County, the Greater Raleigh Convention and Visitors Bureau (Visit Raleigh), is responsible for promoting Wake County as an attractive travel destination and enhancing its public image as a dynamic place to live and work. Through the impact of travel, the organization strengthens the economic position of and provide opportunity for people throughout Wake County. Raleigh, N.C./Wake County welcomes nearly 17 million visitors annually whose spending tops $2.7 billion. The visitor economy supports more than 27,000 local jobs in Wake County and generates $268 million in state and local tax revenues, saving each Wake County household $700 in taxes annually. visitRaleigh.com.
Media Contact:
Scott Peacock
919.645.2676
speacock@visitRaleigh.com
# # #