2020 Wake County Visitation Figures Released
Tuesday, July 20, 2021, 6am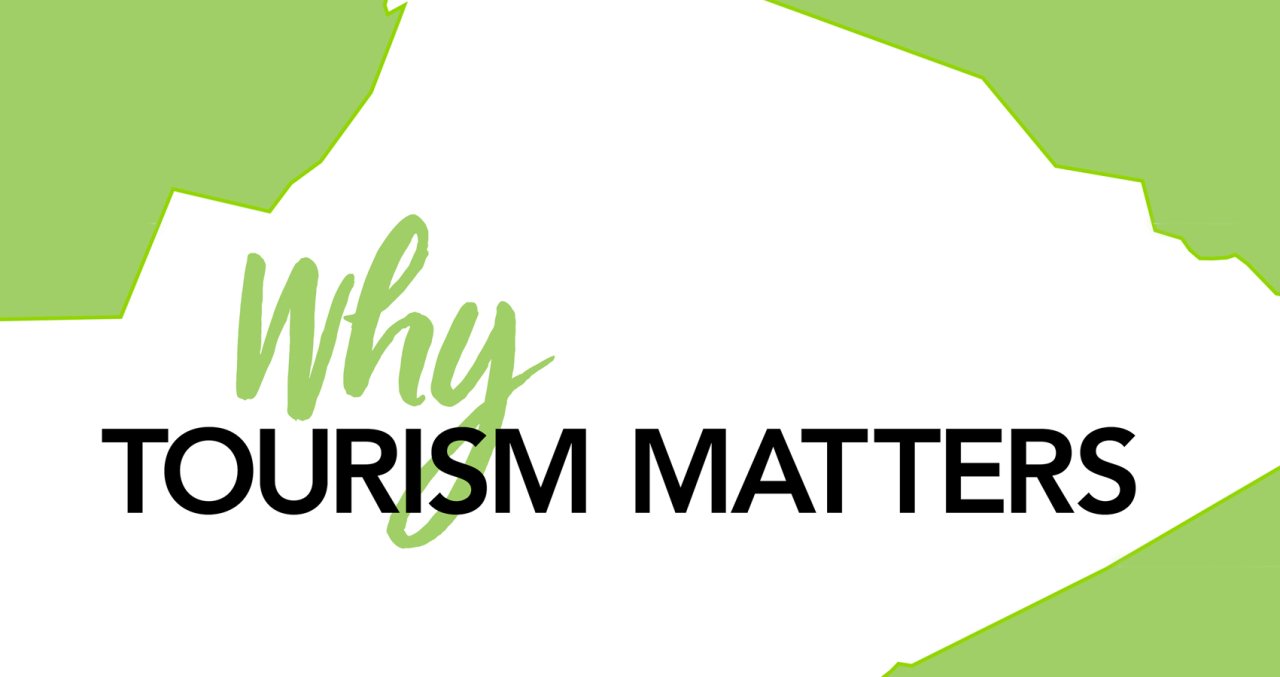 Wake County welcomed nearly 13 million visitors who spent $1.7 billion
and generated $186 million in state and local tax revenues
Raleigh, N.C. (July 20, 2021) – A report released today by the Greater Raleigh Convention and Visitors Bureau (Visit Raleigh) revealed that Wake County welcomed 12.9 million visitors in 2020, a 29% decrease over 2019. These nearly 13 million visitors who traveled to Wake County spent $1.7 billion in our community, a 43% decrease over 2019. Both visitation and visitor spending were significantly impacted by the pandemic and as a result saw a decline for the first time in more than 10 years. Visit Raleigh independently contracted with industry-leading travel and tourism research firm Tourism Economics to estimate these and other key tourism figures.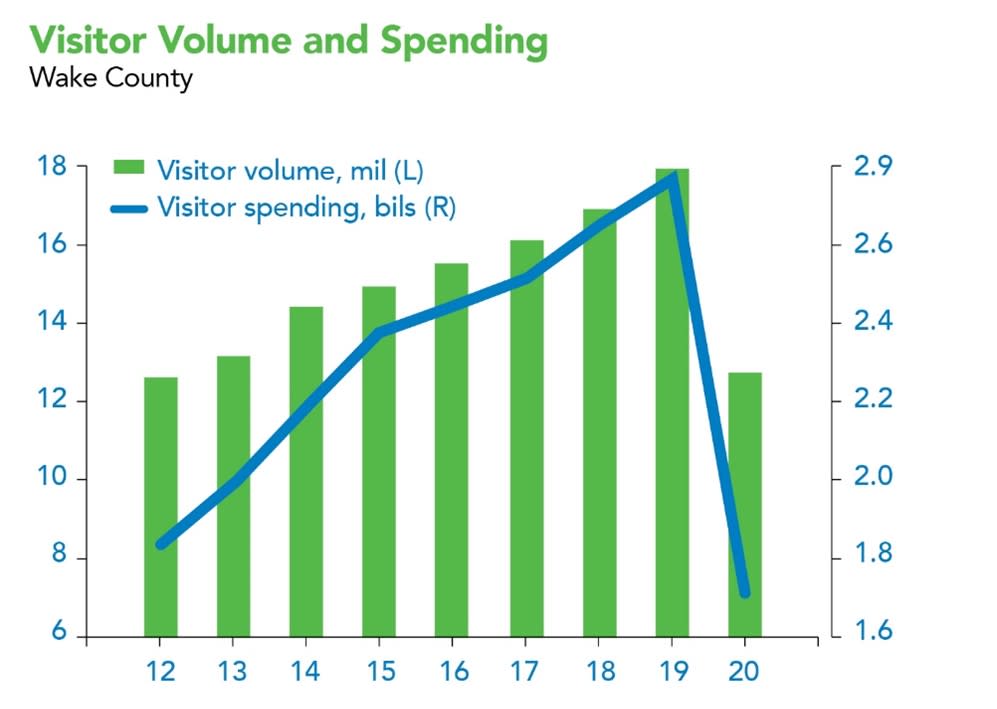 Visitor Volume:
Data showed the amount of visitors traveling to Wake County declined for the first time since the Great Recession of 2009. The pandemic caused business travel to disappear, and both the limitations and restrictions to mobility, as well as economic disruptions, affected leisure travel hard as well. Travel that did take place in 2020 leaned towards day trips and one positive trend was with travel limited, overnight visitors stayed longer when they did travel. Additionally, travel party sizes grew as more families traveled together to Wake County.
Visitor Spending:
Most visitor spending is attributed to food and beverage sales, accounting for $517 million. This was followed immediately by lodging spending at more than $413 million in 2020.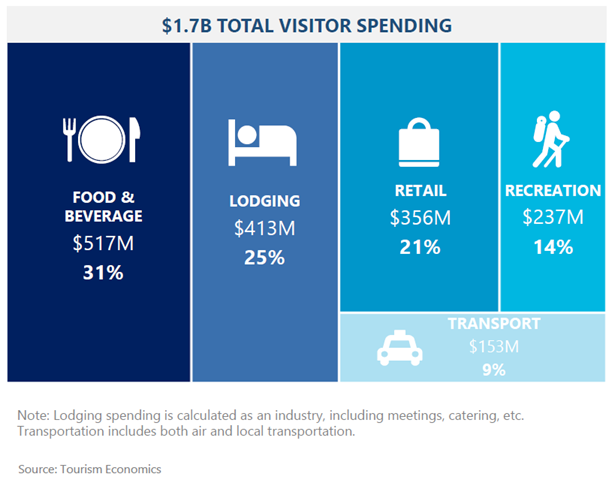 Tax Revenue:
As a result of the overall $1.7 billion in visitor spending, $186 million in state and local tax revenues were generated by visitors in Wake County in 2020 as well. Tourism-generated tax receipts are used for education, school construction, water, sewer and other necessities as well as quality-of-life amenities for residents. In fact, the research showed each household in Wake County would pay an additional $470 in taxes without the funds provided to local and state governments through travel and tourism – showcasing just how valuable tourism remains to the local economy.
Two visitor-related taxes, the hotel occupancy and prepared food and beverage taxes both also saw drops in collections in 2020. Hotel occupancy tax collections totaled $14.2 million (down 53.3% over 2019) and prepared food and beverage tax collections totaled more than $25 million (down nearly 23% over 2019).
Employment:
Tourism and hospitality employment in 2020 were the hardest hit sectors in both Wake County and across the nation due to the pandemic. According to the research, tourism lost nearly 40% of jobs (10,600 jobs) in Wake County while total employment only declined 3.4%. These tourism employment levels are below what they were in 2010. Prior to 2020, the tourism industry had been added more than 870 jobs per year on average, since 2010, an expansion of 3.7% per year.
However, tourism still created work for 17,433 people in Wake County in 2020. Specifically, employment in the lodging industry fell 38% while the recreation industry dropped by 48%. Despite these loses, the 17,433 jobs in Wake County are driven by visitors alone, not locals/residents. Even in a year with tourism nearly shut down, one out of every 38 Wake County jobs is directly supported by visitor spending. In many cases, these visitor customers can make the difference allowing our small businesses to remain open.
"While the declines in the 2020 tourism data were significant, the spending that did occur in Wake County was noteworthy," said Dennis Edwards, President and CEO of the Greater Raleigh Convention and Visitors Bureau (Visit Raleigh). He added, "We are encouraged about recovery of the tourism sector and its future as well as the numbers continue to improve in 2021."
Below are the high-level figures contained in the report. The full report can be found at visitRaleigh.com/EI.


About the Greater Raleigh Convention and Visitors Bureau (Visit Raleigh):
As the official destination marketing organization for Wake County, the Greater Raleigh Convention and Visitors Bureau (Visit Raleigh), is responsible for promoting Wake County as an attractive travel destination and enhancing its public image as a dynamic place to live and work. Through the impact of travel, the organization strengthens the economic position of and provide opportunity for people throughout Wake County. Raleigh, N.C./Wake County welcomes nearly 13 million visitors annually whose spending tops $1.7 billion. The visitor economy supports more than 17,000 local jobs in Wake County and generates $186 million in state and local tax revenues, saving each Wake County household $470 in taxes annually. visitRaleigh.com.
​Media Contact:
Scott Peacock
919.645.2676
speacock@visitRaleigh.com
# # #