91st North Carolina State FFA Convention Returning to Raleigh June 18-20
Monday, June 17, 2019, 8am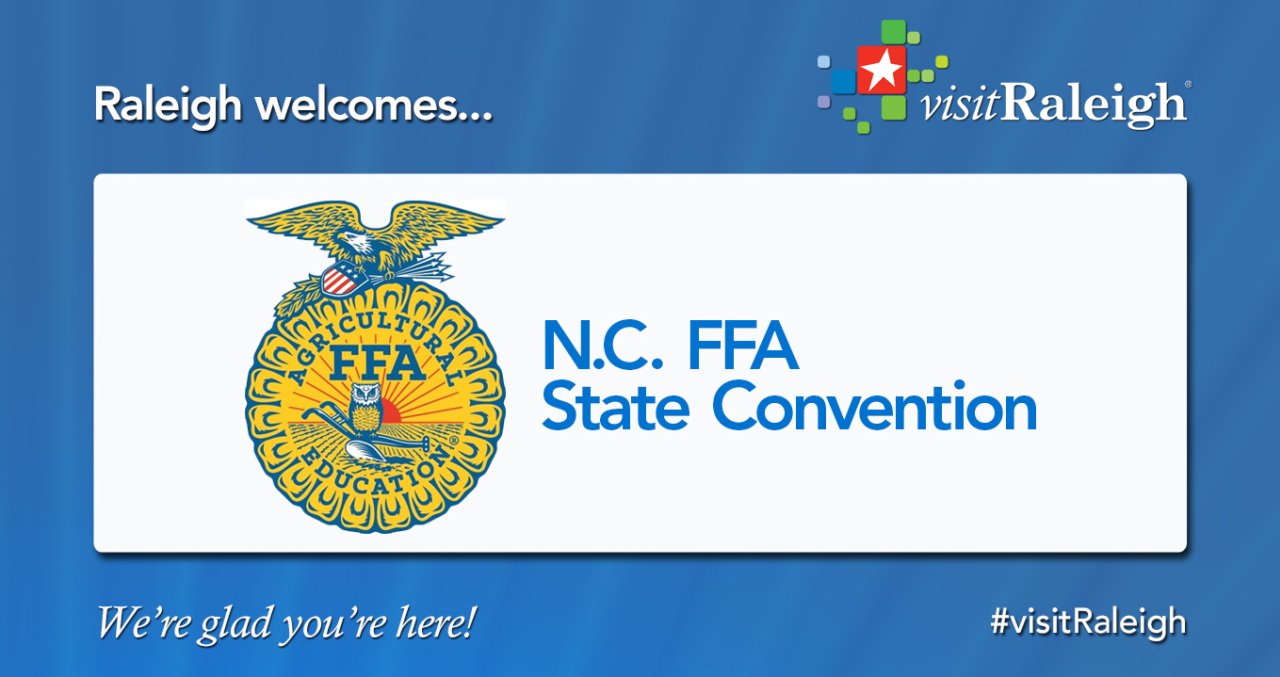 June 18 proclaimed North Carolina FFA Day by Raleigh Mayor Nancy McFarlane
Raleigh, N.C. (June 17, 2019) – The North Carolina FFA Association returns to Raleigh this week, June 18-20, for the 91st Annual North Carolina State FFA Convention. Now in its 11th year at the Raleigh Convention Center, the NC FFA State Convention will bring together 2,500 students from across the state to compete in career development events, attend leadership workshops, obtain State FFA Degrees, attend leadership workshops and sessions to celebrate agricultural education, prepare for their future at the Career Show and Expo, and give back through the state service project as they pack over 5,000 meals with Rise Against Hunger. This year's convention will be extra special with Mayor Nancy McFarlane proclaiming Tuesday, June 18 as North Carolina FFA Day in Raleigh.
To commence North Carolina FFA Day and the convention, youth leadership and motivational speaker Josh Drean will kick off the opening keynote session on June 18th at noon. Drean will inspire students by providing methods for managing life's challenges that teens can relate to and learn from. These premier leadership skills will translate to student success in the classroom and in the workplace.
"I am excited to see FFA students from across the state gather in Raleigh—the center of state government—for their annual convention," said Agriculture Commissioner Steve Troxler. "What a tremendous opportunity for the students, but also for our state leaders to see our next generation of farmers, agribusiness owners, and agricultural leaders."
On Wednesday, June 19th, activities include a student favorite career development event competition, Gator Wars, sponsored by the John Deere FFA Alumni Affiliate. During this event, students who want to get their hands dirty get the opportunity to identify and repair a problem in a John Deere Gator vehicle. Gator Wars allows John Deere to unearth future agriculture technicians who one day may be recruited to work for the company, and students are eligible to receive scholarships through John Deere as a result of the competition.
Gator Wars is just one example of the many career success opportunities available to the 2,500 agriculture education students at this year's State FFA Convention. Learn more about the FFA State Convention and the North Carolina FFA Association at ncffa.org.
About the North Carolina FFA Association:
North Carolina FFA is a youth organization of 20,436 student members preparing for leadership and careers in the science, business, and technology of agriculture with 321 local chapters across the state. FFA makes a positive difference in the lives of students by developing their potential for premier leadership, personal growth, and career success through agricultural education. Visit ncffa.org for more information.
# # #