15 of the Best Restaurants Near WakeMed Soccer Park for Team Meals
Wednesday, May 31, 2023, 11am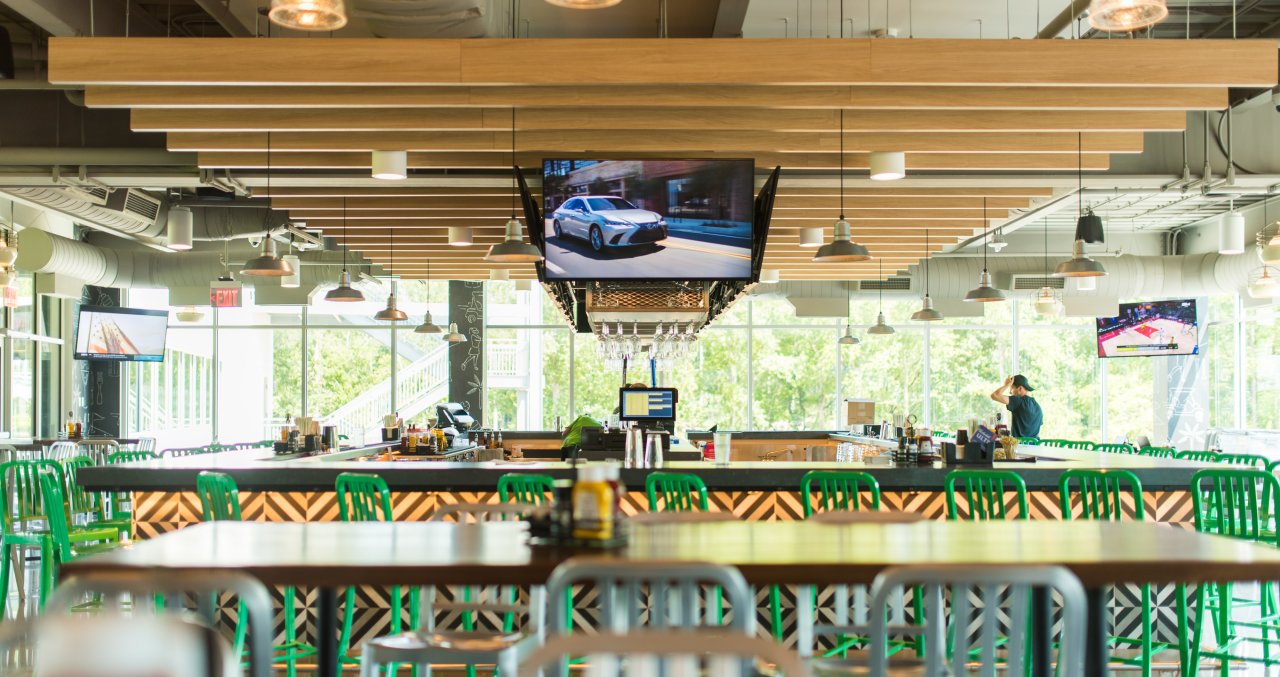 Get the most out of your team's trip to Cary, N.C., and Greater Raleigh by taking advantage of some of the best places to eat! We comprised a list of some of our favorite group-friendly spots in town that are right around the corner from WakeMed Soccer Park. Take the whole team for a night (or day) out at some of these great restaurants.
 
Carolina Ale House is a family-friendly, sports-themed restaurant known for its fun atmosphere and great food. Perfect for large groups and sports lovers, with more than 40 TVs. Their extensive menu offers lots of options—but make sure to give their famous fries and hand-breaded wings a try.
The perfect spot for the sports fan and BBQ lover, Backyard Bistro is home to some of the best BBQ in the area, plus offers a half dozen burger options, vegetarian options and more. Added bonus: It's also one of the best spots to catch games, with tons of TVs and group seating options. Pro tip: Try the Pulled Pork Tater Tots with kimchee—your team won't regret it.
200+ games, private rooms, team-building activities and tons of great food options that can be customized for your team. What's not to love?
Fresh and healthy Greek cuisine, with great service and a casual atmosphere. Dozens of menu options, including kids' options and non-Greek favorites as well. Plenty of room for the whole team.
A local favorite business for more than 30 years specializing in breakfast and lunch options, Brigs has a big menu with some of the best breakfast options for the whole team. Including great weekday lunch specials for under $10!
Lugano is Italian dining in a comfortable environment, and they strive to provide each guest with an unforgettable experience. The Italian menu includes soups and salads, as well as pastas and pizzas.
Spirits Pub & Pub offers a wide variety menu, from delicious buffalo wings to casual Sun. brunch with an overall American-style theme. Spirits has a great selection of seating options for groups big and small. 
Located in walking distance from shops and fun places to explore in downtown Cary Upper Deck offers games (pool, darts and more), TVs and great food. Catch sports while enjoying some of the best wings in the area, plus plenty of other great menu options. Open to large groups or small parties. 
All your favorite classic Mexican dishes. Authentic Mexican cuisine with great flavors everyone can enjoy. 
Why not enjoy your dinner with a round of golf at one of Raleigh's hottest new attractions? Drive Shack not only offers great golf for the whole team, but they also have group seating, arcades and table service that comes right to your driving bay. Drive Shack has great menu options and endless entertainment.
Ruckus offers great homemade Italian pastas and pizzas as well as a plenty of space for large groups. Check the schedule to see which live music act is performing tonight! 
All-natural Angus beef is used to make tender, juicy and delicious burgers. Hand-cut Idaho potatoes fried crisp in 100% peanut oil for flavor and health. Make sure to try their frozen custard made fresh every two hours. 
A familiar name to many, Shake Shack offers great American style bites, fast and casual.
American-style menu featuring handcrafted burgers made from locally-sourced products. Located in the Stone Creek Village Shopping Center. Private dining space available for large groups. 
Head over to Cary's Waverly Place shopping area and check out Gonza where their award-winning Colombian-Mexican cuisine will leave your taste buds dancing! You can't go wrong with their popular dish called the "Mexican Flag." Gonza's colorful star lights and authentic food offer a fun ambiance and dining experience.