Dreamville Festival Generates More Than $6.7 Million in Direct Economic Impact to Wake County
Tuesday, May 31, 2022, 8am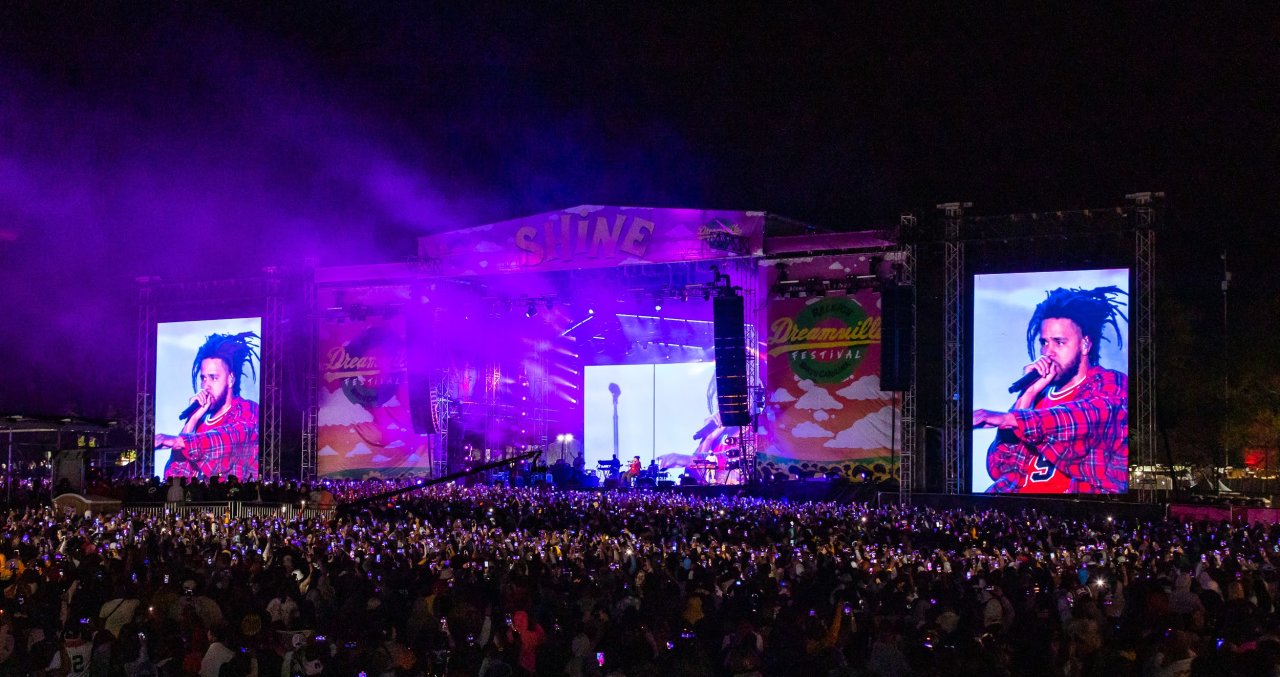 One of the largest artist-run music festivals in the country 
expands attendance and economic impact with two-day festival in Raleigh 
Raleigh, N.C. (May 31, 2022) – Curated by North Carolina-raised, Grammy Award-winning, and multi-platinum hip-hop artist J. Cole and his Dreamville team, the 2022 Dreamville Festival saw a combined attendance of 80,000 at the two-day, multi-stage festival in downtown Raleigh's Dorothea Dix Park. This year's festivities generated $6.7 million in direct economic impact within Wake County, according to figures released today by the Greater Raleigh Convention and Visitors Bureau (Visit Raleigh). 
Local and global fans alike flocked to Raleigh for the return of the April 2-3 festival with tickets being sold in all 50 states, plus Washington, D.C. and the U.S. Virgin Islands, and 20 countries. Wake County occupancy also swelled to 92% on the Saturday night of the festival.
It is important to note that the $6.7 million is a conservative estimate that does not include locals' spending, nor does it include a multiplier of indirect or induced impacts. It represents tourism economic impact only, which is new money coming into the local economy.
"My team and I continue to be awed by the overwhelming support we've received since closing out the second Dreamville Festival this April. But to now fully realize the festival's positive impact on the local economy and tourism, it truly is unbelievable," said Dreamville Partner and Festival President Adam Roy. "We are grateful for our fans who traveled across the U.S. and internationally to attend the fest, as well as for those from the City of Raleigh and Wake County who helped bring this event together. Our Dreamville team looks forward to furthering its investments in the community for years to come, especially as we plan for the festival's return in spring 2023."
After a sold-out inaugural event in 2019, the Dreamville Festival was rescheduled the following years due to the COVID-19 pandemic. Returning strong, the second annual Dreamville Festival once again provided a thoughtfully curated, multi-stage music event from J. Cole, who was raised in nearby Fayetteville, N.C. The festival provided an opportunity for J. Cole to give back to his home state that shaped the artist he has become with a one-of-a-kind celebration of local culture, food and art featuring a curated selection of music performers blending some of today's biggest national acts with exciting up-and-comers including WizKid, Lil Baby, Kehlani, Wiz Khalifa, Wale and T-Pain, as well as the entire Dreamville Records roster, among many other talented acts. North Carolina natives Morray and Lute also performed at this year's festival.
"The increase in economic impact and attendance over this year's two-day festival is gratifying to see after the pandemic hindered the previously sold-out event from taking place the last couple of years," said Dennis Edwards, President and CEO of Visit Raleigh. "The successful turnout for Dreamville Festival reiterates that events and travel are back in our area and the demand is still prevalent."
A portion of proceeds from this year's festival will be donated to official Dreamville Festival charity partners, the Dreamville Foundation and Dorothea Dix Park Conservancy.
Stay up to date on future Dreamville Festival news and announcements by visiting the following channels:
About the Greater Raleigh Convention and Visitors Bureau (Visit Raleigh):
As the official destination marketing organization for Wake County, the Greater Raleigh Convention and Visitors Bureau (Visit Raleigh), is responsible for promoting Wake County as an attractive travel destination and enhancing its public image as a dynamic place to live and work. Through the impact of travel, the organization strengthens the economic position of and provide opportunity for people throughout Wake County. Raleigh, N.C./Wake County welcomes nearly 13 million visitors annually whose spending tops $1.7 billion. The visitor economy supports more than 17,000 local jobs in Wake County and generates $186 million in state and local tax revenues, saving each Wake County household $470 in taxes annually. visitRaleigh.com
About Dreamville:
Founded by Grammy Award-winning and multi-platinum hip-hop artist J. Cole in 2007, the organization is home to Dreamville Records, a critically acclaimed and commercially successful record label distributed in partnership with Interscope Records. Dreamville Records is currently home to a variety of both established and up-and-coming music artists, including J.I.D, Ari Lennox, Bas, EarthGang, Cozz, Lute, and Omen. 
Launched in 2020, Dreamville Studios develops and produces all things TV, film, podcast, and digital content, both original and acquired. Dreamville Studios most recently released The Messenger podcast to critical acclaim, in addition to a diverse slate of studio and independent content in both development and production, as well as gearing up for release. 
Additionally, the company created the Dreamville Festival in J. Cole's home state of North Carolina offering a highly curated experience with local culture, food, art, and performances from some of the biggest names in music today. With fans traveling from across the globe to attend the music event, Dreamville Festival has quickly become one of the largest annual events in the state of North Carolina as well as one of today's most popular artist-run music festivals. 
Dreamville has now evolved into the modern multidisciplinary entertainment and media company, Dreamville Ventures, which serves as the parent company of all the aforementioned divisions. As a diversified cultural hub, Dreamville continues to cultivate and create music, content, live events, and streetwear as well as compelling ad campaigns with the industry's biggest brands. To learn more, visit Dreamville.com
Media Contacts:
Visit Raleigh
Jessica Holt
919.645.2654
jholt@visitRaleigh.com
Dreamville Festival
Trey Hicks
trey@treyhickspr.com
press@dreamvillefest.com
# # #