ESPA Honors Visit Raleigh's CEO Dennis Edwards for Executive Excellence
Tuesday, January 25, 2022, 5pm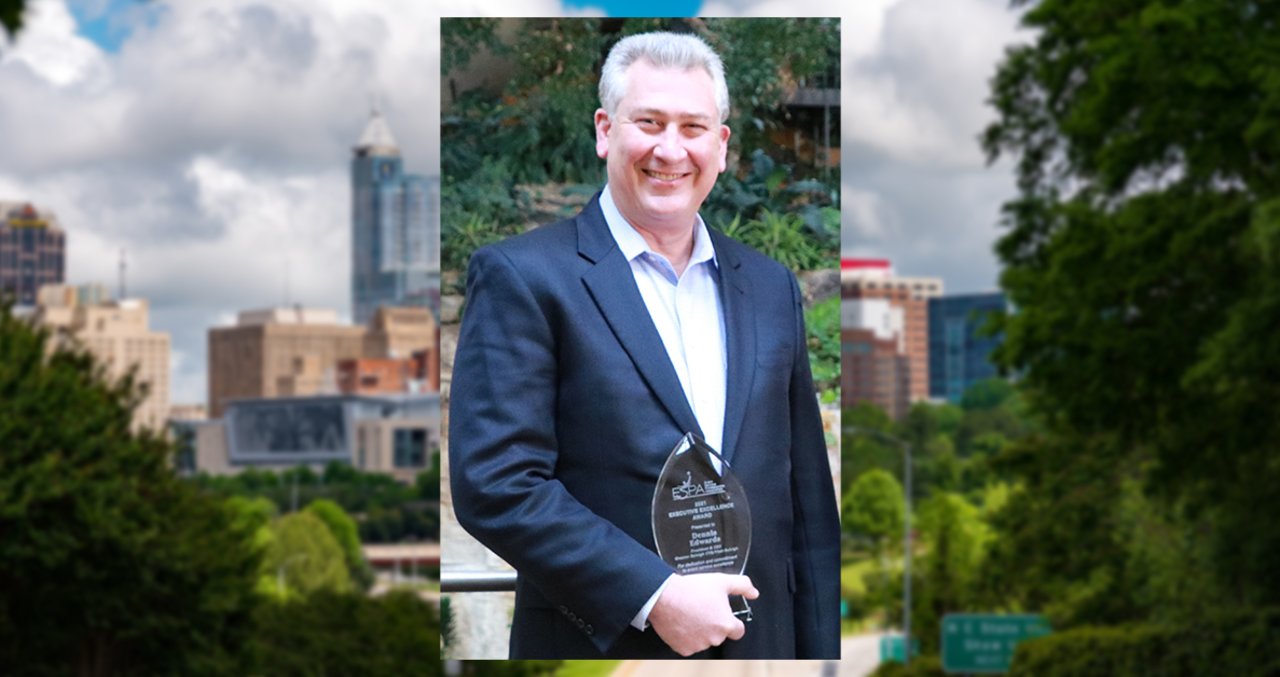 Raleigh, N.C. (January 25, 2022) – The Event Service Professionals Association (ESPA) announced today that an executive at the Greater Raleigh Convention and Visitors Bureau/Visit Raleigh was recognized with a prestigious national award along with other industry professionals at its annual conference.
Dennis Edwards, Greater Raleigh Convention and Visitors Bureau (GRCVB) president and CEO, was honored with the Executive Excellence Award at ESPA's annual conference in Kansas City, Mo., which was held Jan. 21-23. The event incorporated carefully planned safety measures, including a mask mandate and an attendee requirement to show proof of vaccination or a negative COVID test.
"Dennis understands that keeping business is as important as booking business," said Paola Bowman, CMP, CMM, ESPA president and destination services manager at the Arlington Convention and Visitors Bureau in Arlington, Texas. "His background in sales has given him a different perspective, one that truly supports event services in the industry."
The event services professional is often the unsung hero of the events industry, working with clients—sometimes for years—to make their events come to life, ensure guest satisfaction and repeat business.
During the pandemic, Edwards decided to keep his event services team intact, while other destination management organizations (DMOs) across the country laid off or furloughed their services teams, losing decades of events expertise in the process. He kept all full-time employees in place, including the services team, because he knew when events returned, it would be crucial to have invaluable experience to help meeting planners achieve events success.
Julie Brakenbury, who is ESPA's outgoing president and retired director of services at GRCVB, nominated Edwards for the prestigious industry award.
"Denny came up through the CVB/DMO world from the sales side," Brakenbury said. "I believe that helped him to understand how important it was and is to not only to book business but also to service it well. This led him to support a DMO culture where services mattered. At GRCVB, Destination Services has a role on the senior leadership team and is active in building the goals, business plan and budget. He is focused and hard working—but balanced. No matter how busy he is, he always has time to consider a point or respond to a question or assist where needed. He is equally at ease on a podium, in a city council meeting, lobbying in D.C., working a tradeshow...it doesn't matter, he is able to take it all in stride and instills great confidence as a result."
After working for almost 14 years with him at GRCVB, Brakenbury said Edwards is a real advocate for continuous education and career development: "He encouraged me to not just join ESPA but be active. Denny was and is a true believer in the value of ESPA membership."
Each year at the annual conference, ESPA recognizes an executive for his or her commitment and dedication to the profession of event services and to giving key support and leadership to members of their services team. 
ESPA also recognized several other award winners at its 2022 annual conference.
 
Value proposition for event service professionals
An event service professional works at a hotel, convention center or CVB and manages all the logistics of an event with a meeting planner to efficiently bring it to life after the sales team closes the sale. They are highly educated, resourceful and highly skilled problem solvers.
Prior to the event date, their objective is to execute all event elements on time and on budget. Event service professionals are also on-site during the event, working with the meeting planner as their partner and lifeline on daily logistics, ensuring all needs are met and assisting to make sure everything runs as smoothly as possible. In the era of COVID meetings, they also share their knowledge on local regulations and guidelines, providing guidance on safety measures for groups.
To learn more about ESPA, visit espaonline.org.
 
About the Greater Raleigh Convention and Visitors Bureau (Visit Raleigh):
As the official destination marketing organization for Wake County, the Greater Raleigh Convention and Visitors Bureau (Visit Raleigh), is responsible for promoting Wake County as an attractive travel destination and enhancing its public image as a dynamic place to live and work. Through the impact of travel, the organization strengthens the economic position of and provide opportunity for people throughout Wake County. Raleigh, N.C./Wake County welcomes nearly 13 million visitors annually whose spending tops $1.7 billion. The visitor economy supports more than 17,000 local jobs in Wake County and generates $186 million in state and local tax revenues, saving each Wake County household $470 in taxes annually. visitRaleigh.com.
About Event Service Professionals Association (ESPA):
With more than 500 members, the Event Service Professionals Association (ESPA) is dedicated to elevating the event and convention services profession and to preparing members, through education and networking, for their pivotal role in innovative and successful event execution. For more information, visit espaonline.org.
Media Contacts:
Greater Raleigh Convention and Visitors Bureau (Visit Raleigh)
Jessica Holt, Director of Public Relations
919.645.2654
jholt@visitRaleigh.com
# # #