Experience Raleigh Through the Eyes of a Local with People-First Tourism
Monday, May 08, 2023, 10am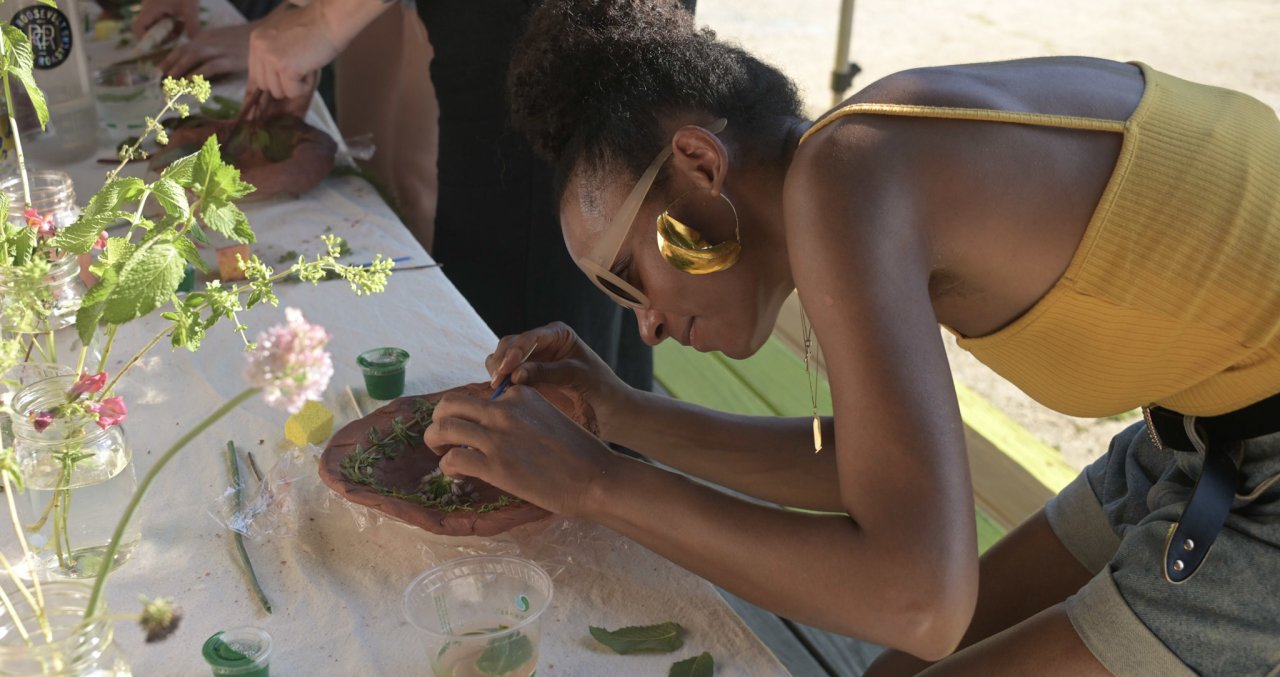 Dive deep into Raleigh, N.C., by adding a People-First Tourism Experience to your itinerary
As a carefully curated collection of tours and hands-on encounters, People-First Tourism Experiences are designed to take you beneath the surface of Raleigh, "backstage" and alongside the locals who live it and breathe it every day. Come along for the journey as microentrepreneurs, cultural ambassadors and talented experts from the Raleigh area share their stories and passions with you while teaching a skill, guiding a tour and allowing you enriching opportunities to make lasting memories.
 
GET OUTDOORS
Borrowing Something Sweet: Honey Tasting and Hive Tour With Shannon and Steve Baxter
Interested in learning more about bees? Steve and Shannon Baxter are local beekeepers and business owners, along with being just delightful and engaged people. They operate Baxter's Bees, a family-owned business dedicated to saving the world by restoring the honeybee population one hive at a time. Visit the Stone Ridge Farm Market in Zebulon, just outside of Raleigh, for a scenic outdoors experience with Shannon and Steve where you can taste a range of different local honeys, explore the construction of a beehive up close and learn straight from the experts on why beekeeping is such a fascinating and vital part of our lives.
Experience Urban Farming: Raleigh City Farm Tour
If you love nature and want to go behind the scenes of a local farm, book a private tour of the Raleigh City Farm—a nonprofit urban farm located on a one-acre lot in downtown Raleigh. Visitors will be led by an experienced staff member or volunteer to explore all the gardens, production areas and buildings. You will also explore the clever and innovative ways that Raleigh City Farm uses a little bit of space to grow a lot of produce and make an even bigger impact.
Triangle Treasure Hunt With Ben and Whitney
Are you up for a scavenger hunt that will test your wits and give you the chance to really get to know downtown Raleigh or Cary? Triangle Treasure Hunt is a thrilling signature experience that sends participants hunting for outdoor clues, solving puzzles and cracking codes to unlock a treasure chest for the prize inside. Explore historical, artistic and unique locations around the area, and at the end of the hunt, join Ben and Whitney, the creators of this experience, as they share the history and stories of the places on your journey. As the entire experience just takes between 90 and 120 minutes, plan for time to explore more of downtown Raleigh or Cary!
Sunset Paddle Trip on Falls Lake With Banks
Paddle the waters of Falls Lake as the sun sets on a beautiful day. By your side will be Banks Dixon, owner and operator of Frogs Hollow Outdoors, who will guide you to a prime, sunset-watching location. Banks has guided and instructed adventure and nature-based activities for over 25 years, so you're in good hands. As the light fades, linger awhile to take in the sights and sounds of the water after dark. A fun and relaxing experience such as this is best enjoyed in groups of two to 10 people, so be sure to gather your family or a group of besties for the most amazing time.
 
GRAB A DRINK
Blending Over Backwards: Olde Raleigh Distillery Tour With Brandon
Olde Raleigh Distillery is a blend of old and new, just like its signature whiskey. Head just outside Raleigh proper to the town of Zebulon to admire the distillery's beautiful and repurposed design and meet up with master blender Brandon McCraney. Brandon, who has spent years immersing himself in the spirits industry, will take you on a behind-the-scenes tour while explaining the basics of distilling and the art of blending. Explore many aspects of the distillery including the barrel room and discover how everything from wood to weather can transform flavor. At the end of your tour, saddle up to the handcrafted bar or grab a seat at a whiskey barrel cocktail table for a taste of Old Raleigh's signature bourbon. Local tip: Check out the special custom tour, which includes more hands-on exploration and a complimentary full signature cocktail.
Stop and Taste the Flowers: Herbal Tea Tasting and Workshop With Matthias
For delicious tea too good to spill, sign up for Stop and Taste the Flowers—an herbal tea workshop guided by Matthias Payton. As a true artist of tastes and smells, Matthias founded JASPER & GOLD, a black-owned infusion company creating delicious beverage experiences using organic and all-natural ingredients. Your experience begins with enjoying a warm and delicious herbal tea infusion while hearing about the surprising depth of story and artistry that goes into selecting herbs for tea. Then, you'll create your very own infusion from a selection of beautiful, dried herbs and ingredients. Finally, Matthias will teach you more about the physical and mental benefits of tea infusions and how to utilize tea to practice mindfulness. Participants will also come away from the workshop with their uniquely crafted blends to share with friends or simply to enjoy themselves.
Downtown Coffee Stroll With Greg
For those who adore everything coffee, this experience is right up your alley! Meet up with Greg Whitt, award-winning facilitator and arts educator, as he leads you on an unscripted stroll around downtown Raleigh. Along the way, you'll pop into his favorite coffee shops to talk with baristas and nerd out on different roasts and the local coffee culture. Regular stops on the stroll include institutions like A Place at The Table, Videri Chocolate Factory, Raleigh Raw, lucettegrace, 42 & Lawrence and Sir Walter Coffee. Local tip: Greg will also customize the tour based on participant interests and the weather.
 
GET CREATIVE
Adventures in Bloom: Metal-Stamping Workshop With Laura
Learn the basics of stamping on metal to create personalized jewelry, accessories and gifts with art lover and small business owner Laura Gerenser. Laura guides participants through the metal stamping process in a hands-on workshop, giving them the tools and materials needed to create finished products of their very own. Create everything from charms and bracelets to keychains, bookmarks, ornaments and more. What you make is completely up to you! This experience is also ideal for families as participants can be as young as seven years old. Local tip: Stop by Laura's shop, Adventures in Bloom, in the town of Apex for more local goods from 30+ makers.
Warehouse District Art Walk With Annelies and Greg
Slip on your walking shoes and hit the streets for Annelies and Greg's inspiring and creative experience. You will begin this guided art walk in downtown Raleigh's Warehouse District at CAM Raleigh and meander through the district before walking toward Nash Square. Along the way, they'll see colorful wall murals, street art and sculptures. Annelies and Greg's style is similar to a walking TED Talk as they'll cover a wide variety of interesting topics and warm your heart. Their kindness, joy and established connections within the local art scene make it feel like you're visiting with a good friend.
Brush the Skyline: Watercolors and Brews Workshop With Dominique
Head to one of downtown Raleigh's local breweries, Wye Hill Kitchen & Brewing, and enjoy scenic overlooks for a session in painting skylines. Relax, have a drink or some dinner and appreciate a gorgeous view of the city at sunset while Dominique guides you through a workshop on watercolor landscapes. All supplies will be provided, and you will be able to take home a travel canvas of your own creation for the memory.
Crochet Anywhere: Crocheting Workshop & Meetup With Suzy Hasanin
Did you know that you can crochet pretty much anywhere? It's a great exercise in creativity and mindfulness, and all it takes is a single tool and some yarn, which require almost no space. Raleigh artist Suzy Hasanin is a lifelong crocheter, and she's been looping threads since 2004. Since then, she hasn't put it down, crocheting everything from mushroom-shaped bags to full-blown outfits. Suzy believes that if you can crack the code of the fundamentals, you can crochet anything. And she wants to show you how! Workshops take place all over the Raleigh area, from parks, to coffee houses, to clubs and more.
Explore even more of Raleigh with these can't miss People-First Tourism Experiences during your next visit!
 
About the Greater Raleigh Convention and Visitors Bureau (Visit Raleigh):
As the official destination marketing organization for Wake County, the Greater Raleigh Convention and Visitors Bureau (Visit Raleigh), is responsible for promoting Wake County as an attractive travel destination and enhancing its public image as a dynamic place to live and work. Through the impact of travel, the organization strengthens the economic position of and provides opportunity for people throughout Wake County. Raleigh, N.C./Wake County welcomes nearly 16 million visitors annually whose spending tops $2.3 billion. The visitor economy supports more than 21,000 local jobs in Wake County and generates $243 million in state and local tax revenues, saving each Wake County household $592 in taxes annually. visitRaleigh.com
Media Contact:
Jessica Holt
Director of Public Relations and International Tourism
919.645.2654
jholt@visitRaleigh.com
# # #