Greater Raleigh Sports Spotlight: A Hall of Fame Labor of Love
Monday, April 30, 2018, 2pm by Neil Amato
An interesting look at the sports event industry in Greater Raleigh, N.C.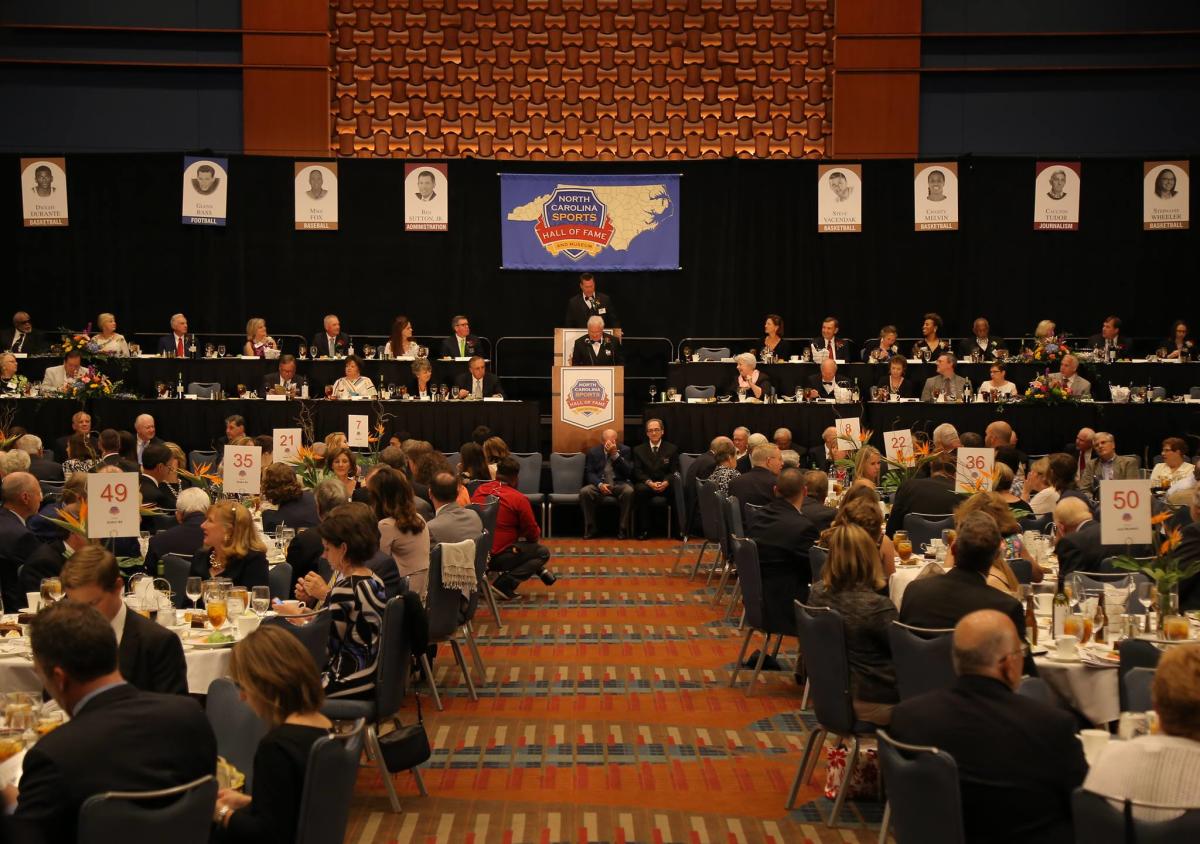 The North Carolina Sports Hall of Fame Induction Banquet is held annually at the Raleigh Convention Center
Photo credit: North Carolina Sports Hall of Fame - Strawbridge Studios
Don Fish realized more than a decade ago that retirement was not for him. He was in his mid-60s, living on the coast, fishing and playing golf and doing all the other things "you're supposed to do when you're retired."
He needed a challenge, so he and his wife moved back to the Triangle, where he agreed to a two-year stint as executive director of the North Carolina Sports Hall of Fame (NCSHOF). That was 12 years ago.
Fish envisioned a reinvention of sorts for the state's sports hall, a task he's taken on full bore. He wanted to raise awareness and interest in the NCSHOF, and the programs that are now associated with the hall's induction weekend show he's well on the way to accomplishing both parts of a two-pronged mission.
When Fish took over, he said, the NCSHOF received fewer than five nominations per year for potential inductees. As someone who grew up here and immersed himself in the state's rich sports history, he thought that number was too low. For the 2018 class of inductees (see list below), who will be honored at a banquet May 4 at the Raleigh Convention Center, there were 42 nominees.
Fish has spearheaded a movement to expose and educate students, tying in Hall of Fame induction weekend with education and mentoring. Last year, nearly 200 high school athletes from across the state attended the festivities, which included a chance to mingle with inductees, visit the Hall of Fame's third-floor wing of the North Carolina Museum of History ("truly a treasure," Fish said), and take part in a panel discussion. This year, close to 300 young athletes are expected to attend.
"We're delighted to share the sports heritage we have in this state, which is second to none," Fish said. "But also we want to encourage these young people so that they can use sports as a tool to learn life lessons. The ultimate goal is to help them become achievers."
The 15 member-class brings the list of inductees to 351. There are familiar names, such as Jordan, Krzyzewski and Valvano. There are six Joneses, four Yows and three Smiths, to name a few. But there's only one Don Fish.
"Don Fish is one of a kind," said Scott Dupree, executive director of the Greater Raleigh Sports Alliance. "His passion for the North Carolina Sports Hall of Fame is just incredible. It is not merely a job to him. He cares about it deeply. As a result, both the Hall of Fame and the annual banquet are bigger and better and more highly regarded than ever before. That is 100 percent due to Don's tireless efforts."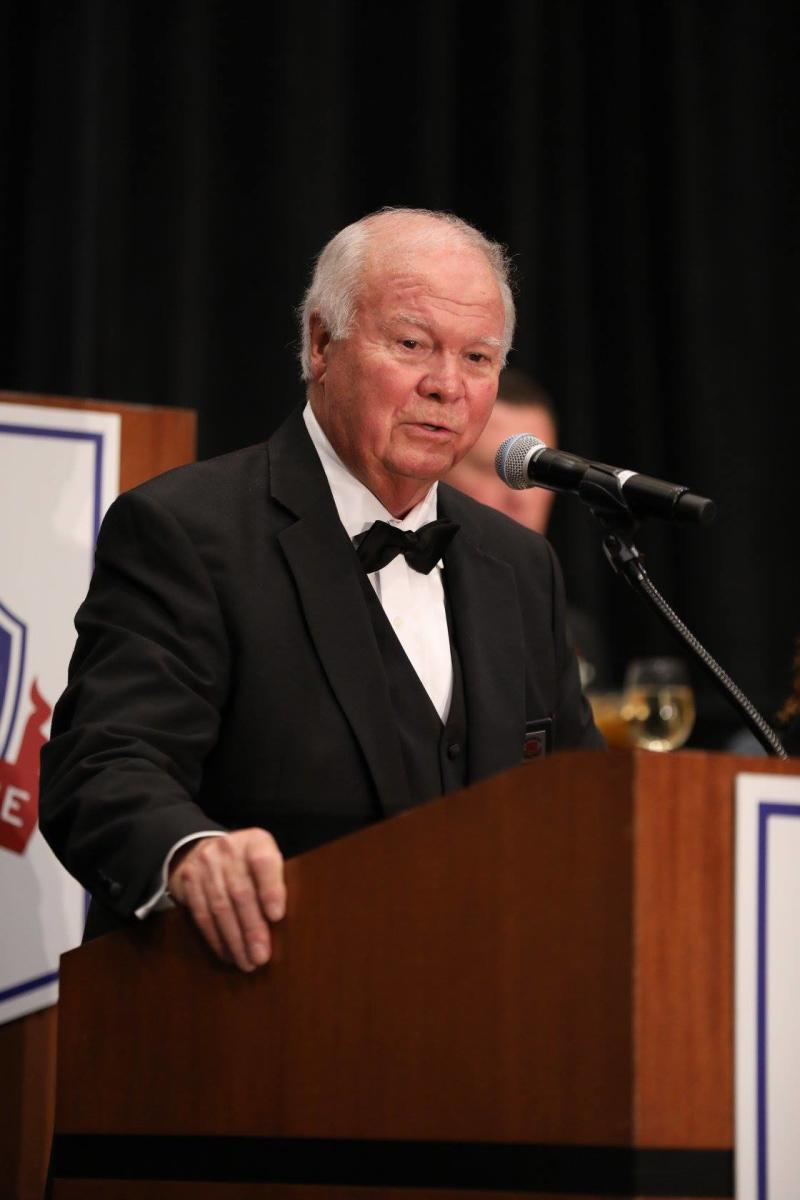 Don Fish, executive director of the North Carolina Sports Hall of Fame
Photo credit: North Carolina Sports Hall of Fame - Strawbridge Studios
Fish grew up on a Durham County tobacco farm, the youngest of nine children. He may have been considered the baby of the family, but he wasn't babied when it came to responsibility. He learned early on the importance and value of hard work.
He also was thankful to have a mentor in the form of coach Sid Ray at Northern High School. Ray "took me under his wing," offering encouragement that Fish should put his skills to best use. Fish went on to be the Knights' quarterback and point guard, and he played for legendary coach Simon Terrell in the 1957 East-West All-Star basketball game. Fish went on to play at Louisburg College, once scoring 49 points in a game. He is a member of both the Northern and Louisburg athletic halls of fame.
In between taking classes at Louisburg and later at the University of North Carolina, Fish continued to work. He started as a sales clerk at Liggett Group, a Durham tobacco company. He worked there 33 years, retiring as a senior vice president of marketing after majoring in physical education.
"I learned that hard work gets it done," Fish said. "I outworked everybody."
The reinvention of Don Fish, however, wasn't finished. Liggett got into a new line of business, trading cards, and Fish was one of the leaders of the venture that created SkyBox-branded NBA cards and later cards for movies and comic-book characters. It's safe to say the venture paid off well for Liggett, and Fish exited on solid financial footing. But the retirement life wasn't for him.
Bobby Guthrie can see that clear as day today, even though Fish is 78.
"From the time he gets up in the morning until the time he goes to bed at night, it is about the North Carolina Sports Hall of Fame for Don," said Guthrie, the hall's associate executive director and former athletic director for Wake County Public Schools. "It's just amazing what he has done."
The banquet, traditionally on the first weekend in May, long ago outgrew its spot in a hotel ballroom. It's expected to draw upwards of 1,200 people at the Raleigh Convention Center on Fri. While there's plenty of space there, space is at a premium at the Museum of History. Fish is grateful that inductees have donated memorabilia over the years, but he said nearly 70 percent of the items remain in storage because there's no room to be displayed.
That said, he enjoys working with the Museum of History, which is the host of the Sat. morning panel for the high school athletes. That's where he sees his vision of education coming to fruition, whether it's Dereck Whittenburg talking about North Carolina State University's 1983 NCAA basketball title or Phil Ford discussing his sports success and life struggles and offering his cell phone number to any student who wants to talk anytime, day or night.
"We're trying to share some of the experiences the Hall of Famers have had," Guthrie said. "It's not like they had it easy and just became superstars. They had to work at it."
The same could be said of Fish and his work, which has taken an already strong product, the North Carolina Sports Hall of Fame, and turned it into a treasure.
The inductees for 2018 are:
Donna Andrews, golf
Scott Bankhead, baseball
Skinny Brown, baseball
Chris Cammack, baseball
Joey Cheek, speedskating
Wes Chesson, football
Laura DuPont, tennis
Mindy Fitzpatrick, basketball
Bill Hayes, football coach
Jack Holley, football coach
Paul Jones, basketball coach
Mike Martin, baseball coach
Jakie May, baseball pitcher
Joe West, baseball umpire
Fred Whitfield, administrator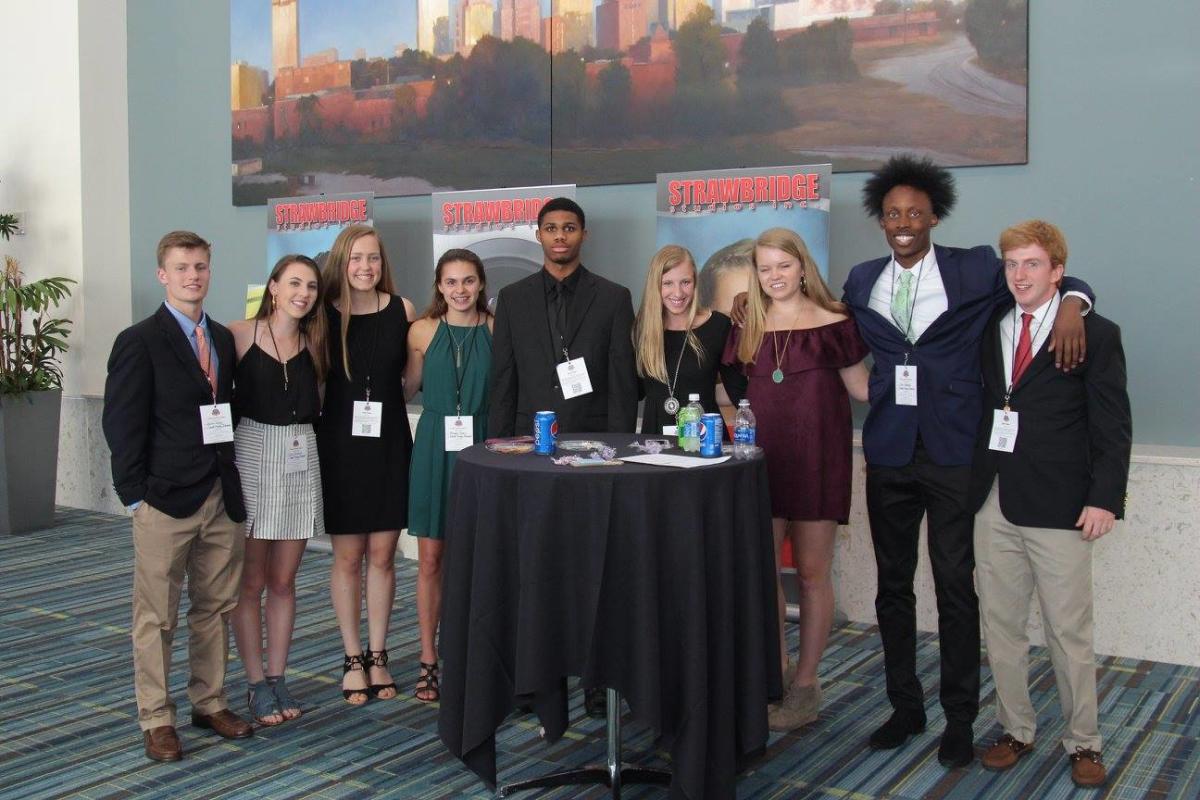 Student-athletes at the 2017 North Carolina Sports Hall of Fame Banquet
Photo credit: North Carolina Sports Hall of Fame - Strawbridge Studios
Author: Neil Amato