Greater Raleigh Sports Spotlight: Back on Track After Accident, Coach Williams Inspires Greatness
Wednesday, February 26, 2020, 10am by Neil Amato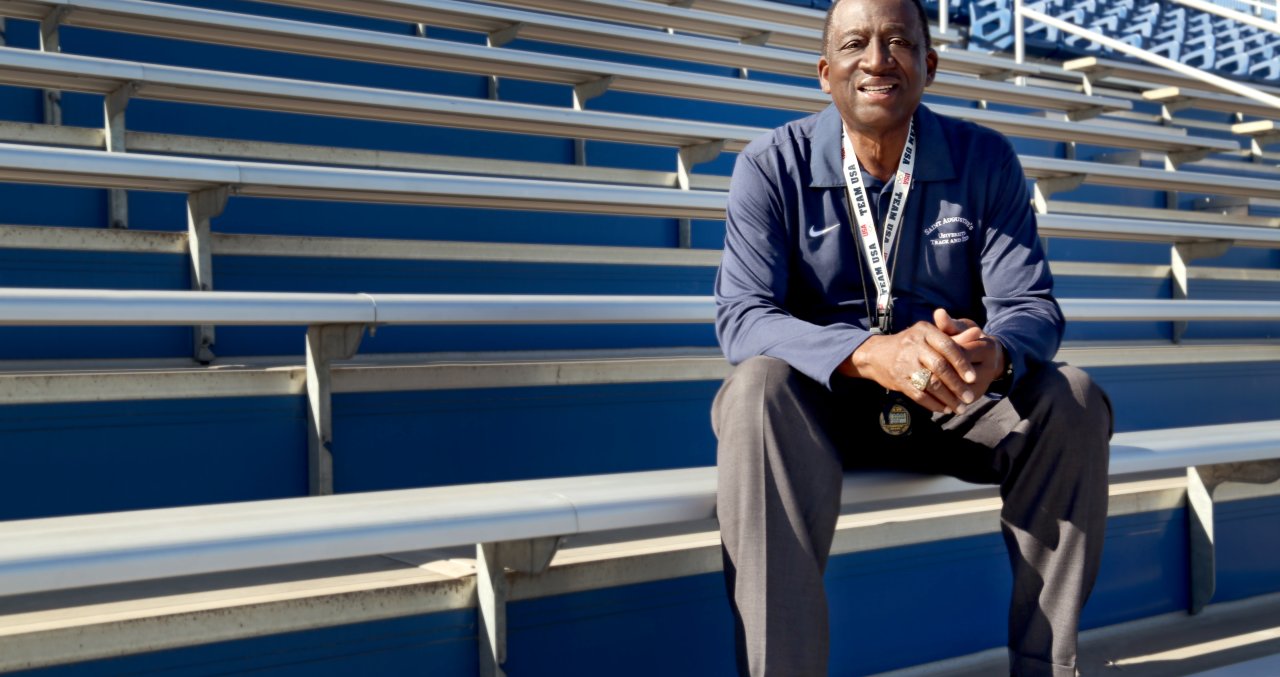 An interesting look at the sports event industry in Greater Raleigh, N.C. 
George Williams, the world-renowned track and field coach and athletic director at Saint Augustine's University in Raleigh, is known just as much for producing NCAA and Olympic champions as he is for being friendly. Williams, it seems, always has time to talk.
About five months ago, just after an accident on an all-terrain vehicle, Williams thought his time was up.
Miraculously, he survived, and earlier this month was back in a familiar spot—posing with the St. Aug's men's team after yet another conference championship. It felt different this time, Williams said, and he's still not sure why he's still around, guiding the Falcons' hunt for a 40th NCAA championship.
"It's not been an easy time, but God has his way," he said. "He brought me back. I knew I was gone, and he brought me back. I'm going to help these young kids until they run me away from St. Aug's."
Williams, likely more recognized by the international track community than he is in the area he's called home since the 1960s, was attending the world track and field championships in Doha, Qatar. On Oct. 2, Williams and his family—wife Olivia, daughter Crystal Harrell and son-in-law Steve Harrell—went on an ATV tour, racing over and around sand dunes.
Williams drove too fast in one section and flipped the ATV, which then landed on him. His memory of some moments after that is clear—for example, what he saw. On other parts, well, he's not so sure. But he described the aftermath as a true out-of-body experience.
"I saw my body laying over there," Williams said. "I said to my son-in-law, 'Take care of the family.'" He was rushed by helicopter to a hospital in Doha.
"I didn't know what was happening," he said. "When I woke up, I thought I was in heaven. That's all I can say. There were all those people speaking all those different languages, and I said, 'Wow, gosh, I got to learn that language.'"
Williams' injuries were severe: four broken ribs, two collapsed lungs, a lacerated liver and broken bones in his shoulder and leg. He spent most of October in the hospital in Qatar, then flew to Atlanta. He continued to recover but had to also deal with blood clots in his leg. It was not until mid-Nov. that he returned to Raleigh. He continues rehabilitation today, though he went back to work coaching at St. Aug's in mid-Jan.
News of the accident got around to the track community still in Qatar for the meet. Numerous people tried to visit Williams in the hospital. This is a man known as "Sir George" in the United Kingdom. He has been the head coach or an assistant coach for numerous U.S. teams in the Olympics and world championships. His reputation precedes him.
In Raleigh, the news was initially harder to come by. The family released a statement two days after the accident, saying Williams was alert and responsive and expected to recover fully despite suffering serious injuries.
Dorothy "Dot" Neal, the senior woman administrator and softball coach at St. Aug's, was one of many back home hoping for good news about Williams.
"I was thinking, 'Oh, God, please, let him be all right,'" Neal said. "My heart just stopped. We need Coach Williams."
Neal remembers the first time she met Williams. It was the fall of 1981, and Neal was a freshman on the basketball team. "I can recall us being in the gym and him saying, 'You have a nice jump shot,'" Neal said. "He was always around, always supporting."
About 20 years earlier than that, Williams was a young St. Aug's basketball player perhaps looking for encouragement. He came to the school from Miami, and he never left Wake County, working as a teacher and then in several roles at St. Aug's before he was named the track and field coach in 1976. He was named the AD in the late 1990s. By that time, the Falcons' track dynasty had been established.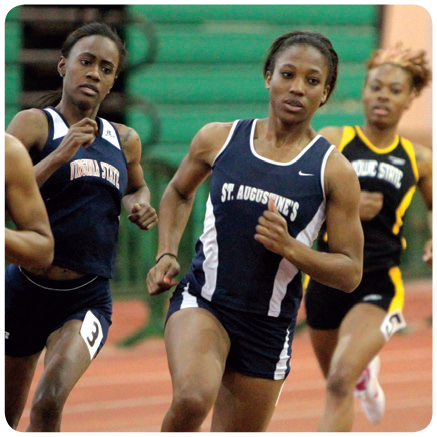 Under Williams, the St. Aug's men and women have won 39 NCAA team championships. That includes seven consecutive men's outdoor titles from 1989-95. On the women's side, his teams have six indoor and four outdoor championships.
"He collects national championships like they're conference championships," said North Carolina State University's Rollie Geiger, who knows a thing or two about sustained success in collegiate track and field and cross country.
And while the NCAA titles have gotten a little harder to come by of late, the Falcons' dominance in the Central Intercollegiate Athletic Conference remains unparalleled. The men finished tied in the team standings with Virginia State in the conference indoor meet, giving the team its 23rd CIAA crown in a row.
And then there's his success on the global stage. Williams was the head track and field coach for the 2004 Olympic team, and he's tutored numerous international stars, including medalist Bershawn Jackson, whose medals on the world stage include a bronze in the 2008 Olympics in the 400-meter hurdles.
Williams shrugs off his coaching's effect on such runners.
"In track and field, the coaching part is easy. Either you're fast or you're slow," he said. "It's the relationship that you create with them."
At least one of his former runners agreed that it was Williams' skills as a relationship-builder that made him special as a coach. Alvin Miles, who also competed in hurdles at St. Aug's after beginning his career at Baylor, said: "He finds the athletes who need that second chance and have the capability to work hard."
Miles now works as a personal trainer in Cary, applying the lessons learned under Williams. He spoke with Williams at a meet in Dec. and came away with an overall sense of gratitude.
"I could hear how thankful he was," Miles said. "I could hear how he felt like, 'There's more for me to do. It's not time yet,' even if he doesn't know what that 'more' entails."
Miles was, like many, feeling fortunate to have another conversation with Williams.
"The first time I spoke with Coach Williams after the accident, he said 'God must not have needed me yet. That's the only way to explain why I'm still here.' I haven't forgotten those words," said Scott Dupree, executive director of the Greater Raleigh Sports Alliance. "Not only is he an international track and field icon, but Coach Williams is also a true Raleigh treasure, one of our greatest ambassadors and a dear friend, and I appreciate him now more than ever."
William said the outpouring of support—letters, calls, emails and texts—has been humbling.
"There were so many people that reached out to me," he said. "I didn't know that I had touched that many people's lives."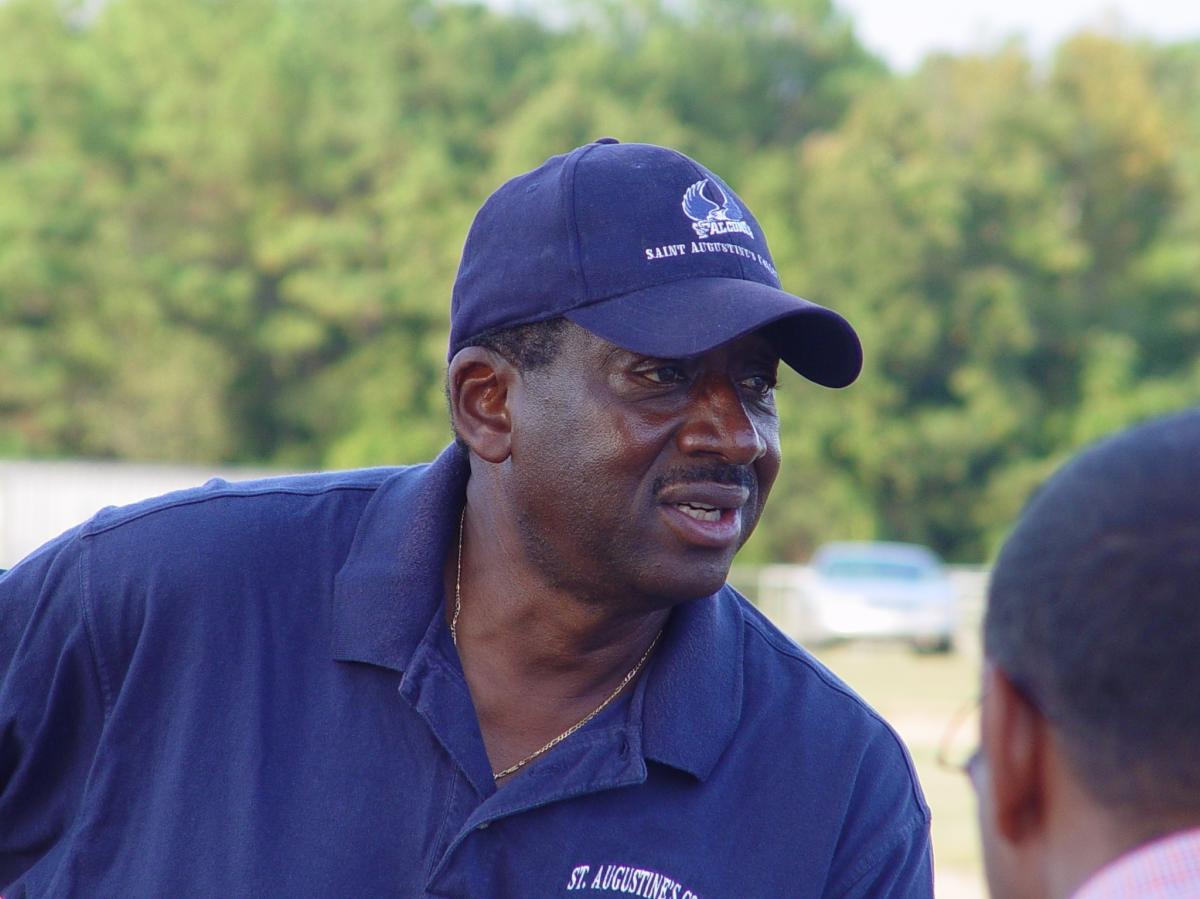 Photo courtesy of Saint Augustine's University Athletics Department
Author: Neil Amato