Greater Raleigh Sports Spotlight: Cadet, Student, Closer - A West Point Story
Thursday, March 07, 2019, 11am by Neil Amato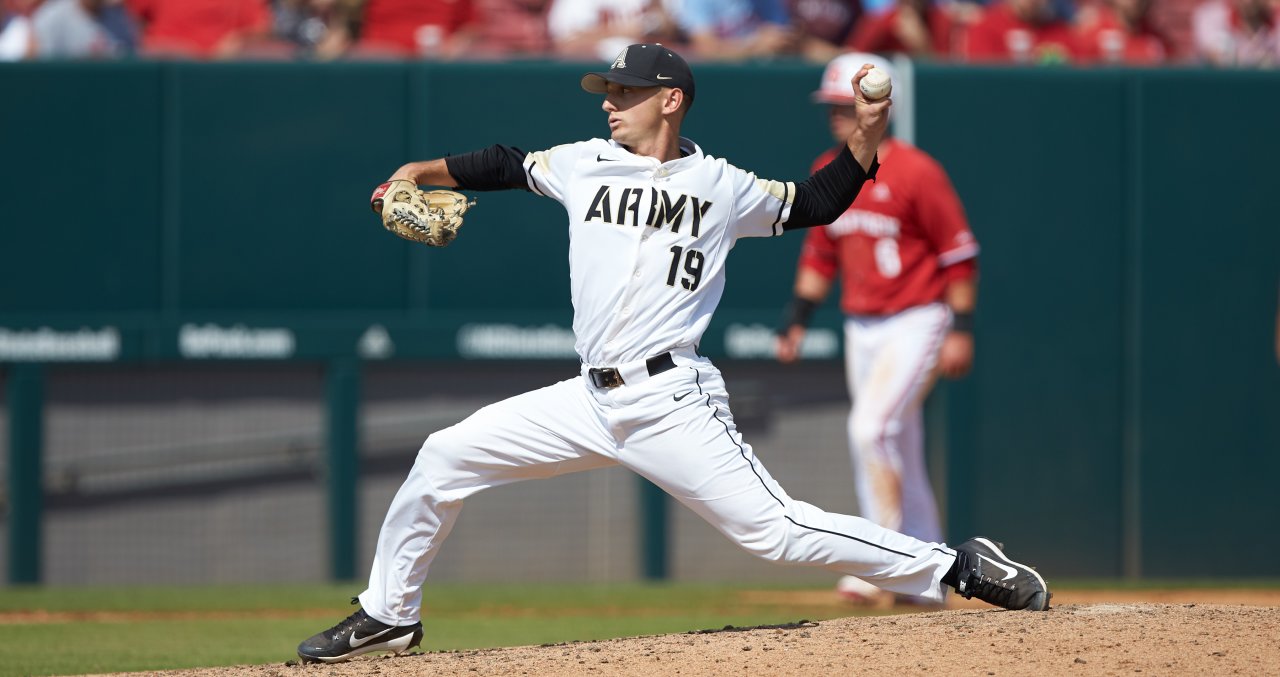 Cam Opp pitched in the Army Baseball Classic last weekend at USA Baseball 
Photo courtesy of Army West Point Athletics 
An interesting look at the sports event industry in Greater Raleigh, N.C. 
Cam Opp isn't the only pitcher in Division I college baseball who has yet to yield an earned run this season in multiple appearances.
He may not be the only one with a 4.5-to-1 strikeout-to-walk ratio, or a .192 opponent batting average heading into this weekend's games.
But the senior left-hander is the only one to post those statistics while managing a full course load at the U.S. Military Academy, rising at 6am to make sure the hospital corners are perfect on his bed and keeping up with family on another continent.
Opp has proven over and over that he can take whatever life throws at him, on and off the field. It's that ability to respond to difficult situations—facing top-ranked LSU in Baton Rouge, with more than 11,000 people in the stands definitely falls in that category—that will serve him well when he begins official military service, learning to pilot helicopters at flight school in Fort Rucker, Ala., in Sept.
Opp, in Cary last weekend at the USA Baseball National Training Complex, which hosted the Army Baseball Classic, took a non-standard path to the mound at Doubleday Field in West Point, N.Y. For one thing, he nearly didn't play high school ball in the United States. The Opps moved from Chicago to London when Cam was 10, for his father Stuart's job with Deloitte, a Big Four accounting firm. After the move, father and son continued to bond over baseball, even in a country where the word "pitch" means a soccer field.
Cam Opp played at as high a level as possible in England, but he wanted more. Twice, at ages 12 and 16, he attended a summer baseball camp in Lakeland, Fla., site of the Detroit Tigers' spring-training facility. On his second visit, he queried one of the coaches, Pat James, about how he could continue to improve.
James, the longtime coach at Christ School, a boarding school outside Asheville, suggested Opp give baseball in the States a try—specifically, at Christ School. After a quick call home to his father, and a quick decision, Opp took a flight home to London and another one back to North Carolina, just in time to begin his junior year.
Everything seemed great for Opp, despite being a long way from home. But then, after his first baseball season with the Greenies, Opp got stunning, horrible news: His father had stomach cancer.
Still, Cam and Stuart kept talking baseball, kept making plans for athletics and academics. There was no doubt Cam would return to Christ School for his senior year; the focus was on Cam's long-term future, not the potentially short time Stuart had left.
"When he was diagnosed with cancer and things were awful, it had the potential of being a 'poor me' situation," Opp said. "But that's not what I saw. He was very, very strong, and I barely knew the difference. He was always sharp and always listening."
It was spring of his senior year, when college plans were being completed, when graduation was coming fast, that Cam got a phone call from his mother, Deidre. Stuart Opp, Cam's confidant, was gone. He died on April 4, 2014, at age 46.
Opp initially attended William & Mary, where he tried to handle the triumvirate of academics, ROTC and baseball. It was too much, and Opp was cut from the team. Without baseball and without his dad, he felt lost.
He was accepted to West Point for the next school year. He was a baseball walk-on, but this time he not only made the team, he became an instant leader. Opp believes that the values he learned growing up, including time spent with older brother Colin, now also employed by Deloitte in the UK, are exactly the kind of values that make him well-suited for West Point.
"It encourages and reinforces character, commitment to service, all these great ideals," he said. "It's very difficult to go into West Point without those ideals already instilled in you. I think that with those values already instilled in you, that's what draws you to the Academy. So I do think it takes a special person to go to West Point."
Last season and early in his senior season, Opp has been a special player for the Black Knights.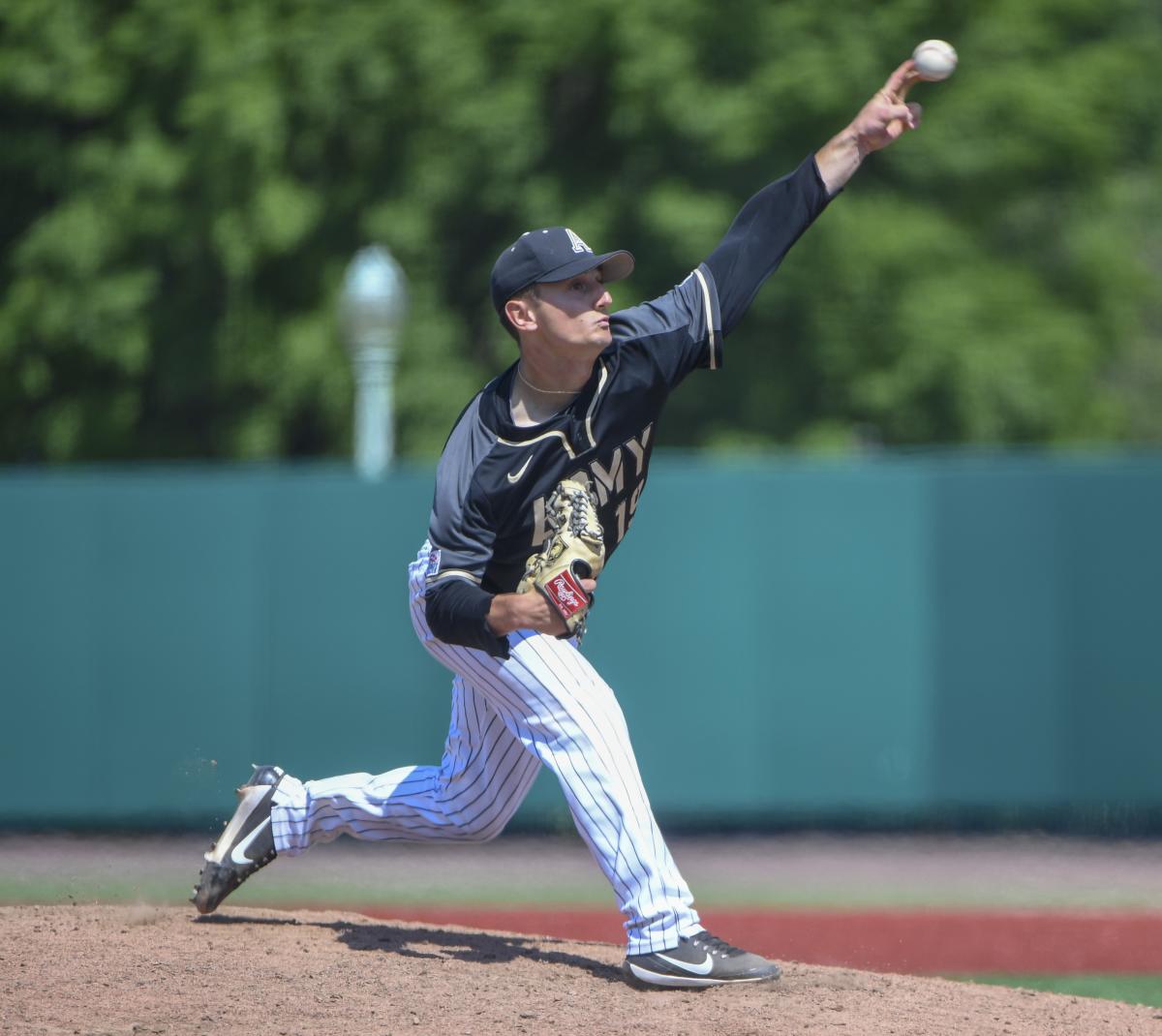 Opp is a senior left-hander who arrived at West Point via London and William & Mary
As a junior, Opp played a critical role in the Black Knights' postseason success. He recorded the final two outs on nine pitches in a 5-3 victory over Navy in the Patriot League tournament championship, a win that sent the team to the NCAA tournament and sent Opp's teammates to the mound to mob him. In NCAA regional play, Army stunned North Carolina State University 5-1 in Raleigh, with Opp pitching the final 1 2/3 innings.
He led the team in appearances (25) and earned-run average (2.66) as a junior. In his senior season as a co-captain, Opp has yet to allow an earned run in 8 1/3 innings. That includes three innings against Tulane on Sun., March 3, a 7-6 victory for the Black Knights at the Army Baseball Classic.
Opp, in fact, has yet to allow an earned run in three appearances (6 2/3 innings) over two seasons of Army Baseball Classic play. Trips such as the one to Cary remind Opp how fortunate he is, but also how much work has been done to get to this point.
"We definitely get returns on the work we put in," he said during an interview between games at the team hotel. "We work very hard in the fall, very hard in Jan. Then we get to go to one of the best complexes, to play against great teams. It's a business trip—you're trying to win games—but it feels nice. It's relaxing, you get to do something you love. It definitely feels great to be here."
In between traveling for games—where, suffice it to say, the players don't always have to set alarms for 6am—they still must get their academic work done. Opp wrote a paper during the team's bus ride to the tournament last week. "Bus rides are important," he said.
So, too, is the ability to be efficient and on task, in step with the 4,000 other West Point cadets. Opp said every school day begins at 6am. That's when Opp and others spring to action, as they have to be in formation at 6:30am. "I can make a mean bed," he said, also mentioning that he's handy with an iron (a cadet's uniform cannot have wrinkles).
After breakfast, cadets are in class until noon, and then again after lunch (an orderly, 30-minute lunch at the mess hall, mind you, not a leisurely trip to an off-campus buffet). Baseball practice begins at 3 or 3:30pm, followed by dinner, then homework, then preparation for the next 6am wakeup. Cadets aren't meeting for wings and nachos and watching Monday Night Football either—they aren't allowed access to their cars until Fri. afternoons.
The work, before and after baseball, can definitely be a grind. But Opp believes it's preparing him for his next phase of life, for any challenge he might face. He will have more than the academy training to lean on; he will always recall the way his father lived.
"When adversity happens, you can go one of two ways," Opp said. "I saw him go one way. That's what I've tried to do whenever adversity comes."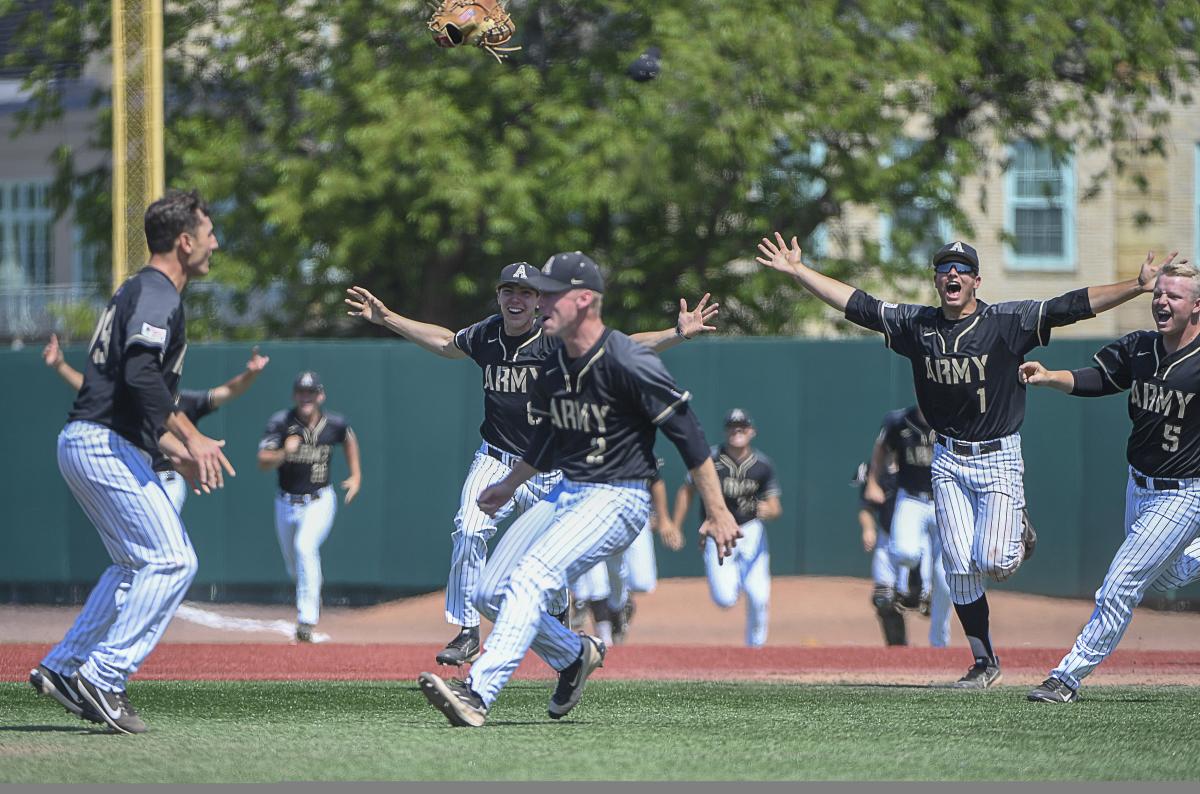 Opp (left) after picking up a save to win the 2018 Patriot League Championship
Photos courtesy of Army West Point Athletics
Author: Neil Amato