Greater Raleigh Sports Spotlight: Cary Delivers a Tennis Winner
Sunday, August 06, 2017, 1pm by Neil Amato
An interesting look at the sports event industry in Greater Raleigh, N.C., by Neil Amato.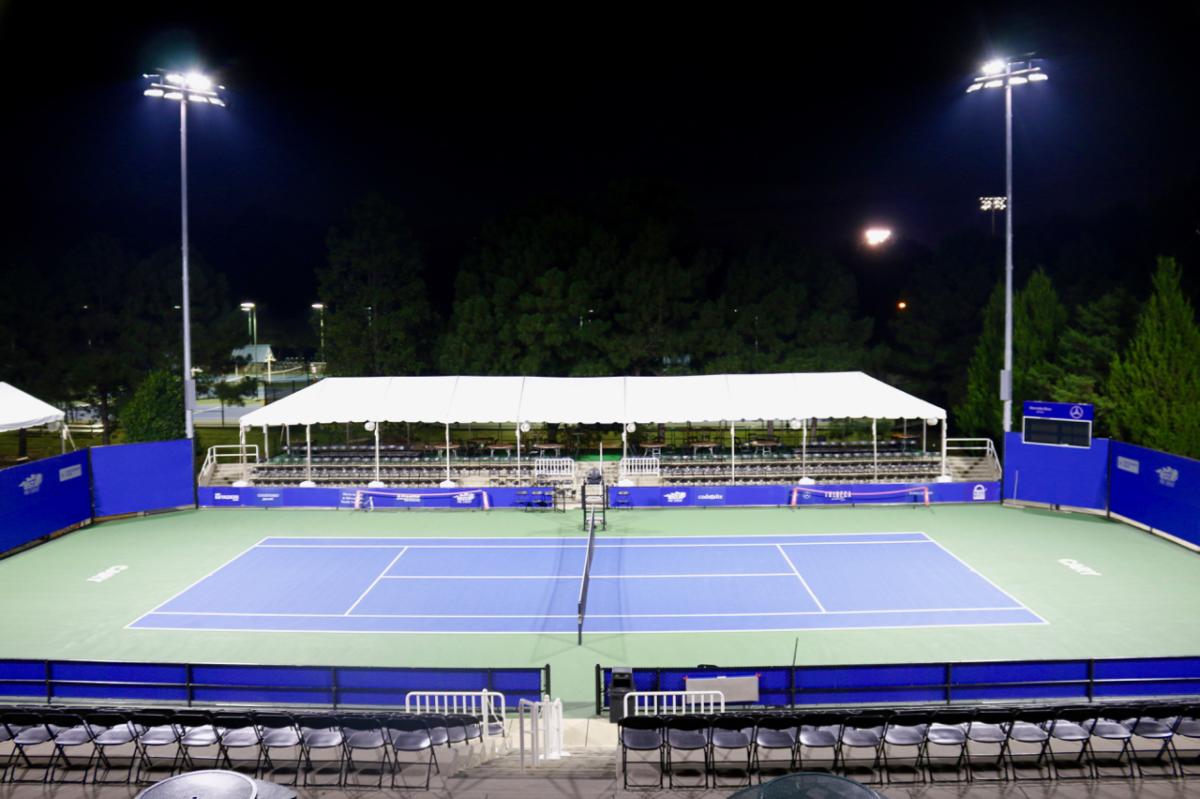 The Atlantic Tire Championships return to Cary, which has made
a top-notch facility even better with the addition of indoor courts
Photo courtesy of Atlantic Tire Championships
To make a big community event of any sort work, and to sustain it from year to year, many elements must be present—enthusiastic volunteers, partners for everything from meals to medical care, fan support, great competition and, ideally, a title sponsor.
In the case of the Atlantic Tire Championships—an Association of Tennis Professionals (ATP) Challenger Tour event—those elements are all in place. But it was the venue, the Cary Tennis Park on Louis Stephens Dr., that made it possible for Cary to land a professional tour stop in the first place.
The facility has hosted numerous championships over the years, including U.S. Tennis Association (USTA), NCAA, ACC and NCHSAA events. For the third year, starting on Sat., Sept. 9, and continuing through Sun., Sept. 17, high-level tennis on several levels will be played on the Cary Tennis Park's 25 outdoor hard courts. And now, the venue has received another boost, with a major upgrade in the form of seven covered courts.
Cary had visions of landing a professional event, according to Sean Ferreira, a co-director of the Atlantic Tire Championships and the Tennis Services Coordinator for the Town of Cary. When the USTA went to the ATP Tour asking for more challenger tournament dates, similar to the schedule USTA officials noticed in Europe, Ferreira got a phone call.
It was Stephen Amritraj, a former Duke player who works for the USTA. Amritraj had played in the ACCs in Cary, and he knew the facility would be an ideal host.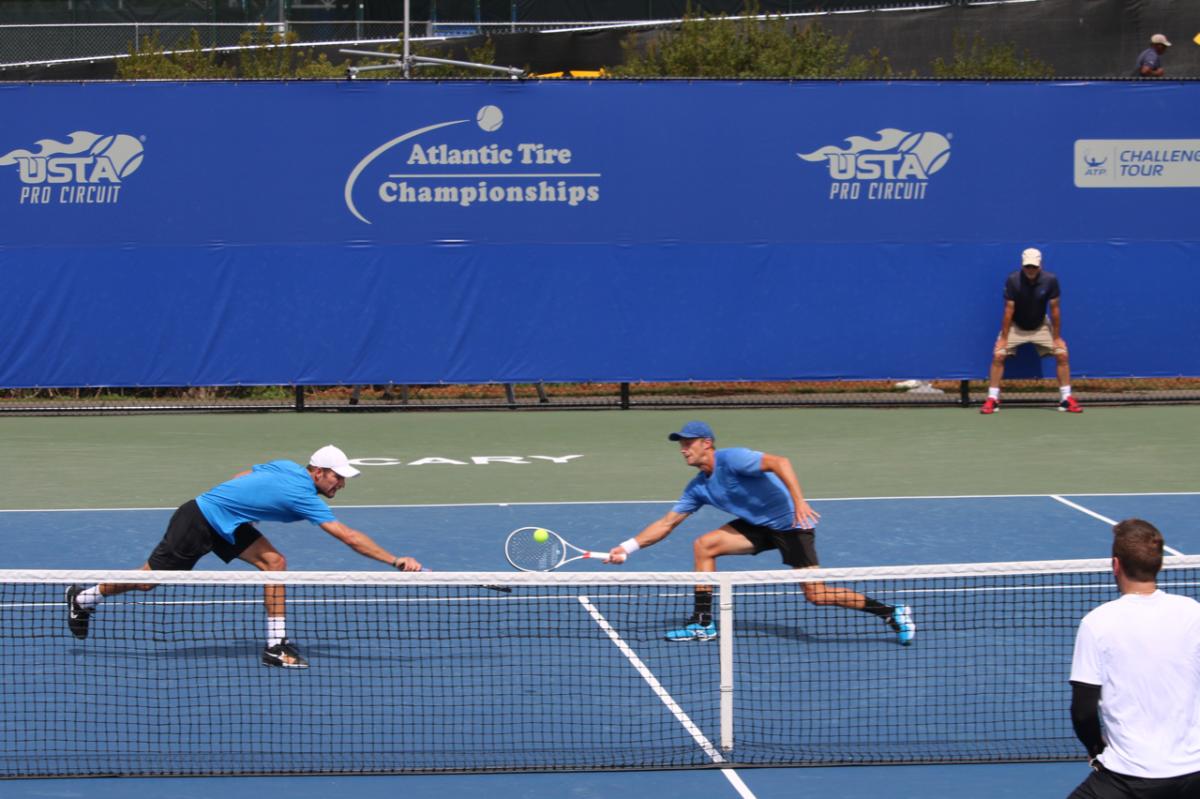 The Atlantic Tire Championships bring
professional tennis to Cary for the third
consecutive year
"He said, 'I think you guys should host a tournament. I don't know if you want one,' and we were like, 'heck, yeah,'" Ferreira said.
So, with a fortuitous opening in the calendar and just a few months to plan, the tournament began in 2015. "In government, sometimes things move slowly, and they moved mountains to make this event happen," Ferreira said, referring to Town of Cary officials. "We wanted to bring the highest level of tennis that we could, and I think the public has responded."
Numerous supplementary events help build excitement for the main singles and doubles draws. And those draws have high-level play to generate their own buzz, even if the names might not be familiar to casual fans.
Ferreira, a former all-ACC player at North Carolina State University, said fans attending for the first time often come away amazed at the skill level.
"You get No. 80 and No. 120 in the world and have them play, when you're watching live, it's like you're watching Roger and Rafa," Ferreira said, referring to Roger Federer and Rafael Nadal. "That's the type of comment I receive all the time: 'I didn't realize how fast and how big these guys hit."
Among those scheduled to play this year are a guy named Tennys—he was an NCAA semifinalist at, well, seems too obvious, but ... Tennessee. Tennys Sandgren, in June 2016, was No. 330 in the ATP rankings. Fast forward a year, and he reached the top 100. Sandgren recently was ranked No. 105 and just before the Cary tournament played in mixed doubles and singles in the U.S. Open, taking the No. 5 seed, Croatia's Marin Cilic, to four sets.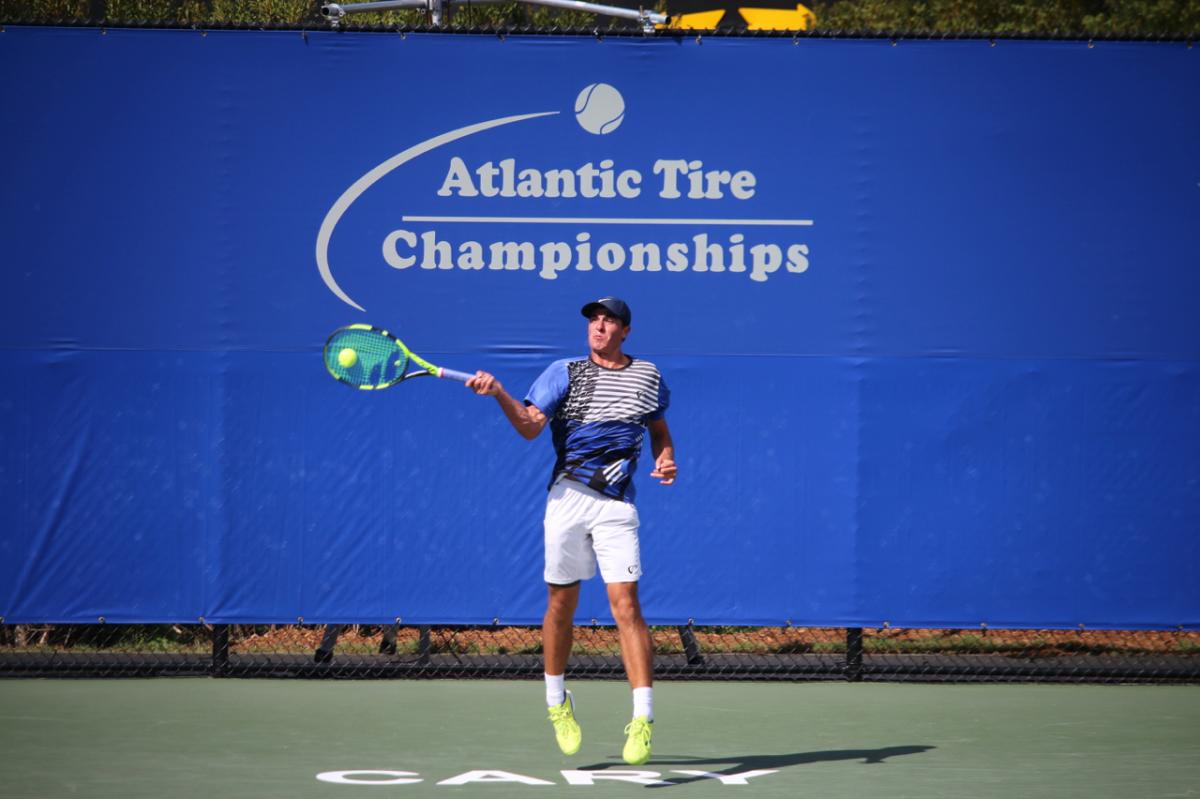 Ernesto Escobedo, runner-up from 2016,  
is set to compete in this year's event
Sandgren is one of those players who can earn enough ATP points to occasionally reach the big events. Several others in the Cary field are the same way, Ferreira said, while some players are newcomers trying to earn more tournament appearances, or they're experienced players working their way back from injuries.
"Our field has 19 that were in N.Y. for the Open either in qualifying or the main draw," Ferreira said. "A lot of higher-ranked (Challenger Tour) players are kind of playing both tours. It's like AAA baseball, but in this case, more guys are getting called up to the majors."
Another call-up of sorts comes in the form of wild cards, similar to sponsor exemptions for golf tournaments. Ferreira said the Atlantic Tire Championships will offer wild card invitations to top players at N.C. State, Duke and North Carolina to give those players a chance to showcase their talent against the pros.
And that's not the only college connection. The James Bonk Invitational, which Duke officially hosts, brings a stellar men's and women's field to the Cary Tennis Park the second weekend of the Atlantic Tire event.
On the weekend of qualifying, Greater Raleigh is the host of a high-level junior tournament for 11- to 18-year-old girls and boys from around the country, with the Cary Tennis Park as the tournament's home base. Players will also take part in action in Holly Springs and Raleigh and will return to Cary on Sat., Sept. 9 for dinner and the chance to watch a select qualifying match for the main draw of the Atlantic Tire event.
"We wanted to make it an experience for the junior players, give them some good Southern barbecue and let them watch some high-quality tennis to motivate them," Ferreira said.
In the tournament's middle days, there's a high school showcase including several local girls' teams, a clinic coordinated by the Abilities Tennis Association of North Carolina, which focuses on individuals with intellectual disabilities, and other events. 
"We're trying to connect the event to different parts of the tennis community," Ferreira said.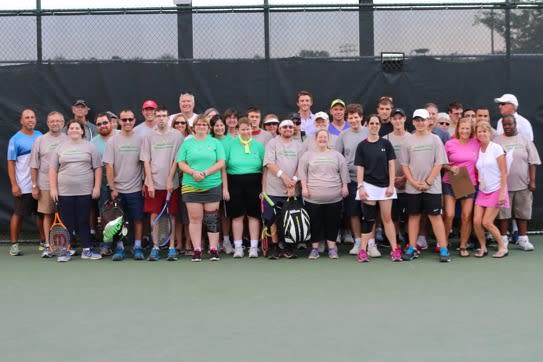 A clinic with the Abilities Tennis Association
of N.C. is just one of the many activities
that connect the event to the community
And that connection will only get stronger as the facility is set to open seven indoor courts, making one of the most highly-regarded tennis venues in the U.S. even better. The additions bring numerical total to 36—including 25 regulation outdoor courts plus four kid-size QuickStart courts—but add another level to what Cary can offer the tennis world.
The finishing touches are being applied to the indoor courts, so that space will be used for hospitality and operations for this year's Atlantic Tire event. But in the future, the indoor courts will strengthen Cary's bid to host other, bigger events, plus enable it to retain ones on the current docket. In the past, if there was rain at the ACC event, matches moved to indoor courts at various colleges. Now if rain comes, most if not all scheduled play can move indoors and stay in Cary, a benefit for players and fans alike.
"We want to be competitive to retain the events we have and also add to our schedule," Ferreira said. "The covered courts are going to help us long-term in keeping event such as the ACCs, and we can add that to our bid package for future events."
The new covered courts at Cary Tennis Park
All photos courtesy of Atlantic Tire Championships and Town of Cary
Related Link:   http://www.atlantictirechampionships.com/
Author: Neil Amato