Greater Raleigh Sports Spotlight: Growing a World-Class Esports Ecosystem
Thursday, September 05, 2019, 10am by Neil Amato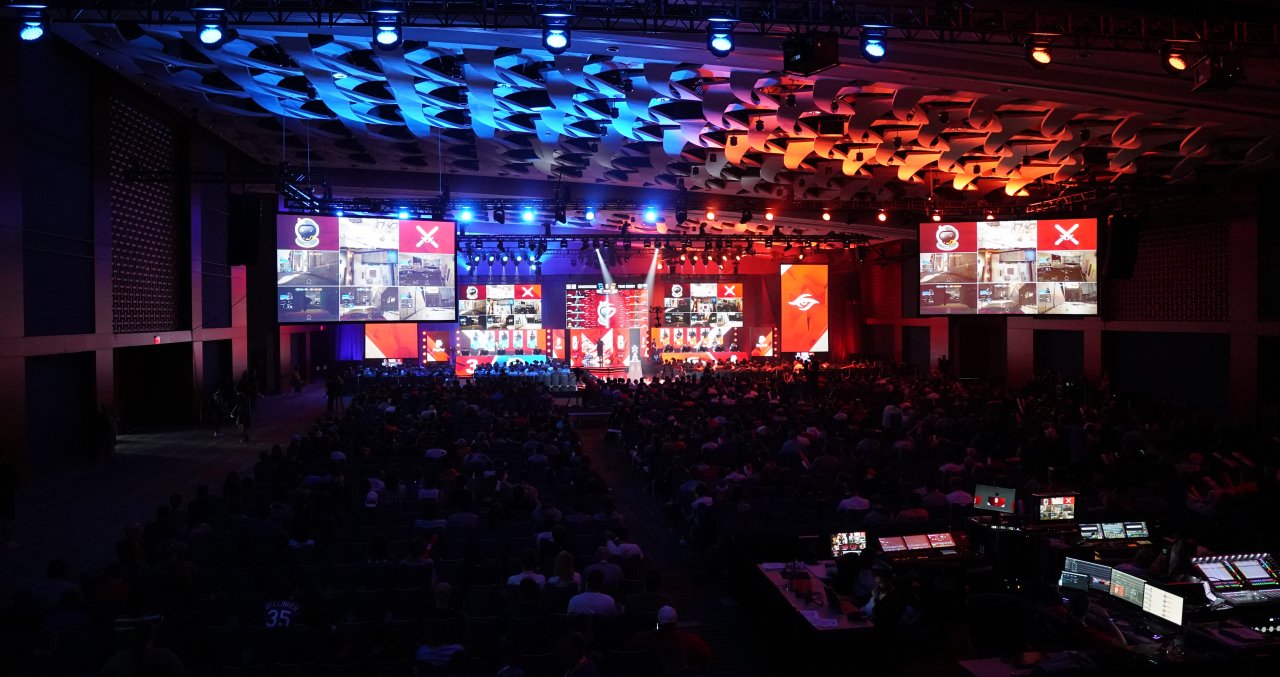 Having thousands of esports fans descend upon the Raleigh Convention Center and millions of livestream viewers watch the professional video game teams from around the world compete was a monumental victory for Greater Raleigh.
The game was Rainbow Six Siege, published by Ubisoft, a global gaming company with an office in Morrisville. The title was inspired by the 1998 Tom Clancy novel Rainbow Six. In mid-Aug., 16 teams from around the world competed for a $500,000 purse amongst cheering of standout plays, instant replays, play-by-play announcers and simulcasted analysis in multiple languages.
Landing such a significant esports competition was a big deal for Greater Raleigh, but more important than the initial economic impact is the potential for more global esports events and activities.
"We want to look beyond being a destination for esports events," said Loren Gold, executive vice president of the Greater Raleigh Convention and Visitors Bureau. "We want to look at it through the lens of being a destination for esports careers and curriculum. We're building a sustainable ecosystem."
Greater Raleigh's approach to esports goes beyond a transactional approach of how many spectators bought tickets, stayed in hotels or ate a meal here. North Carolina State University, William Peace University, Wake Technical Community College and Wake County Public Schools are among the educational entities with a gaming curriculum, and local companies are showing greater interest in the competitive video gaming space, if they're not already involved. For instance, Cary-based Epic Games is the creator of the massively successful game title Fortnite. That institutional and corporate interest is one reason the event included an esports summit meant to further initiatives and collaboration.
With the combination of technology-centric corporate neighbors and first-class venues like the Raleigh Convention Center, it's easy to see why Ubisoft selected Raleigh for its first Six Major in North America. For further perspective, last year's event was in Paris.
Raleigh has several market advantages as a host, according to Ed Tomasi, an Apex resident and key member of the Greater Raleigh Esports Local Organizing Committee (GRELOC). From its location, to having a highly-concentrated area of esports fans, technology innovators and video game developers, Greater Raleigh has stacked the deck.
"Raleigh is even in the best North American time zone for live esports broadcasts," Tomasi said. "Capturing and keeping livestream audiences in Europe and Asia is a big factor for esports producers, and Raleigh is in the sweet spot."
Raleigh has the technology expertise to make the event run smoothly. As Gold points out, tournament organizers are not only going to look at square footage and variety of rooms in considering a venue, but they're also going to seek assurance about bandwidth capacity and redundancy of networks. The online audience, estimated to be more than 7 million worldwide for this event, will lose interest quickly if the streaming coverage is going in and out.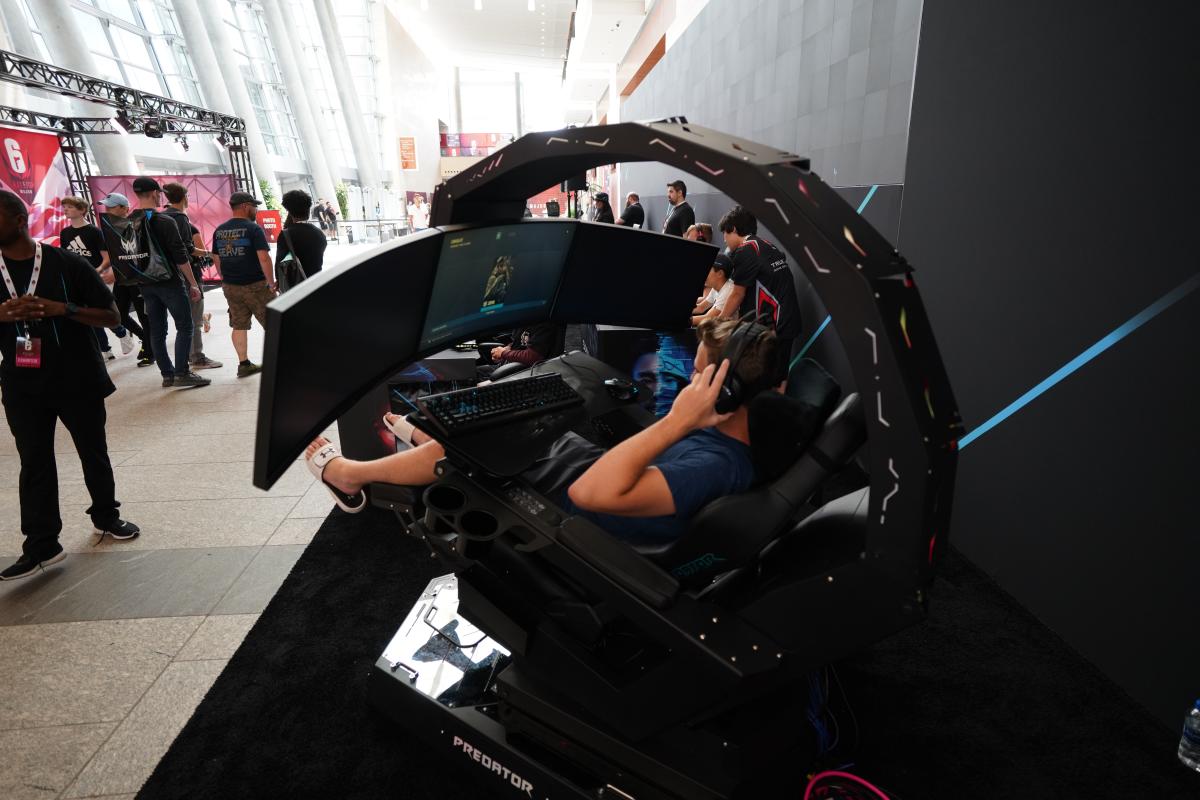 The in-person crowd also matters, and it was buzzing Fri., Aug. 14, when the games were first open for live viewing—the early elimination rounds were streamed online only. Ubisoft had a booth that sold merchandise, and another for job recruitment. The concession stand sold kimchi hot dogs, perhaps a nod to the game's global appeal, as well as N.C.-favorite Cheerwine. Both concession and catering sales exceeded expectations, according to Tori Collins, director of the Greater Raleigh Sports Alliance.
Gino Lucia made the trip to watch the event from St. Cloud, Minn. He had visited the Triangle before—his older sister previously attended Duke—but this was his first visit to the Raleigh Convention Center, and his first time up-close with some of his esports heroes. He got a picture with Paul "Hyper" Kontopanagiotis, who plays for the team Dark Zero. Lucia was amazed at how accessible the professional players were, and he enjoyed meeting other Rainbow Six fans in person.
"The interaction between everyone is amazing," he said. "You're not just here to watch the event, you're meeting people, making new friends. If you're into it, this is where you want to go. I'm having a lot more fun than I thought I would."
A few steps away from Lucia, 20-year-old pro gamer Javier "Thinkingnade" Escamilla signed autographs for and posed for pictures with fans of his team, Spacestation Gaming, which lost to Europe-based Team Secret in the quarterfinals.
Escamilla's parents took the red eye to Raleigh from Los Angeles to see their son compete. They were enjoying the moment, perhaps unaware he was so revered in the Rainbow Six realm. "It's like he's a rock star," Escamilla's mother said.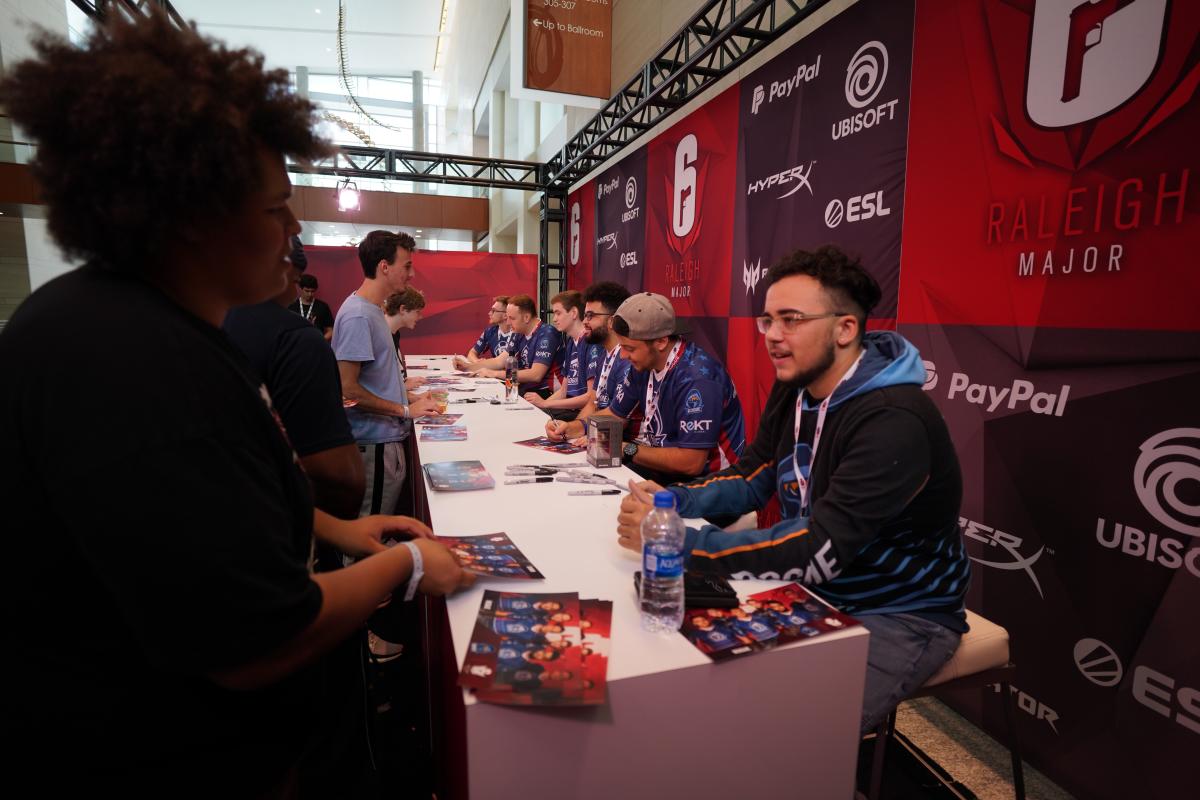 Peter Chau, team manager for Seattle-based Evil Geniuses, said it was nice to have the tournament in Raleigh. He liked the convenience of staying just across the street in the Marriott, and he said the spaciousness of the Raleigh Convention Center was a plus. Even though he had to travel across the country, it was nice to have such a marquee event in the U.S.
"Our events are global: Italy, Paris, Brazil," Chau said. "Having it on our home soil is very nice. It helps encourage growth in the American scene."
The players all have nicknames, some of which might be their last name, a shortened version of their name, or a completely different word. Dylan Bosco of Spacestation is "Bosco." Leon Giddens of Team Secret is known as "LeonGids," and Austin Trexler of Evil Geniuses goes by the handle "Yung."
In many ways, esports events are the same as traditional contests. The players certainly must be able to work together and play off each other's strengths. The announcers, called casters, provide live commentary as the players and their in-game alter egos move from room to room. 
While this event moves around the world annually, Ubisoft and other global esports producers have already submitted inquiries for 2020 and beyond, Tomasi said. Raleigh is now on the global map, thanks to the efforts and cooperation that Greater Raleigh demonstrated.
"This event is easily one of the top five global esports events," he said. "It pre-qualifies Raleigh for all other esports event producers. [Organizers are] saying, 'You hosted the Major? You definitely can accommodate my event.'"
Through continued local and regional support, it's safe to say the Greater Raleigh esports ecosystem will continue to grow.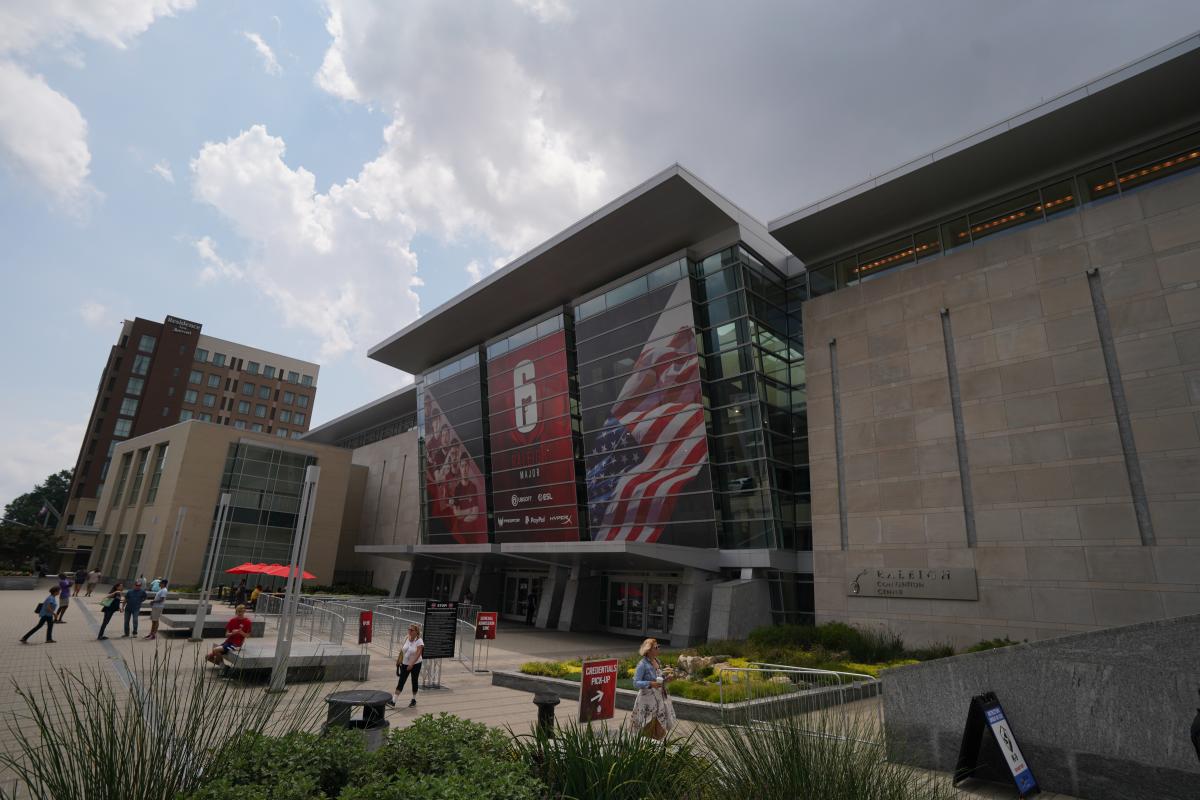 Photos by Big Block 
Author: Neil Amato