Greater Raleigh Sports Spotlight: Major League Fishing—How Raleigh Landed the Big One
Thursday, April 18, 2019, 10am by Neil Amato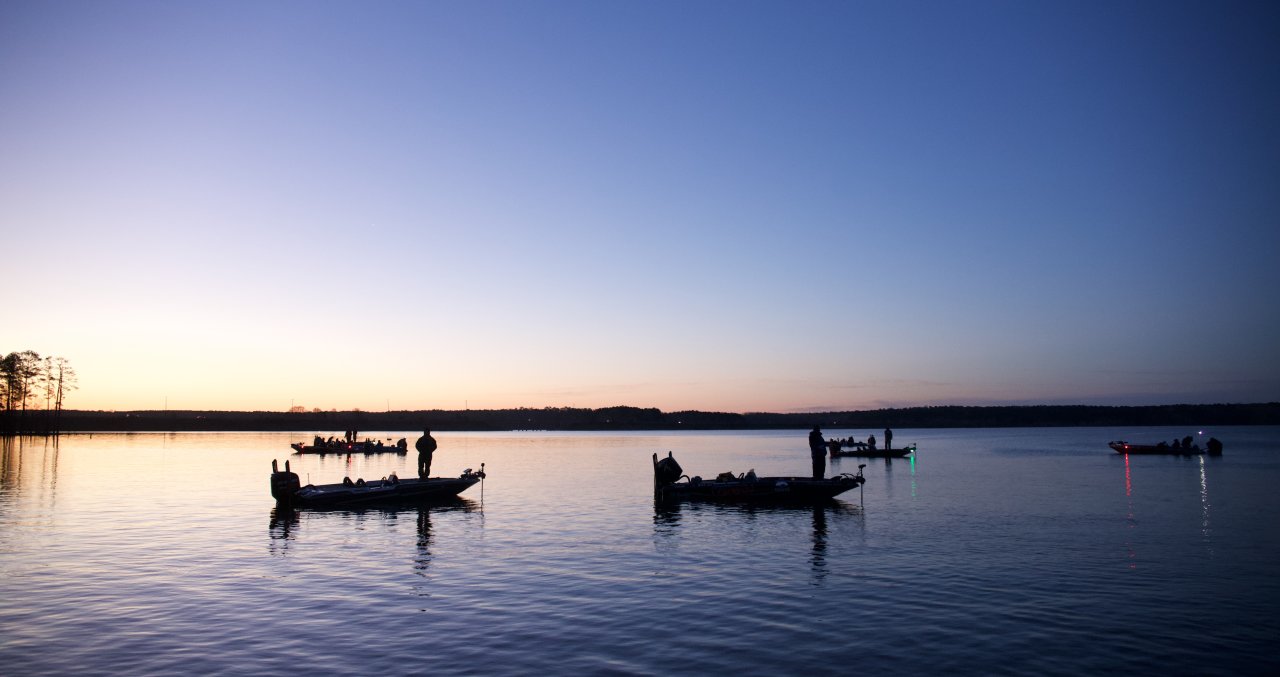 Reeling in a winner in Raleigh 
Photo by Phoenix Moore
An interesting look at the sports event industry in Greater Raleigh, N.C. 
Long-standing relationships, a quick turnaround, a tech-savvy professional tour and collaboration from many entities: That's the backstory of how Raleigh landed a big fish.
During the last week of March, for the first time this area hosted a major national fishing event, the third stop of Major League Fishing's new Bass Pro Tour. The 80-angler, made-for-live-streaming event showcased three local lakes (Falls, Harris and Jordan) for an online audience that, if previous tournament web traffic is an indication, could draw more than a million site visits in a week.
The spectacle didn't end on the lakes. For six afternoons at the Cary location of Bass Pro Shops off Harrison Ave., a stage akin to that on ESPN's "College GameDay" was the site of a live postgame show, where fans watched and listened as competitors recounted the ones they caught and the ones that got away. In between, recreational anglers might have been browsing in the store for the same types of lures or fishing line as the pros.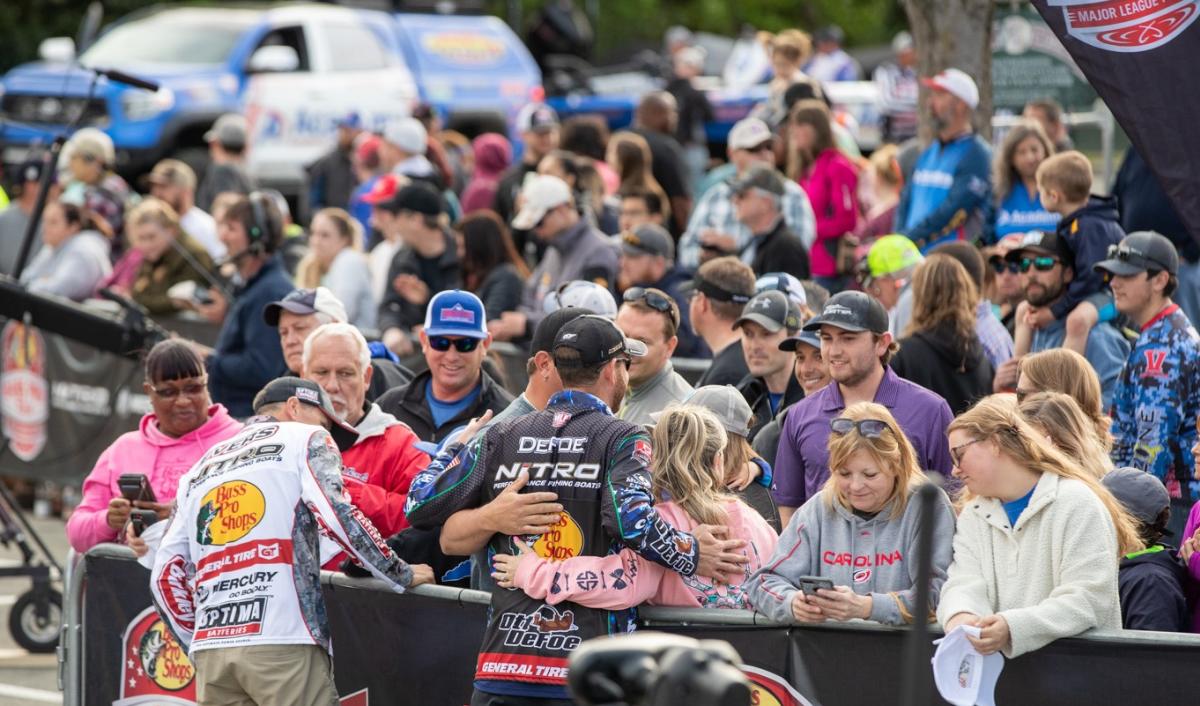 MLF pros received a warm welcome from fans at Bass Pro Shop in Cary during the postgame shows
Photo by Josh Gassmann
Along the way, the anglers took a shine to Raleigh and to lakes that many were seeing for the first time.
"Raleigh is just an awesome town," angler Matt Lee of Cullman, Ala., said. "It's really cool to come to someplace different and to fish somewhere different, especially one that has giant fish."
(More on those video-verified fish stories in a bit.)
Lee and his wife rolled into town the day before his March 24 practice on Falls Lake. While she went hiking with a cousin who lives in the area, he experienced fishing in Raleigh for the first time. In between competition days, they explored the sights and sampled N.C. barbecue.
Michael Mulone, Major League Fishing's senior director for events and partnerships, cited that direct economic impact—competitors, Major League Fishing staff, and production crews are living in the area for more than a week—as one reason Raleigh would embrace the new tour, which was launched in Sept. He also points to a ripple effect that the live-stream broadcast and a two-hour TV show that will air on the Discovery Channel in the fourth quarter of this year will have on future tourism. He focused on two key demographics: core fishing fans and those that love nature.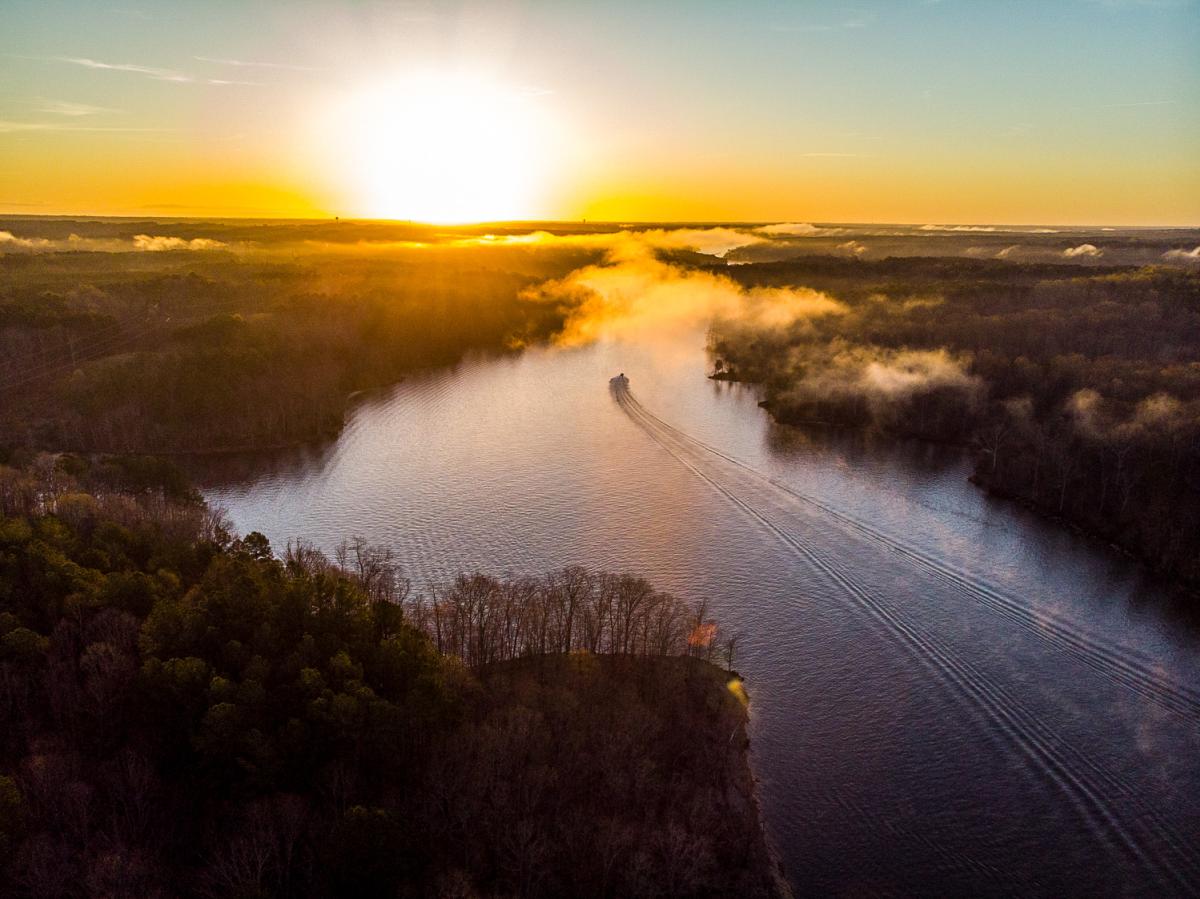 Sunrises provided beautiful aerial views of Falls Lake
Photo by Garrick Dixon
"I've seen it many times," said Mulone, who has worked in the fishing industry for 14 years. "When a lake shows out like this and professional anglers catch this many fish and this many big fish, then anglers from other states are going to say, 'I want to go fish that.'"
It is conceivable that could result in increased interest in the area's lakes as soon as the next long weekend, from someone seeking warmth and a new place to fish. Because the broadcast includes running commentary of the competitors, the recreational anglers can mimic what the pros do, using the same lures, the same techniques, on the same lakes.
That sentiment undoubtedly struck interested watchers of Tuesday's shotgun round, when Kelly Jordon of Flint, Texas, reeled in 26 fish, for a Major League Fishing single-day record of 82 pounds, 4 ounces at Jordan Lake. While no one could equal Jordon's Jordan haul, several others that day caught between 10 and 20 fish, which is important, as this tour doesn't score anglers on their five biggest fish.
In the 10-angler final round of the tour's third stage, Jacob Powroznik of Va. took home the championship and a $100,000 winner's check, catching 20 fish totaling more than 63 pounds Sun. at Harris Lake.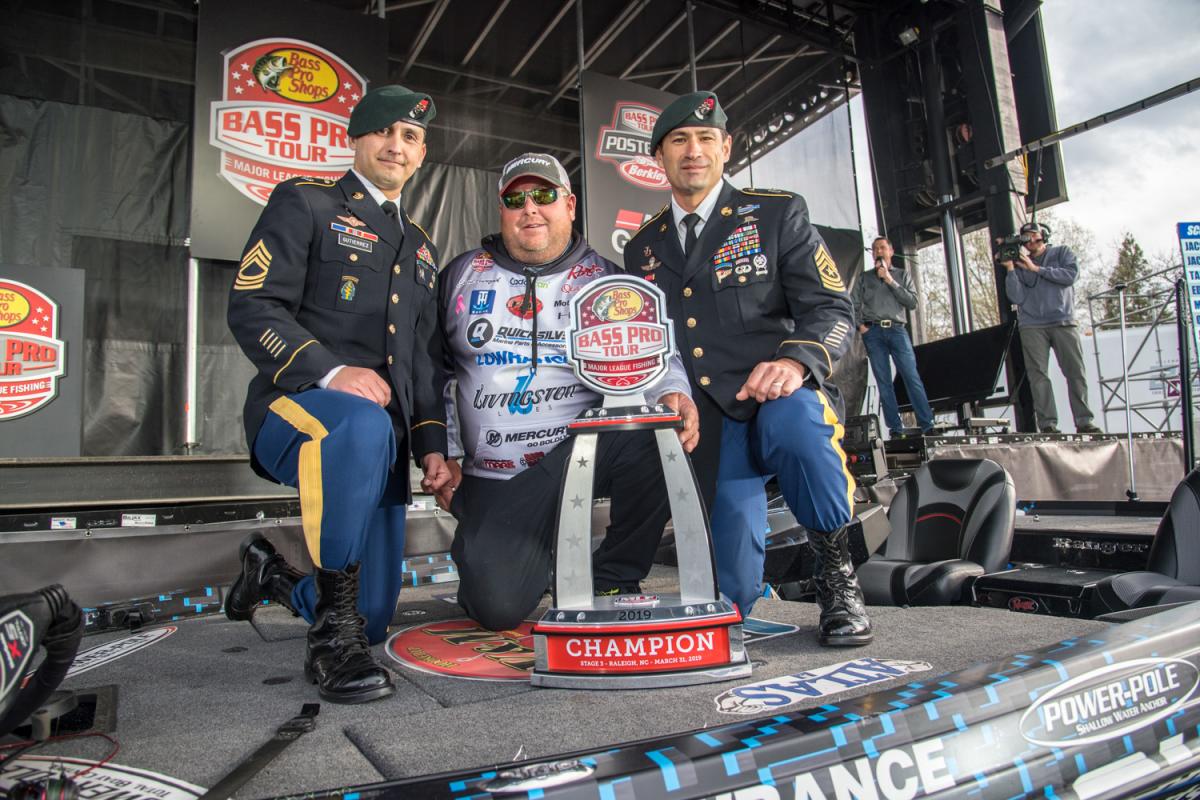 Special guests and trophy presenters, Officers Gutierrez and Jacquez, with Stage Three Winner Jacob Powroznik
Photo by Garrick Dixon
"This format matches the vernacular of people who fish recreationally," Mulone said. "If you go fishing with a friend and they say, 'How'd you do today?' then you'd say, 'I caught 17 fish.' And then they say how many they caught. They may make mention of the bigger fish, but not necessarily the biggest five."
In addition to showing fans what the pros can do, the hours of online and traditional broadcast highlight Greater Raleigh.
"You're watching a fishing show, but it's like a nature show," Mulone said. "People are watching and saying, 'Oh wow, that's a pretty place. Where is that?' That alone is a great calling card."
Major League Fishing's deft use of social media and video helps drive the interest. Tori Collins, the associate director of the Greater Raleigh Sports Alliance, was amazed at what she saw in the production truck.
"They had cameras on 10 different boats, then a drone flying over the lake," Collins said. "They could see where a fish was being caught and immediately go to it, and they also had two roving cameras on the lake. I couldn't believe all that was involved in it."
The broadcast's intimate style allows fans inside the mind of the anglers. That knowledge share is one of Major League Fishing's appeals to viewers.
"The anglers are engaged when we're doing the live-stream," he said. "They know they're live, they're going to be very communicative as to what they're using, how they're fishing. Something like, "I'm throwing this spinner bait in about 7 feet of water and hoping it'll get a reaction and quick bite. If it doesn't work, I may change to flipping a creature bait around the shoreline."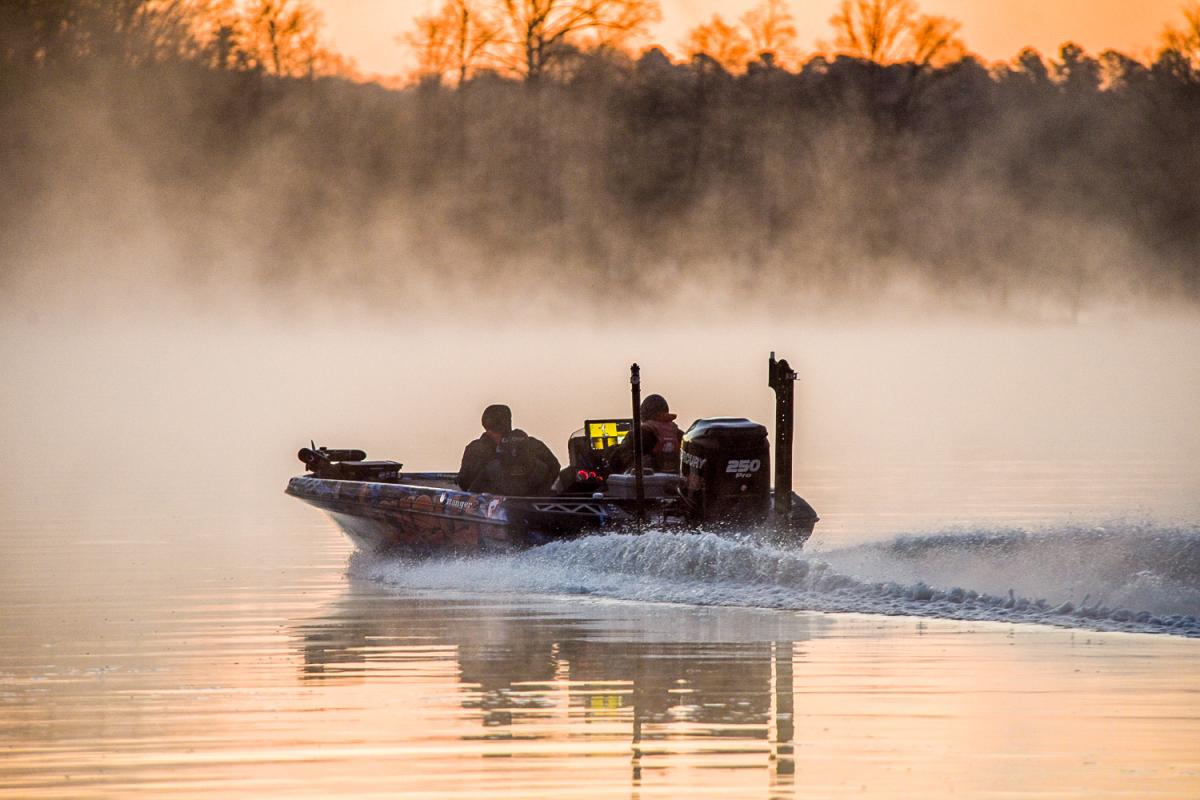 Live-stream broadcasts gave viewers an insider's look at the anglers' strategy throughout the competition
Photo by Garrick Dixon
For hardcore anglers, this is amazing insight. "Imagine if you're watching a golf broadcast, and Tiger Woods is about to hit from the rough," Mulone said. "Before he hits it, he looks into the camera and says, 'I'm using an 8-iron, and I'm going to open the face up a little bit, because I want it to fade as it gets to the green.' That's the equivalent of what's happening on our broadcasts.
"To bring that level of detail to the sport is the first part, and then because of the way we're filming it, with 12 cameras on the water, it makes for nonstop action. Everybody's excited with how this has come about."
How did this all come about for Greater Raleigh? For that, you have to go back years, when Mulone first met Collins and Scott Dupree, the GRSA's executive director. He worked for the Charlotte Convention and Visitors Bureau starting in the late 1990s and with ESPN later as director of fishing event and tourism partnerships.
Mulone had talked over the years to the GRSA about events such as the Bassmaster Classic. That famed tournament has moved around the calendar over the years but is now held in March and needs a large arena for its afternoon weigh-in—the March schedule at PNC Arena is generally pretty full.
Additionally, lakes in the area weren't big enough to have more than 100 boats on them at a time. Major League Fishing's format was good for two reasons. First, just 40 anglers compete each day. Second, the tour has a conservation-minded format of catch, weigh and immediate release back into the water.
So, when Collins got the call from Mulone in late Oct., the message was this: Mulone would handle the fishing aspect if the GRSA could handle everything else on a relatively short turnaround.
"The warm welcome that the GRSA has given our anglers, our staff and the media has been second to none," Mulone said. "We knew if we were able to put something together, with the lakes being as spectacular as they are, that partners in Raleigh would take care of all our needs outside of the fishing on the lakes. It's a partnership that we hope that will continue for the years to come."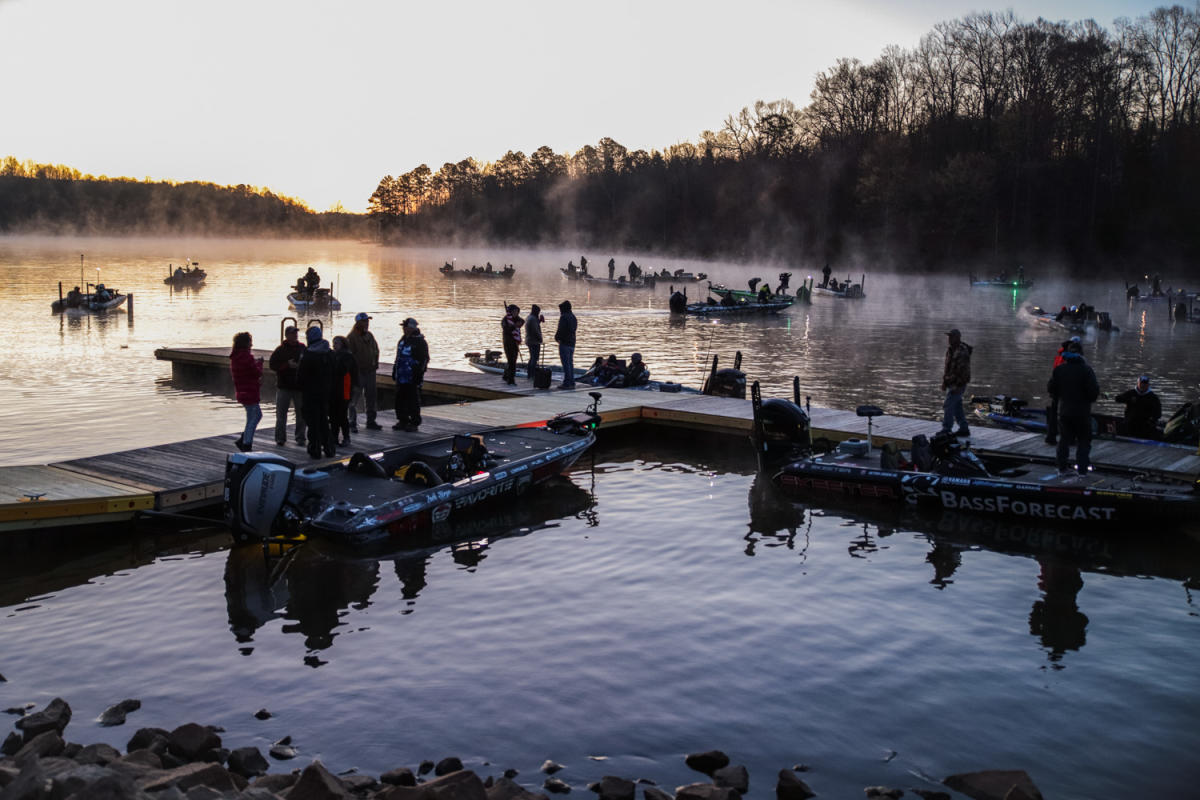 Anglers prepared for launch at sunrise prior to each day of competition
Photo by Joe Branch
All photos courtesy of Major League Fishing photographers (Joe Branch, Garrick Dixon, Josh Gassmann and Phoenix Moore).
Author: Neil Amato