Greater Raleigh Sports Spotlight: NCHSAA Runs Right on Que
Tuesday, February 06, 2018, 10am by Neil Amato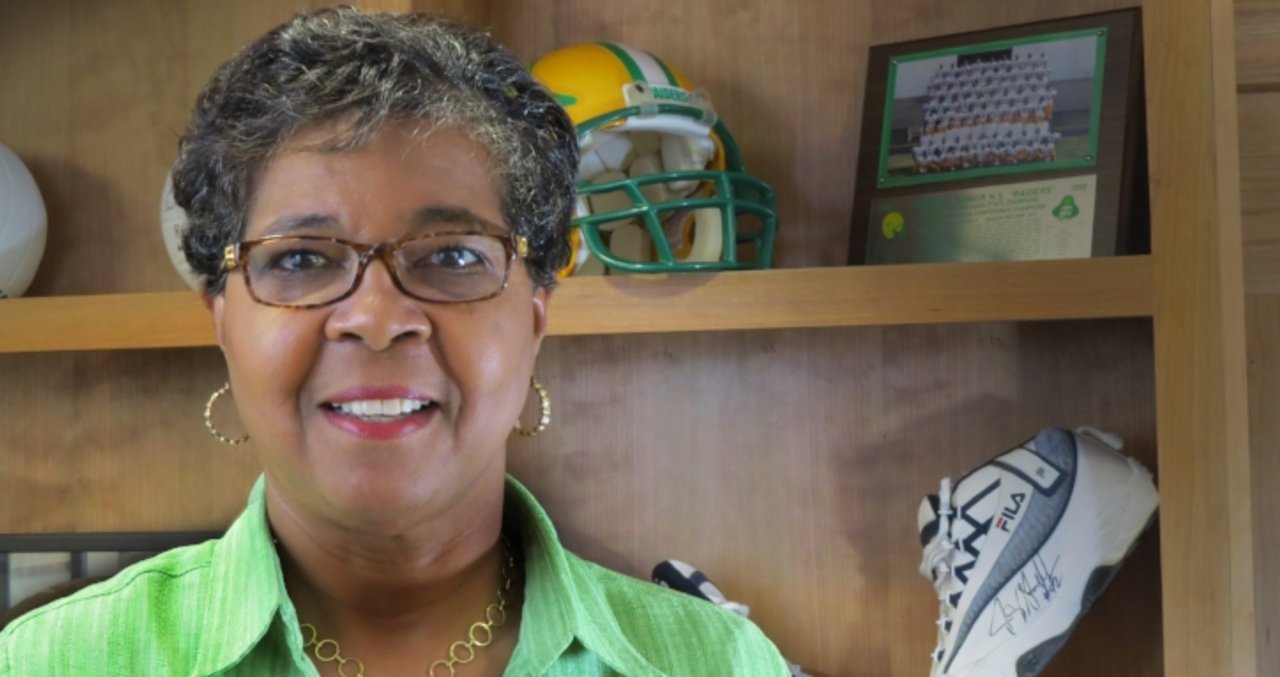 An interesting look at the sports event industry in Greater Raleigh, N.C.
Que Tucker likes to talk about how her professional mentors taught the importance of treating people well above all else. Certainly those mentors, including legendary coach Kay Yow, reinforced the value of making others feel special, but it's safe to say Tucker would have lived it on her own.
She learned early on from coaches who gave her a chance and from parents who had high expectations. Today, those values remain evident in Tucker, the commissioner of the N.C. High School Athletic Association.
She has placed a strong emphasis on developing student athletes but also in developing relationships. That includes strong partnerships with cities such as Raleigh, which hosts more NCHSAA championships (12) than any other community. Up next is swimming and diving, which runs Feb. 7-10 at Pullen Aquatic Center and Triangle Aquatic Center.
"Que is a real treasure for the state of N.C.," said Scott Dupree, executive director of the Greater Raleigh Sports Alliance. "Her passion for high school sports—for the student-athletes, the coaches, the schools—is unmatched, and that passion reaches and benefits all 100 counties and every corner of the state."
Growing up in Rockingham County, Marilyn Que Tucker—her middle name is pronounced Q—knew that school and chores came first. Her mother, Ida, was a school teacher, and her father, Clarence, owned a shoe repair business.
"They taught us the importance of hard work, getting your hands dirty," Tucker said. "We had a farm, we would garden, and I mowed grass. Mama made sure we did our homework, we understood the importance of getting a good education, learning how to speak properly."
In Tucker's words, "there was no splitting verbs in our house."
Until Tucker was about 15, there was no basketball goal there, either. That is, until her father built her one, attaching 2-by-4s and plywood to a tree, adding a rim and a metal net. Tucker wanted the goal so she could teach herself to shoot a jump shot.
Tucker played as a freshman at Stoneville High School, but she joined the team on ability that only coach Faye Frye saw. "Raw" didn't begin to describe her ability. She had never worked on shooting or other fundamentals; in the pre-Title IX era, there was no such thing as a community league for girls. In one game early in her freshman season, she recalls attempting a shot and having a defender swat the ball into the bleachers.
"I was so embarrassed. I said, 'Well, this is not going to work,'" Tucker said.
A summer of shooting on the homemade goal, and three seasons of continuing to learn gave Tucker a chance to play collegiately at Mars Hill. Not on scholarship, mind you; scholarships for such activities then didn't exist.
But Tucker liked being coached, and she found that the coaching of Virginia Hart at Mars Hill suited her well.
"She wasn't a yeller. She was more like John Wooden," Tucker said, referring to the UCLA men's coach known for his calm sideline demeanor and 10 NCAA titles. "She coached and taught during practice, and when it came time for the game, she'd sit down on the side."
The role models gave Tucker the thought that she could do the same thing for another generation. She went to graduate school at UNC-Greensboro and became a teacher and coach.
"I thought maybe what Coach Frye did for me in high school and what Coach Hart did, I could give those opportunities to some girls if I had that chance," she said.
While coaching at Reidsville High, Tucker began working Yow's summer basketball camp at North Carolina State University (NCSU). Tucker was preparing to help coach the West team in the East-West All-Star Game back in 1989 when Yow's secretary called and told Tucker that Yow would like to talk to her.
"Coach Yow gets on the phone, asks me how I'm doing," Tucker said. "She said, "Que, I'd like for you to think about coming and joining my staff at N.C. State."
"I said, 'Coach Yow, I don't know about that. I'll think about it.'"
She thought about it one day. She called back and talked to Yow's secretary. "I said, 'Would you tell Coach Yow I really do appreciate the invitation, but I really like coaching in high school, and so, no.'
Yes, she said "no."
Around the time of the East-West game, as word got around that Tucker had been offered the job, more people began telling her that maybe she should reconsider. She talked to her parents, talked to her pastor, and eventually talked to Reidsville's principal, Julia Williams.
"She encouraged me to go," Tucker said. "She said, 'Que, you've done some wonderful things here, but I think there is much more waiting for you. And maybe this is that door you need to go through.'"
Tucker heeded that advice and worked on Yow's staff from 1989 to 1991. Here's a short list of what she learned from Yow, who died of cancer in 2009 after a Hall of Fame career:
Too many phrases to count, motivational statements such as "When life kicks you, let it kick you forward."
The importance of people. "She coached all those players over the years, and she knew every single one's daughter's or son's name," Tucker said. "She was either at their wedding or somehow connected if she couldn't be there physically."
Coaching is more than wins and losses. The game is important, certainly, but Yow emphasized that the profession was more about building model citizens.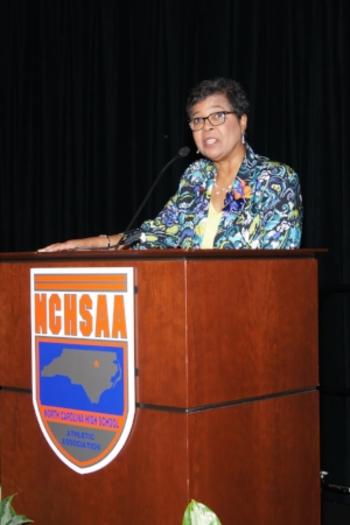 Que Tucker has been commissioner
of the NCHSAA since 2015
Working for longtime NCHSAA executive director Charlie Adams, one thing reinforced to Tucker was the value of making other people feel important. Adams led the NCHSAA to create awards for athletic and academic excellence and sportsmanship. Under his watch, championships began to be held at neutral sites, often college venues that made the crowning of champion feel even more special.
Tucker had her own way of making those she interacted with at the NCHSAA feel special. She was instrumental in the growth of the association's student services program, which emphasized mentoring not only by coaches but also by the student athletes. The program also aims to educate about the dangers of drugs, alcohol and tobacco use, and it is recognized nationally as a model program.
"She deserves a lot of the credit for that program," said Davis Whitfield, the chief operating officer of the National Federation of State High School Associations and the NCHSAA leader after Adams and before Tucker. "She leads with passion, always with the best interest of the needs of high school athletes."
Tucker has made the move from a deputy role to commissioner look smooth. She said she continues to be amazed at how many decisions she is part of or at least aware of now that she sits in the "blue chair" that Adams and Whitfield previously occupied at the NCHSAA office in Chapel Hill.
"Everything usually ends up at the blue chair," she said. In her former role "I paid attention to my responsibilities, and while you knew other things happened, you didn't have to worry about it.
"I've learned that there's more to think about when you sit in the blue chair. It's the finances, the relationships with people outside the office. It's all of those things that really help make the association be what it is and help make an impact."
Tucker's leadership at the NCHSAA includes developing and strengthening partnerships with a variety of stakeholders. One such strong relationship is with the City of Raleigh, which has hosted more than 150 state championships over the last 20 years.
The momentum for that relationship began with the softball finals at Walnut Creek Softball Complex in the 1990s, and it has grown to include basketball and volleyball at NCSU's Reynolds Coliseum, football at Carter-Finley Stadium and numerous other championships at Raleigh area venues. Tucker said going to Raleigh for a championship is always special.
"It's special because of the people we've collaborated with over the years," she said. "It's special because it's Raleigh. It's the capital city."
The feeling in Raleigh is mutual—working with Tucker is special.
"The City of Raleigh and the GRSA host many NCHSAA state championship events throughout the year, and working with Que and her staff is a real pleasure," Dupree said. "Everything is first-class, and that starts at the top with Que."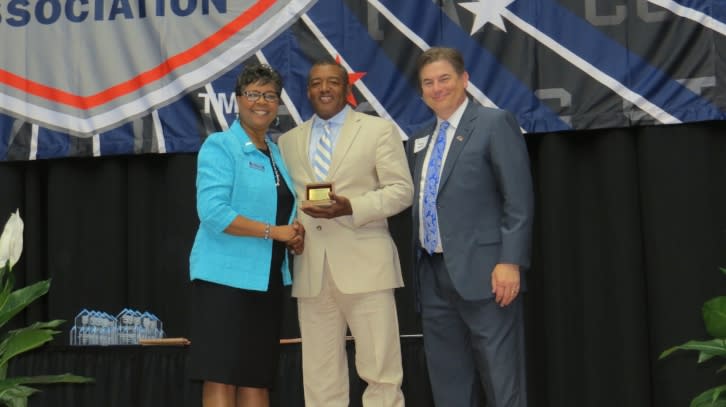 Que Tucker presents an award at the NCHSAA Annual Meeting
Photos courtesy of the NCHSAA
Author: Neil Amato