Greater Raleigh Sports Spotlight: Reynolds Coliseum
Tuesday, December 04, 2018, 9am by Neil Amato
An interesting look at the sports event industry in Greater Raleigh, N.C. 
Reynolds' Sparkling Renovation Celebrates Past, Secures Future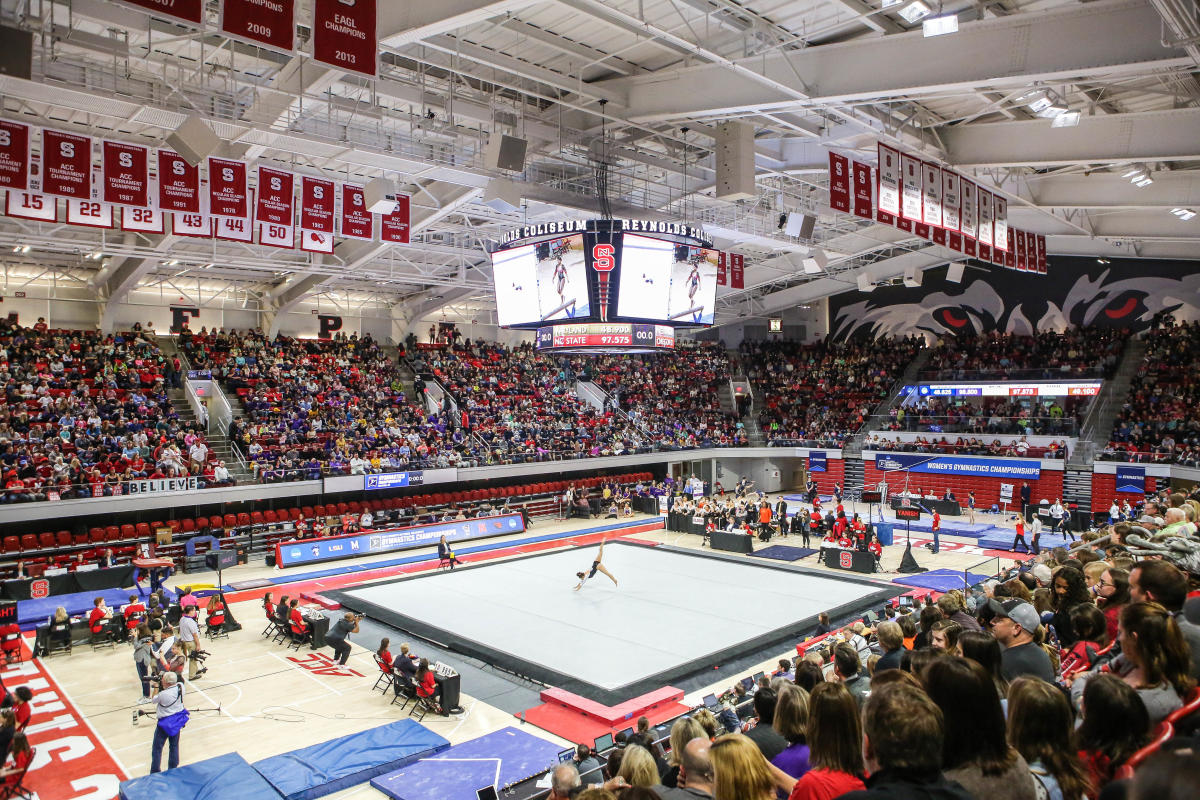 Enhancements to the historic venue means more major events are on the way
2018 NCAA Gymnastics Regional; Photo Credit: Keenan Hairston
Reynolds Coliseum means too much to the history of North Carolina State University (NCSU), the Atlantic Coast Conference and the Raleigh area in general to be forgotten—its tradition and its charm tossed aside in favor of something completely new and shiny.
Everett Case, Norm Sloan, Jim Valvano and Kay Yow—all legends—once prowled the sideline at Reynolds, the arena that opened on NCSU's campus in 1949. That history—which includes the Dixie Classic, multiple ACC Tournaments and NCAA tournament action—could not be demolished, even though the Wolfpack men's basketball team had not played there regularly since the winter of 1999.
That's why, when a major renovation began in 2015, the focus was simple, according to senior associate athletics director Fred Demarest.
"It had to feel like Reynolds still. We couldn't just make it something all new," Demarest said.
That renovation has not only incorporated the very important past but also has positioned the venue for an event-hosting future that likely would not have been possible in the venerable arena's previous state. For instance, until the venue reopened in Sept. 2016 with a Wolfpack volleyball victory, it did not have air conditioning.
"It opened in 1949, and during that 66-year period, it didn't really have a whole lot done to it cosmetically," Demarest said. "It had just reached a critical point where we had to address the building's needs and secure the next 66 years and the next series of moments."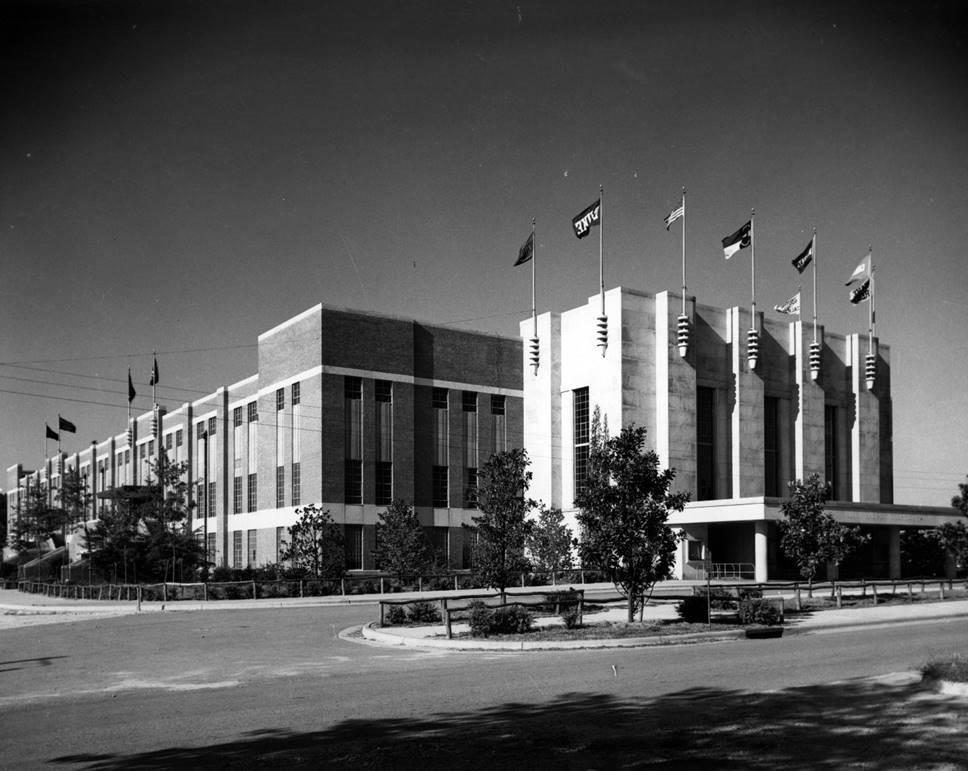 Reynolds Coliseum is an important part of history for both the university and the community
Photo Credit: NC State University
That next series of moments is being secured as more visitors see what the new Reynolds is and can be. The arena—important to the Raleigh community, the NCSU campus, and postseason events for the ACC, NCAA and NCHSAA – has regular suitors returning and new ones calling.
'We hit a home run'
Reynolds Coliseum is the regular host for all four high school volleyball state championships as well as some of the state basketball finals. It is the present home of the Wolfpack's wrestling, volleyball, gymnastics and women's basketball teams, and last spring it hosted both an NCAA gymnastics regional and the first and second rounds of the NCAA women's basketball tournament—thanks to Coach Wes Moore's team earning a top-four seed in the event.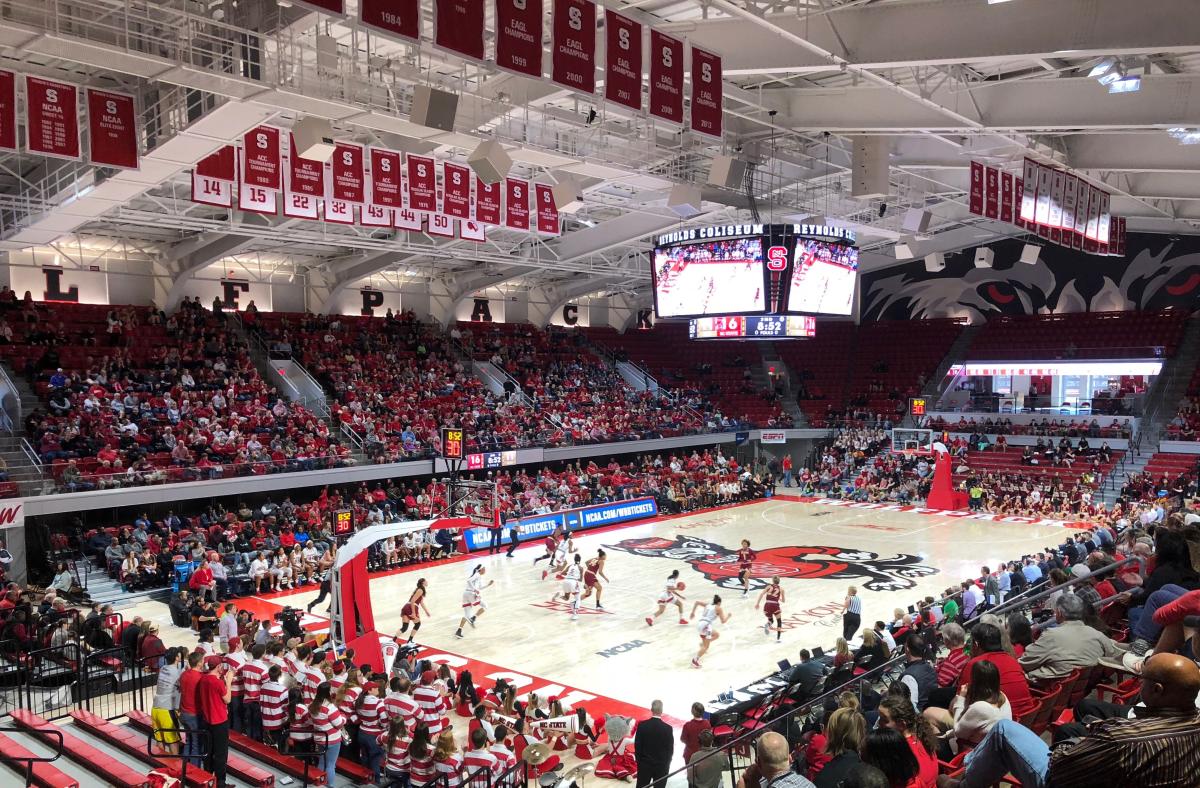 NCSU Women's Basketball hosted the 2018 NCAA First and Second Rounds on Kay Yow Court
Photo Credit: Ashlee Kirk/GRSA
It is also scheduled to host gymnastics regionals in 2022, and also in 2022, will host the NCAA rifle championship.
Demarest said visitors who have seen Reynolds before and after the renovation marvel at what it has become. Seeing sunlight peek in the new, large windows or walking the modern-looking concourses and watching videos of past 'Pack glory, it's easy to see why people have enjoyed the transformation.
"They say we hit a home run with it," Demarest said. "They love coming to our community, and now it's a high-level space to host events, too."
One of those event-hosting spaces is one level up from the playing surface, the BB&T Grand Hall in the north lobby, which also serves as the center of the NC State Athletics Walk of Fame and History.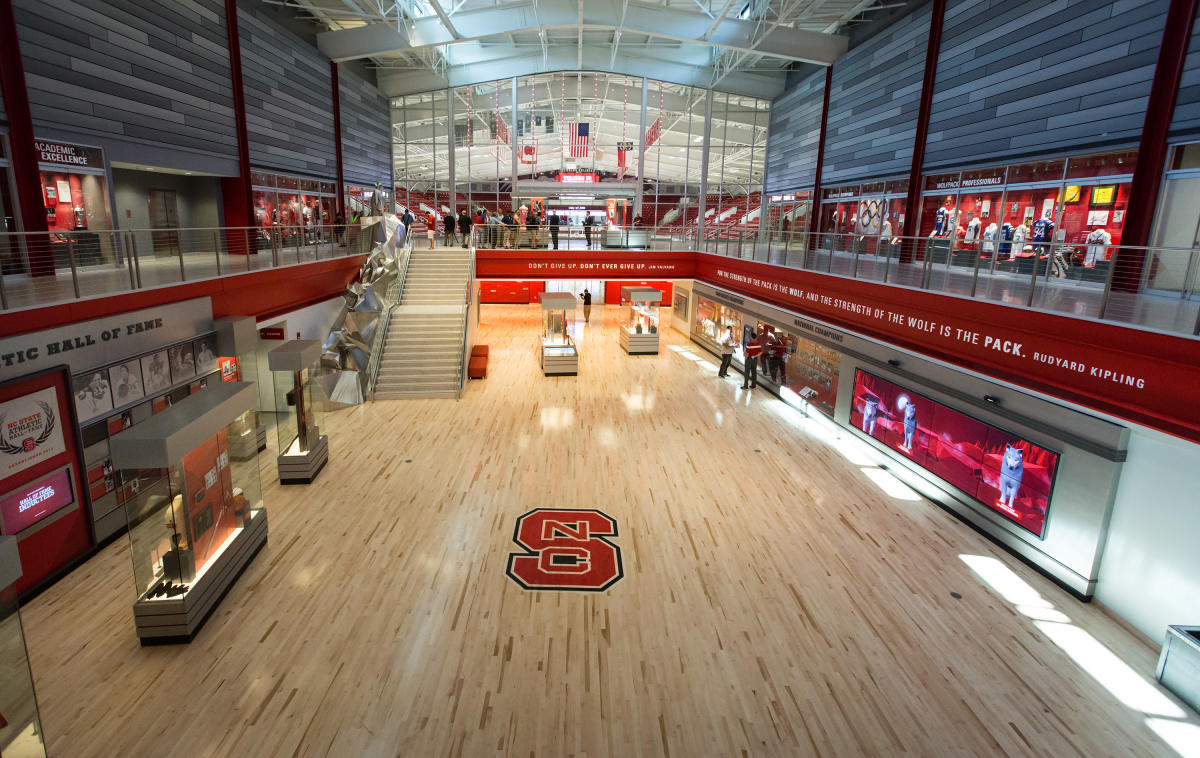 Honoring legendary moments of the building was a major priority with the design of the main entrance
Photo Credit: NC State Athletics
All around the concourse are so-called "Reynolds moments." There are 17 such moments, Demarest said, such as Jim Valvano's speech to Wolfpack fans that was the precursor to his more famous ESPY speech in 1993 in the weeks before he died of cancer. And with an eye toward the future, space is available for moments to be added when they are deemed worthy of commemoration.
Preserving the building's history was a big part of the renovation project, which cost $35 million. Demarest recalls walking through the arena with NCSU standout Rodney Monroe, part of the Fire and Ice backcourt with Chris Corchiani, and discussing the details that were important to him.
The NCSU administration had numerous conversations with those close to the basketball program in particular.
"We solicited opinions from so many in the process because the building means so much to them," Demarest said. "There were so many little things we felt like we needed to put in there based on feedback from people, things that really tugged at their heart. In that project, we wanted to do something that modernized the facility but still felt like Reynolds Coliseum."
Two examples: the noise meter and the old Longines clock still have a place in Reynolds, because "they really resonated" with State fans, Demarest said.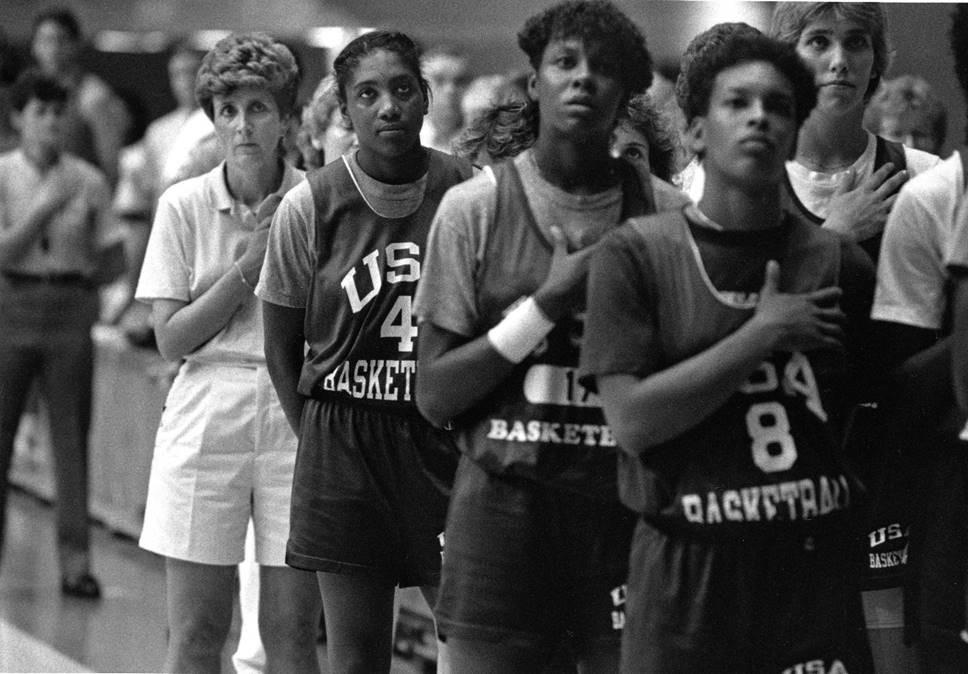 The court was named for legendary Coach Kay Yow in 2007
Photo Credit: NC State University
The court may be new, with state-of-the art lighting, but it gives a nod to the past through naming. Officially, the court at Reynolds is named after Kay Yow, the Hall of Fame coach and the sister of NCSU athletic director Debbie Yow.
Beyond basketball
Reynolds achieved notoriety as, in the words of the campus historical marker just outside the front doors, "the House that Case Built." But it is not just a big gym. Reynolds has hosted speeches from three sitting presidents and others campaigning for the office, as well as concerts by The Rolling Stones and Elton John.
Construction began on the arena several years before Case was hired as NCSU's basketball coach. The United States' involvement in World War II contributed to construction being put on hold, and when Case arrived on campus, he looked at the building plans and suggested several thousand more seats be added. The eventual capacity, sometimes listed as high as 12,400, was reached the only way it could, given that construction had begun: by extending baseline seating.
Kevin Keatts used to be a fan in those cavernous end zones, years before he became NCSU's coach. Keatts grew up in Virginia as a follower of the league, and he is well aware of Reynolds' place in basketball lore.
"Just great basketball, great tradition," Keatts said when asked what Reynolds meant to him. "It's a powerful place. What the university has done with it—it's one of the best arenas that size in the country."
And it's a place Keatts will coach again: The men's teams annual Reynolds return game is Wed., Dec. 5, against Western Carolina. On that day, a ceremony will officially invoke the name Valvano. A naming gift means that the venue's official name will be Kay Yow Court at James T. Valvano Arena at William Neal Reynolds Coliseum.
The arena within Reynolds Coliseum will be named for Coach Jim Valvano
Photo Credit: NC State University
With individual seats and a new configuration, the capacity is now about 5,500, giving the Wolfpack an intimate homecourt advantage for men's and women's games, but it's far smaller than the men's team homecourt at PNC Arena. Keatts' players still relish the chance to go back on campus to play.
"I love playing at Reynolds," senior guard Torin Dorn said. "The fans get to see you up close. It's a very intimate setting. It gives you a classic feel."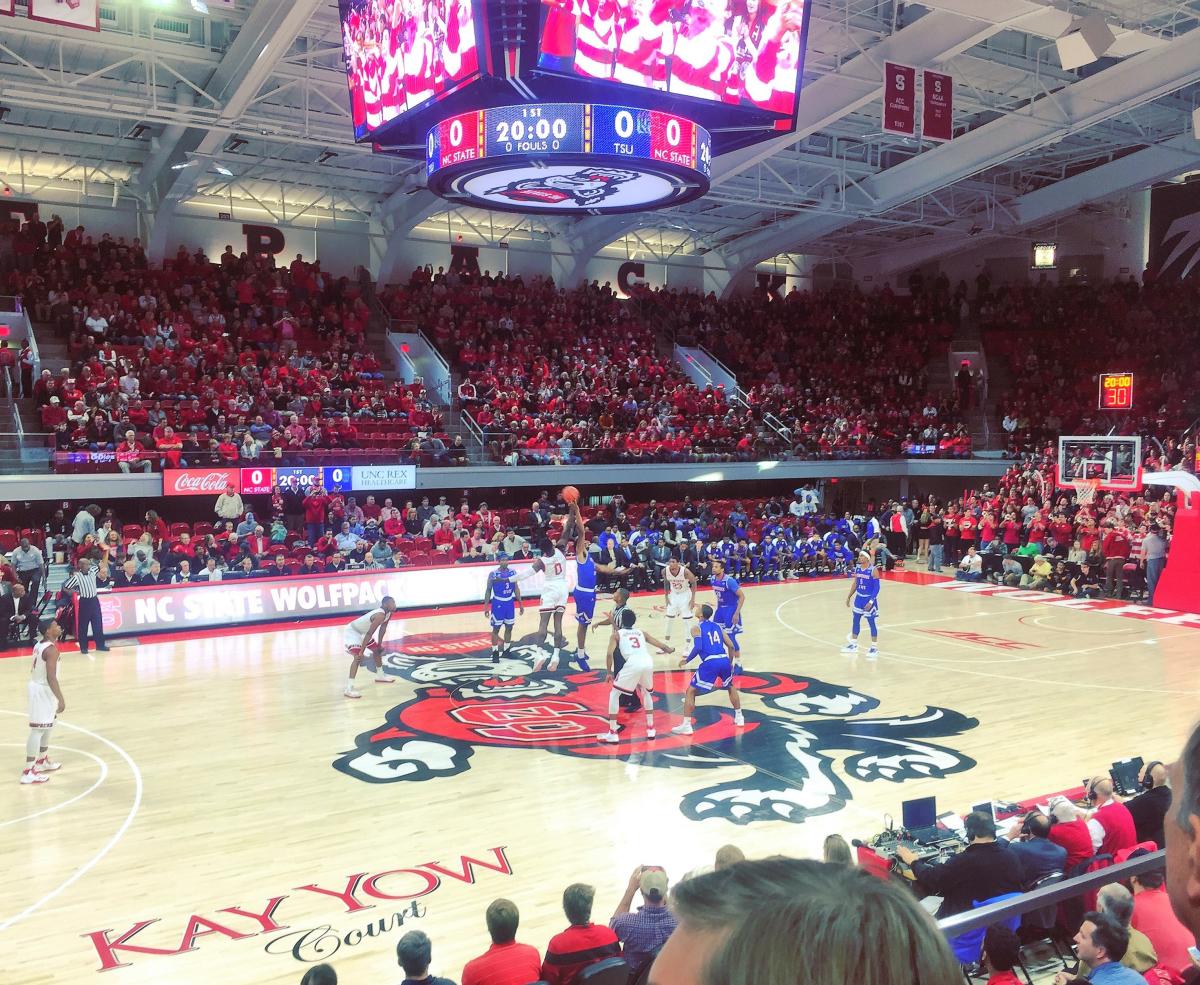 ​The annual Heritage Game is a favorite for both players and fans
Photo Credit: Ashlee Kirk/GRSA
It's that classic feeling, along with the bells and whistles and new technology, that will keep major events, and fans, coming back to Reynolds for another 66 years.
For further coverage of the renovations, view more from local news outlet WRAL. 
Author: Neil Amato