Greater Raleigh Sports Spotlight: Friday Night Laps
Tuesday, July 25, 2017, 8pm by Neil Amato
An interesting look at the sports event industry in Greater Raleigh, N.C., by Neil Amato.
By Neil Amato
For the Greater Raleigh Sports Alliance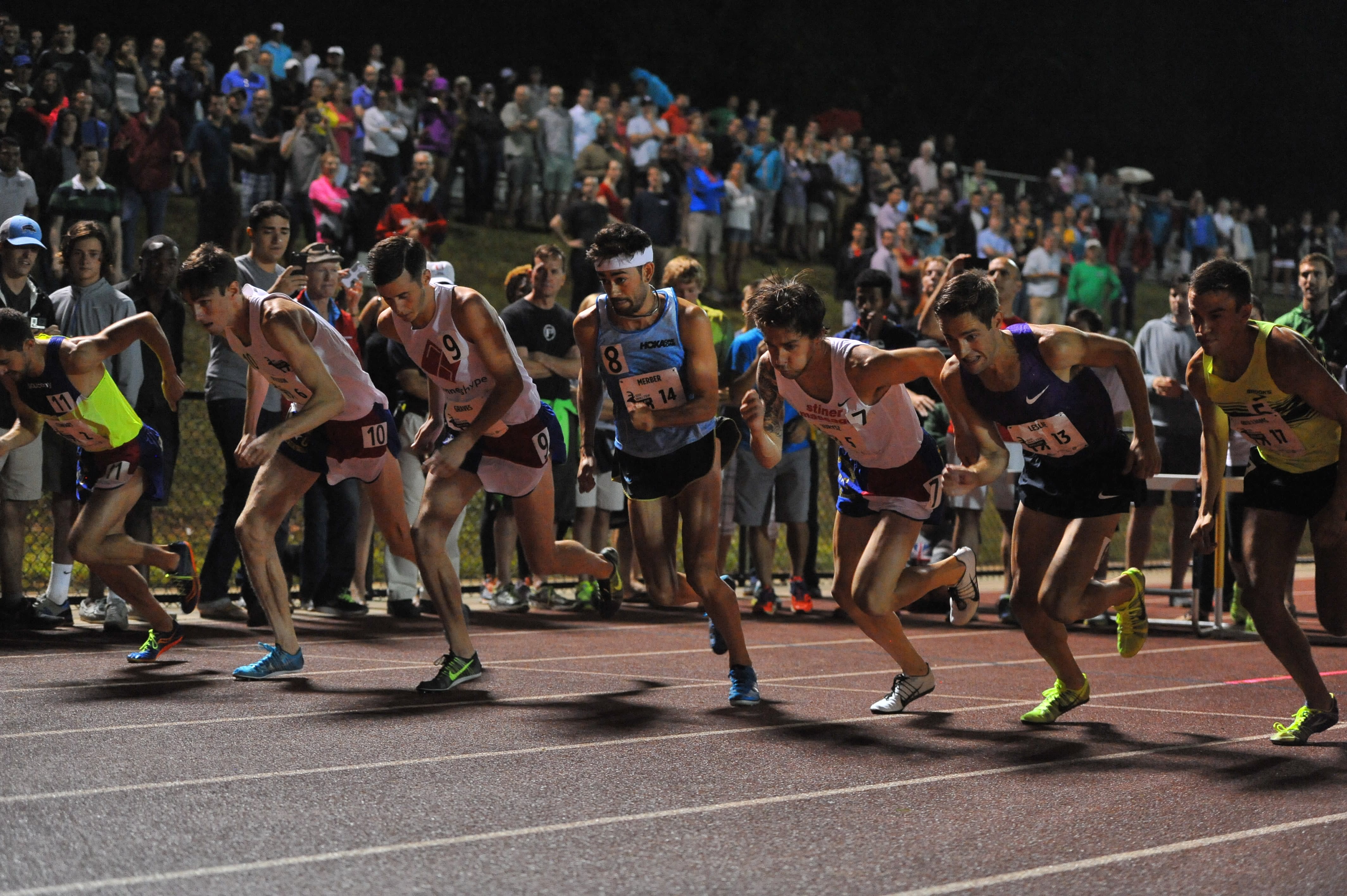 Hot times, hospitality are a draw for the Sir Walter Miler
Photo courtesy of Cheryl Treworgy/PrettySporty.com
 
Fast times on the track at Meredith College are what fans hope to see at the Sir Walter Miler, held annually on the first Friday in August.
But those elite races are just one part of the Sir Walter phenomenon, which got its start four years ago thanks to two pretty fast brothers, a promotion-minded PA announcer and a YouTube clip of those first four Friday night laps.
The Sir Walter team—Pat Price, brothers Sandy and Logan Roberts, Jeff Caron, and others—works tirelessly to put on a show that even non-track aficionados can enjoy. Admission to the race, on Aug. 4 at 8:15 p.m., is free, and spectators are invited to cheer from the outside lanes of the track, mere feet away from watching the women try to break 4 minutes, 30 seconds and then the men attempt to run sub-4 minutes, one of the most iconic barriers in sports.
Pre- and post-race parties are walking distance from the track, at Raleigh Brewing Company, complete with food trucks, music and a beer brewed especially for the event.
Track meets can drag on, but not this one, which has just four races: a 4x400 relay with participants from local running clubs, the Raleigh Denim Mile (requirements: pay entry fee, run in jeans), followed by the women's and men's elite races.
The morning after, at Raleigh's expansive William B. Umstead State Park, the everyday runner gets a chance to join the elites for a trail run. And the athletes, many of whom have been living out of hotels on multiple continents as they travel the meet circuit, stay with local families, getting a solid dose of Raleigh hospitality.
"I love the hospitality aspect of our race more than anything," said Caron, who lives in northern Va. but coordinates Sir Walter's women's field. "From the time they get here, we want to make it feel like home."
Caron struck up a friendship with Price several years ago at a race in New England. He's not the only one who feels strongly about the race's friendly reputation.
"We put a lot of thought into making sure the hospitality they receive on race weekend is utterly different from anything they've had before," said Sandy Roberts, whose dreams of a sub-4 mile launched the event that became known as the Sir Walter Miler.
Roberts was a standout runner at Broughton High School and later Georgetown University and North Carolina State University (NCSU). After college, he wanted to keep running competitively.
"I didn't have the credentials to get in any of the postseason elite miles," Roberts said. "Those are smaller, competitive fields."
So he and his older brother, Logan, decided to make a run at a sub-4 mile, with Logan pacing Sandy the first two laps. The Sandman Mile drew a decent crowd at Cardinal Gibbons High School on Aug. 2, 2013—it was made bigger by the presence of Cardinal Gibbons' football team, which was finishing practice and along with running fans made a ring around the track, on the infield and the outside lanes.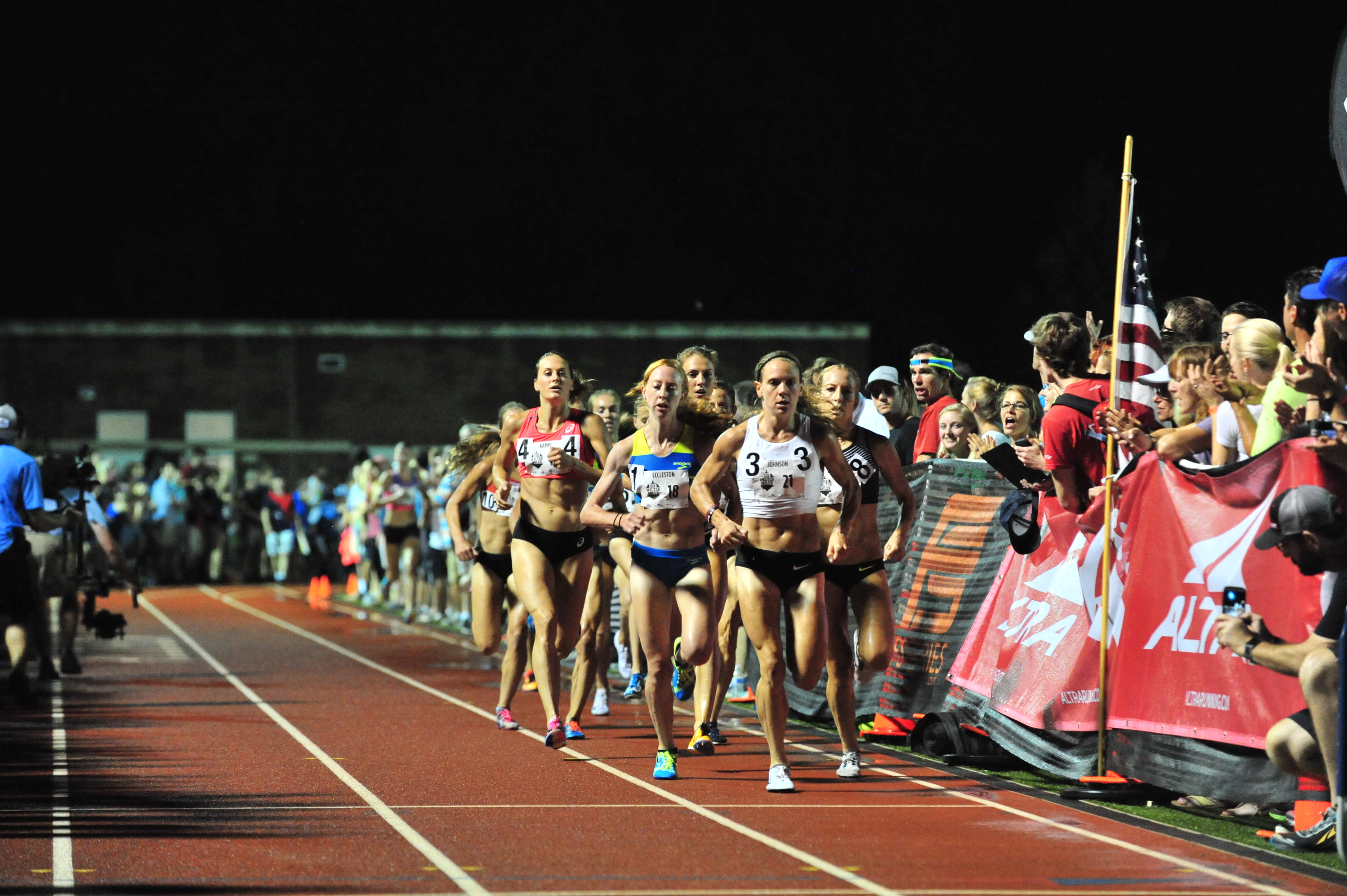 The 2017 Sir Walter Miler is set to showcase 
the deepest women's field to date
Price was on the mic, asking fans to come down to the track and make noise. His wife filmed the race, which later made its way to YouTube and running-centric website FloTrack. Sandy and Logan crossed the halfway point at 1:59, and Sandy, by then running on his own, came through three laps at 3:01, according to the call of Price, who was exhorting the crowd to cheer on the lone runner.
Even though Roberts finished in 4:06.45, he knew they had the makings of a great event. The energy on the track was real, and when they moved the race to Meredith and grew the race field in 2014, the times kept getting faster. In 2014, Ford Palmer ran 3:57.61, becoming the first runner to break 4 minutes in N.C. in 40 years.
The women's race in 2015 featured a strong run by steeplechaser Stephanie Garcia, who, along with Amanda Eccleston and Heather Wilson broke the 4:30 barrier. Their times were the three fastest by women in the world at that point in the season. Last year, nine men broke four minutes, and six women broke 4:30. The times of winner Lauren Johnson and runner-up Eccleston ended up being the fastest and third-fastest U.S. outdoor marks of 2016.
"It's turned into a top-tier professional race in the U.S., which I don't think we ever expected," Price said. "Still, every year, we're not quite sure how it happens. But we're working to put on the best event possible and really promote it well, so when the athletes are getting ready to come, they feel like they're looked after, and the fans feel like they know a little bit about these athletes before they get to Meredith on that night."
Promotion, in the form of preview podcasts and athlete bios, helps build momentum for the event. For the runners, hospitality stands out, as does the energy on race night.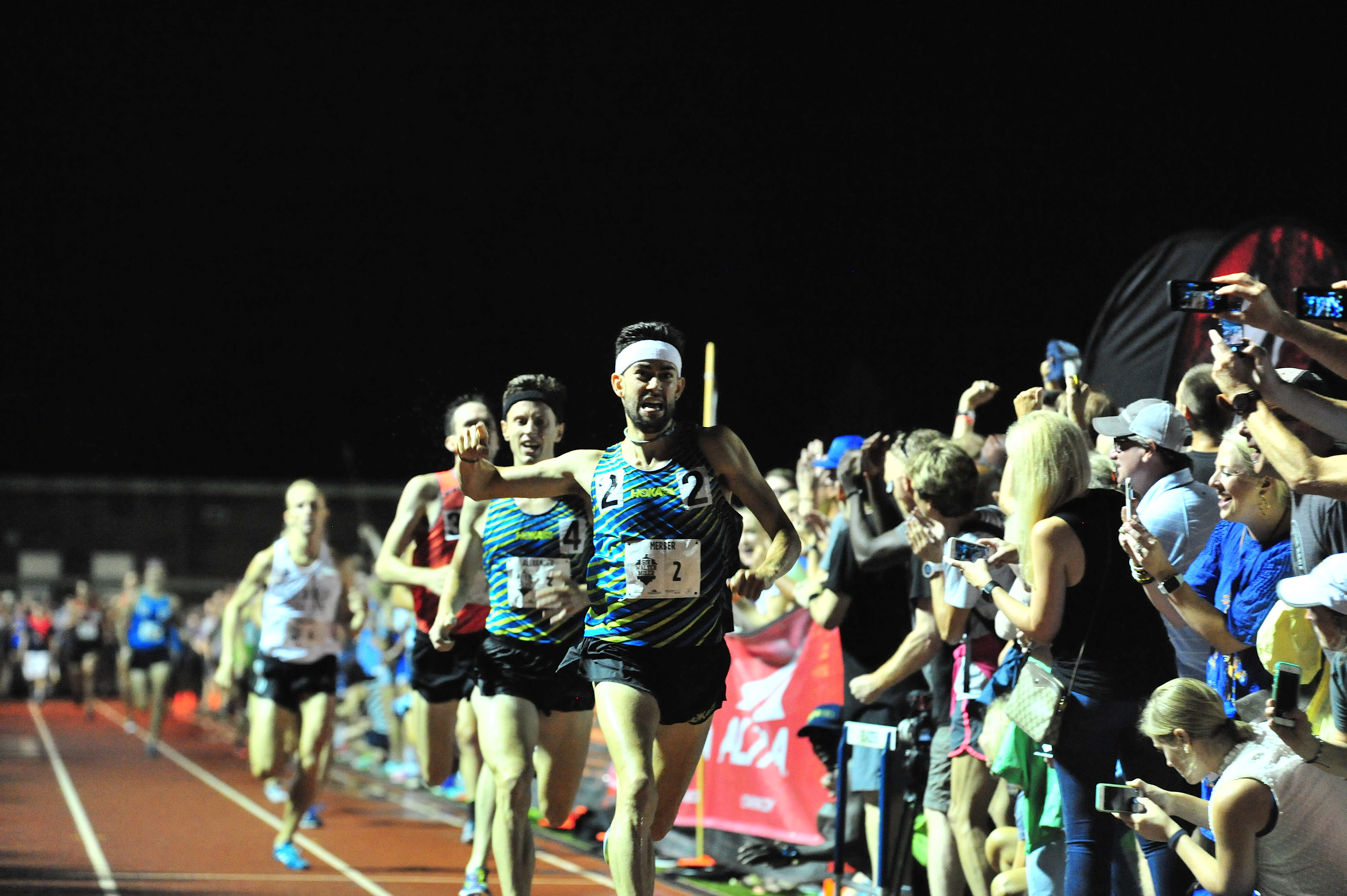 Thousands line the track at Meredith College
to cheer loudly for the runners

"I just remember the wall of people watching around the track, being super loud and excited to have us there," said Heather Kampf of Minnesota, slated to return this year after finishing third in 4:27 last year.
The men's field features former Olympians Lopez Lomong (3:51.21 in the mile in 2013) and Nate Brannen and one rising star seeking to break four minutes for the first time. That runner is Craig Engels, who recently completed an All-American career at Ole Miss and signed with Nike.
Engels grew up about two hours away and previously attended NCSU. He's looking forward to making a run at sub-4 in front of friends and family, as well as thousands of others who will line the track hoping to see history. Fewer than 500 U.S. men have broken four minutes, and about 70 U.S. women have gone faster than 4:30.
In addition to fast times, the runners have become fast friends with the host families and others who give the event its personal touch.
"Everyone associated with Sir Walter is so friendly and welcoming, from the race staff to my host families and the locals who join in on our run the morning after the race," Eccleston said. "It's pretty special as a runner to have a chance to share your story with the community, and with this being my third year back, I feel like I'm making a connection there."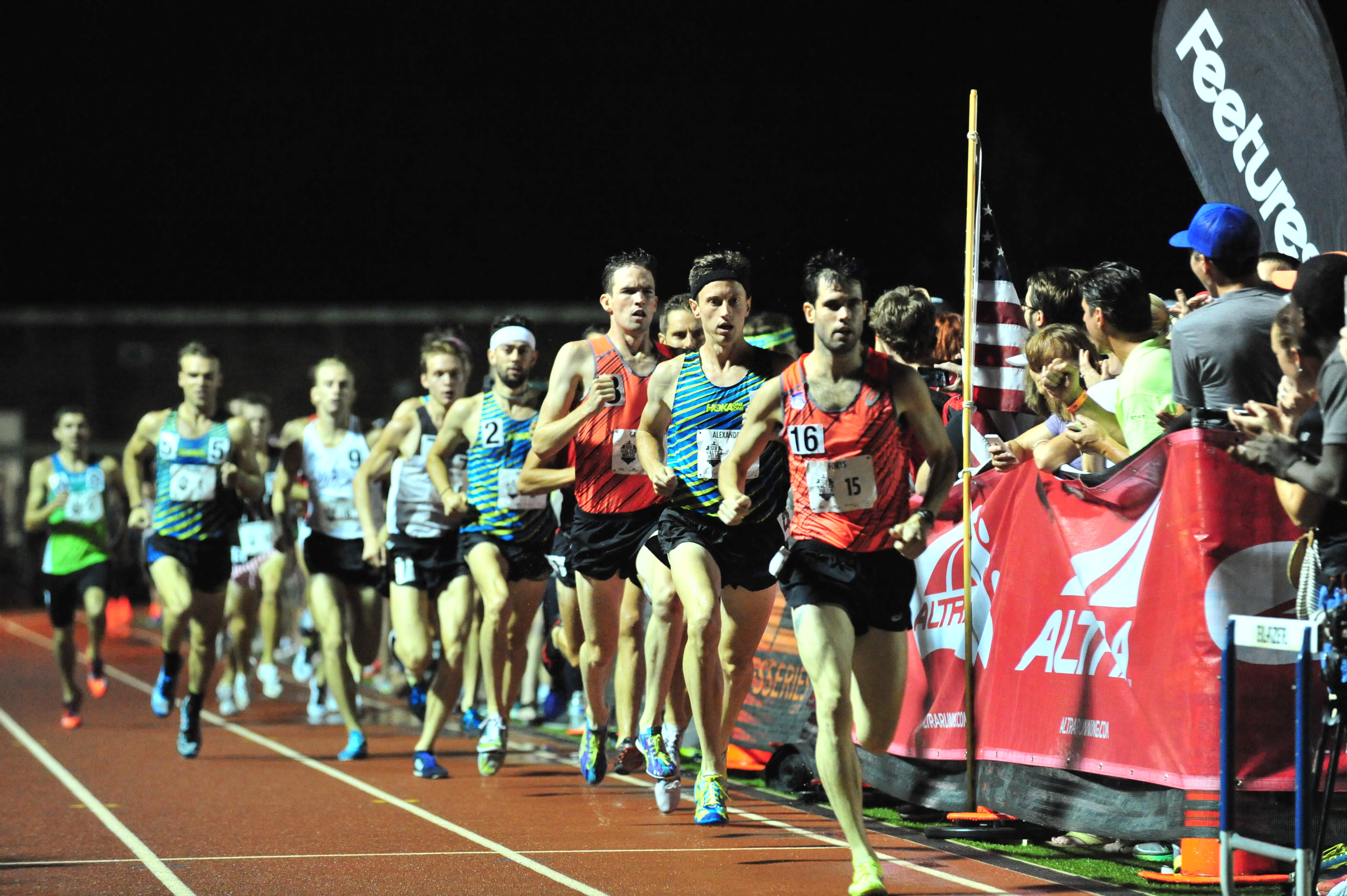 All photos courtesy of Cheryl Treworgy/PrettySporty.com
Author: Neil Amato