Greater Raleigh Sports Spotlight: IRONMAN 70.3 Athletes Share Their Stories
Thursday, June 08, 2017, 8pm by Neil Amato
An interesting look at the sports event industry in Greater Raleigh, N.C., by Neil Amato.
By Neil Amato
For the Greater Raleigh Sports Alliance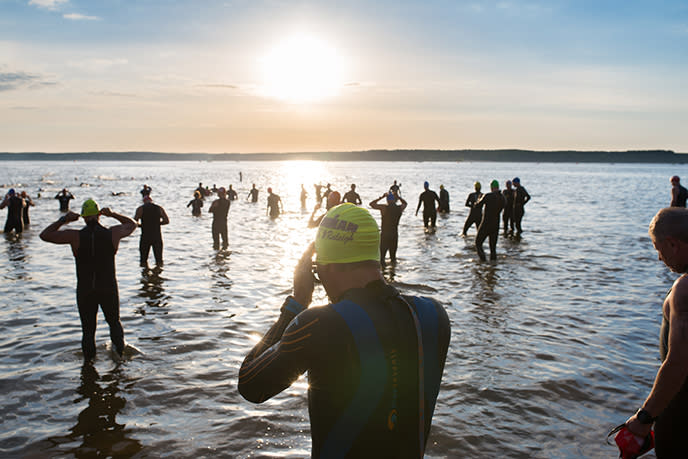 IRONMAN 70.3 Raleigh
The athletes arrive, from all over, for the race. They leave with sore muscles—they've completed 70.3 miles in the three disciplines of triathlon, some elite racers in fewer than four hours. The swimmers, bikers and runners take home finisher medals, quick-drying hats, cooling towels and other swag; most of all, they take with them indelible moments before, during and after IRONMAN 70.3 Raleigh.
Dean Ives and his wife Suse will recall the vibe of downtown Raleigh. They'll also look back fondly on three first-class chocolate shops: Azurelise, Escazu and Videri. Suse Ives runs a chocolate and tea business in Barrie, Ontario, about an hour north of Toronto, and she and her triathlete husband make a habit of getting to know local vendors in their travels.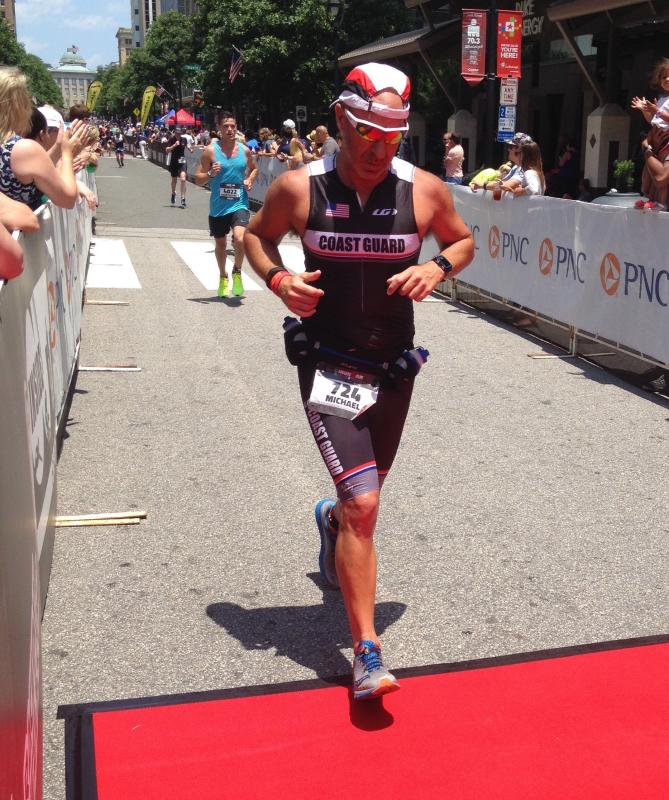 With 70.3 miles behind him, Vaughn approaches
the red-carpet finish line on Fayetteville St.
"I think the Southern hospitality remains perfectly intact," Dean Ives, an engineer, said. "How can you not want to come to the South? The people here are amazing."
Ives arrived at that conclusion two days into his first visit to Raleigh, a day before the race that brings nearly 2,000 competitors from all over the world to the City of Oaks.
Krissi Williams and Michael Vaughn of Orlando will recall having fun despite being undertrained for the race. They enjoyed the point-to-point journey: a 1.2-mile swim as the sun rose over Jordan Lake, 56 miles of biking mainly rural roads, followed by a 13.1-mile run with loops along Hillsborough St. before a Fayetteville St. finish.
"Finishing in the city was awesome," Williams said. "The crowds were so great. Even the police directing traffic were cheering for us."
That sort of hospitality is why athletes return to this event, which has been in Raleigh since 2013, or recommend it to triathlete friends. Matthew Ernst of Lexington, Ky., who has done the race twice, recommends the course because it's challenging and scenic and the roads are well-maintained. Bill Ridgway of Richmond, Va., said Raleigh rolls out the red carpet for competitors. He's an active member of the Richmond Triathlon Club and said that in some years, 50 racers from that capital city visit this capital city.
"When a city opens its arms wide for athletes in any sport, it's fun to come back," Ridgway said.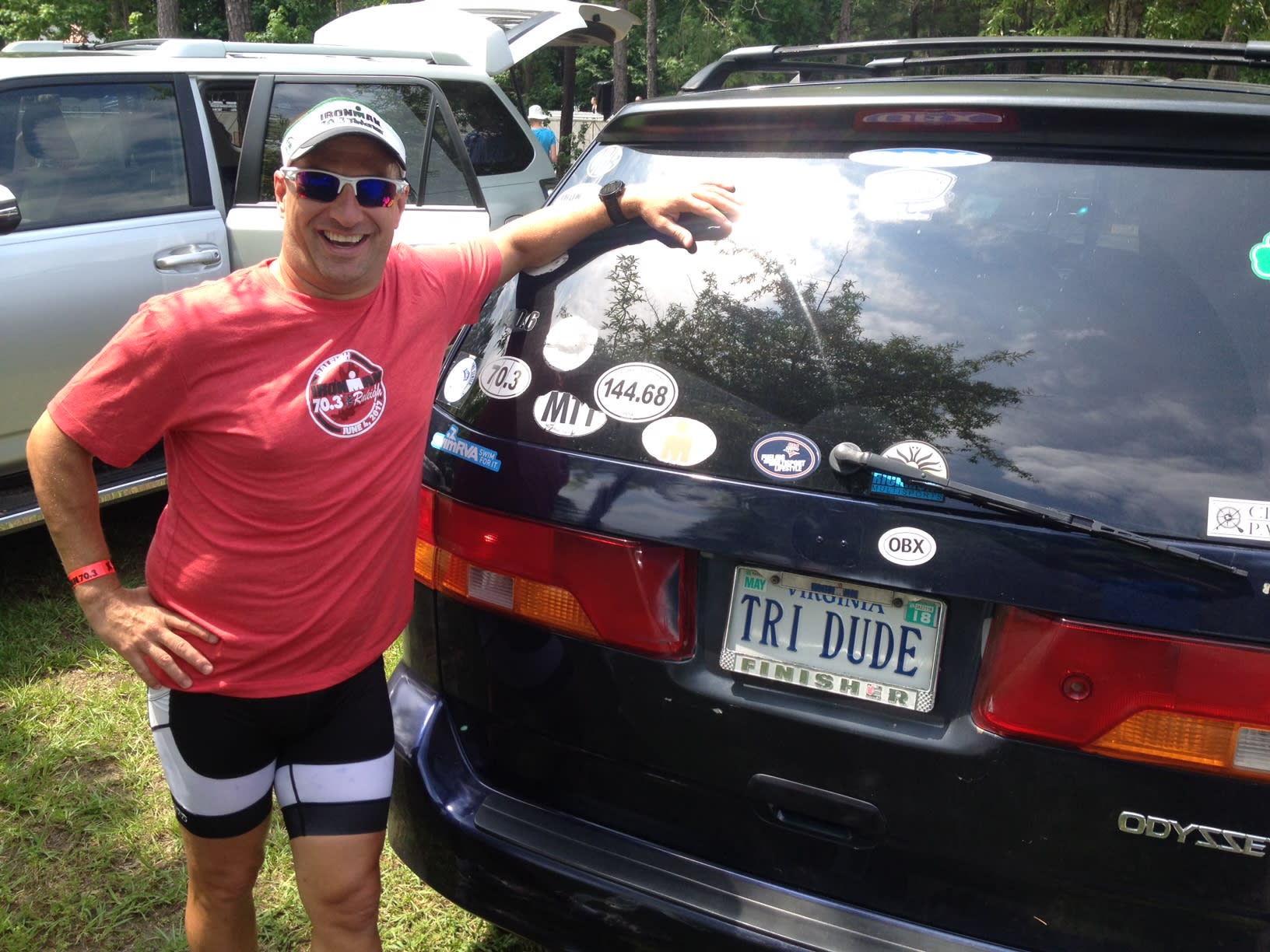 Ridgway and friends like to arrive on site early to explore and enjoy the host city.
The race was a comeback of sorts for Ridgway, who dove head-first into the sport when introduced to it by a friend in 2010. He weighed 235 pounds and in his words "had some pretty bad habits." He's completed five 70.3 races, several shorter ones and two full IRONMAN races: 140.6 miles. He dropped 85 pounds in the process but later needed to take time off to recover from the hard training that a full IRONMAN entails.
The June 4 race in Raleigh marked his return to the sport—plus it was the 49th birthday of the confessed "TRI DUDE," the license plate on his tri-specific van. "I live out of that van in the summer," Ridgway said.
Ridgway and friends arrived in Raleigh two nights before the race, and they headed downtown for dinner, getting a rooftop table and ordering cheeseburgers at Raleigh Times.
Ridgway left with the memory of a city buzzing with activity. 
Competitors also cite the little things in making the Raleigh race special—excellent traffic coordination, eager volunteers and cheering fans. Smooth, clear roads make the race safer and more enjoyable for two reasons—less interaction with vehicles and fewer flat tires.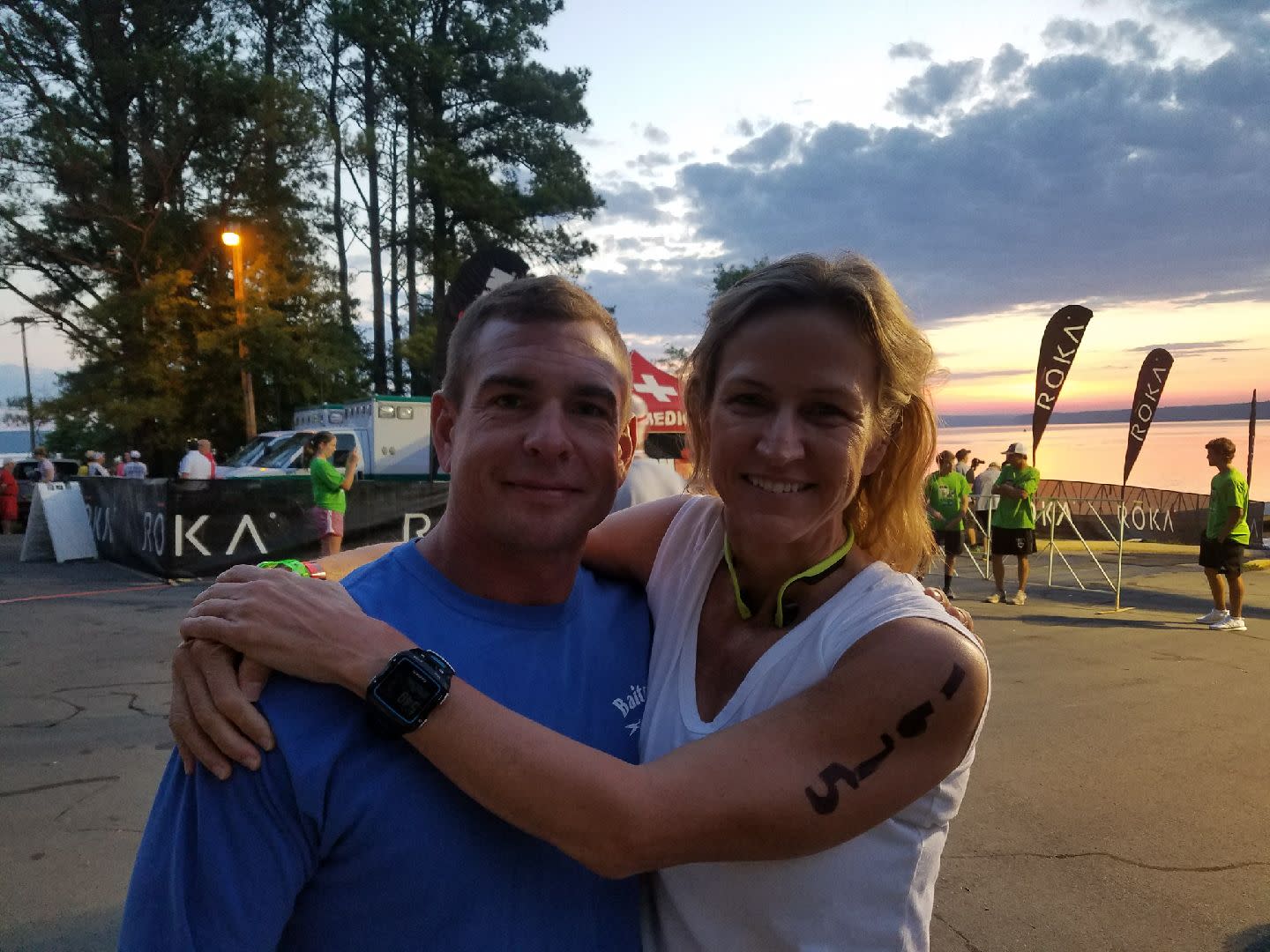 McKenzie and Guild appreciate the energy 
from the local community along the course
Deborah Guild of Sewickley, Pa., cut 27 minutes off her time from the 2016 Raleigh race. An employee of PNC Bank, one of the race's main sponsors, Guild was excited to return and do the race with friend Will McKenzie, who covered the 70.3 distance for the first time.
"It creates such an energy," she said. "You hear those cheers and see those smiles, it helps you make that final push when you really have nothing left."
Tyler Butterfield, a native of Bermuda, won the men's pro division, completing the course in 3:53:12, about two minutes faster than U.S. racer Andrew Yoder. Stephanie Roy, a Ph.D. student in Laval, Quebec, won the women's race in 4:19:59. Her average pace for the half-marathon run: 6:12 per mile.
Some runners couldn't maintain their pace late, as the reality of a sunny June afternoon set in. But most weren't fazed despite their fatigue, and some were downright joyous. They high-fived complete strangers on approach to the red IRONMAN finishing carpet. One competitor raised his arms in spontaneous celebration, and another removed a towel from around his neck, waving the towel above his head in small circles, inciting the crowd to be louder.
After receiving medals and heading to the food and water tents, competitors reunite with friends and family, basking in the glow of another 70.3 miles down and memories created along the way, on the course and off.
"Raleigh proved to be a wonderful place, and we were fortunate to only encounter people who were extremely gracious and welcoming," Ives, the engineer from Canada, said. "We truly felt as though we were at home."
Results from the 2017 IRONMAN 70.3 Raleigh, presented by PNC, are available here.
Photo credits: Greater Raleigh Sports Alliance, Neil Amato, Deborah Guild
Author: Neil Amato