Greater Raleigh Sports Spotlight: Nothing Better Than Holidays in Holliday
Sunday, December 11, 2016, 7pm by Neil Amato
An interesting look at the sports event industry in Greater Raleigh, N.C., by writer Neil Amato.
By Neil Amato
For the Greater Raleigh Sports Alliance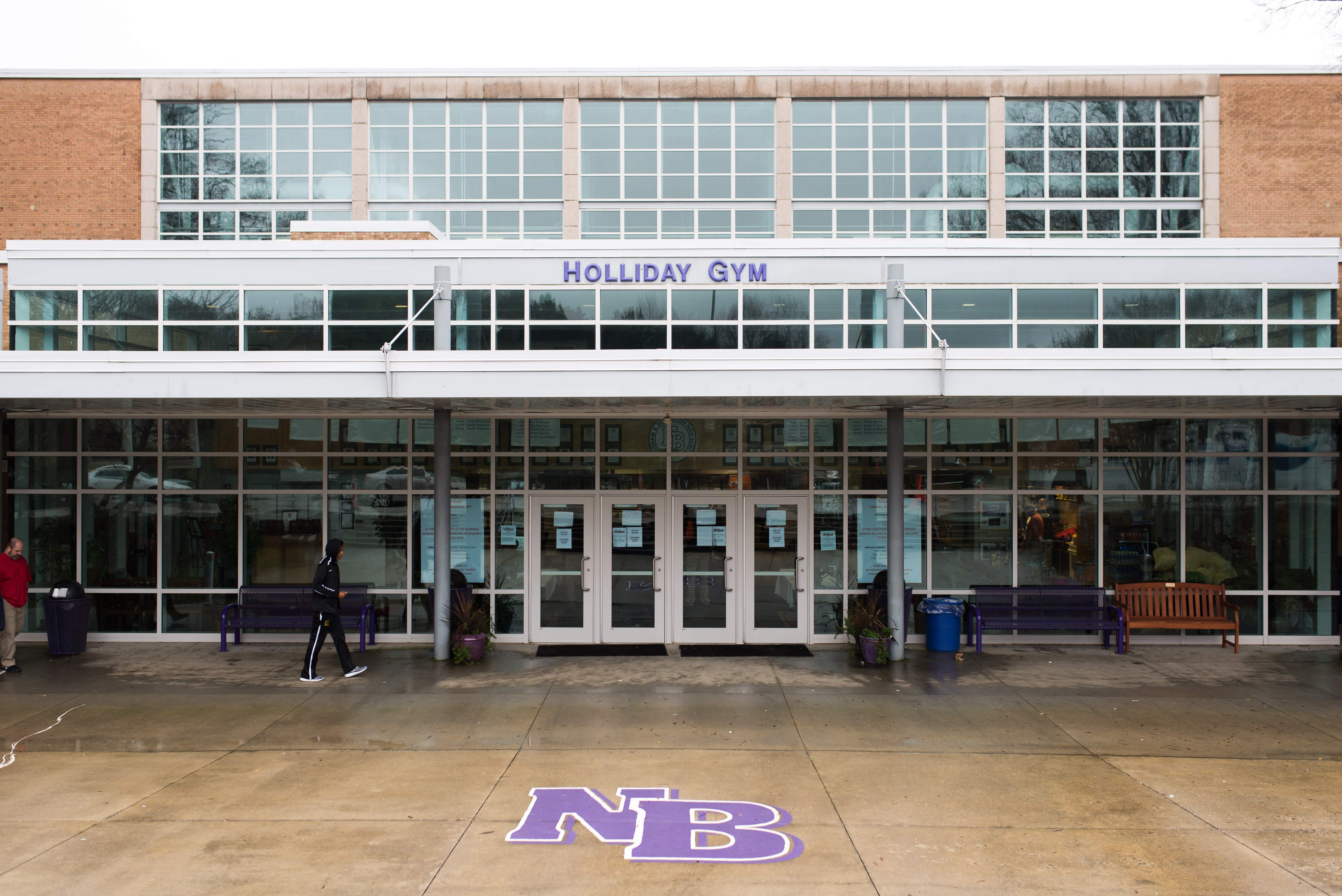 Holliday Gym at Broughton High School

Phil Ford has not forgotten his first visit to Broughton High School's Holliday Gym, nearly 45 years ago. For entirely different reasons, his last visit there left him equally impressed.
Ford, a point guard, helped the U.S. to an Olympic gold medal in 1976. He was national player of the year at the University of North Carolina in 1978 and NBA Rookie of the Year in 1979.
Later, as an assistant coach for the Tar Heels for more than 10 seasons, Ford recruited players who took part in the Holiday Invitational, one of Raleigh's oldest sporting events and one of the most prestigious basketball events in the country.
Ford played in the first Holiday Invitational in his junior season at Rocky Mount Senior High. But that wasn't his first visit to Holliday Gym.
"Driving over to Raleigh my 10th-grade year, I remember walking in that gym the first time, and I said to myself, 'Boy, this is a big ol' gym,'" Ford said.
Holliday is a big gym, with a capacity then of close to 3,000. Renovation, including wider seats and adherence to updated safety codes, has reduced seating to about 2,150 for basketball, still far bigger than the high school venues most people are accustomed to.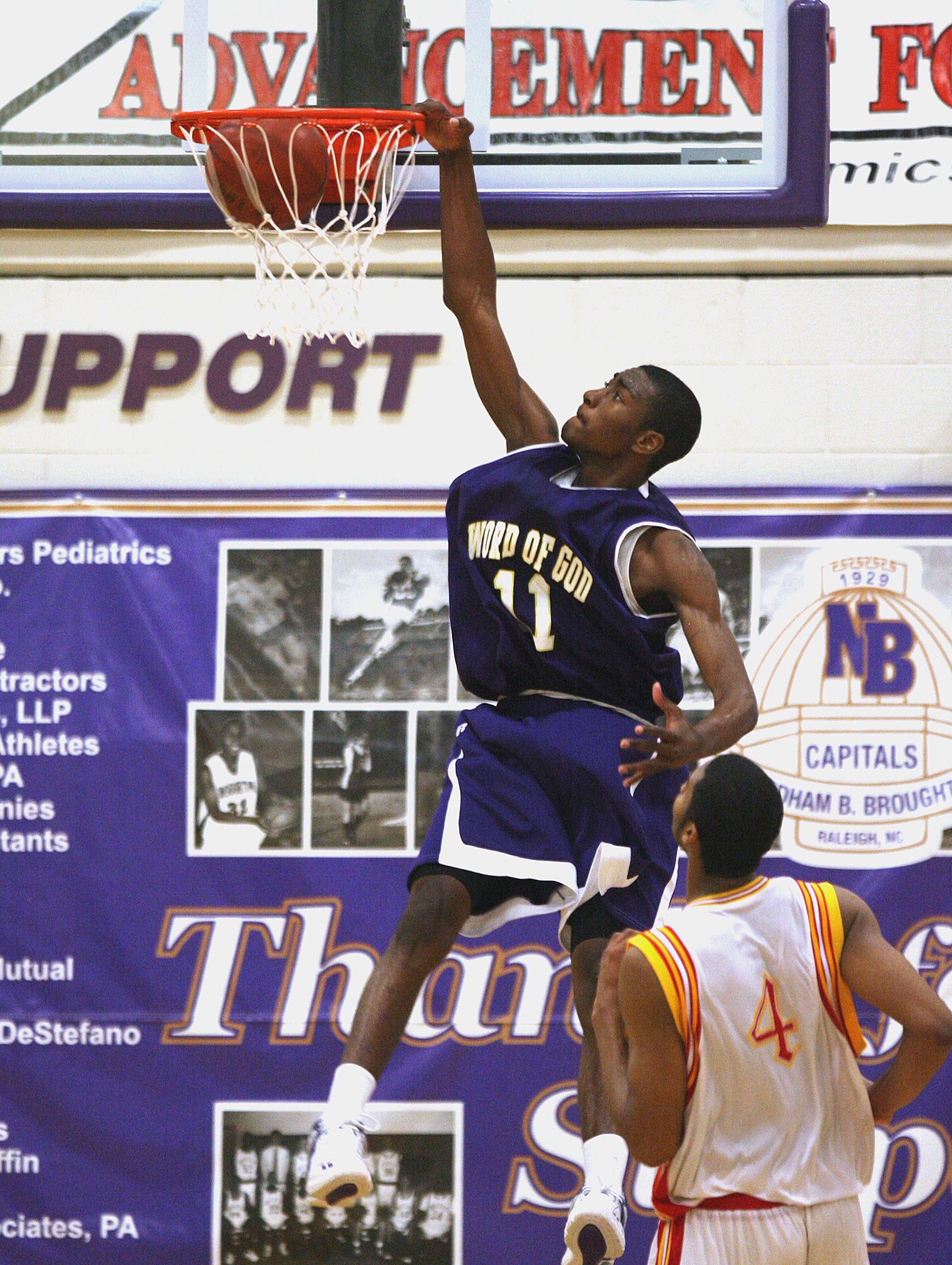 John Wall throws one down
at the Holiday Invitational
Since 2007, Holliday Gym has been the exclusive home of the Holiday Invitational, the after-Christmas tournament that celebrates its 45th edition, starting Dec. 27, with a new title sponsor and name, the John Wall Family Foundation Holiday Invitational. The tournament has been played at several sites in Raleigh since starting humbly at Holliday in 1972. That year, eight teams played for the trophy, none farther away than a few hours.
The regional event, started with the intent of emulating college basketball's Dixie Classic, soon went national, annually bringing in the nation's top teams, including future college and professional stars and storied coaches.
Morgan Wootten, who coached DeMatha Catholic outside Washington, D.C., to nearly 1,300 victories, brought his teams to Raleigh seven times. Tubby Smith, who went on to win an NCAA title at Kentucky, coached in perhaps the most memorable tournament game—more on that game later. Numerous ACC and NBA alumni have dotted the tournament rosters.
Because the talent is top-notch, so is the list of college coaches showing up to watch prospects. And fans want to take it all in. Unlike many high school events, where walking up to the ticket window 10 minutes before the tip is sufficient, the Holiday Invitational regularly sells out hours before the night session begins.
"When you have two great teams playing, the atmosphere is second to none," tournament director Bill Sewell said.
In 1972, there were five teams from Greater Raleigh: Broughton, Cary, Enloe, Garner and Sanderson. The field was rounded out by Greensboro Grimsley, coached by national hall-of-famer Bob Jamieson; Kinston, which featured future NBA player Cedric Maxwell; and Rocky Mount, which had Ford.
Rocky Mount beat Kinston for the title in that first event, and Kinston returned the favor the next year.
Ford plans to get to the tournament this year, though he missed last year's event. In 2014, he was wowed by High Point Wesleyan's Harry Giles, who is now at Duke. North Carolina State University (NCSU) guard Dennis Smith and current Milwaukee Bucks big man Thon Maker also played.
"It was a lot of highly recruited guys," Ford said. "It's grown so much over the years. That's the thing that gets me about it. It just seems to get better every year."
The event is a natural gathering place for basketball talent but also the Raleigh community. And it has raised more than $1 million for scholarships for area students through the Triangle Educational Advancement Foundation. The tournament started with eight boys teams; today, it has two eight-team boys brackets and a 12-team girls field.
The event started at Holliday Gym and has been at other venues in Greater Raleigh, including NCSU's Reynolds Coliseum and other high schools. Broughton coach Jeff Ferrell is admittedly biased about the tournament staying at the place where it began.
Holliday is more than a gym, and it takes a visitor just a few steps into the lobby to realize that. It is where one of the sport's legends, Pistol Pete Maravich, played high school basketball, and it's where something called Shav Mania gripped Greater Raleigh in the early 2000s. Barack Obama spoke there in 2009, and that event is commemorated by a No. 44 hanging in the rafters—Obama is the 44th president.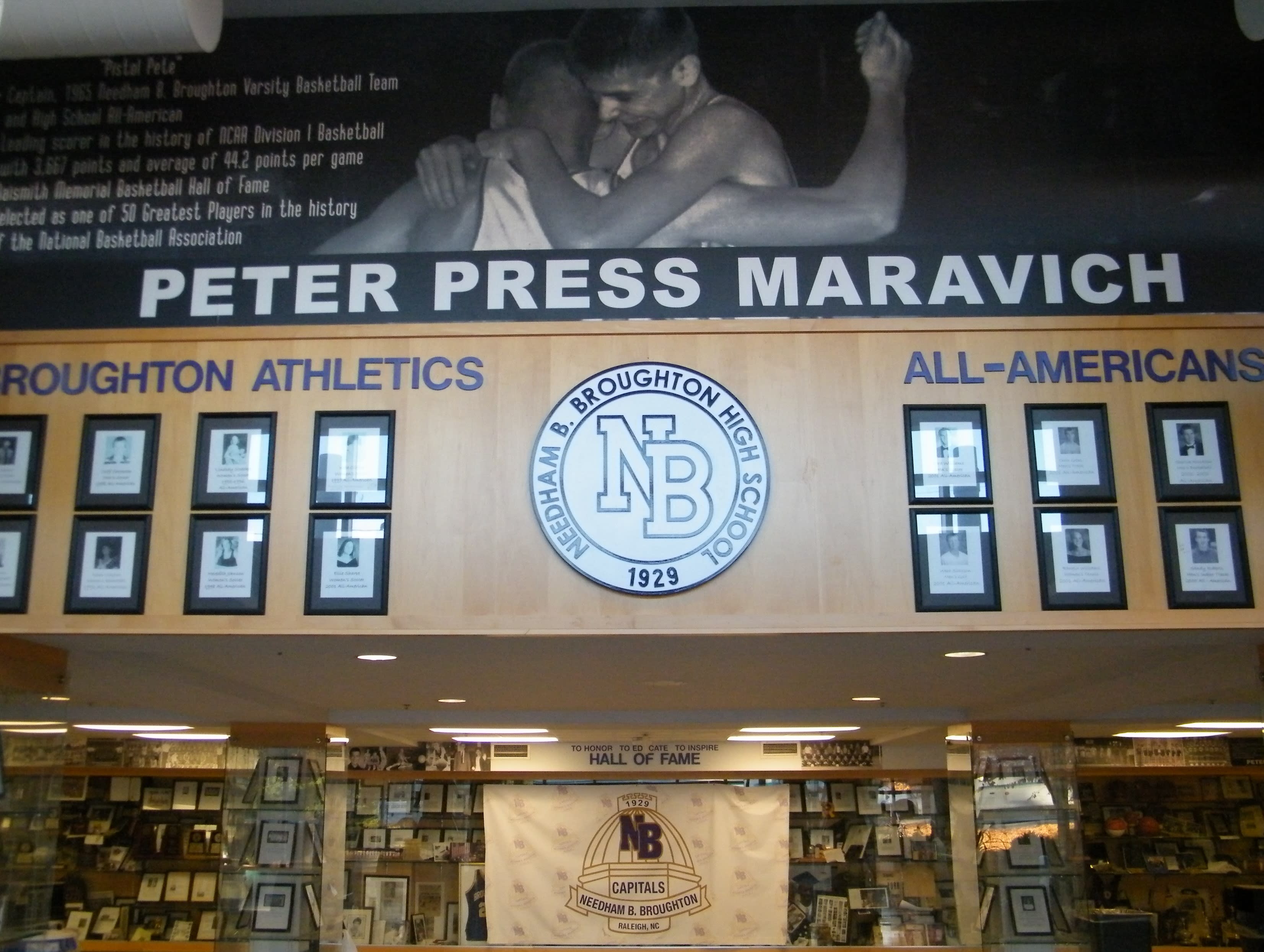 The legendary Pistol Pete is honored in the Holliday Gym main lobby
The trophy case is filled with awards from Broughton's storied athletic history, from boxing championships in the 1930s, to tennis, cross country, soccer and others more recently. The centerpiece is the tribute to Maravich, who played at Broughton when Holliday was a new gym and when few people could have predicted what the shy, skinny son of Press Maravich, then NCSU's coach, would become.
Pete Maravich set scoring records in college that still stand today, doing so without the aid of the 3-point shot. He averaged 44.5 points a game his senior season and finished his three years of eligibility at LSU with an astounding 3,667 points.
The court at Broughton, with two levels of seating and light streaming in from many windows, is a site to behold. Opponents sometimes give up scheduled home games, Ferrell said, just to make return trips to Broughton.
"They want to play at our place every year," Ferrell said. "They say it's a treat for their kids to play at our gym. It's just so fun to watch other teams come and walk into the lobby."
In 2000, when a 6-foot-10 sophomore named Shavlik Randolph burst onto the recruiting scene, Broughton had another reason to fill up Holliday Gym. Randolph went on to play at Duke and later the NBA, but his high school days featured a certain buzz, helped by conference foes also having sought-after players.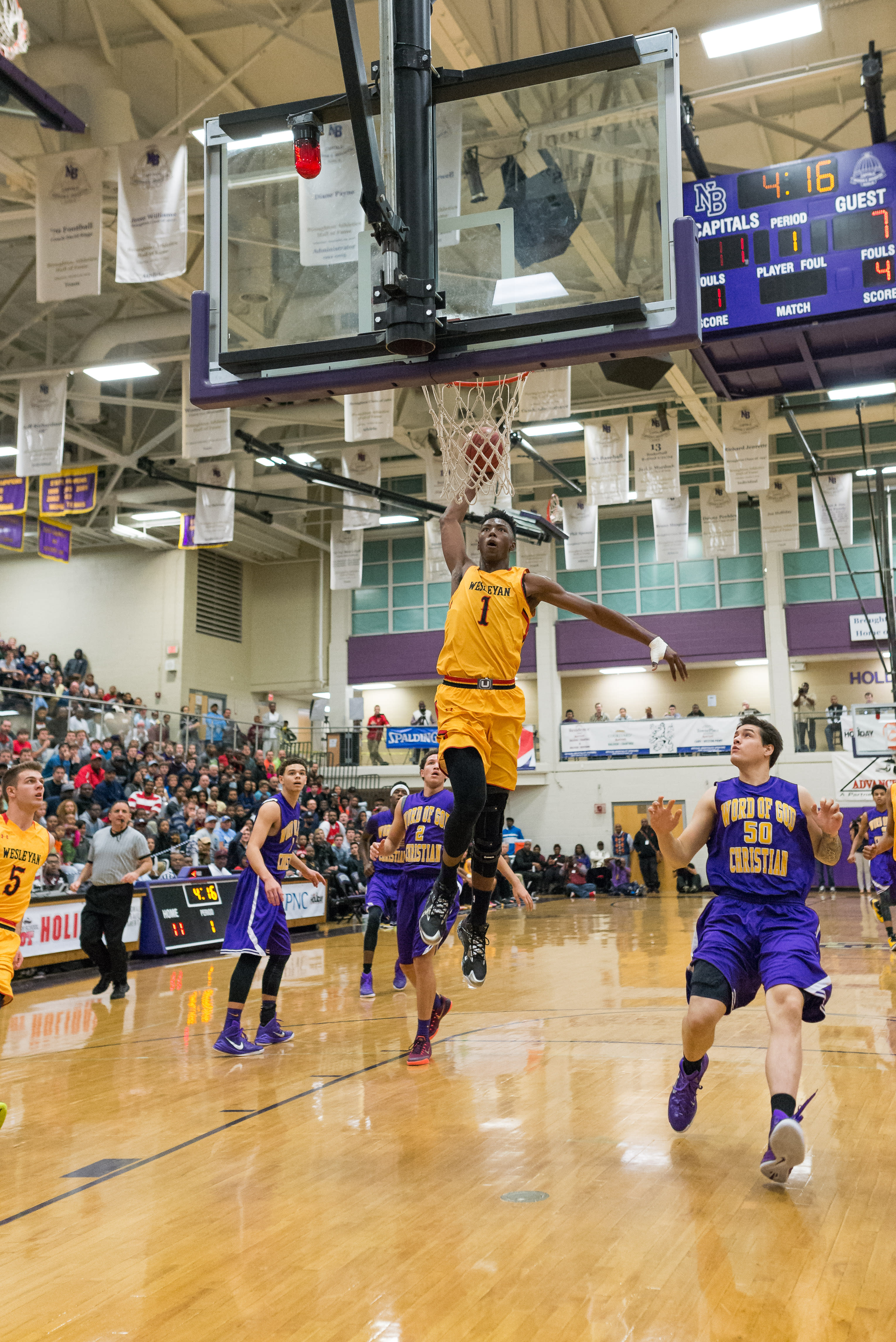 The Holiday Invitational is one of Raleigh's
oldest and most prestigious events
When Leesville Road visited for a January 2001 conference game, with future ACC players Anthony Richardson and Shawan Robinson on the roster, hundreds of fans in line for tickets were shut out.
"There was a line going all the way down the strip toward Cameron Village," Ferrell said. "People couldn't get in, and they started getting on the roof and looking in the windows at the top. People were begging to get in. They were banging on our locker room doors in back to let 'em in."
As good as the action has been, Holliday Gym didn't host what was perhaps the Holiday Invitational's most memorable game: the 1978 tournament final at the old Raleigh Civic Center.
That game stands out to Tim Stevens, who began covering high school sports in the area in the 1960s, before he had his driver's license. Stevens was part of the group that founded the Holiday Invitational, and for years, as the high school sports editor for the Raleigh Times and, later, The News & Observer, he selected the teams and covered the event.
In 1978, Danny Young, who would go on to play at Wake Forest and in the NBA, led Enloe to the championship against Tubby Smith's Hoke County Bucks—in seven overtimes, 104-102.
An Enloe players was quoted afterward as saying it was the best game he'd seen or played in, "but I never want to do it again."
That's not how fans of the Holiday Invitational feel. They have memorable moments, games that stand out for drama or star power. And every year, those fans come back for more.
 Notable Holiday Invitational alumni:
Phil Ford (Rocky Mount), 1972 and 1973 all-tournament team, '76 Olympic gold medalist, '78 national player of the year at North Carolina, '79 NBA Rookie of the Year
Cedric Maxwell (Kinston), all-tournament in '72 and '73, part of '73 tournament champions, helped UNC-Charlotte to its lone Final Four, played for NBA champion Boston Celtics in the 1980s
Danny Young (Enloe), 30-point scorer in seven-overtime game in 1978, went on to star at Wake Forest and play for five NBA teams
Rodney Monroe (St. Maria Goretti, Hagerstown, Maryland), scored 103 points in '86 tournament, career scoring leader and 1991 ACC Player of the Year at NCSU
Rodney Rogers (Durham Hillside), part of a loaded 1989 tournament (five NBA players), ACC Player of the Year at Wake Forest; 12 years in the NBA
Anfernee "Penny" Hardaway (Memphis Treadwell), scored 46 points in '89 game, long-time NBA standout
Shawn Bradley (Emery County, Utah), tournament record holder for rebounds (57 in '89), played 12 seasons in the NBA
Donald Williams (Garner), record 115 points in 1990 tournament, 1993 Final Four MVP for UNC
Jerry Stackhouse (Kinston), 1991 tournament Most Outstanding Player, consensus All-America at North Carolina, two-time NBA All-Star
Mike Miller (Mitchell, South Dakota), single-game tournament record 54 points in 1997, now in his 17th NBA season
Mason Plumlee (Christ School, Arden), MVP of 2008 tournament, part of 2010 NCAA title team at Duke, now with the Portland Trail Blazers
John Wall (Word of God), 2007 and '08 tournament all-star, played at Kentucky, now starring for the NBA's Washington Wizards
Photo credits: John Wall, courtesy of Holiday Invitational; Holliday Gym lobby, courtesy of Neil Amato; Other photos, courtesy of GRSA
Author: Neil Amato