IBMA Virtual World of Bluegrass Delights Fans With Over 101K Online Attendees & 189K Views
Thursday, October 29, 2020, 1pm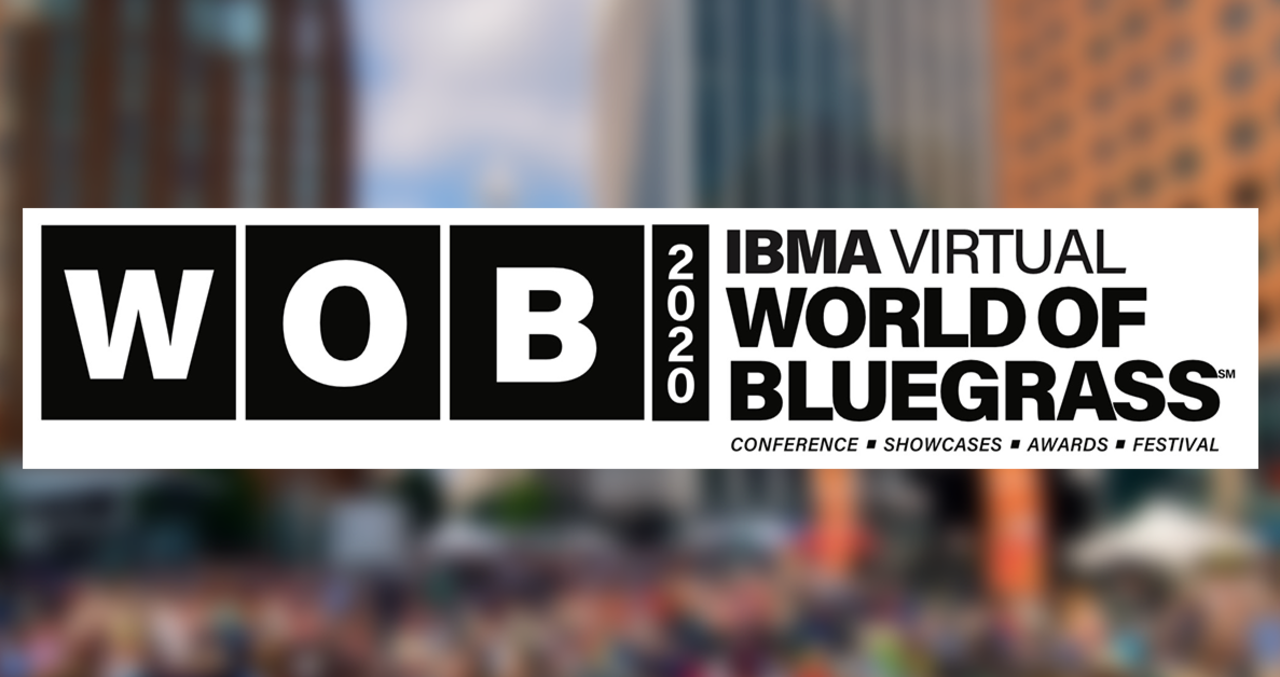 Organization exceeds donation goal; PNC Bank will match $50,000;
2021 event scheduled to take place in Raleigh, N.C., Sept. 28-Oct. 2
Nashville, TN (Oct. 29, 2020) – IBMA Virtual World of Bluegrass, which took place Sept. 28-Oct. 3, won high praise around the globe from those who took part in the 80 hours of online content presented during the event.
The International Bluegrass Music Association (IBMA) presented a total of 124 events, including performances, award shows, professional development sessions, constituency meetings and more. Performances included sets by 50 artists as part of IBMA Bluegrass Live! powered by PNC and 30 artists as part of IBMA Bluegrass Ramble presented by Count On Me NC. The IBMA Business Conference included 39 sessions and 88 speakers. The virtual exhibit hall included 76 vendors and was made possible by the contributions of 33 event sponsors as well as a grant from South Arts and The Andrew W. Mellon Foundation.
The total number of attendees — or, unique individual participants — for the week was estimated at 101,636, with a total number of 189,325 views across multiple channels, including the IBMA's official event platform, IBMA social media (Facebook and YouTube) and outlets (web, app, Roku and other OTT) provided by official media partner, WRAL.
The IBMA also met fundraising goals for both the organization and the IBMA Trust Fund during the event. PNC Bank, the presenting sponsor of IBMA Bluegrass Live! powered by PNC, boosted its support for the IBMA and bluegrass artists experiencing financial hardship due to pandemic-related issues by matching the first $50,000 in donations. While donations continue to come in, the current total received stands at more than $86,100, or over $136,100 when including PNC's matching donation.
The organization plans to return to Raleigh, N.C., for IBMA World of Bluegrass Sept. 28-Oct. 2, 2021.
"We are grateful for the success of this year's IBMA Virtual World of Bluegrass for many reasons," said Paul Schiminger, executive director for IBMA. "Delivering a week of education and entertainment was important to our bluegrass community in this tough year, and doing so in a brand new way was extremely daunting. And I have no words to adequately express our appreciation for the generosity of PNC and everyone who donated to help the IBMA and the IBMA Trust Fund. Our generous supporters have demonstrated how the bluegrass family sticks together with passion and resilience."
"It was exciting to see the incredible engagement of participants from all over the world," said Jim Hansen, PNC regional president for Eastern Carolinas. "The virtual format allowed us to reach both the dedicated bluegrass community members and those experiencing it for the first time. It's our sincere hope that this extended visibility will result in increased attendance in Raleigh in future years."
"We were excited to see the City of Raleigh shine once again as the host city for IBMA's World of Bluegrass and festival. Sure we wish the bluegrass world was here in person, but what happened online this year was still kind of magical in the way it brought people together. From the Mayor's welcome to the bands performing on location in Raleigh, the partnership between IBMA and the Local Organizing Committee contributed to the success of this year's virtual festival," said David Brower, Executive Director of PineCone and a Tri-Chair of the Local Organizing Committee. "Raleigh looks forward to welcoming the global bluegrass community back to North Carolina in 2021."
"Virtual IBMA 2020 was one we shall all remember," said Jamie Deering, CEO of Deering Banjo, a longtime sponsor of the IBMA Bluegrass Music Awards and one of the exhibitors who participated in the virtual exhibit hall. "While we did not get to see each other's smiles in person, we were able to come together as a community and celebrate all things bluegrass. From the artists who performed to the incredibly produced award shows and content, what IBMA put together was impressive. Hats off to what the team made happen."
"It was truly an honor to play IBMA Virtual World of Bluegrass in an unprecedented year," said Raleigh-based banjoist Hank Smith, whose innovative bluegrass band, Hank, Pattie & The Current, performed their festival set beneath the Sonarc Art Installation outside Raleigh's Duke Energy Center for the Performing Arts. "The taping, being able to play with the band, was a breath of fresh air in a year put on hold by a terrible pandemic. Big thanks to IBMA, PineCone and all of the folks who came together to make it happen, proving that the community is strong, persistent and creative. I look forward to the day when we can all gather again in Raleigh, hug it out and play some music again with each other in person. Until then, we know that the team can pull it together for an unforgettable experience regardless!"

About PNC Bank:
PNC Bank, National Association, is a member of The PNC Financial Services Group, Inc. (NYSE: PNC). PNC is one of the largest diversified financial services institutions in the United States, organized around its customers and communities for strong relationships and local delivery of retail and business banking including a full range of lending products; specialized services for corporations and government entities, including corporate banking, real estate finance and asset-based lending; wealth management and asset management. For information about PNC, visit www.pnc.com.
About IBMA:
IBMA – the International Bluegrass Music Association – is the nonprofit professional organization for the global bluegrass music community. The organization's successful run in Raleigh is the product of their partnership with The Greater Raleigh Convention and Visitors Bureau, The Raleigh Convention Center, PineCone—The Piedmont Council of Traditional Music, the City of Raleigh and a local organizing committee.
Press Info: 
Judy McDonough, Karen Campbell Media
judy@karencampbellmedia.com
615.243.5994
General Info:
Casey Campbell, IBMA
casey@ibma.org
615.256.3222
# # #