Major League Cricket Stadium Expansion set for Morrisville, North Carolina
Thursday, February 03, 2022, 11am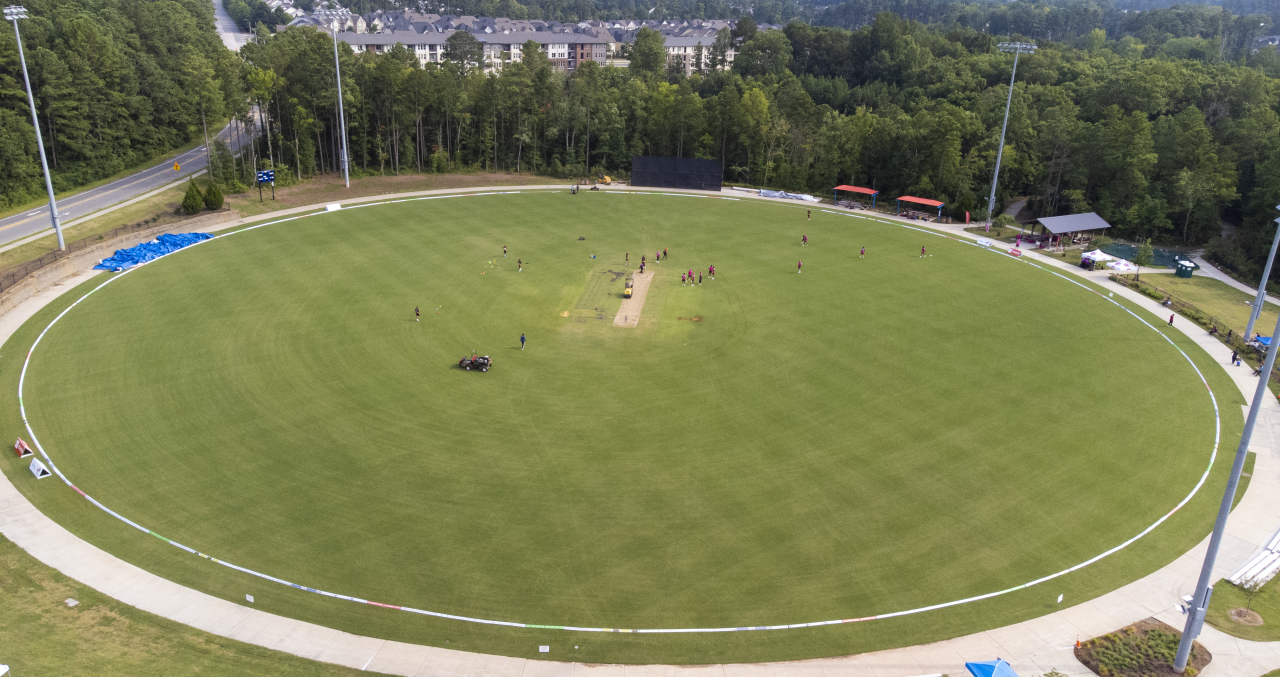 Major League Cricket and Town of Morrisville seal multi-million-dollar partnership expanding Church Street Park to become international-quality cricket venue
Enhanced facility will host Major League Cricket and USA Cricket national team matches and training events
Facility will bid to be one of the host venues for the 2024 T20 Men's World Cup, to be co-hosted by the United States and the West Indies
San Francisco, Calif. and Morrisville, N.C. (February 3, 2022) - Major League Cricket (MLC) and the Town of Morrisville announced today a multi-million-dollar public-private partnership to jointly invest in the expansion of Church Street Park, upgrading the facility into an international-quality cricket venue.
The investment will see the addition of more than 2,000 permanent seats to the scenic venue, increasing Church Street Park's capacity to over 3,500. Upgrades will also include the installation of state-of-the-art broadcast infrastructure, additional parking and LED illuminated natural and artificial turf practice pitches and nets.
The enhancements will allow Church Street Park to host world-class MLC matches and serve as a flagship facility for USA Cricket's National Team games and training. The venue would meet the criteria necessary to host games at the 2024 T20 Men's World Cup, an event viewed by over 500 million cricket fans worldwide. The USA host venues are expected to be announced later this year.
"The passion for cricket is strong in the greater Morrisville region. This partnership with Major League Cricket provides a significant upgrade to the facilities at Church Street Park – adding additional amenities that support expanded use of the park, beyond cricket, for all residents," said Morrisville Mayor TJ Cawley. "We look forward to our town hosting world-class cricket that will bring thousands of visitors to the region each year and put Morrisville firmly on the map as one of the premier professional cricket venues in America."
Opened in 2015, Church Street Park is recognized as one of the best venues for cricket in the United States. The park features an LED illuminated natural turf pitch in a scenic setting at the heart of North Carolina's Research Triangle region, conveniently located only 15 miles from Raleigh, Chapel Hill and Durham. The venue hosted the inaugural Minor League Cricket Championship finals weekend last October, with more than 3,000 fans in attendance to watch the Silicon Valley Strikers claim the title.
MLC, America's first professional T20 cricket competition, represents the most ambitious and transformational venture ever undertaken in the American cricket landscape. Focused on staging world- class Twenty20 cricket for American cricket fans, MLC will feature top players from around the globe and provide a stage for domestic cricketers to showcase their talents to a worldwide audience.
"Major League Cricket is delighted to be able to make a significant investment to further enhance Church Street Park and establish the venue as an outstanding professional cricket stadium and high-performance center," said Vijay Srinivasan, co-founder, Major League Cricket. "The Town of Morrisville has embraced cricket for its community over many years, with Church Street Park a home for the sport since 2015. These upgrades will provide fantastic facilities for continued community play, USA Cricket's National Teams and for future Major League and international cricket events."
The enhanced Church Street Park facilities will be available for community use, with Church Street Park continuing to serve as the home of the Morrisville Cardinals in Minor League Cricket and for the Triangle Cricket League's more than 2,500 players and 150 teams.
"We are delighted that Church Street Park will receive these significant updates to enhance the venue and provide even greater facilities for the passionate cricket community around Morrisville," commented Babar Baig, President of the Triangle Cricket League. "We're so excited to see the improvements in place and future generations of local cricketers both play there and be inspired by watching world-class cricket regularly at Church Street Park."
"The Morrisville Cardinals are proud to have one of the largest and most passionate fanbases in Minor League Cricket, and these improvements will give spectators an even better experience at beautiful Church Street Park," said Praveen Chakraraj, Co-Owner of the Morrisville Cardinals. "The enhanced playing and training facilities will also support our work to develop young players to a professional level and compete for USA National Team places."
The work on venue enhancements will begin in early 2022, with the full suite of infrastructure improvements expected to be completed by spring 2023.
Photos and video from the Minor League Cricket finals in 2021 at Church Street Park and the full set of stadium enhancement renderings can be downloaded here.

FOR MORE DETAILS CONTACT
media@majorleaguecricket.com
ABOUT MAJOR LEAGUE CRICKET
Major League Cricket will be the first professional Twenty20 cricket championship in the United States. Exclusively sanctioned by USA Cricket, Major League Cricket will feature top players from around the globe while also providing an opportunity for domestic cricketers to showcase their talents to a global audience, bringing world-class T20 cricket to America for the first time. For more information, visit www.majorleaguecricket.com and follow MLC on Twitter at www.twitter.com/MLCricket
###