Major League Fishing Event Filmed in Raleigh to Air Sunday on CBS and Stream Live on Paramount+
Friday, December 17, 2021, 12pm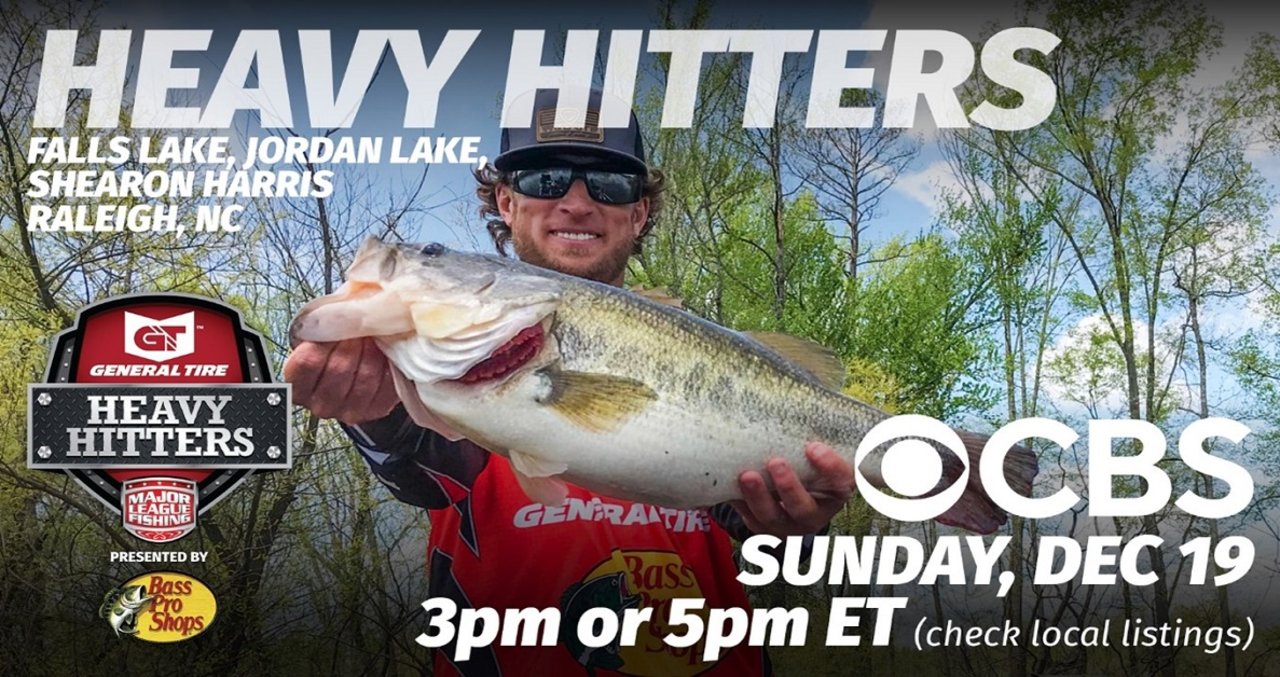 Advisory for Friday, Dec. 17

WHAT: The Major League Fishing (MLF) 2021 General Tire Heavy Hitters Event Presented by Bass Pro Shops will premiere nationwide Sunday afternoon on CBS and stream live on Paramount+. The All-Star event, shot over six days in Raleigh, North Carolina, showcases 40 MLF anglers competing for more than $535,000, with a top prize of $100,000 going to the winner of the event, and Big Bass Bonuses during the competition with payouts of $25,000, $50,000 and $100,000 being awarded for the single biggest fish in the Qualifying, Knockout and Championship rounds.

WHEN: Sunday, Dec. 19, 2021, from 3-4 p.m. ET or 5-6 p.m. ET (check local listings)

WHERE: CBS and Paramount+

NOTES: The MLF 2021 General Tire Heavy Hitters Event Presented by Bass Pro Shops featured the top 40 pro anglers that qualified from the 2020 Bass Pro Tour season visiting Raleigh to compete on the same waters that produced a big-fish bonanza when the Bass Pro Tour visited Raleigh in 2019 – Jordan Lake, Falls Lake and Shearon Harris Reservoir. That event produced 57 largemouth bass weighing 6 pounds or more, including a 9-pound, 4-ounce giant caught by Texas pro Todd Faircloth.

To qualify for the MLF 2021 General Tire Heavy Hitters Event Presented by Bass Pro Shops, the weight of an angler's single-largest bass from each of the five 2020 Bass Pro Tour events was recorded. The 40 anglers with the heaviest big-fish totals from those five events qualified to compete in this event.

The 40 anglers that competed in the MLF 2021 General Tire Heavy Hitters Event presented by Bass Pro Shops are: Adrian Avena, Josh Bertrand, Zack Birge, Stephen Browning, Brent Chapman, Luke Clausen, Dustin Connell, Brandon Coulter, Mark Daniels Jr., Mark Davis, Ott DeFoe, Boyd Duckett, David Dudley, Brent Ehrler, James Elam, Anthony Gagliardi, Mike Iaconelli, Alton Jones, Chris Lane, Jordan Lee, Dave Lefebre, Justin Lucas, Mike McClelland, Cody Meyer, Ish Monroe, Andy Morgan, Britt Myers, Michael Neal, Takahiro Omori, Cliff Pace, Dean Rojas, Mark Rose, Fred Roumbanis, Bradley Roy, Fletcher Shryock, Jeff Sprague, Randall Tharp, Bryan Thrift, Kevin VanDam and Jacob Wheeler.

The event was hosted by the Greater Raleigh Sports Alliance.

For complete details and updated information on MLF, visit MajorLeagueFishing.com. For regular updates, photos, tournament news and more, follow MLF's social media outlets at Facebook, Twitter, Instagram, and YouTube.

About Major League Fishing:
Major League Fishing (MLF) is the world's largest tournament-fishing organization, producing more than 250 events annually at some of the most prestigious fisheries in the world, while broadcasting to America's living rooms on CBS, the Discovery Channel, the Outdoor Channel, CBS Sports Network, the World Fishing Network and on-demand on MyOutdoorTV (MOTV). Headquartered in Tulsa, Oklahoma, with offices in Benton, Kentucky, the MLF roster of bass anglers includes the world's top pros and more than 30,000 competitors in all 50 states and 13 countries. In 2019 MLF acquired FLW and rebranded it as MLF BIG5, which expanded its portfolio of catch, weigh and immediate release events to include the sport's strongest five-biggest-fish format tournament circuits. Since its founding in 2011, MLF has advanced the sport of competitive fishing through its premier television broadcasts and livestreams, and is dedicated to improving the quality of life for bass through research, education, fisheries enhancement and fish care.

Major League Fishing – WE ARE Bass Fishing™
Media Contact:
Joe Opager
Director of Communications
218.434.0748
joe.opager@majorleaguefishing.com
www.majorleaguefishing.com

# # #