New Free Model A Success For IBMA's Wide Open Bluegrass Festival
Wednesday, November 06, 2019, 10am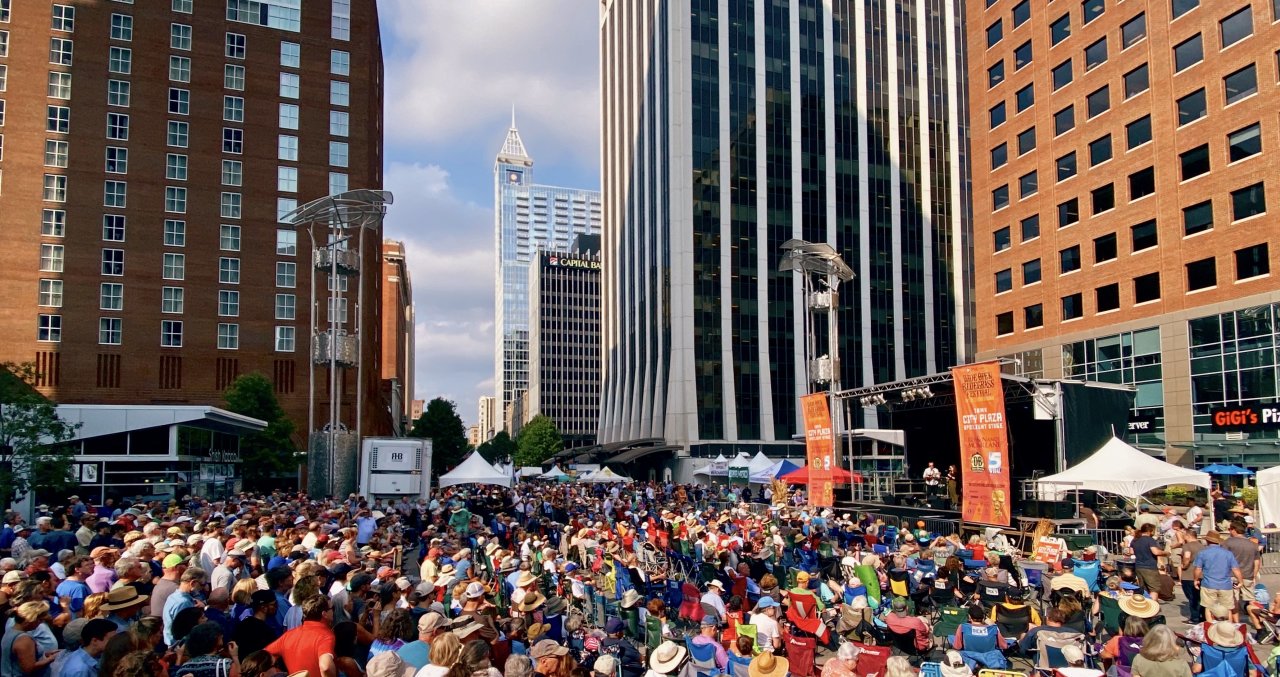 Biggest Week in Bluegrass sees increase in overnight visitation and
largest economic impact to-date

Raleigh, N.C. (Nov. 6, 2019) – The International Bluegrass Music Association's (IBMA) World of Bluegrass, brought to you by Chiesi USA, and PNC presents Wide Open Bluegrass festival saw a combined attendance of 218,301 in their seventh year in Raleigh. This year's festivities also generated $18.65 million in direct economic impact within Wake County, the highest single-year total yet according to figures released today by the Greater Raleigh Convention and Visitors Bureau (Visit Raleigh). The events held from Sept. 24-28 this year included: the three-day IBMA Business Conference and Music Expo, the International Bluegrass Music Awards Show, Bluegrass Ramble and the two-day festival, which also included the North Carolina Pork Council's 2019 Whole Hog Barbecue State Championship.
It is important to note that the $18.65 million is a conservative estimate that does not include locals' spending, nor does it include a multiplier of indirect or induced impacts. It represents tourism economic impact only, which is new money coming into the local economy.
A new format was implemented this year for the PNC presents Wide Open Bluegrass festival allowing all shows at Red Hat Amphitheater to be open to the public for free. This marked the first time all eight stages and 100+ live performances during the PNC presents Wide Open Bluegrass Festival were available for free.
"It is gratifying to see our close partnership with Raleigh continue to benefit both the bluegrass music community and the Greater Raleigh area in many ways. We are proud to see our new 'Mission Forward' model successfully make the festival more accessible to everyone in year one," said IBMA Executive Director Paul Schiminger. "As we've said all along, we will continue to fine-tune and evolve the festival so that it keeps pace with the growing needs of the increasingly large and diverse bluegrass community."
"This year's increase in economic impact can be attributed in large part to a five percent increase in overnight visitation," said Loren Gold, executive vice president of the Greater Raleigh Convention and Visitors Bureau (Visit Raleigh) and tri-chair of the Raleigh Local Organizing Committee. This is great news as it shows the event continues to draw more visitors from around the world each year and is truly the signature event for Raleigh we felt it could become from day one. With more than 218,000 attendees this year it's still the largest multi-day festival held in Greater Raleigh annually and has become a 'homecoming' for many in the Bluegrass community."
Last year, the IBMA and Raleigh Local Organizing Committee – made up of the City of Raleigh, Greater Raleigh Convention and Visitors Bureau (Visit Raleigh), PineCone—the Piedmont Council of Traditional Music and the Raleigh Convention Center – announced a three-year extension to keep the event in Raleigh, N.C. through 2021.


About IBMA
IBMA – the International Bluegrass Music Association – is the professional trade organization for the global bluegrass music community. The organization's nine-year stay in Raleigh (contracted through 2021) is the result of a partnership with Greater Raleigh Convention and Visitors Bureau (Visit Raleigh), the Raleigh Convention Center, PineCone—the Piedmont Council of Traditional Music, the City of Raleigh and a local organizing committee. IBMA.org.

About the Greater Raleigh Convention and Visitors Bureau (Visit Raleigh)
As the official destination marketing organization for Wake County, the Greater Raleigh Convention and Visitors Bureau (Visit Raleigh), is responsible for promoting Wake County as an attractive travel destination and enhancing its public image as a dynamic place to live and work. Through the impact of travel, the organization strengthens the economic position of and provides opportunities for people throughout Wake County. Raleigh, N.C./Wake County welcomes nearly 17 million visitors annually whose spending tops $2.7 billion. The visitor economy supports more than 27,000 local jobs in Wake County and generates $268 million in state and local tax revenues, saving each Wake County household $700 in taxes annually. VisitRaleigh.com.

About PineCone
PineCone, the Piedmont Council of Traditional Music, is the largest, most active presenter of home-grown music in the state. Founded in 1984 with a mission to preserve, present and promote all forms of traditional music, dance and other folk performing arts, PineCone programs highlight and celebrate the rich and diverse musical heritage of Raleigh and the greater Piedmont region by focusing on music traditions that have been passed down informally through generations within our various cultural communities. PineCone presents more than 200 programs annually, including concerts, youth programs, participatory jams and sessions, workshops, documentary projects, a weekly radio show and more. Since 2013, PineCone has served as the official Local Host organization for the International Bluegrass Music Association (IBMA) and its World of Bluegrass conference, and as the producers of the two-day PNC presents Wide Open Bluegrass festival. Pinecone.org.

About the Raleigh Convention Center
The LEED Silver-certified Raleigh Convention Center is a bustling hub for the culture, commerce and technologies that make Raleigh one of the most admired and sought-after regions in the United States. Our modern 500,000 square-foot facility includes a stunning granite lobby with dramatic windows and downtown views, an elegant 32,000-square-foot ballroom and a massive 150,000-square-foot exhibit hall, all with outstanding tech amenities and award-winning culinary delights. The center has welcomed over 4.5 million visitors since its opening in September 2008. RaleighConvention.com.

Contact:
Scott Peacock, Visit Raleigh
919.645.2676
speacock@visitraleigh.com
# # #