Omni Debuts in Raleigh With New Convention Center Hotel
Tuesday, September 19, 2023, 3pm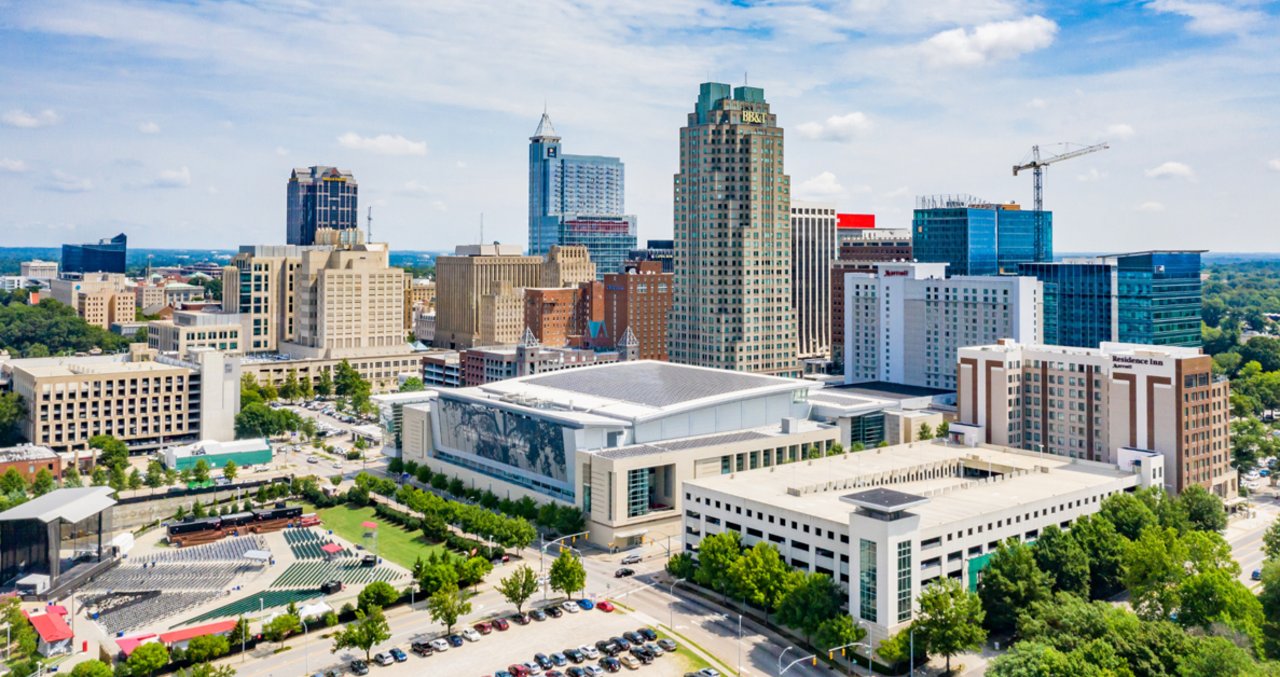 550-Room Addition to Raleigh's Burgeoning Convention Center Campus
Raleigh, N.C. (Sept. 19, 2023) – The Raleigh City Council voted today to direct the City of Raleigh staff to enter into negotiations with Omni Hotels & Resorts, in partnership with Preston Hollow Community Capital and Provident Resources Group, to develop the highly anticipated convention hotel in the core of downtown Raleigh. The dynamic addition to the Raleigh skyline will be built on an over one-acre lot across from the Raleigh Convention Center and Martin Marietta Center for the Performing Arts at the end of Fayetteville Street. Expected to open in 2027, the Omni Raleigh Hotel will be a great addition to Omni's growing portfolio of over 50 luxury hotels.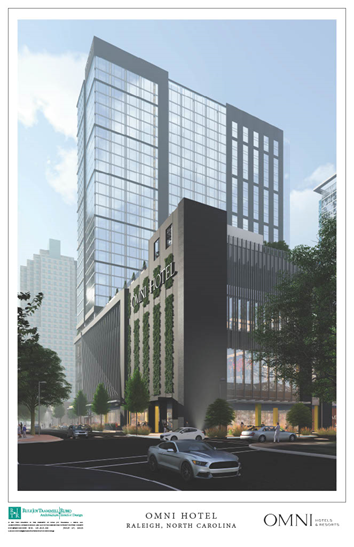 This will be the third Omni property in the state of North Carolina and the first for the capital city. The Omni Raleigh Hotel is anticipated to include 550 guest rooms and 55,000 square feet of meeting space, which will allow for larger events to take place downtown and support the growth of the Raleigh Convention Center expansion. The hotel will also feature several food and beverage outlets, a rooftop pool, a signature Mokara spa and a fitness center.
"This is a tremendous opportunity for the City of Raleigh and Wake County. We've been envisioning a new convention center hotel downtown for years. We are now one step closer to making it happen," said Raleigh Mayor Mary-Ann Baldwin. "This opens up endless possibilities for more conferences, more conventions and more events at the Raleigh Convention Center. And the economic benefits cannot be overstated."
"The market has outgrown the available hotel room blocks within walking distance of the Raleigh Convention Center, limiting availability for incoming meetings, conventions and sports groups," said Kerry Painter, General Manager and Director of The Complex, which manages the Raleigh Convention Center, Red Hat Amphitheater, Martin Marietta Center for the Performing Arts, and Coastal Credit Union Music Park at Walnut Creek.
Wake County's Destination Strategic Plan 2028 included a recommendation for a full-service convention hotel with a minimum of 500 rooms to help increase tourism and promote economic development for the area. Plans are also underway for a Raleigh Convention Center expansion. The increase in downtown room inventory will assist in recruiting larger and more frequent conventions to the area.
"We are thrilled to be joining the downtown community in Raleigh and are inspired by its continued economic growth. Omni Hotels & Resorts is committed to providing elevated hospitality experiences which align with this dynamic destination," said Kurt Alexander, President of Omni Hotels & Resorts. "It is an honor to be entrusted by the City of Raleigh to develop and manage this property while forging unique and authentic connections with the local community."
"This hotel is a key piece to Raleigh's economic development plan for the area and it's exactly the type of community priority that we like to finance because of the opportunities it creates for the citizens of Wake County. We're proud to invest our capital and know-how into this visionary project," said Ramiro Albarran, Co-Head of Originations for Preston Hollow Community Capital.
"Provident is honored to have the opportunity to work with the City of Raleigh and our partners at Omni and Preston Hollow to make this long-awaited project a reality for this thriving community, and to be part of the continued evolution of the downtown corridor in the state's capital city," said Chris Hicks, President of Provident.
"We look forward to working with Omni and the City of Raleigh to tell the story of Raleigh through design features and themes of this new property to showcase all our area has to offer," said Dennis Edwards, President and CEO of Visit Raleigh. "With Omni's expertise in the meetings and the convention market, this new convention center hotel will undoubtedly boost visitation across all travel segments and be a welcomed asset to the convention center campus."
About the Greater Raleigh Convention and Visitors Bureau (Visit Raleigh):
As the official destination marketing organization for Wake County, the Greater Raleigh Convention and Visitors Bureau (Visit Raleigh), is responsible for promoting Wake County as an attractive travel destination and enhancing its public image as a dynamic place to live and work. Through the impact of travel, the organization strengthens the economic position of and provides opportunity for people throughout Wake County. Raleigh, N.C./Wake County welcomes nearly 18 million visitors annually whose spending tops $3 billion. The visitor economy supports over 24,500 local jobs in Wake County and generates $287 million in state and local tax revenues, saving each Wake County household $601 in taxes annually. visitRaleigh.com
About Omni Hotels & Resorts:
Omni Hotels & Resorts creates genuine, authentic guest experiences at over 50 distinct hotels and resorts in the most popular leisure and business destinations across the United States, as well as in Canada. With 26 iconic golf courses, including multiple short courses, 25 award-winning spas featured in dynamic locales nationwide, every Omni proudly opens its doors to share the true spirit of its destination.  Omni Hotels & Resorts is the official hotel of the PGA TOUR® and PGA of America. For information or to book accommodations, visit omnihotels.com or call 1-800-The-Omni.
About Preston Hollow Community Capital:
Preston Hollow Community Capital is a market leader in providing specialized impact finance solutions for projects of significant social and economic importance to local communities in the United States. The Company invests in bespoke municipal finance transactions with a diversified investment portfolio. PHCC has invested over $4.8 billion since its inception across various sectors of the municipal bond market, including real estate, K-12 and higher education, healthcare, infrastructure, hospitality, general government, and economic development. Visit phccap.com
About Provident Resources Group:
Provident is a national non-profit organization, formed in 1999, committed to making a positive impact in communities across the country through the development, ownership and operation of state-of-the-art hospitality, educational, healthcare, and governmental facilities. With offices in Raleigh and Baton Rouge, Provident has accessed over $5.3 billion in capital to fund its mission-based projects in 27 states, including North Carolina, over the last 24 years.
Media Contacts:
Visit Raleigh
Jessica Holt
Director of Public Relations
jholt@visitRaleigh.com
City of Raleigh
Julia Milstead
Public Information Officer
julia.milstead@raleighnc.gov
Omni Hotels & Resorts
Tiffani Cailor Torrence
Director Corporate Communications | Public Relations
tiffani.cailor@omnihotels.com
# # #