Premier Lacrosse League Announces Games in North Carolina
Wednesday, March 11, 2020, 12pm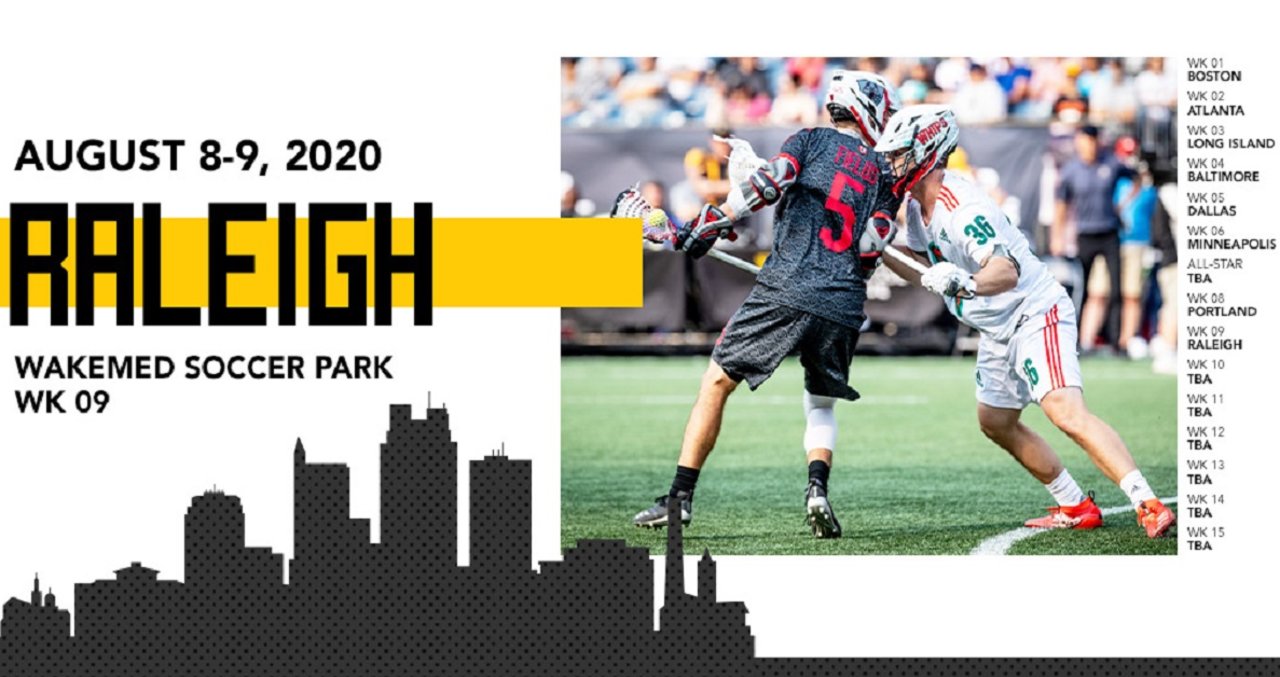 UPDATE: The Premier Lacrosse League (PLL) announced the postponement of the 2020 regular season on April 10, and has since launched the PLL Championship Series Powered by Ticketmaster. 
LOS ANGELES, CA. (March 11, 2020) — The Premier Lacrosse League (PLL) announced this morning that the league will be visiting North Carolina during the 2020 season. WakeMed Soccer Park in Cary, NC will host three regular season matchups on Saturday, August 8 and Sunday, August 9.
"We are thankful to the team at WakeMed Soccer Park for giving us a gorgeous venue to showcase the PLL and give our fans the best lacrosse-viewing experience possible," says PLL Co-Founder and CEO Mike Rabil. "North Carolina is a state that has been yearning for pro lacrosse, where residents in the area continue to vocalize their support of the PLL. We're eager to bring the best game and players in the world to an anticipated energizing crowd at WakeMed."
"The Triangle Region of North Carolina has become a hotbed for lacrosse. With nearly 80 boys and girls high school programs and a rich collegiate history, some of the sport's most passionate fans can be found here, and for that reason, we're thrilled Premier Lacrosse League has chosen the Town of Cary to host a tour stop this season," said Greater Raleigh Sports Alliance (GRSA) Associate Director Jason Philbeck. "Everyone who attends the matches at WakeMed Soccer Park or watches via the NBC Sports Network will be in for a treat. As one of the best natural grass playing surfaces in the nation, the venue is perfect for the PLL and will provide a memorable experience for both the teams and fans."
"We are very excited to welcome the PLL to WakeMed Soccer Park and the Town of Cary. WakeMed has a long history of hosting unique events such as the PLL and we look forward to working with the staff and management team from the PLL to create an exciting atmosphere that showcases the very best in the professional lacrosse world," says Doug McRainey, Parks, Recreation and Cultural Resources Director for the Town of Cary. "WakeMed Soccer Park is a perfect venue to host the PLL."
WakeMed Soccer Park is the ninth location to be announced for the 2020 PLL season. This stop in Cary will follow weekends at Gillette Stadium (Foxborough, MA), Fifth Third Bank Stadium (Atlanta, GA), LaValle Stadium (Stony Brook, NY), Homewood Field (Baltimore, MD), Ford Center at the Star (Dallas, TX), TCO Stadium (Minneapolis, MN), OC Great Park (Los Angeles, CA) and Providence Park (Portland, OR). The 2020 season is scheduled to begin on May 29 and will be distributed via an exclusive media rights deal with NBC Sports. Games will be shown throughout the summer on a combination of NBC, NBCSN and NBC Sports Gold, the network's direct-to-consumer streaming platform.
For more information about the PLL and the games visit www.premierlacrosseleague.com.
 
ABOUT PREMIER LACROSSE LEAGUE
The Premier Lacrosse League (PLL) brings the sport of lacrosse to a national stage for the first time through a tour-based model, complete with the best players the sport has to offer. Co-founded by lacrosse superstar, philanthropist and investor Paul Rabil and his brother, serial entrepreneur and investor, Mike Rabil, the Premier Lacrosse League is backed by an investment group comprised of The Raine Group, Joe Tsai Sports, Brett Jefferson Holdings and Creative Artists Agency (CAA). The upcoming 2020 season is scheduled to begin on May 29 with the season culminating with a Championship Game on September 20. The PLL season is distributed through an exclusive media-rights agreement with NBC Sports Group. For more information, visit www.premierlacrosseleague.com and follow on social media: Instagram (@PLL), Twitter (@PremierLacrosse), Facebook (@PremierLacrosseLeague) and YouTube (YouTube.com/PLL).
ABOUT WAKEMED SOCCER PARK
WakeMed Soccer Park is a 150-acre multipurpose sports venue with a 10,000 seat main stadium in the Town of Cary, just west of Raleigh. Throughout its 18 year history, WakeMed Soccer Park has hosted numerous professional and amateur events such as US Soccer National Team Matches, CONCACAF Women's World Cup Qualifiers, NCAA and ACC Soccer Championships, NACRA Rugby 7's Olympic Qualifiers as well as the NWSL Women's Soccer Championship. It's perfectly manicured pitch is renowned around the United States for its turf quality.
###