Raleigh Convention Center Expands Sanitization Protocol and Begins GBAC STAR Accreditation
Wednesday, June 10, 2020, 8am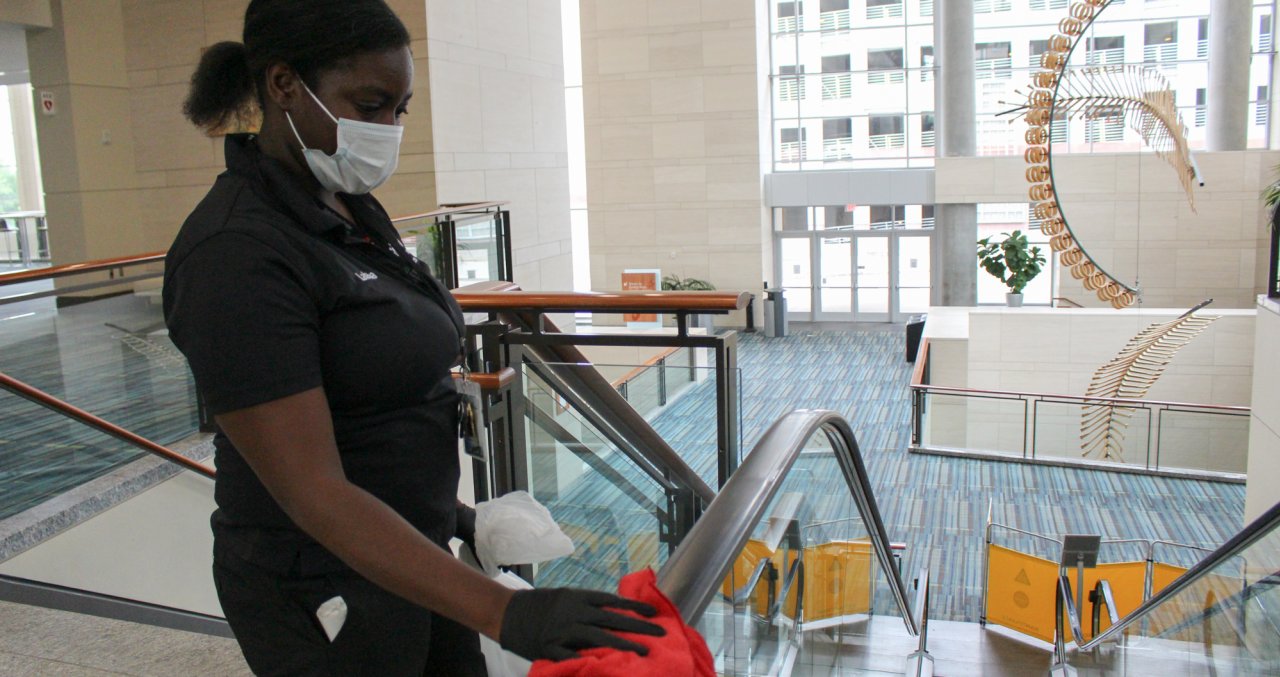 Rigorous procedures introduced in preparation for reopening
Raleigh, N.C. (June 10, 2020) – The Raleigh Convention Center (RCC) has strengthened its commitment to ensuring a safe environment through its pursuit of the Global Biorisk Advisory Council (GBAC) STAR™ accreditation, expanding facility cleaning methods and increasing its meticulous catering and food operations.
 is the cleaning industry's only outbreak prevention, response, and recovery accreditation program for public and commercial facilities. Its 20 elements establish requirements for facilities to implement the highest standards of work practices, protocols, procedures, and systems to control risks associated with infectious agents, such as SARS-CoV-2, the virus responsible for COVID-19. RCC will be creating foundational communications for informing all stakeholders around the ongoing and rigorous steps being taken around cleanliness, disinfection, and infectious disease prevention. GBAC STAR is administered by GBAC, a division of ISSA, the worldwide cleaning industry association.
In addition to participating in this prestigious accreditation program, RCC is taking the following measures:
elevate training for team members
introduce new, targeted disinfectant solutions including EPA-registered List N Disinfectants, which meet the criteria for use against the SARS CoV-2, the virus that causes COVID-19
expand the number of sanitizer stations
establish CDC-recommended employee wellness screenings upon arrival
require gloves and masks for staff
increase intensity and frequency of the building's cleaning and disinfecting  
"Establishing protocol that meets and sometimes exceeds CDC recommendations is our top priority. As excited as we are to reopen our doors, we are adamant about first taking extra precautions to protect our attendees, performers, meeting and event planners, stakeholders and employees," said Kerry Painter, CFE/CEM/CMP, Director/General Manager of the Raleigh Convention and Performing Arts Complex. 
Kerry Painter serves as Chair of NC Live, a coalition providing guidance and best practices across the state for safe reopening of venues and facilities. Leaders of arts and entertainment venues in Charlotte, Greensboro, Durham, Raleigh and Wake County have taken tangible actions to develop procedures to safely welcome back fans to concerts, performances and comedy events in the future. In total, the 18 venues in the coalition received over 3.3 million patrons during more than 2,500 performances in 2019. 
Media Contact
Sarah Bruckner, Clean Inc.
626.379.9829
sbruckner@cleaninc.com
About Raleigh Convention Center
The LEED Silver-certified Raleigh Convention Center is a bustling hub for the culture, commerce, and technologies that make the Triangle one of the most admired and sought-after regions in the United States. Its modern 500,000 ft2 facility includes a stunning granite lobby with dramatic windows and downtown views, an elegant 32,000 ft2 ballroom, and a massive 150,000 ft2 exhibit hall, all with outstanding tech amenities and award-winning culinary delights. The center has welcomed over 4.5 million visitors since its opening in September 2008.
About Global Biorisk Advisory Council
Composed of international leaders in the field of microbial-pathogenic threat analysis, mitigation, response, and recovery, the Global Biorisk Advisory Council (GBAC), a Division of ISSA, provides training, guidance, accreditation, certification, crisis management assistance, and leadership to government, commercial and private entities looking to mitigate, quickly address, and/or recover from biological threats and real-time crises. The organization's services include biorisk management program assessment and training, Forensic Restoration® response and remediation, the GBAC STAR™ facility accreditation program, training and certification of individuals, and consulting for building owners and facility managers. For more information, visit www.gbac.org.
###