Raleigh, N.C., Named SportsTravel Best Host City at TEAMS '22
Wednesday, October 26, 2022, 4pm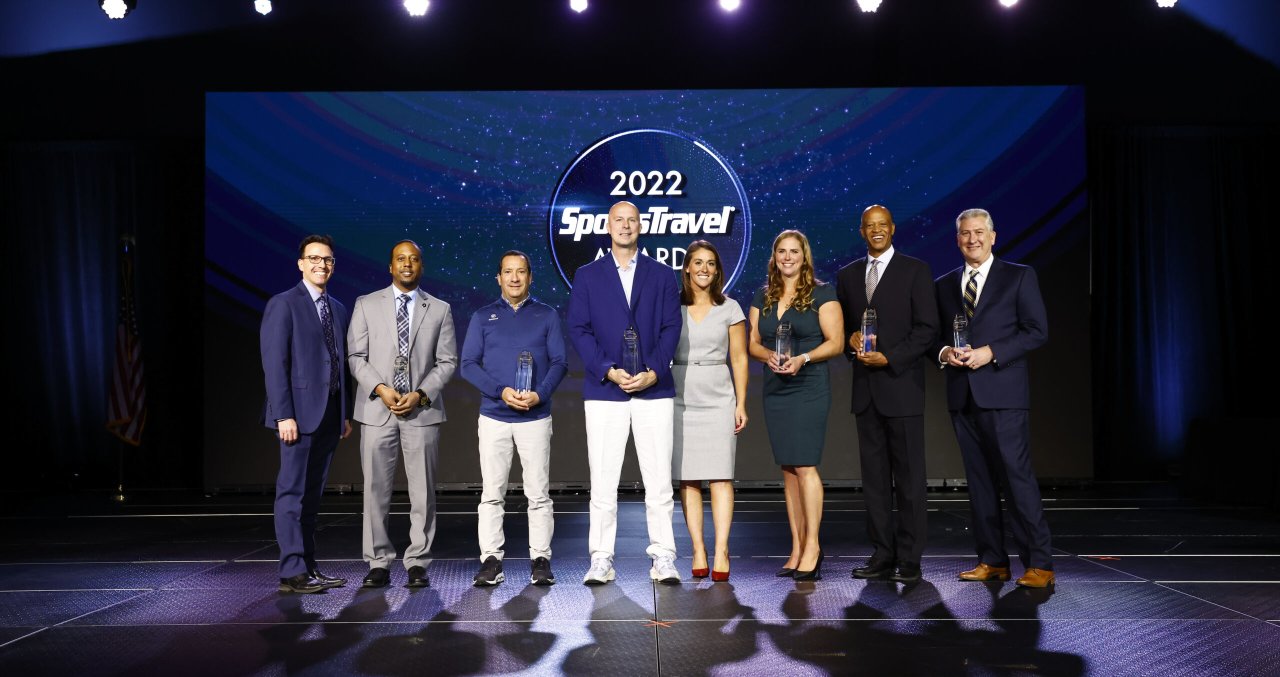 Raleigh, N.C. (October 26, 2022) – Today, SportsTravel Magazine announced the winners of the 2022 SportsTravel Awards during the TEAMS '22 Conference & Expo in Oklahoma City, Oklahoma, honoring the best events, venue and host city in the sports-event industry.
Raleigh, N.C., was selected as Best Host City. The Greater Raleigh Sports Alliance (GRSA) and destination partners hosted the NCAA Men's College Cup, NCAA Women's Basketball First Four and First/Second Rounds, an NCAA Women's Gymnastics Regional, the NCAA Division II Baseball World Series, the BODYARMOR State Games of North Carolina, Spikeball College Nationals, the 2022 Apex Legends Global Series Championship, 12 NCHSAA state championships and dozens of regional youth tournaments in the past year.
TEAMS: Travel, Events And Management in Sports, is the world's largest gathering of event organizers and travel planners from the sports industry. TEAMS '22 was held at the Oklahoma City Convention Center. The National Congress of State Games also announced the winners of its Athlete of the Year awards during the awards ceremony. And the United States Olympic and Paralympic Committee and Compete Sports Diversity recognized individuals and organizations for their diversity efforts. Visit Raleigh President and CEO Dennis Edwards was on-site to receive this award on behalf of the Greater Raleigh area.
"We are honored to accept this award on behalf of our destination at this year's TEAMS Conference," said Scott Dupree, executive director of the Greater Raleigh Sports Alliance (GRSA). "Our greatest strength is our local host partners, and our people. They are the absolute best, second-to-none. The work we do would not be possible without the passion and commitment from our talented partners. The sports tourism industry in Wake County is stronger than ever, and this award reflects that."
Other 2022 SportsTravel Award winners were:
"The SportsTravel Awards recognize the stars of the sports-event industry," said Jason Gewirtz, vice president of the Sports Division of Northstar Travel Group, which publishes SportsTravel magazine and organizes the TEAMS Conference & Expo. "As events began to come back in 2022, we were thrilled to see hundreds of worthy events nominated for this year's awards. The winners in each category exemplify everything that we love about the sports-event industry and underscore the resiliency and power of the sports-related travel market."
The SportsTravel Awards are nominated and voted on by the readers of SportsTravel. Criteria for nomination and voting for the 2022 SportsTravel Awards program included events that occurred or venues that opened between August 1, 2021, and July 31, 2022.
Hosted by Visit OKC, TEAMS '22 was held October 24–27, in Oklahoma City, Oklahoma. For more information, please visit TEAMSconference.com.
About the Greater Raleigh Sports Alliance (GRSA):
A division of the Greater Raleigh Convention and Visitors Bureau (Visit Raleigh) – the Greater Raleigh Sports Alliance (GRSA) markets and promotes Raleigh and all of Wake County in order to generate and/or retain sports-related businesses (tournaments, championships, special events and meetings) for the purpose of economic development. Raleigh, N.C./Wake County welcomes nearly 16 million visitors annually whose spending tops $2.3 billion. The visitor economy supports more than 21,000 local jobs in Wake County and generates $243 million in state and local tax revenues, saving each Wake County household $592 in taxes annually. raleighsports.org
Media Contact:
Greater Raleigh Convention and Visitors Bureau (Visit Raleigh)
Jessica Holt
Director of Public Relations and International Tourism
919.645.2654
jholt@visitRaleigh.com
# # #