Raleigh, N.C., to Become Center of Soccer Universe Over Next Month
Thursday, November 07, 2019, 3pm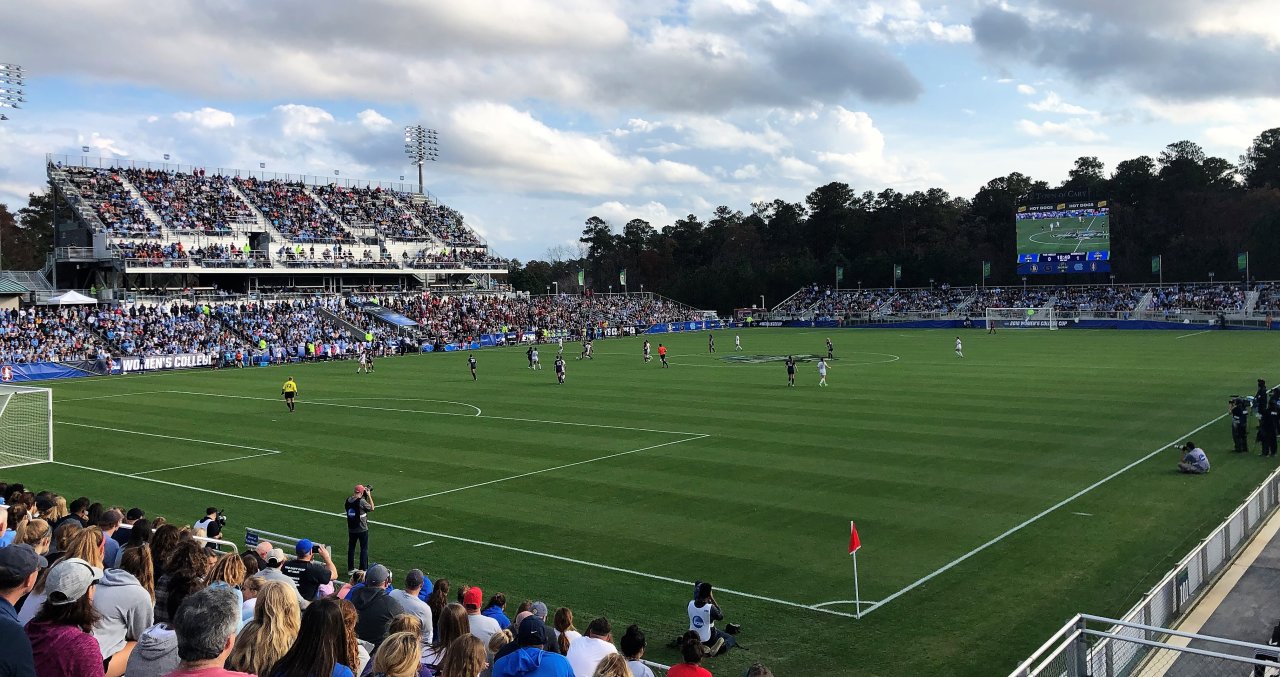 Area to host visitRaleigh.com Showcase Series, ACC Soccer Championships and NCAA Division I Men's National Championship generating more than $24 million in total economic impact
Raleigh, N.C. (Nov. 7, 2019) – Coming off the heels of successfully hosting the Women's International Champions Cup earlier this summer and the NWSL Championship just last month, the Greater Raleigh area and specifically the Town of Cary will once again become the center of the soccer universe. Over the next month, several preeminent youth and collegiate events will take place including NCFC Youth's visitRaleigh.com Showcase Series, ACC Women's and Men's Soccer Championships and the NCAA Division I Men's Soccer Championship (College Cup) all between November 8 and December 15. Combined these events are expected to generate more than $24.8 million in direct economic impact throughout Wake County and the surrounding area.
The Triangle has a history of successful soccer programs. From the dynasty built by Anson Dorrance and the Tar Heels dating back to 1981 for their first of 22 National Championship women's soccer titles, to the rebrand of the Carolina RailHawks to North Carolina Football Club, the relocation (and renaming) of the NC Courage - who are now back-to-back National Women's Soccer League Champions – and the hosting of U.S. National Team games at WakeMed Soccer Park.
The Triangle is also home to one of the largest and oldest youth soccer clubs in the country, NCFC Youth. Since 1974 the organization has provided positive youth soccer opportunities to players of all ages and skill levels. In that time, it's on-field success includes hundreds of players committing to play college soccer, youth National Championships, State Championships, US Youth National Team Players and full US National Team players. The organization has also provided one of the best platforms for youth soccer players to be recruited to play in college via the visitRaleigh.com Showcase Series, which will kick-off this weekend.   
As the largest youth sporting event held in the Triangle, NCFC Youth's visitRaleigh.com Showcase Series brings in 1,465 teams from across the country to compete over four weekends of play, as well as approximately 1,000 college coaches expected to be in attendance for recruiting purposes. Matches will be played at 29 venues throughout Wake County and surrounding areas, with WRAL Soccer Park (a 22-field complex) serving as the primary competition site. Attendees will also utilize more than 70 hotels throughout Wake County.
"We are excited to kick-off this five-week stretch that will bring more than 70,000 visitors to our area for soccer," said Gary Buete, NCFC Youth CEO. "This is our 39th year hosting the visitRaleigh.com Showcase Series, and the event has grown over the years thanks in part to the growth of our local hospitality industry, field development and support from our community. Our area has a rich history of soccer, and we look forward to being part of the continued growth of the sport in our area."
In conjunction with the visitRaleigh.com Showcase Series, the Town of Cary, NCFC Youth and the Greater Raleigh Sports Alliance (GRSA) will host the ACC Women's Soccer Championship (semi-finals and finals) on November 8 and 10 and ACC Men's Soccer Championship on November 17 at Sahlen's Stadium at WakeMed Soccer Park. This marks the 25th time that an ACC Soccer Tournament (Men's or Women's) has been held at WakeMed Soccer Park. A total of 10 players from NCFC Youth are rostered on UNC (9) and NCSU (1) playing in this weekend's ACC Women's Championships.
The final event to take place will be the NCAA Division I Men's Soccer Championship (College Cup), which will be hosted at Sahlen's Stadium at WakeMed Soccer Park December 13 and 15, with Campbell University serving as the local host institution. This year marks the 13th time WakeMed Soccer Park and the Town of Cary have hosted the NCAA Men's or Women's College Cup.
"From youth, to high school, to club, to college, to professional teams and international exhibition games, the Greater Raleigh area has the infrastructure to host the highest levels of soccer competition," said Tori Collins, Director of the Greater Raleigh Sports Alliance (GRSA). "The local host partners do an unbelievable job planning and preparing for this upcoming stretch of nonstop soccer. We're excited to showcase all that our region has to offer players, coaches and spectators alike over these next few weekends."

Here is the complete lineup of the events:

About the Greater Raleigh Sports Alliance (GRSA):
A division of the Greater Raleigh Convention and Visitors Bureau (Visit Raleigh) - the Greater Raleigh Sports Alliance (GRSA) markets and promotes Raleigh and all of Wake County in order to generate and/or retain sports-related businesses (tournaments, championships, special events and meetings) for the purpose of economic development. Raleigh, N.C./Wake County welcomes more than 16 million visitors annually whose spending tops $2.5 billion. The visitor economy supports more than 26,170 local jobs in Wake County and generates more than $250 million in state and local tax revenues, saving each Wake County household $671 in taxes annually. raleighsports.org
About North Carolina FC Youth:
Founded in 1974, North Carolina FC Youth is a 501(c)3 non-profit organization based in Raleigh, NC committed to providing positive, high quality soccer opportunities at all levels of play for youth and their families and to serve as a valuable community partner. With nearly 13,500 players and more than 1,000 coaches, it is the largest club in North Carolina offering a full spectrum of soccer programs including recreation, youth academy, challenge, classic, Elite Clubs National League, US Development Academy, and community outreach programs. Through innovative soccer programming, player development opportunities, and a focus on coaching education, NCFC Youth creates an environment for both players and coaches alike to grow on and off the field. ncfcyouth.com
Media Contacts:
Greater Raleigh Sports Alliance (GRSA)
Scott Peacock, Director of Public Relations
919.645.2676
speacock@visitRaleigh.com
NCFC Youth
Katharine Eberhardt, Business Development Director
919.757.2749
Katharine.Eberhardt@NCFCyouth.com
# # #