Raleigh Parks Entice Travelers to Go Outside and Play
Friday, September 20, 2019, 11am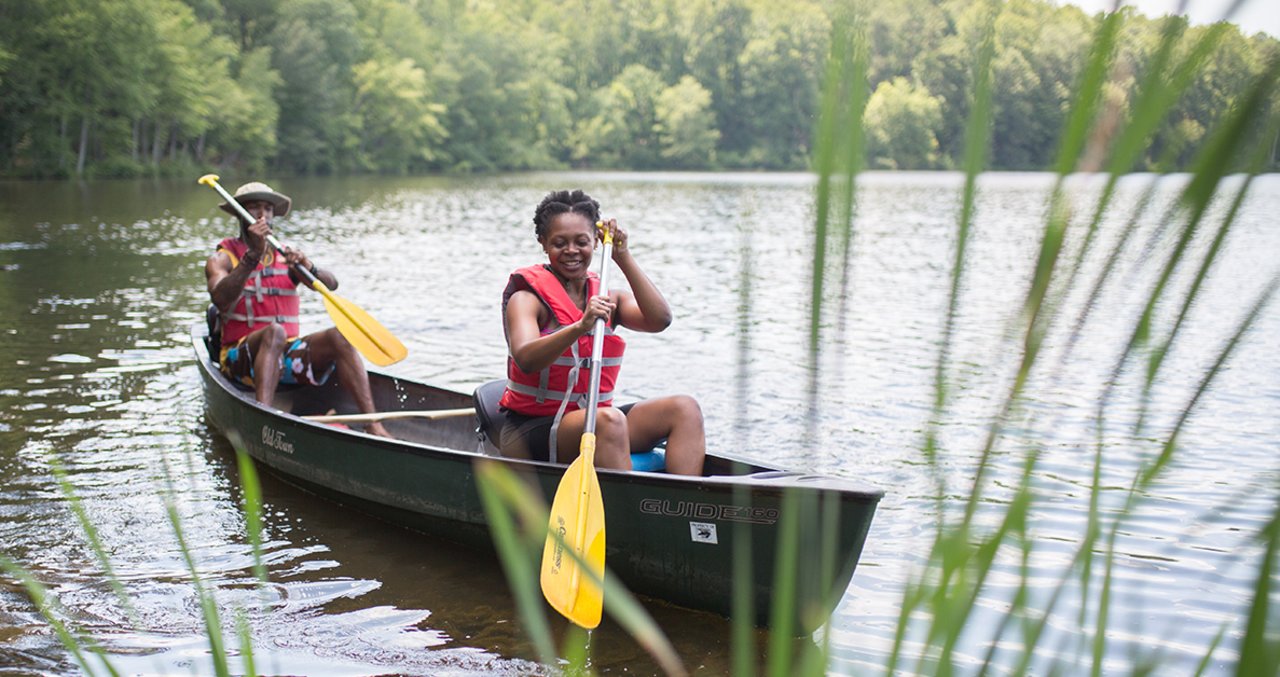 North Carolina's Capital City is home to some of the South's coolest parks
Raleigh, N.C. (Sept. 2019) – Parks packed with art, history and countless recreational pursuits beckon kids and adults alike to get out and play in Raleigh. Options abound; highlights follow.
Moore Square: historic park reopened Aug. 3, 2019
One of four public green spaces designated by Raleigh's founding fathers in 1762, Moore Square reopened to the public on Aug. 3rd following an 18-month, $12 million renovation. In a tribute to local history, walkways through the four-acre park are meant to mimic the natural paths that were created and used in the early 1900s to get from the integrated City Market and historic black South Park neighborhood to E. Hargett St. New to the renovated park are a 1,000-square-foot outdoor cafe, tree house-style natural play space, splash pad water feature, and public art.
Dorothea Dix Park: America's largest park project receives Master Plan approval
The largest park project in the U.S. has received Master Plan approval on the transformation of a 300-acre land parcel in the heart of Raleigh. The ambitious project includes a psychiatric hospital-turned-boutique hotel; botanical gardens; arts space; sports courts; a community incubator; and an old rail line on-site repurposed to link various park sections. Phase one project details and timing anticipated late this year.
Pullen Park: one of the world's oldest operating amusement parks
Established in 1887, this local gem is one of the world's oldest operating amusement parks (fifth oldest in the U.S., 16th in the world) and is North Carolina's first public park. Amusements include an original 1911 Gustave A. Dentzel Menagerie Carousel, C.P. Huntington Train, pedal boats on Lake Howell, an arts center and performing arts venue, plus a cafe, tennis courts and ball fields.
Ann & Jim Goodnight Museum Park: largest museum park in America
Considered the largest museum park in America, the Ann and Jim Goodnight Museum Park encompasses 164 acres of fields, woodlands and creeks where art blends with nature. Featured here are installations by international artists, environmentally sustainable landscapes, colorful and contemporary gardens, a terraced pond and miles of recreational trails.
State Parks: William B. Umstead and Falls Lake
        William B. Umstead is North Carolina's number one most visited state park, its popularity due in great part to vast recreational opportunities. The park features 22 miles of forested hiking trails, 13 miles of horseback and mountain bike trails, and three manmade lakes with the largest offering canoe and rowboat rentals. 
        Falls Lake State Recreation Area encompasses seven access points across the shoreline of an undeveloped, 12,000-acre reservoir. Recreational pursuits include five swim beaches, boating ramps, 300 campsites and an impressive network of trails including portions of the Mountains-to-Sea State Trail.
Historic Yates Mill County Park
Home to a fully restored 18th century water-powered gristmill, this 174-acre wildlife park also features extensive hiking trails, a visitor center with milling museum, and the mill's 24-acre pond. Guided mill tours are offered Saturdays March through November, for a small mill maintenance fee.
Robertson Millpond Preserve
This 85-acre blackwater swamp property is the area's only bald cypress habitat, creating a serene, forest-like setting for canoeing, kayaking and paddle boarding.  The millpond was created in the 1820s by a gristmill operator and is today recognized as a Wetland Treasure by the Carolina Wetlands Association.
 
About the Greater Raleigh Convention and Visitors Bureau (Visit Raleigh):
As the official destination marketing organization for Wake County, the Greater Raleigh Convention and Visitors Bureau (Visit Raleigh), is responsible for promoting Wake County as an attractive travel destination and enhancing its public image as a dynamic place to live and work. Through the impact of travel, the organization strengthens the economic position of and provide opportunity for people throughout Wake County. Raleigh, N.C./Wake County welcomes nearly 17 million visitors annually whose spending tops $2.7 billion. The visitor economy supports more than 27,000 local jobs in Wake County and generates $268 million in state and local tax revenues, saving each Wake County household $700 in taxes annually. visitRaleigh.com.
Media Contact:
Jessica Holt
919.645.2654
jholt@visitRaleigh.com
# # #