Raleigh's Largest Esports Event Generates $1.45 Million in Economic Impact and Drives Employment
Wednesday, October 09, 2019, 10am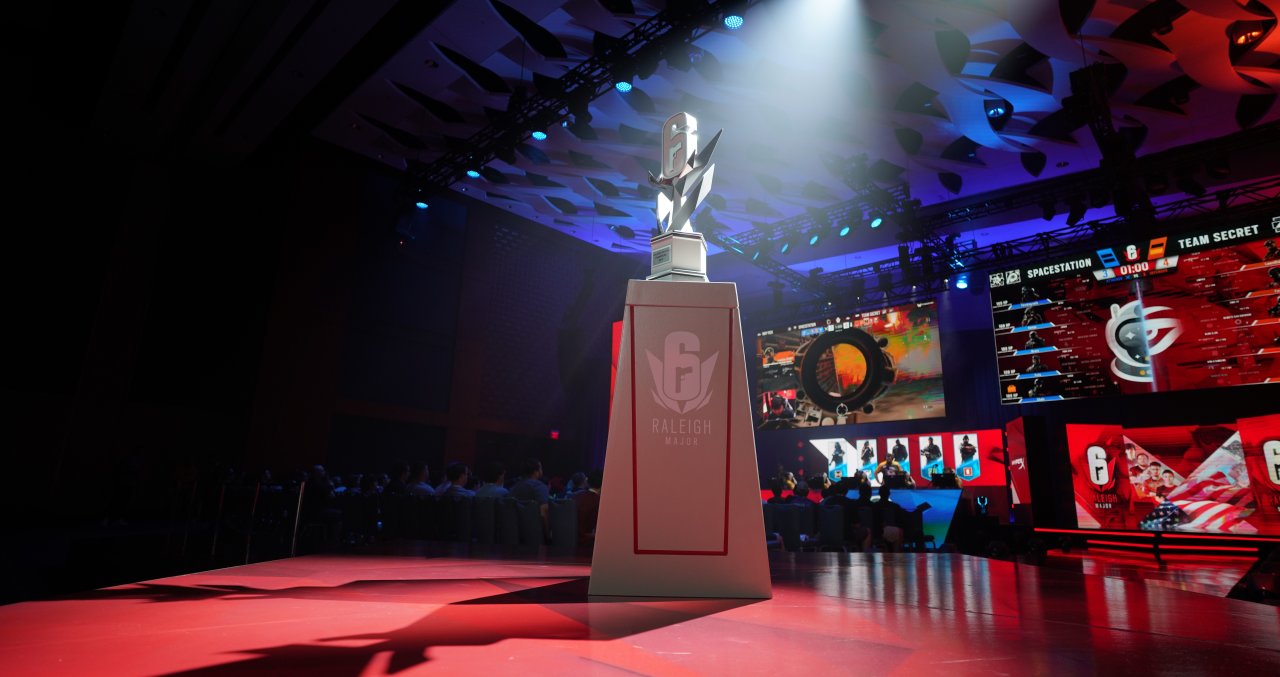 The Six Major Raleigh Draws A Sold-Out Crowd With 2.6K Daily Attendees; 
Generates Over 1,000 Inquiries for Local Video Game Industry Jobs;
Garners Participation From Pepsi, Celito.net and Local Educational Institutes
Los Angeles, Calif., and Raleigh, N.C. (Oct. 9, 2019) – The Greater Raleigh Esports Local Organizing Committee – made up of the Greater Raleigh Convention and Visitors Bureau (Visit Raleigh), the Greater Raleigh Sports Alliance (GRSA) and media and esports agency Big Block – today released a report detailing the success and impact of hosting the R6 Raleigh Major last month. The inaugural event unlocked $1.45 million in direct economic impact for Greater Raleigh, generating over 1,000 job inquiries, attracting more than 2,600 daily attendees, with over 70% of them traveling from other states and countries. Additionally, the event was broadcast to a global audience on Twitch in 15+ languages, garnering more than 16 million livestream views and over 6 million total hours watched.
"As esports grows, we believe that Greater Raleigh can serve as a global hub for the whole industry. Our motto is Play. Watch. Make., which means that the Greater Raleigh community not only plays and watches esports, but we also make and design the software and technologies that help power the global esports industry," said Loren Gold, Executive Vice President of the Greater Raleigh Convention and Visitors Bureau (Visit Raleigh). "With five major game publishers and companies like Lenovo, Red Hat and SAS in our community, we have both the high demand and modern capacity that global esports organizations are looking for in a host city. Combine this with our active local and regional gaming communities, plus game development curriculum at several of our educational institutions like NC State University, William Peace University, Wake Tech Community College and Wake County Public Schools, Greater Raleigh clearly becomes a genuine home for global esports."
The Six Major Raleigh was produced by ESL for Ubisoft® at the Raleigh Convention Center and featured a handful of Ubisoft® global sponsors. Local brand supporters included Visit Raleigh, Pepsi and Celito.net. Big Block served as the city's consultant throughout all stages of the engagement process, from regional awareness and facility readiness, to pre/post event and client management.
In addition, Big Block conducted a local Esports Summit to educate and engage local corporations and groups interested in supporting esports on a long-term basis. A diverse group of civic, sports, educational and business leaders attended and expressed strong interest in supporting the industry and growing a sustainable esports ecosystem for the Greater Raleigh area.
"Esports is not something that can be homegrown overnight," said Ed Tomasi, Managing Director of esports at Big Block. "By leveraging our team's 20 plus years of collective relationships, trust and experience in global esports production and brand management, Greater Raleigh has quickly been elevated on the global stage for having the facilities and ecosystem for hosting world-class esports events.
As a result of the partnership, a new Greater Raleigh Esports Local Organizing Committee (GRELOC) has recently been formed, and is currently chaired by the Visit Raleigh, GRSA and Big Block. The committee's 3-5-year plan is to build the amount of hosted esports events to over five per year and garner local corporate brands and educational institutional partners to support a financially healthy and sustainable esports ecosystem for Greater Raleigh.
Big Block's extensive work in traditional sports and media, paired with its content and experiential platform Subnation, has allowed the integration of brands like Marvel and Volkswagen into the esports world, and has perfectly positioned Big Block to lead forward-thinking brands into the world of competitive video gaming.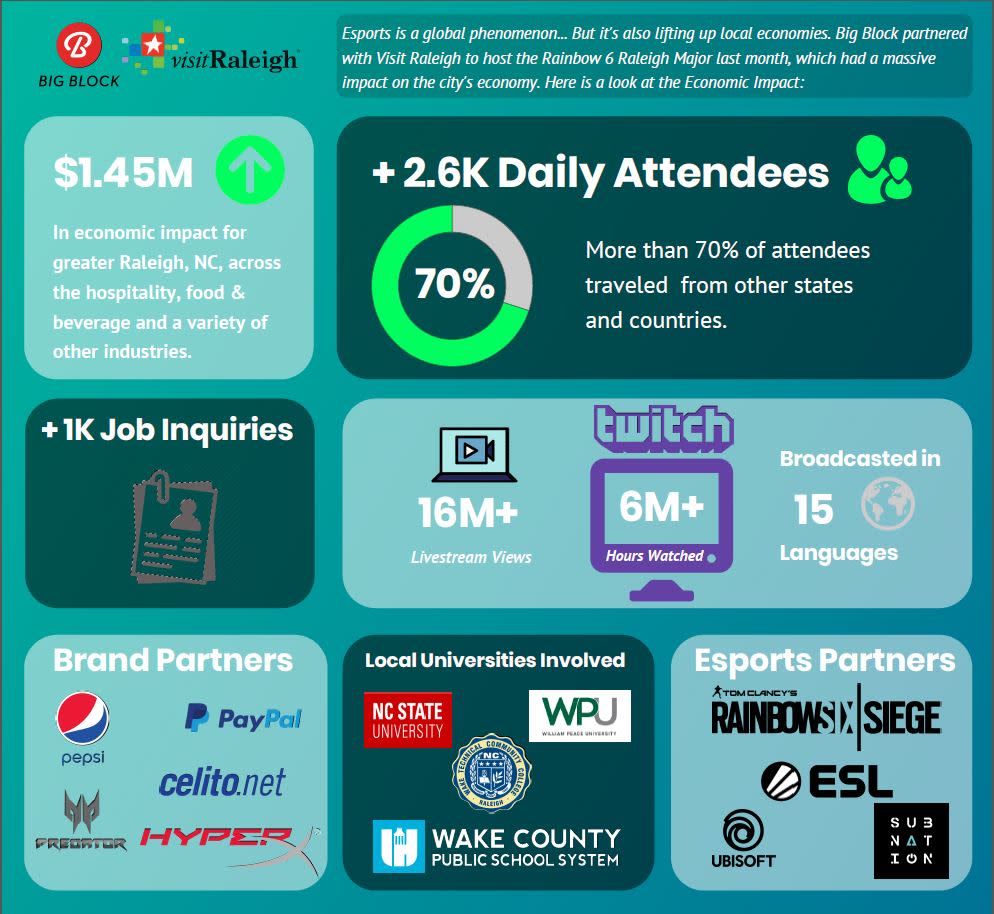 About Big Block:
Big Block is a creative services company, technology investor and IP accelerator that works with leading consumer, entertainment, and technology industry brands, including Under Armour, Ford Motors, ESPN, and Enterra Solutions. The company produces all forms of visual content, original entertainment properties, live-entertainment experiences and media+tech IP. In addition, Big Block actively invests in companies and people in emerging technology, media, and lifestyle companies, including the most advanced AI. By combining technology and active investments with creative production, Big Block focuses on better activating engaged audiences around content and turning conversations into valuable experiences and transactions.
About Subnation:
Subnation is a multi-platform media brand that celebrates and elevates the lifestyle and culture of video gaming and esports through the development of original content and live events. The company creates live curated festival experiences where creators, gamers and consumers come together to hear, see, shop, discover, and experience their shared passions. Subnation is known for programming high energy experiences featuring musical performances, live art installations and immersive activities showcasing the gaming culture. The company also helps integrate brands into the burgeoning esports market and creating engaging content. Subnation has served as the official cultural experience partner of E3 and DreamHack Atlanta.
About the Greater Raleigh Esports LOC:
The Greater Raleigh Esports Local Organizing Committee is made up of the City of Raleigh, Greater Raleigh Convention and Visitors Bureau (Visit Raleigh), the Greater Raleigh Sports Alliance and Big Block Media Holdings (Big Block). With esports and gaming being part of our local community for decades, the LOC is dedicated to attracting local and global competitive video gaming events to the Greater Raleigh area. In addition to promoting Raleigh's many world-class, esports-ready facilities and modern infrastructure, the LOC is positioned to offer leagues, publishers, event organizers and communities that host their events in the Greater Raleigh area with operational, promotional and measured economic support.
About the Greater Raleigh Convention and Visitors Bureau (Visit Raleigh):
As the official destination marketing organization for Wake County, the Greater Raleigh Convention and Visitors Bureau (Visit Raleigh), is responsible for promoting Wake County as an attractive travel destination and enhancing its public image as a dynamic place to live and work. Through the impact of travel, the organization strengthens the economic position of and provides opportunities for people throughout Wake County. Raleigh, N.C./Wake County welcomes nearly 17 million visitors annually whose spending tops $2.7 billion. The visitor economy supports more than 27,000 local jobs in Wake County and generates $268 million in state and local tax revenues, saving each Wake County household $700 in taxes annually. VisitRaleigh.com.
Media Contact:
Scott Peacock
919.645.2676
speacock@visitRaleigh.com
 ###