Raleigh's Park Renaissance: New and Upcoming Parks that Enrich the Culture
Thursday, September 14, 2023, 11am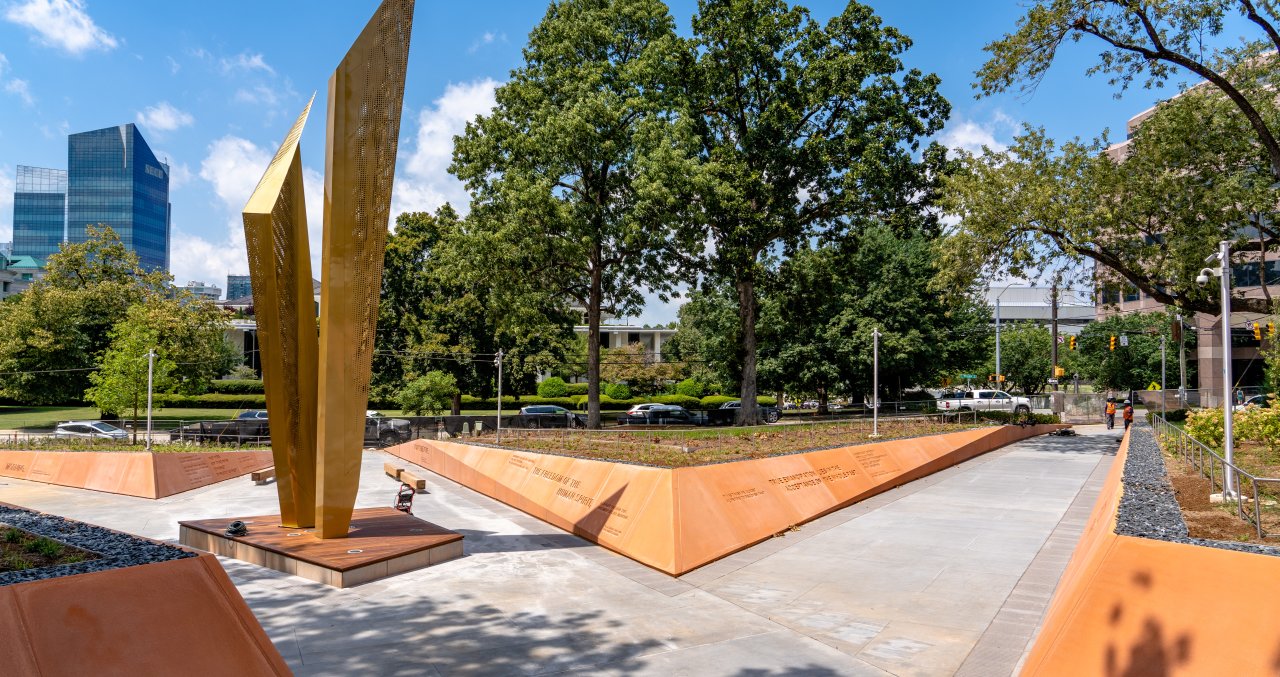 Raleigh, N.C. (Sept. 14, 2023) – In the Raleigh area, parks play an essential role in preserving a place, bettering the environment and enriching the lives of those who experience them. With more than 10,000 acres of parkland and 180 miles of greenway trails, there's no shortage of outdoor recreation and nature in the City of Oaks. The growth in outside activities and park activations is still gaining momentum with these recently opened and upcoming projects.
North Carolina Freedom Park
The state's first park to honor the African American struggle for freedom, plus powerful triumphs along the way, is now open in downtown Raleigh. An idea many years in the making, North Carolina Freedom Park is a one-acre site that offers inspiring words and a space for reflection.
Funded through a mix of private and public funds, the park is managed by the North Carolina African American Heritage Commission (NCAAHC), which describes it as "a timeless tribute to the universal ideals of liberty, resilience and equality." The park is located at 218 N. Wilmington St., beautifully situated just steps from the North Carolina Museum of History, North Carolina Museum of Natural Sciences and North Carolina Executive Mansion.
Built by Holt Brothers Construction—a Raleigh firm founded by former NFL players Torry and Terrance Holt—and designed by the late architect Phil Freelon, widely known for his exceptional work on projects including the Smithsonian National Museum of African American History and Culture in Washington, D.C. The park is defined by two main features, the Voices of Freedom and the Beacon of Freedom. The park's walkways and benches are surrounded by inscriptions of words from African Americans that played an important role in Tar Heel State history including Ella Baker, Maya Angelou, Pauli Murray, Anna Julia Cooper, James E. Shepard and more. A total of 20 quotations and markers make up the feature called the Voices of Freedom.
According to the NCAAHC, "Voices of Freedom is an inspiring compilation of quotes that resonates with the enduring spirit of African American North Carolinians who emerged as trailblazers in the pursuit of equality, civil rights and societal transformation... Through their wisdom and unwavering determination, they not only shattered the chains of oppression but also paved the way for a more just and inclusive society. Each quote encapsulates a unique perspective, reflection or a stirring call to action, reminding us of the strength that arises from unity and the tireless pursuit of justice." 
The second feature lies at the center of the park, where five walkways converge. The Beacon of Freedom is a 45-foot-tall work of art that will be lit up each evening, shining a light into the night sky as it represents freedom's flame. The gathering area surrounding the Beacon of Freedom will serve as a place for speeches and readings, musical events, dramatic productions and other community activities.
Downtown Cary Park
Among the new park developments around Wake County, Downtown Cary Park's goal is to energize the surrounding community. The park will unveil a state-of-the-art play space in November 2023, a vision more than 20 years in the making. This seven-acre park project in the heart of downtown Cary is prepared to provide state-of-the-art space for all to enjoy—children, adults and even dogs, too (the eagerly anticipated Bark Bar will act as a casual dining spot and off-leash dog play area).
Elevated walking paths, interactive water features, a full-service restaurant, larger-than-life art pieces, flexible lawn space and much more will be unveiled this summer to much fanfare, adding to an area that has already expanded its leisure and hospitality appeal over the last several years (The Mayton, Hanks Downtown Dive, MC Restaurant, Di Fara Pizza Tavern, Cotton House Craft Brewers and others are a good starting point for an itinerary!).
Gipson Play Plaza at Dorothea Dix Park
A similar kid-friendly park area is expected to open in late 2024/early 2025 at Dorothea Dix Park, the Gipson Play Plaza. The 308-acre Dorothea Dix Park, in the heart of downtown Raleigh, blends historic architecture with beautiful rolling hills, huge shade trees and stunning views of the Raleigh skyline. The park is known as a space for gathering throughout the year for events such as J.Cole's Dreamville Festival, summer sunflower fields, the Dix Park Inter-Tribal Pow Wow, as well as smaller community events and activities that take place throughout the year.
As one of the main entrances to the park, the Gipson Play Plaza will act as a central gateway connection to the rest of downtown Raleigh. The 18-acre area will receive new landscaping, fountains, gardens, a waterfall, an amphitheater, picnic grounds, civic plaza and a playground that includes climbing towers, a sand bowl, swings and much more.
Read more about the outdoor and sports scene in Raleigh, N.C. here.
About the Greater Raleigh Convention and Visitors Bureau (Visit Raleigh):
As the official destination marketing organization for Wake County, the Greater Raleigh Convention and Visitors Bureau (Visit Raleigh), is responsible for promoting Wake County as an attractive travel destination and enhancing its public image as a dynamic place to live and work. Through the impact of travel, the organization strengthens the economic position of and provides opportunity for people throughout Wake County. Raleigh, N.C./Wake County welcomes nearly 18 million visitors annually whose spending tops $3 billion. The visitor economy supports over 24,500 local jobs in Wake County and generates $287 million in state and local tax revenues, saving each Wake County household $601 in taxes annually. visitRaleigh.com
Media Contact:
Visit Raleigh
Veronica Thring, Public Relations & International Tourism Manager
919.819.8292
vthring@visitRaleigh.com
# # #