Riot Games and Visit Raleigh Release Economic Impact for the 2023 LCS Spring Finals
Tuesday, June 27, 2023, 3pm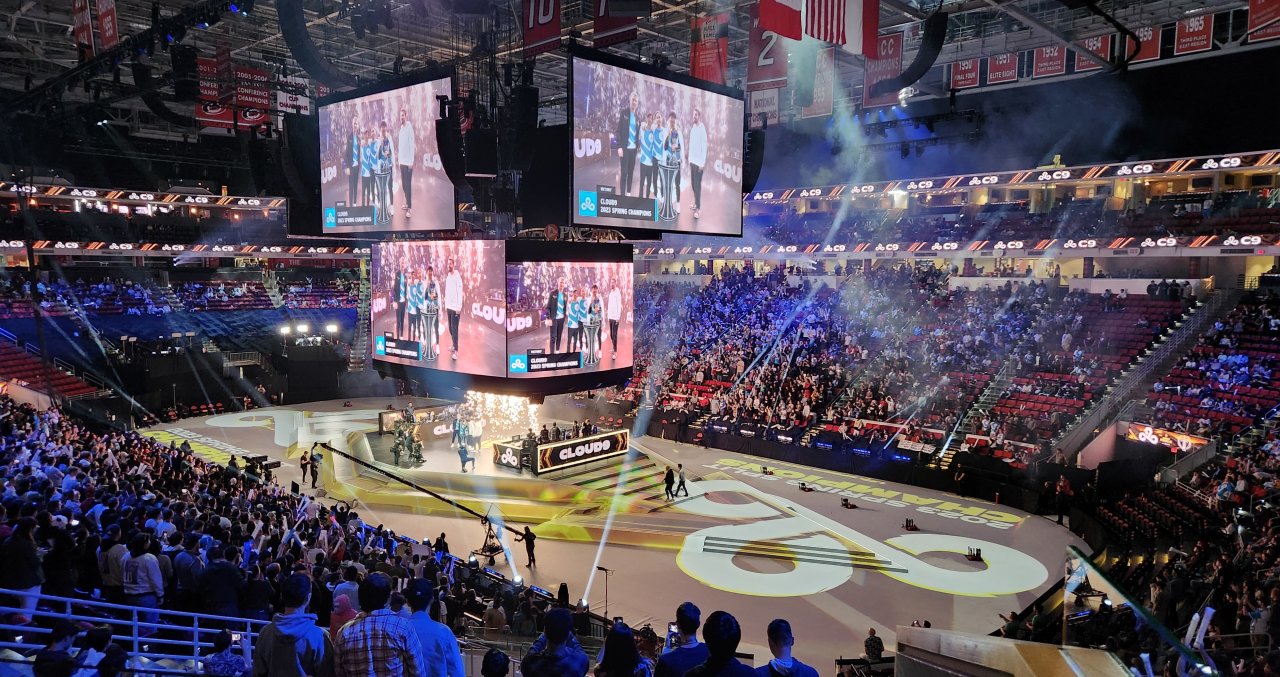 Esports continues to deliver business and entertainment opportunities in Raleigh as weekend event generated over $2.7 million in direct economic impact for the city 
Raleigh, N.C. (June 27, 2023) – Riot Games, in partnership with Visit Raleigh, today announced the economic impact statistics from the recent 2023 LCS Spring Finals, Delivered by Grubhub. The event generated a hefty $2.74 million in direct economic impact for Wake County, directly supporting 1,178 jobs in the process.
With Raleigh's reputation as a growing hub for esports, PNC Arena was selected as the 2023 host for the League Championship Series (LCS) Spring Finals. The tournament saw the North American League's top teams Cloud9, FlyQuest, and Golden Guardians compete to determine the winner of the Spring Split as well as who would represent North America at the upcoming international tournament in London.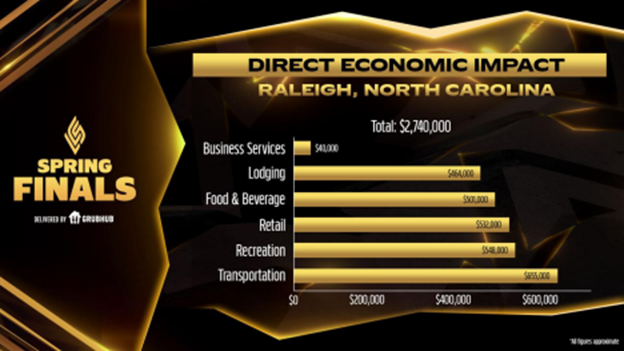 To kick off each game day, the LCS held its highly anticipated annual Fan Fest, an outdoor celebration rooted in League of Legends fandom, reveling in the excitement built over the course of the Spring Split. Bolstered by various partnerships with local food vendors such as Empanada RD NC and the Bulgogi Truck, Fan Fest gathered esports devotees from across the country at PNC Arena, allowing them to enjoy a taste of Raleigh while they connect firsthand with players, teams and sponsors. Embracing Fan Fest's emphasis on gaming culture, some local vendors like Boba Baba even themed their offerings after League of Legends, dedicating their products to some of the most popular champions in the game. Fans who made the trip to Raleigh were also treated to an exclusive demo playthrough of "The Mageseeker," then the newest game by the Riot Forge team that was released to the public the following week.
During the main event within PNC Arena, fans were treated to a high-tech production spectacle that elevated the audience experience well beyond what previous esports events had offered in Raleigh. LED floor panels, projection mapping, advanced pyrotechnics, and dynamic creative direction added to LCS's' immersive, state-of-the-art roadshow.
Loren Gold, Executive Vice President at Visit Raleigh, said: "This is the first time that a major esports publisher has ever hosted a festival of this caliber here in the Greater Raleigh area outside of their ticketed event. Free and open to the public, it was incredible to witness the PNC Arena transform into a place where the League of Legends community came together to enjoy each other, and the best Raleigh has to offer." 
Robert Dugan, Esports Event Manager at Riot Games, said: "We're proud to lead the pack when it comes to creating an authentic, memorable experience for those that join us for the pinnacle of League of Legends sports. We have a strong vision around unlocking a fan's passion through our roadshows to build and maintain a sustainable esports ecosystem. To that extent, the LCS is fully committed to partnering with future host communities to both cultivate their native fanbase and positively impact their local economy." 
After a successful event in Raleigh, the LCS will head to the Prudential Center in Newark, New Jersey this August. For more information about tickets, dates, and plans to continue delivering a one-of-a-kind experience for fans in-house and online, be sure to check LoL Esports. For additional information regarding the economic impact report, please contact Jessica Holt with Visit Raleigh at jholt@visitRaleigh.com. 
Economic Impact Notes
Not all visitor spending might have been prompted by this event; in some cases, an event may be taken in by visitors traveling for other purposes but attending while here. 
Direct economic impact (comprised of direct spending/business sales with visitors, organizer and media/sponsors) is not the same as total economic impact (direct + indirect + induced effects); direct spending indirectly influences additional spending by local businesses (through affiliated supply chain) and induces additional spending by employees of local businesses (through generated income). Some of this total economic impact also leaks outside of the local economy, due to the purchase of goods, services and raw materials outside of the county by locals/event organizers. 
The spending of Wake County residents is excluded from the calculations, as the basis of tourism economic impact is to track new money into the local economy, not the circulation of local money.
 
About LCS
The League Championship Series (LCS) is North America's largest professional esports league, in the world's most-watched esport: League of Legends. Founded in 2013, the LCS features the apex of high-level play for the United States and Canada region across its ten partner teams. Held at the Riot Games Arena in Los Angeles, California, the LCS has grown to become the fourth-most popular professional sports league among 18-to-34-year-olds in the United States. Now broadcasting in front of live audiences and over video streaming platforms in English and Spanish on Wednesday, Thursday, and Friday, the LCS is entering a new decade of North American League of Legends esports with rising stars and returning legends meeting on the rift to claim the LCS title.
For more information on the LCS, please visit LoLEsports.com or follow @LCSOfficial on Twitter. 
About the Greater Raleigh Sports Alliance (GRSA)
A division of the Greater Raleigh Convention and Visitors Bureau (Visit Raleigh) – the Greater Raleigh Sports Alliance (GRSA) markets and promotes Raleigh and all of Wake County in order to generate and/or retain sports-related businesses (tournaments, championships, special events  and meetings) for the purpose of economic development. Raleigh, N.C./Wake County welcomes nearly 16 million visitors annually whose spending tops $2.3 billion. The visitor economy supports more than 21,000 local jobs in Wake County and generates $243 million in state and local tax revenues, saving each Wake County household $592 in taxes annually. Raleighsports.org
About the Greater Raleigh Convention and Visitors Bureau (Visit Raleigh)
As the official destination marketing organization for Wake County, the Greater Raleigh Convention and Visitors Bureau (Visit Raleigh), is responsible for promoting Wake County as an attractive travel destination and enhancing its public image as a dynamic place to live and work. Through the impact of travel, the organization strengthens the economic position of and provides opportunity for people throughout Wake County. Raleigh, N.C./Wake County welcomes nearly 16 million visitors annually whose spending tops $2.3 billion. The visitor economy supports more than 21,000 local jobs in Wake County and generates $243 million in state and local tax revenues, saving each Wake County household $592 in taxes annually. visitRaleigh.com
Media Contacts
Visit Raleigh
Jessica Holt | jholt@visitRaleigh.com 
Riot Games - LCS
Jen Neale | jneale@riotgames.com | lcs@thestorymob.com 
Media Assets 
https://www.dropbox.com/sh/q8v4g5zrjk59rwk/AABytjkNpZZ_fXtKVL1RDRiNa?dl=0
 # # #