Triangle's Largest Youth Sporting Event Successfully Held Without COVID Spread
Wednesday, March 31, 2021, 6am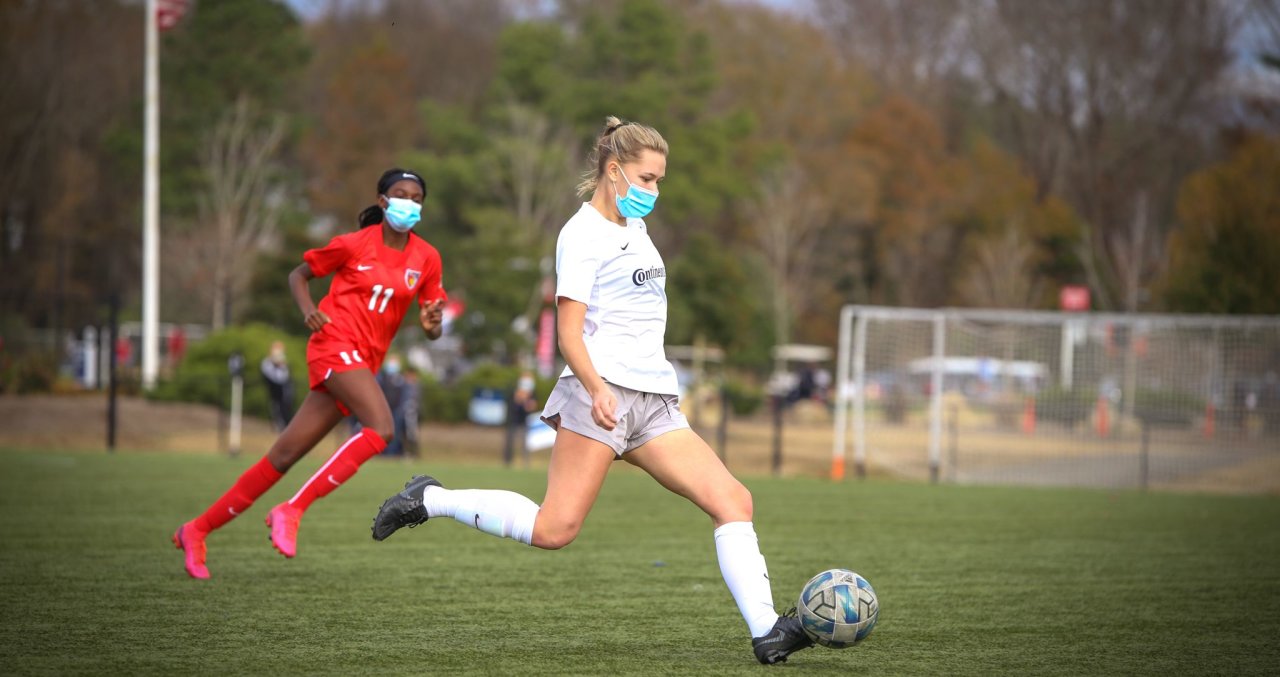 Event safely hosted more than 16,000 athletes over four weekends in late 2020, generating $13.6 million in total economic impact for the area
Raleigh, N.C. (March 31, 2021) – Today, NCFC Youth in partnership with the Greater Raleigh Sports Alliance (GRSA) has released a post-event impact study on the 2020 visitRaleigh.com Showcase Series youth soccer tournament held over four weekends in November and December of 2020. The tournament combined to safely host 1,000 teams and more than 16,000 athletes from across 26 states and generated $13.6 million in direct economic impact throughout Wake County and the surrounding area.
The Triangle has a rich history of hosting popular soccer programs and tournaments, but like many things COVID-19 changed the format and procedures needed for these events to safely take place. With the leadership of local officials and the community's commitment to safety, along with the support of the GRSA, NCFC Youth had the reassurance and confidence needed to safely host out-of-town teams for the visitRaleigh.com Showcase Series.
"NCFC Youth did an unbelievable job planning and executing the 2020 visitRaleigh.com Showcase Series during trying times all while keeping player and team safety a top priority" said Tori Collins, Director of the Greater Raleigh Sports Alliance (GRSA). "This event would not have been possible without the dedicated team at NCFC Youth and support from our local hoteliers, restauranteurs and community."
As the largest annual youth sporting event held in the Triangle, NCFC Youth's 2020 visitRaleigh.com Showcase Series brought in more than 1,000 teams from across the country to compete over four weekends of play, as well as approximately 600 college coaches in attendance for recruiting purposes. Players, coaches, and spectators abided by strict safety protocols built on local and state government health regulations resulting in more than 1,500 games played with no transmission of COVID-19 across individuals who attended the event. Matches were played at 20 venues throughout Wake County and surrounding areas, with WRAL Soccer Park serving as the primary competition site. The more than 16,000 participants and families brought in a much needed $13.6 million in direct economic impact to the region.
Area hoteliers stepped up and enacted their COVID safety and sanitation protocols, and local restaurants continued to provide alternate solutions to accommodate every guest's comfort level and team meal needs – from large scale catering and curbside pick-up to safe in-restaurant dining.
"We started preparing for a return to the fields in March 2020, and that plan adapted as the impact of COVID-19 frequently changed. Pre-pandemic and now, our focus is and has always been player safety," said Bryan Bachelder, NCFC Youth Tournament and Risk Management Director. "By keeping that as our focus, we built a Task Force to guide our return-to-play protocols, and it was a collective effort among players, coaches, parents, staff and volunteers that allowed us to have a fall season, including a full slate of tournaments. We are happy that our community benefitted economically as a byproduct of hosting the visitRaleigh.com Showcase Series, and we look forward to working with our community this year to continue hosting safe soccer tournaments and events."
All in all, NCFC Youth offered a full fall season of soccer for all programs and hosted five youth soccer tournaments, which totaled more than 30,000 scheduled practices and games and represented more than 350,000 times that a player stepped on the field. Through all of these touch points NCFC Youth encountered only 35 COVID-19 positive cases and found no transmission across individuals during the season or tournaments.
"For us, we'll stay focused on player safety as we continue to navigate through this next season and adapt as needed," said Bachelder. "We are a year into this now, and we feel confident after the success of the fall season and the safety protocols in place, that we can continue hosting a safe place for youth to learn and grow through league play, camps and tournaments this year."

The 2021 visitRaleigh.com Showcase Series will return later this year (dates below), and closing out the season will be the NCAA Division I Men's Soccer Championship (College Cup) hosted at Sahlen's Stadium at WakeMed Soccer Park, December 10 and 12, with The University of North Carolina at Chapel Hill serving as the local host institution.
Scheduled soccer events for the year ahead include:
March 26-27, 2021 (last weekend)
NCHSAA Men's Soccer State Championships
WakeMed Soccer Park
April 27-May 10, 2021 (rescheduled from December 2020 and consolidated to one region)
NCAA Division I Men's Soccer First round, Second round, Third round, and Quarterfinals
NCAA Division I Women's Soccer First round, Second round, Third round, and Quarterfinals
Cary and surrounding areas
May 13-17, 2021 (rescheduled from December 2020)
NCAA Division I Men's Soccer Championship (2020 College Cup)
NCAA Division I Women's Soccer Championship (2020 College Cup)
WakeMed Soccer Park
November 6-7, 2021
visitRaleigh.com Girls Junior Showcase
WRAL Soccer Park and multiple sites
November 13-14, 2021
visitRaleigh.com Boys Junior Showcase
WRAL Soccer Park and multiple sites
November 19-21, 2021
visitRaleigh.com Girls College Showcase
WRAL Soccer Park and multiple sites
December 10-12, 2021
visitRaleigh.com Boys College Showcase
WRAL Soccer Park and multiple sites
December 10 & 12, 2021
NCAA Division I Men's Soccer Championship (2021 College Cup)
WakeMed Soccer Park
About the Greater Raleigh Sports Alliance (GRSA):
A division of the Greater Raleigh Convention and Visitors Bureau (Visit Raleigh) - the Greater Raleigh Sports Alliance (GRSA) markets and promotes Raleigh and all of Wake County in order to generate and/or retain sports-related businesses (tournaments, championships, special events and meetings) for the purpose of economic development. Raleigh, N.C./Wake County welcomes nearly 18 million visitors annually whose spending tops $2.9 billion. The visitor economy supports more than 28,000 local jobs in Wake County and generates more than $284 million in state and local tax revenues, saving each Wake County household $727 in taxes annually. raleighsports.org
About North Carolina FC Youth:
Founded in 1974, North Carolina FC Youth is a 501(c)3 non-profit organization based in Raleigh, NC committed to providing positive, high quality soccer opportunities at all levels of play for youth and their families and to serve as a valuable community partner. With nearly 13,500 players and more than 1,000 coaches, it is the largest club in North Carolina offering a full spectrum of soccer programs including recreation, youth academy, challenge, classic, Elite Clubs National League, and community outreach programs. Through innovative soccer programming, player development opportunities, and a focus on coaching education, NCFC Youth creates an environment for both players and coaches alike to grow on and off the field. ncfcyouth.com
Media Contacts:
Greater Raleigh Sports Alliance (GRSA)
Scott Peacock, Director of Public Relations
919.645.2676
speacock@visitRaleigh.com
NCFC Youth
Katharine Eberhardt, Business Development Director
919.757.3749
katharine.eberhardt@NCFCyouth.com
# # #