USA Baseball Announces Details for 2022 National High School Invitational Championship Festival
Friday, March 04, 2022, 3pm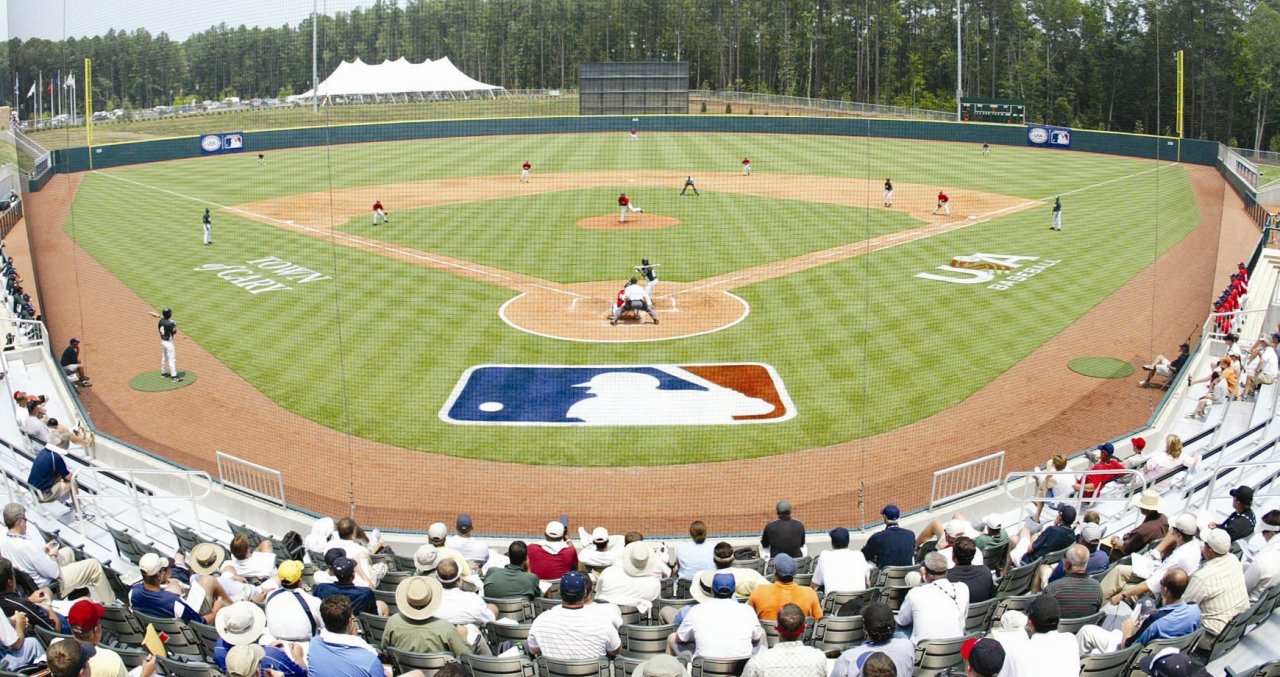 The event will take place from 4-7pm ET on April 9 at the National Training Complex
Cary, N.C. (March 4, 2022) – USA Baseball today announced the details for the Championship Festival at the 2022 National High School Invitational (NHSI) presented by the Greater Raleigh Sports Alliance. The festival will be held on April 9 from 4-7pm ET prior to the 2022 NHSI championship game at the USA Baseball National Training Complex in Cary, North Carolina.
The Championship Festival returns in 2022 for the second time in tournament history and will include family-friendly activities and games, music, and a food truck rodeo. The festival will feature five of the most popular food truck vendors from North Carolina's Triangle area, including Big Mike's BBQ, Mr. Cheesesteak, Tacos Costa Grande, The Flat Drum and Will and Pops.
Additionally, the 2022 NHSI Championship Festival will host a PLAY BALL clinic for kids aged 5-12, presented in partnership with Major League Baseball. The free clinic will take place on Field 3 of the National Training Complex from 4-6pm ET. All participants will receive a PLAY BALL t-shirt and a bat-and-ball set to take home. Additionally, participants and their parents will be able to take part in all Championship Festival activities, as well as attend the NHSI championship game free of charge. Parents may register their children by clicking here.
The NHSI is a single-elimination championship tournament, with each participating team guaranteed to play four games. First pitch of the ninth annual championship game is set for 6pm ET on Coleman Field. The 16-team field is highlighted by three past champions, including three-time defending champion Orange Lutheran High School (Orange, Calif.), as well as The First Academy (Orlando, Fla.) and Huntington Beach High School (Huntington Beach, Calif.). 
Since 2012, the NHSI has hosted some of the nation's most talented players, many of whom have gone on to illustrious careers in professional baseball. Among some of the most notable major leaguers who have taken the field at the tournament are 2016 NL MVP Cody Bellinger and 2021 World Series champion Max Fried, as well as All-Stars Joey Gallo and Lucas Giolito. Additionally, seven first round picks in the 2020 and 2021 MLB Drafts participated in the event, including Slade Cecconi, Pete Crow-Armstrong, Ed Howard, Jack Leiter, Austin Martin, Garrett Mitchell and Andy Painter.
The USA Baseball National Training Complex has been the stage for the NHSI since its inception in 2012 and includes four baseball fields, all of which are maintained at Major League Baseball (MLB) standards. Many of MLB's most-accomplished players have played at the complex in their careers, including four-time American League (AL) MVP Mike Trout and two-time National League (NL) MVP Bryce Harper. The Town of Cary received the National Gold Medal Grand Plaque Award for Excellence in Park and Recreation Management in 2016, which honors U.S. communities that demonstrate excellence in parks and recreation through long-range planning, resource management, volunteerism, environmental stewardship, program development, professional development and agency recognition. 
For more information on the NHSI and the Championship Festival, follow @USABEvents on Twitter and @USABaseball on Facebook, Instagram and Twitter.
About USA Baseball:
USA Baseball is the national governing body for baseball in the United States and is committed to serving, protecting, and supporting the game of baseball and its 15.6 million participants. Founded in 1978, USA Baseball fields six national teams annually and is a member of the United States Olympic & Paralympic Committee (USOPC) and the World Baseball Softball Confederation (WBSC). On the diamond, USA Baseball is a two-time Olympic gold medalist and the reigning World Baseball Classic champion, and its national teams have won 62 gold medals in international competition. Off the field, the organization is dedicated to the proliferation and health of the sport through the creation and management of numerous development initiatives including BASE (Baseball Athlete Safety Education), Fun At Bat, Pitch Smart, PLAY BALL and the Prospect Development Pipeline. For more information on the organization, its national teams, and development-driven initiatives, visit the official website USABaseball.com or USABDevelops.com.
Media Contact:
Brad Young
Senior Director of Media Relations, USA Baseball
mediarelations@usabaseball.com
919.474.8721 x212
###