USA Baseball: U.S. Olympic Team Roster Announced
Friday, July 02, 2021, 2pm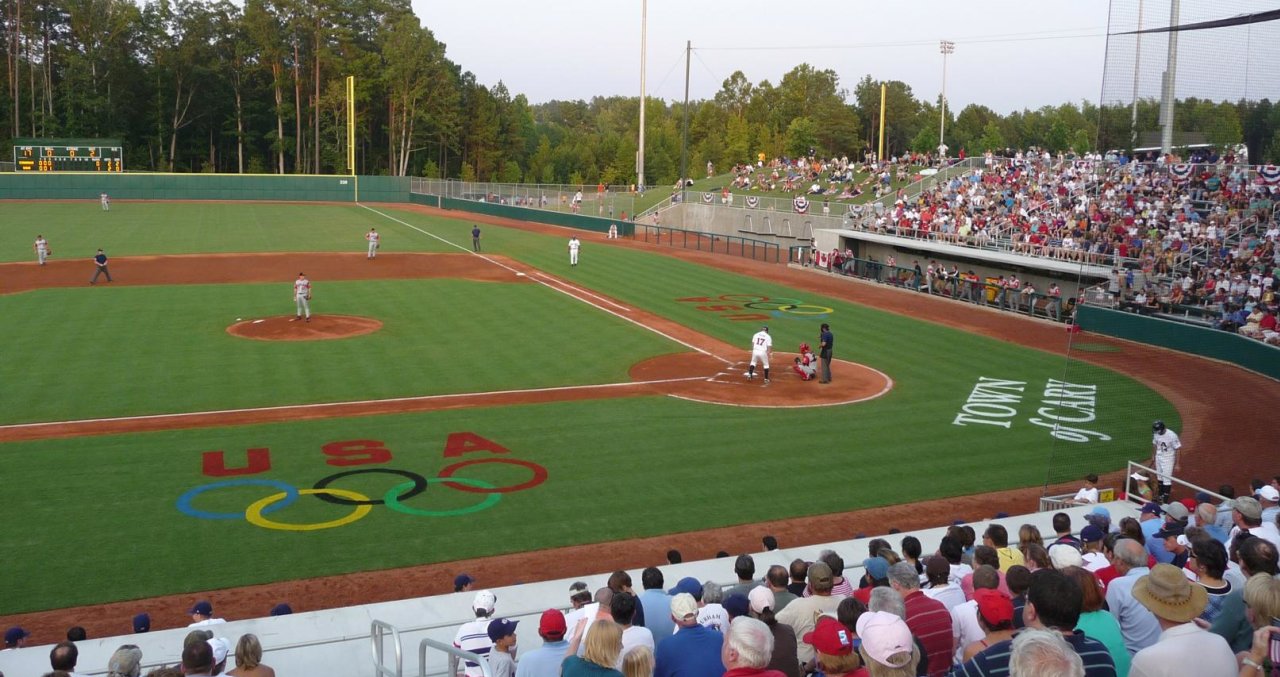 Team USA will train for Tokyo 2020 in Cary 
View the press release, here. 
CARY, N.C. — USA Baseball announced on MLB Network today its 24-man roster for the Olympic Games Tokyo 2020. Seeking its third Olympic gold medal (Seoul 1988 [demonstration sport], Sydney 2000), Team USA will open the Olympic Games baseball tournament against Israel on Friday, July 30. All nominations will be subject to approval by the U.S. Olympic & Paralympic Committee.
The final roster is composed of 12 pitchers and 12 position players, and features 19 USA Baseball national team alumni, including 12 members of the Professional National Team that won the World Baseball Softball Confederation Baseball Americas Qualifier in June.
Mike Scioscia (Manager) will once again lead the U.S. and will be rejoined on the bench by Roly de Armas (Bullpen Coach), Darren Fenster (Third Base Coach), Dave Wallace (Pitching Coach), Jerry Weinstein (First Base Coach), and Ernie Young (Hitting Coach). This staff collectively holds over 100 years of coaching experience and led the stars and stripes to a perfect 4-0 record in Olympic qualifying.
Scioscia will be available to take questions from the media following this announcement, beginning at 3 p.m. EDT/12 p.m. PDT. Accredited media members may RSVP HERE for the virtual conference.
"We are thrilled to announce our twenty-four newest Olympians," said USA Baseball Executive Director/CEO Paul Seiler. "We have been looking forward to this moment since baseball returned to the Olympic Programme. Our goal was to construct this team around a core of experienced, veteran baseball players with invaluable experience at the highest level and internationally, and we have done just that. We are confident we have pieced together a team of players that will represent the United States proudly on the world stage."
Manning the infield for the red, white, and blue is Nick Allen (Oakland Athletics AA), Eddy Alvarez (Miami Marlins AAA), Triston Casas (Boston Red Sox AA), Todd Frazier, and Jamie Westbrook (Milwaukee Brewers AAA). Tyler Austin (Yokohama DeNA Baybears), Eric Filia (Seattle Mariners AAA), Patrick Kivlehan (San Diego Padres AAA), and Bubba Starling (Kansas City AAA) will patrol the outfield, and Jack Lopez (Boston Red Sox AAA) will serve in a utility role for the squad.
Behind the dish will be Tim Federowicz (Los Angeles Dodgers AAA) and Mark Kolozsvary (Cincinnati Reds AA), and the duo will manage a 12-pitcher staff of Shane Baz (Tampa Bay Rays AAA), Anthony Carter (Saraperos de Saltillo), Brandon Dickson (St. Louis Cardinals AAA), Anthony Gose (Cleveland Indians AAA), Edwin Jackson, Scott Kazmir (San Francisco Giants AAA), Nick Martinez (Fukuoka SoftBank Hawks), Scott McGough (Tokyo Yakult Swallows), David Robertson, Joe Ryan (Tampa Bay Rays AAA), Ryder Ryan (Texas Rangers AAA), and Simeon Woods-Richardson (Toronto Blue Jays AA).
Fourteen members of the Olympic Team have logged time in Major League Baseball, including two World Series champions in Jackson (2011) and Robertson (2009). Collectively, the squad holds seven All-Star Game appearances, led by Kazmir (3) and Frazier (2). Frazier also won the Home Run Derby in 2015.
The veteran-laden roster also features three athletes currently ranked in the top-100 prospects in baseball as named by MLB Pipeline. Casas is the top-rated prospect on the roster at No. 34, followed by No. 68 Woods-Richardson and No. 71 Baz.
Of the 19 members of the roster who have played for Team USA, 10 have won a gold medal in international competition for the stars and stripes. Casas leads the way with three, and Allen holds two. Robertson is the lone member of the team that was on the gold-medal-winning World Baseball Classic Team in 2017, where he closed out the 8-0 victory over Puerto Rico in the final.
Baseball is making its return to the Olympic Programme for the first time since 2008. Team USA won a gold medal at the Seoul 1988 Olympic Games as a demonstration sport and then at the Sydney 2000 Olympic Games. The team also holds two bronze medals from the Atlanta 1996 and Beijing 2008 Olympic Games.
Team USA will train for Tokyo 2020 at the USA Baseball National Training Complex (NTC) in Cary, North Carolina. The team will arrive on Friday, July 16, participate in a media day and workouts on July 17, and then will play in a three-game exhibition series against the USA Baseball Collegiate National Team from July 18-20. This will be the second time the U.S. Olympic Team will train at the NTC after hosting Canada in an exhibition series prior to the Beijing 2008 Olympic Games.
Game one will be held at the NTC on Sunday, July 18, at 6:30 p.m. EDT. The Durham Bulls will host the second game of the series, welcoming fans to get a glimpse of Team USA at the Durham Bulls Athletic Park on Monday, July 19 at 6:35 p.m. EDT. The series will return to Cary for its finale on Tuesday, July 20, at 1 p.m. EDT. All games will be streamed online at USABaseball.com. For ticketing information, please visit the Olympic Team schedule page.
The U.S. opens the Olympic Games baseball tournament on Friday, July 30, against Israel. First pitch is set for 7 p.m. JST/6 a.m. EDT/3 a.m. PDT. They join the Dominican Republic, Israel, Japan, Korea, and Mexico in the six-team field.
Stay tuned to USABaseball.com and @USABaseball on Facebook, Instagram, and Twitter for all the latest information on the Olympic Team.
Media Contact:
Brad Young, USA Baseball
919.474.8721 x212
mediarelations@usabaseball.com
About USA Baseball
USA Baseball is the national governing body for baseball in the United States and is committed to serving, protecting, and supporting the game of baseball and its 15.6 million participants. Founded in 1978, USA Baseball fields six national teams annually and is a member of the United States Olympic & Paralympic Committee (USOPC) and the World Baseball Softball Confederation (WBSC). On the diamond, USA Baseball is a two-time Olympic gold medalist and the reigning World Baseball Classic champion, and its national teams have won 62 gold medals in international competition. Off the field, the organization is dedicated to the proliferation and health of the sport through the creation and management of numerous development initiatives including Fun At Bat, Pitch Smart, PLAY BALL and the Prospect Development Pipeline. For more information on the organization, its national teams and development-driven initiatives, visit the official website USABaseball.com or USABDevelops.com.