Venue Spotlight: USA Baseball National Training Complex in Cary, N.C.
Thursday, June 02, 2022, 3pm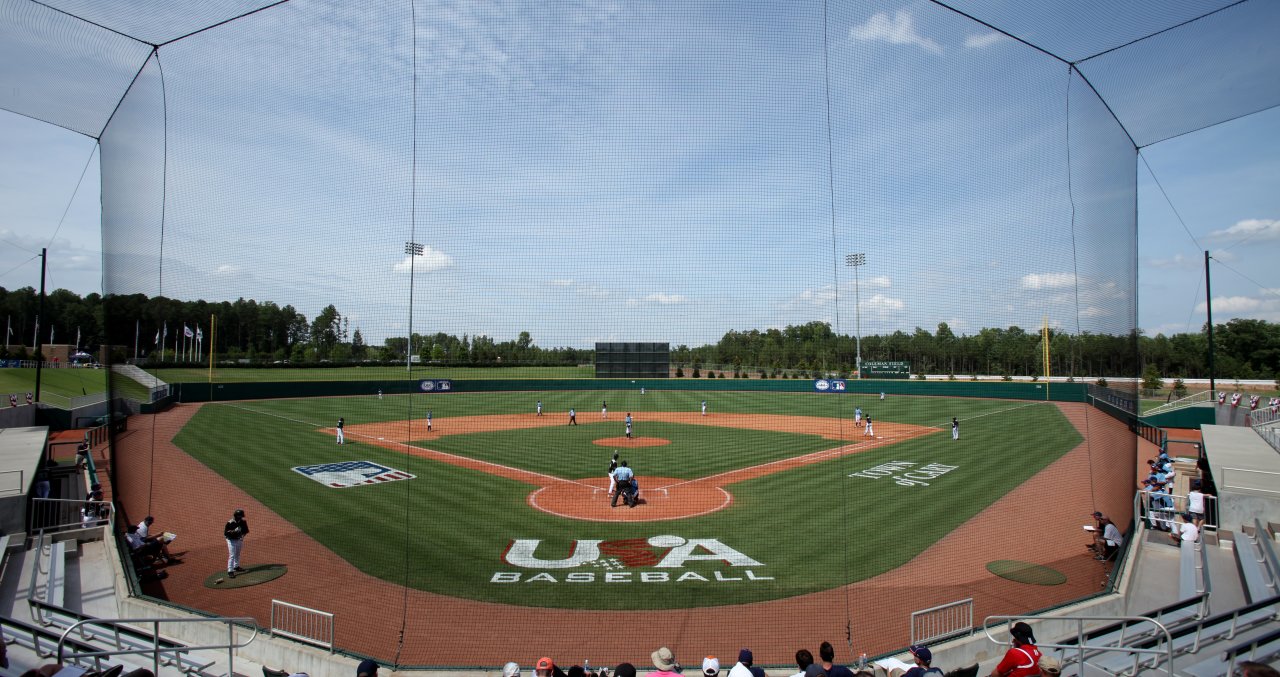 The USA Baseball National Training Complex is the home of amateur baseball in the United States. The national headquarters relocated from Tucson, Ariz., to Cary in 2003 after the Town of Cary guaranteed to build the complex. The facility is now managed through a partnership between USA Baseball and the Town of Cary.
The USA Baseball National Training Complex opened in 2007 at Thomas Brooks Park and since then, many major events have been held at the complex. This month, the venue hosts the NCAA Division II Baseball Championship (June 4-11, 2022), the USA Baseball 10U Futures Invitational (June 16-19, 2022) and the USA Baseball 13U National Team Championships (June 18-20, 2022).
The facility includes four baseball fields—three training fields and a stadium field. Each field 330 feet down the lines and 400 feet in centerfield. The training fields have individual scorekeeper and announcer shelters, and spectator seating for 120 people.
Coleman Stadium is their signature field with permanent seating for 1,754 and additional grass seating for approximately 1,800, bringing the total capacity to over 3,500 (including handicapped-accessible seating). The stadium also has a press box equipped with two suites, an official scorer's room, a sound room and a press row.
All fields are maintained at Major League Baseball (MLB) standards and have restroom facilities, as well as a concession building. Other facility highlights include two permanent batting cages. Bonus: The covered and lit batting cages can be converted to four 40-foot cages if needed.
Recently, USA Baseball and the Town of Cary started construction on a USA Baseball National Training Complex expansion project. The project is slated for completion in Summer 2023 and will include:
22,000 square feet of covered, full-sized infield that can be converted into eight pitching and batting lanes
14,000 square feet of office and warehouse space
5,000 square feet of staff offices, restrooms, showers and other facility support spaces 
The Greater Raleigh Sports Alliance (GRSA) is always pleased to assist you with questions and requests related to sports event planning in the Greater Raleigh. Contact Jocelyn O'Sullivan, sports sales manager, if you are interested in hosting your next event in Raleigh, N.C.