Accessibility Awareness and Training for Wake County Hospitality Partners
All Access Wake County is a day-long, accessibility awareness and training day for staff of area hospitality partners (hotels, restaurants, retailers, attractions and suppliers such as transportation providers) on Nov. 18, 2019, from 9am-2:30pm at Raleigh Convention Center.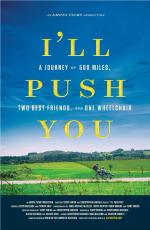 The day will begin with a plenary presentation by Justin Skeesuck and Patrick Gray, authors of the book, I'll Push You. Justin and Patrick were also featured in a full-length film of the same name, which documented their journey on the Camino de Santiago in Spain. Justin is the only person in the 1,000-year history of the trail to have completed the journey in a wheelchair. Their story is a powerful one of friendship and perseverance and is well worth watching. Justin and Patrick have appeared on The TODAY Show, Harry, the Meredith Vieira Show and others. 
Justin, who has a neuromuscular disease similar to ALS, also hosts a website, itsjustin.co, to help disabled travelers navigate some of the practical and daunting challenges they face. He also regularly teaches hotel, restaurant, venue and attraction partners how we can make our businesses and services to all travelers. That is what he and Patrick will be sharing with us in the plenary session.
Watch the trailer for I'll Push You:



In addition to the plenary session, the day will offer a series of breakout sessions with insight, awareness and practical takeaways for all hospitality partners to utilize when you return to your workplace.
Registration will open Sept. 10, 2019. Space is limited so please register early.