Accessible Raleigh, N.C.: Things to Do for Visitors With Disabilities
Monday, November 18, 2019, 8am by visitRaleigh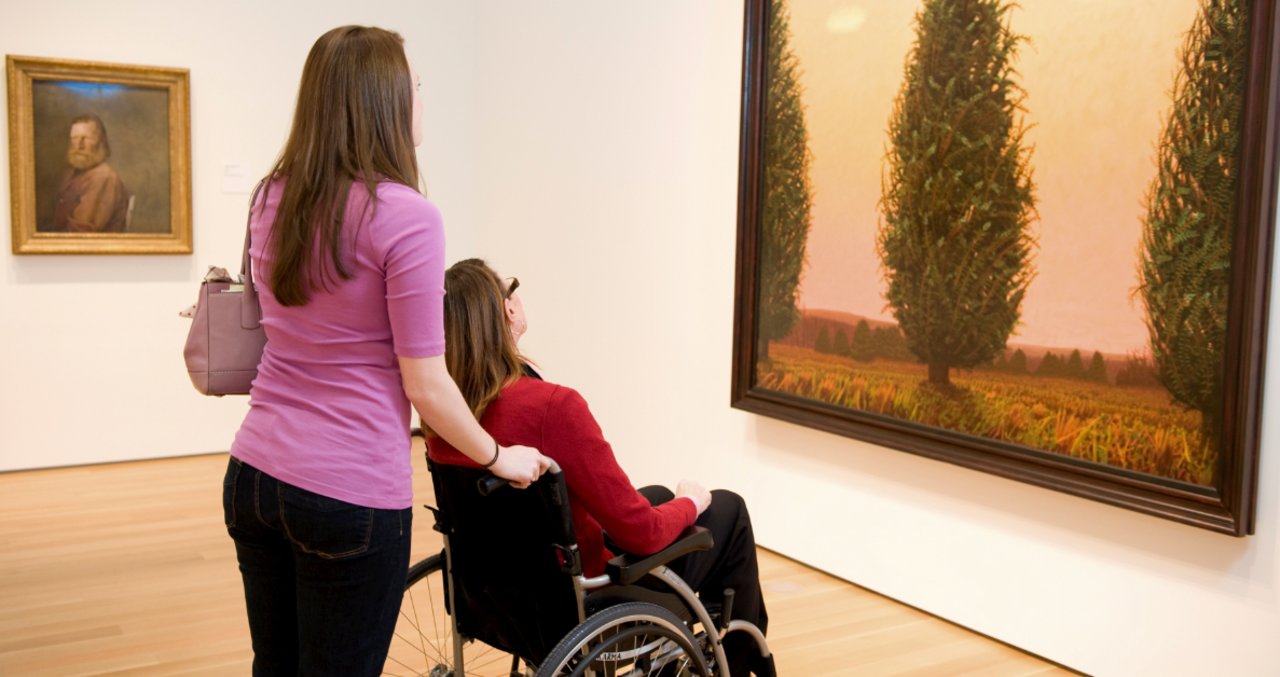 From historic sites and museums to art galleries and city parks, the Raleigh, N.C., area, strives to make a wide range of experiences accessible to visitors of varying abilities. Here are a few options you should absolutely take advantage of while visiting the City of Oaks.
 
Go museum hopping

Anyone interested in history, art, natural sciences and more will certainly appreciate a visit to Raleigh, often dubbed the "Smithsonian of the South" thanks to a bevy of free, trip-worthy attractions. Several area museums are actively committed to ensuring their exhibits and facilities are accessible to those with visual, auditory, mobility and developmental disabilities.
North Carolina Museum of Natural Sciences
Take the free-admission North Carolina Museum of Natural Sciences, for instance. In addition to accessible parking, restrooms and walkways, the museum also offers wheelchairs free of charge, staff-guided tactile tours and an easy-to-use smartphone app that delivers captioned audio. Insider tip: Utilize the museum's Sensory Map to identify sensory-friendly spaces. You can download it and a complete guide to accessibility services on the museum website.
Marbles Kids Museum
If you're traveling with a child with a disability, check out family-friendly and inclusive experiences like Marbles Kids Museum. Not only is the museum and its attractions physically accessible to a wide range of abilities, its programs and tours can be catered to meet specific requirements as well. Insider tip: Marbles periodically hosts Family Fun Nights exclusively for kids with special needs and their families.
Even more museums
Other museums that take accessibility to heart include CAM Raleigh, offering Museum Access for Kids, a program for school-age students living with disabilities; and the free-admission City of Raleigh Museum (COR Museum), where special tours can be designed to meet specific visual, hearing and learning needs.
Dive deep into history

History is alive and well here, from the state capital building to some of the most iconic and oldest restaurants. Best of all, most places of historical significance are wide open for everyone to enjoy.
Martin Luther King Jr. Memorial Gardens
Pay homage to one of the most prominent leaders of the African-American civil right movement by visiting the Martin Luther King Jr. Memorial Gardens. The nation's first public park solely devoted to Dr. King and the historic movement features sloped paths for easy wheelchair access, an accessible water feature and a life-like, bronze statue that visitors can touch and interact with.
North Carolina State Capitol
You can also immerse yourself in the Tar Heel State's history at the North Carolina State Capitol. Completed in 1840, this National Historic Landmark once housed the governor's office, cabinet offices, legislative chambers, state library and state geologist's office. The capitol grounds also provide a tactile experience with bronze statues and other objects. Admission is free, but donations are welcomed. Insider tip: All areas except for the third floor of the capitol are accessible for all visitors.
Even more history
Outside the city center, you'll find the Cary Heritage Museum, located at the Page-Walker Arts & History Center. Free and open to the public, the museum receives hundreds of visitors each year and chronicles the history of the town of Cary. All floors of the arts and history center (the museum is on the third) are accessible by elevator. Guided, special-needs tours and sign language interpretation are available upon request.
Experience the arts

Plays, musicals, dance recitals, fine art exhibits and more all have a place in Raleigh's emerging and vibrant arts scene. Throughout the city, you'll encounter the strong belief that art should be accessible to everyone.
North Carolina Museum of Art
For an incredible art experience open to all, visit the North Carolina Museum of Art, ranked by Insider magazine as one of the top 25 museums in the country. To ensure accessibility for their dozens of amazing galleries, the museum gathers information on accessibility needs from local organizations to inform their unique service offerings. These include downloadable social narratives for their galleries and the Ann and Jim Goodnight Museum Park; ASL and tactile tours; and various listening devices including a hearing loop inside the SECU auditorium.
Artspace
At Artspace, a visual art center dedicated to arts education and community outreach, visitors can interact with working artists and participate in hands-on arts education. The center provides ASL interpretation for exhibitions and special events, large-print and braille copies of brochures as well as audio tours. Insider tip: Educational programs are accessible to visitors with disabilities, and arrangements can be made to accommodate a variety of needs.
Performing arts
KultureCity has partnered with Raleigh's iconic Martin Marietta Center for the Performing Arts to make all performances and events that the center hosts to be sensory inclusive. This new initiative will promote an accommodating and positive experience for all guests and fans with a sensory issue. Read more.

Raleigh Little Theatre has won a "Healthy Soundscape" award from Noise Free America: A Coalition to Promote Quiet for providing "sensory-friendly performances," with a reduction of loud or jarring sounds. The theatre's action recognizes the fact that excessive noise is very detrimental to millions of people, especially those with autism spectrum disorders and sensory sensitivities. Charles Phaneuf, executive director of the Raleigh Little Theatre, stated that sensory-friendly performances, in addition to a reduction of loud or jarring sounds, will also involve "reductions in flashing or strobe lights, modifications of the house lights during the performance, allowing audience members to talk or move during the show, extra staff and volunteer support, and a dedicated 'take a break' space." Read more.
Live it up with some local fun

Chatham Hill Winery
Stop and sample the local vintage at Chatham Hill Winery in Cary. Billed as the Raleigh area's urban winery, Chatham Hill produces award-winning wines made with grapes grown in Yadkin Valley, N.C. Have a blast at one of their wine tastings or go on a winery tour. The Tasting Room has a large, wheelchair-accessible table reserved for visitors with mobility disabilities, and winery tours can accommodate visitors with wheelchairs.
State Farmers Market, Raleigh
At the State Farmers Market just south of downtown Raleigh, enjoy acres of specialty shops, restaurants and garden centers. The Farmers Market is also wheelchair-accessible, with a majority of the aisles being significantly wide. Restroom signs also feature braille.
Triangle Rock Club
With two area indoor rock climbing facilities, including one of the highest climbing walls in a five-state radius, Triangle Rock Club is a top spot for visitors looking to conquer fears and reach their full potential. The club is partner with Duke Adaptive Climbing to provide climbing opportunities to individuals with physical disabilities. Each month, Duke Adaptive hosts events at either the Morrisville or North Raleigh location.
RDU International Airport
Finally, visit the RDU Observation Deck and General Aviation Terminal to experience the thrill of both modern and historic aviation. The Observation Deck is easily accessible via elevator access and features live audio from the control tower for visitors with limited sight. The recreation area has wheelchair-accessible picnic tables, benches, parking and restrooms. Insider tip: The General Aviation Terminal is also a nice, quiet place for individuals with autism to watch and enjoy airplanes.
Enjoy the outdoors

Blue Jay Point County Park
Enjoying the great outdoors is one of the many pleasures of visiting a place like Raleigh. There are several parks where outdoor fun is accessible, like Blue Jay Point County Park, where visitors can find braille door signs, leaf-shaped benches, a raised-relief map of eastern North Carolina, nature programs catered to specific abilities and much more at the Environmental Education Center.
Laurel Hills Park/Sassafras All Children's Playground
If you have children with special needs, then we have a very special playground indeed! Sassafras All Children's Playground—the largest in the City of Raleigh park system—was carefully designed for children of all physical capabilities to enjoy. The playground—located at Laurel Hills Park—is built on a 3.5-acre site and offers an elaborate wooden play structure of tunnels, bridges, towers, swings and rings built over soft sand. It also includes a 50-foot-long zipline and a basketball hoop, all created to easily allow children with special needs to play and have fun. The tallest deck is eight feet off the ground and is fully accessible by wheelchair. There are also therapeutic, independent play elements, such as the roller table, to help building upper body strength.
Other outdoor options include Falls Lake State Recreation Area, Anderson Point Park, Knightdale Station Park and Durant Nature Preserve.
Comments