Seven Peaceful Nature Preserves to Explore in Raleigh, N.C.
Tuesday, August 09, 2022, 10am by visitRaleigh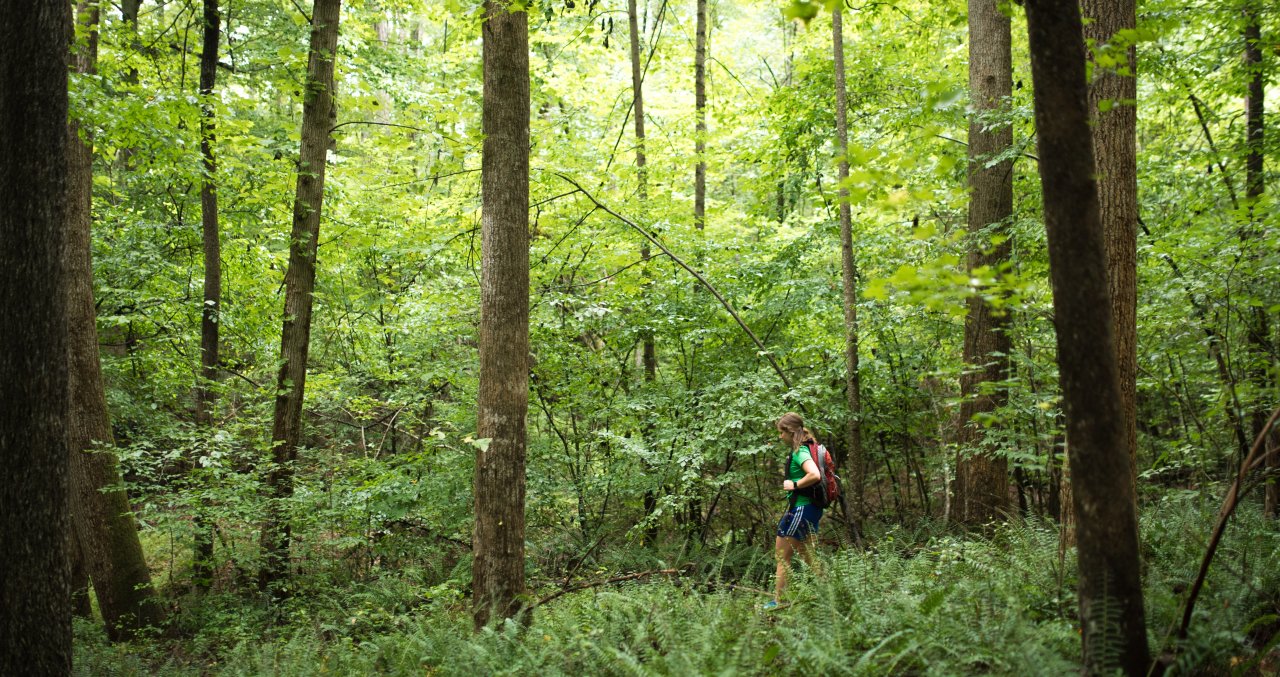 The great outdoors are still great.
That statement rings true in the Raleigh area more than ever right now as the area's parks, greenways, lakes, favorite hammock spots and other outdoor spaces have been a welcome escape from homes, office buildings, cars and crowds over the past couple of years.
And while hikers, bikers and kayakers have been out in record numbers, there are still quiet places to explore thanks to the sheer size and space available in the City of Oaks. Below, you'll find some of our favorite hikes, favorite family picnic spots and a favorite hidden kayaking gem, all found within dedicated nature preserves in Raleigh and Wake County.
Perched along the southern shores of Falls Lake State Recreation Area, this 157-acre outdoor retreat opened in 2006 as the City of Raleigh's first designated nature preserve. Dr. Annie Louise Wilkerson, a renowned Raleigh doctor with many pioneering achievements in her 53-year career in medicine, donated the property for the purpose of promoting nature and wildlife education. Today, the park office and AWL Education Center offer hands-on displays and craft areas for children, and programs—including bird watching, astronomy nights and art classes—are offered to the public.
The preserve's open fields and two miles of hiking trails meander between meadows, through an oak-hickory forest, around a one-acre farm pond and past hidden rock crops, making for easy exploring for the entire family.
Those looking for a bit more adventure will be happy to know that Wilkerson Nature Preserve is a perfect starting spot for a jaunt along the Mountains-to-Sea Trail (MST, known as "N.C.'s hiking trail," stretches more than 1,000 miles from the Great Smoky Mountains to the Outer Banks). Connecting on the north end of the nature preserve, hikers can follow the white dot markers on trees to take the MST approximately three miles to the Visitor Center near Falls Lake Dam, trekking through a super-varied array of landscapes, plant life and wildlife along the way. The round-trip hike from Wilkerson to Falls Lake Dam and back is among our picks for best six-mile hikes in the Raleigh area.
This 237-acre nature preserve in North Raleigh offers five miles of lesser-trafficked, mostly unpaved hiking trails that loop through heavily wooded areas around two lakes in the center of the park (not challenging terrain, but one of our top choices for peaceful outdoor exploring). Dog-and-kid-friendly, portions of the trails are also open to mountain bikes. The park also offers amenities including a fishing pier, playground, sand volleyball court, bird and butterfly gardens, picnic areas and more. 
Filled with shade during the summer months and rich with color in the fall, Hemlock Bluffs Nature Preserve provides an easy, family-friendly way to escape to the outdoors in Cary. The 140-acre park—established 40 years ago and named for the atypical group of nearly 200 Eastern Hemlock trees that can be found here—is highlighted by approximately three miles of mulch-covered walking and hiking trails that lead to a series of small overlooks.
The Chestnut Oak Loop trail—traversing 1.2 miles of the hilly (but not difficult) side of the park—winds through the upland forest with ridges, ravines and creeks, passing by three overlook areas that provide views over the bluffs and bench seating for moments of solitude. The Swift Creek Loop Trail is a short, 0.8-mile section of mulched paths and wooden boardwalks that is mostly flat with a set of 100 stairs that have to be taken down and then up on your return. Visitors with limited mobility can reach an overlook on the Swift Creek Loop Trail before reaching the stairs.
The 3,700-square-foot Stevens Nature Center (currently closed) provides interactive, educational nature exhibits and historical exhibits from the Piedmont of N.C., plus provides nature interpretation and environmental education programs for all ages throughout the year.
Opened in 2017 and located just south of Wendell, Turnipseed Nature Preserve (named for the road that runs along the south side of the preserve) is a peaceful escape for hiking and nature exploration through wetlands and past granite rock outcroppings
Picnic tables, open play areas, diverse habitats and three miles of ADA-accessible hiking trails make up the 265-acre preserve, allowing access to meadows and forests that were once farmed for tobacco and soybeans. Keep your eyes peeled for wildlife, as beavers, red-shouldered hawks, wood ducks, salamanders and many more friendly creatures call Turnipseed home.
Note: From Sept. 1 through March 31, the preserve is in off-season hours, open Sat. and Sun. only from 8am to sunset.
Carved out by the meandering of the Neuse River, Horseshoe Farm Nature Preserve sits on a U-shaped piece of land in northeastern Wake County with exceptional natural and cultural resources. The former homestead of Dr. Bill and Merrie Hedrick (the couple sought the preservation of the land, reaching an agreement in 1994 with the City of Raleigh to form a public park), the preserve is a jewel along the Neuse River; a place of great natural beauty, abundant wildlife and rich heritage.
The land, consisting of primarily undeveloped pastures and wooded areas, contains two natural surface trails that make up about 1.5 miles of total path that run along the edge of meadows and down for a peak at the river. These trails are for foot traffic only, and pets are allowed (always on leashes!).
A parking lot, shaded picnic shelter and restroom also make Horseshoe Farm a perfect place to start a jog or bike ride on the Neuse River Greenway Trail—the mile or two of greenway surrounding the preserve are some of the most scenic in the area.
Opened in late 2020, this 405-acre nature preserve in southeast Wake County offers more than seven miles of walking and mountain biking trails that wind through forests and fields—passing by working farmland—and connect to the 30-mile paved Neuse River Greenway Trail. The land, purchased by Triangle Land Conservancy in 2013, was owned by the Williamson family for more than two centuries and most recently used for farming tobacco and later cattle.
The gently rolling and sometimes rocky landscape has been immediately popular amongst mountain bikers of all skill levels, and one-way paths that have bikers and hikers moving in opposite directions reduces trail conflicts. The preserve is mostly shaded (aside from the entry area seen below), and Two Loop Pond—a walking-only trail—provides an even lesser-trafficked escape with wonderful water views (and a rock outcrop where Bailey and Sarah Williamson used to sit for picnics).
Note that dogs are welcome (on a leash!), and the preserve is closed when wet (otherwise open seven days a week).
Located just east of Raleigh in the town of Wendell, Robertson Millpond Preserve is a hidden 85-acre refuge for nature lovers, canoeists and kayakers. Opened to the public in 2015, the blackwater swamp property is the only bald cypress habitat in the Raleigh area, creating the unique experience of paddling through a forest-like setting. Now open seven days per week during the busy season (mid-May through early Aug.), the preserve's 1.15-mile loop paddling trail—marked by more than 70 buoys—is the main draw for canoeists and kayakers. A parking and launch area allows you to bring your own canoe or kayak for no fee, and single and tandem kayak rentals may be available from Tar River Life on weekends.
Note: From Sept. 1 through March 31, the preserve is in off-season hours, open Sat. and Sun. only from 8am to sunset.
Comments